5 Ways to Backup WhatsApp on iPhone Effectively
Backing up WhatsApp data on iPhone is of utmost importance if you wish to prevent losing out on important conversations and media files. And luckily, there are so many different ways that you can used to complete the backup, including automatic and manual methods. This tutorial covers all these methods so you can read on to discover some of them.
How to Backup WhatsApp on iPhone to Computer?
The first method when discussing how to backup WhatsApp on iPhone involves backing your data to your computer. To accomplish that, you can turn to a software called iOS Data Recovery. This tool can help you to restore different types of files from iOS device, iTunes backup as well as iCloud backup easily and WhatsApp is one of its supported file types.
You can download the software by clicking the icon below to have a try:
After downloading the program, let's see how to backup WhatsApp on iPhone to computer together:
Step 1. Connect your iPhone to the program
Install and run the recommended software on your computer. Next, connecting your iPhone to the computer via USB cable and choose the "Recover from iOS device" option.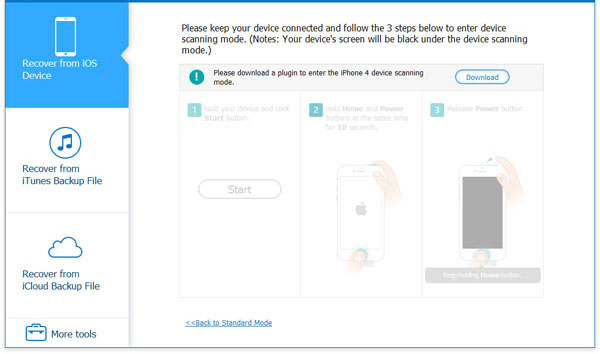 Step 2. Scan the iPhone data
Now you can click on "Start Scan" to begin the scanning process. When the process ends, all the existing and lost files on your iPhone will be displayed on the program.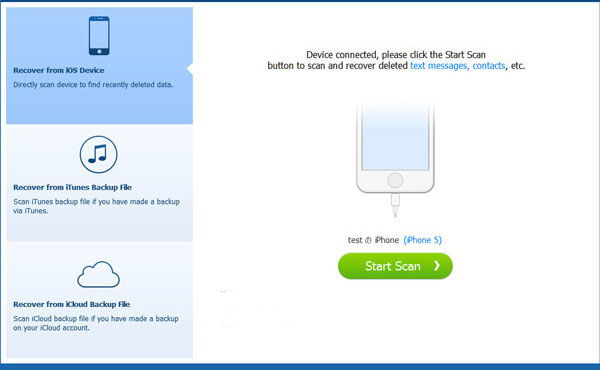 Step 3. Restore your WhatsApp data to computer
Click on the "WhatsApp" and "WhatsApp Attachments" in the left panel and you will see all the WhatsApp contents in the right panel. Just tick off the files that you want to backup to computer and then hit the "Recover" button.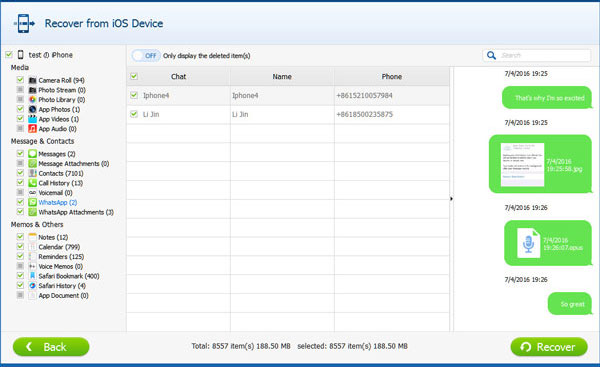 Lots of users are also interested in:
Methods to Backup WhatsApp Messages for Android and iPhone
Recover Deleted WhatsApp Messages from Android
Complete iPhone WhatsApp Backup via iTunes
iPhone users have the option to backup their WhatsApp chats using iTunes which is a great alternative to secure your files and conversations. However, this means does not allow you to backup WhatsApp data only - you need to backup all your iPhone files to iTunes.
Here is how to perform the iPhone WhatsApp backup with iTunes:
Step 1. Connect your iPhone to your computer via a USB cable.
Step 2. Launch iTunes on your computer.
Step 3. Click on the "Device" icon and go on to choose the "Summary" option from the sidebar.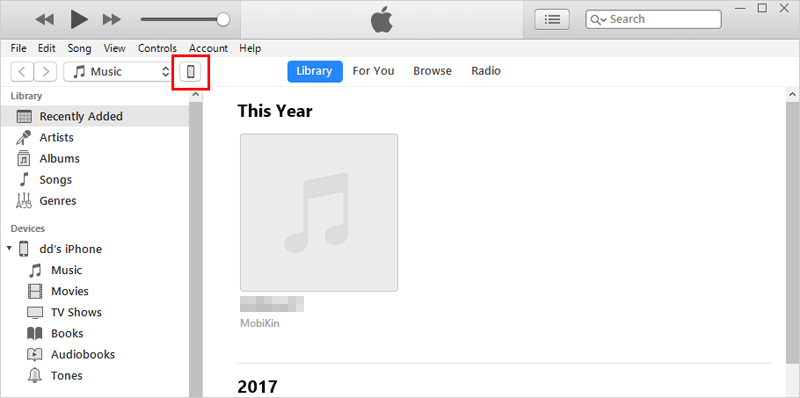 Step 4. Go to "Backups" > "Manually Back Up and Restore" > "Back Up Now".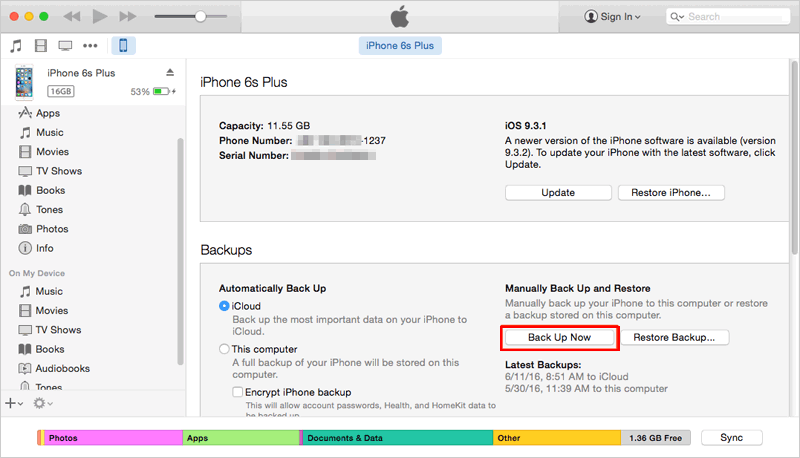 Step 5. Tap on "Done" when the backup process finishes.
Sync WhatsApp Data from iPhone to iCloud
One can conveniently use iCloud storage on the iPhone in order to back up and restore the entire WhatsApp chat history. It is a very simple process and only involves enabling the iCloud Drive backup feature on your iPhone to sync everything on the iCloud. By using this method, the data gets synced automatically in a secured way and you don't have to worry about losing the access to your data regardless of any situation you are in.
Tutorial to Sync WhatsApp data from iPhone to iCloud:
Step 1. Open the "Settings" in your iPhone device.
Step 2. Scroll down the settings menu until you reach the "iCloud" option and tap on it.
Step 3. Under the storage section you will find "iCloud Drive".
Step 4. Turn the option "ON" if it is set to "OFF".
Step 5. Scroll down until you see "WhatsApp" in the list of applications and double check to see whether it is enabled. If not, just slide the button to turn it on.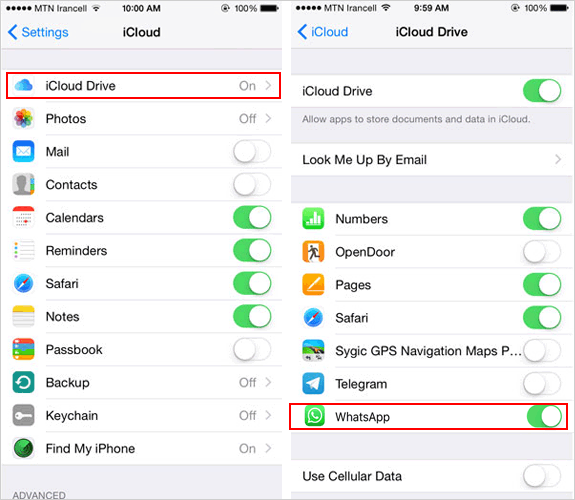 Now that you have iCloud backup feature turned on, your iPhone will start syncing WhatsApp data to iCloud automatically. This feature is of great help in case your iPhone is lost or gets stolen.
Auto Backup Your WhatsApp Data on iPhone
This is the most common method to backup your WhatsApp data on any device you are using. It involves manually selecting the feature for backup WhatsApp on iPhone by enabling the chat backup feature. We show you a step by step backing up process to make it easy for you.
Steps to auto backup WhatsApp data on iPhone:
Step 1. Launch WhatsApp on your iPhone.
Step 2. Go to the "Settings" option.
Step 3. Tap on the "Chats" option.
Step 4. Select "Chat Backup" and then turn on "Auto Backup" as well as "Include Videos".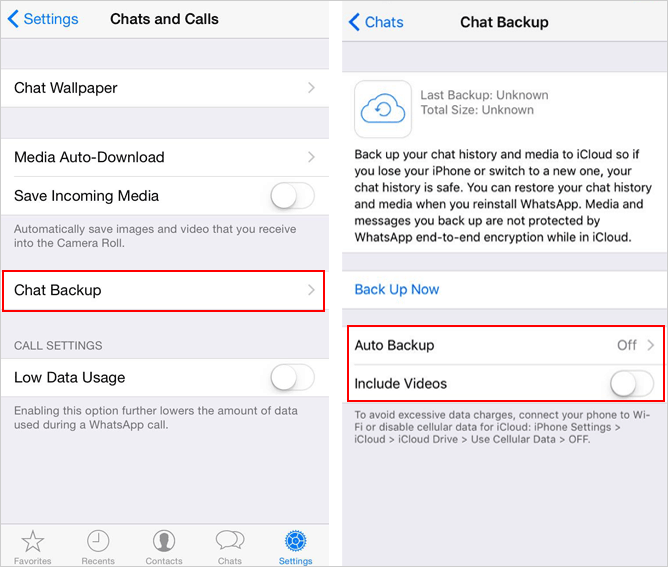 Step 5. Now you have the option to select backup frequency which lets you set automatic backup at daily, weekly or monthly intervals.
This backup option easily enables you to restore or get access to your WhatsApp data whenever you log on to any device, or switch between your phones.
Email WhatsApp Chats on iPhone for Backup
Storing or sending your WhatsApp messages via emails is an easy process. WhatsApp has an "Export Chat" feature which lets you generate a ".txt" file and allows you to download a single conversation history which can save up to 10,000 messages at a time.
Learn how to email WhatsApp chats on iPhone:
Step 1. Open WhatsApp on your iPhone and select any conversation or chat which you would like to export or send as an email.
Step 2. Tap on the contact name and choose the "Export Chat" option.
Step 3. Select any option to export the conversation - with or without a media file (images, videos, documents, gifs, audio or voice chats, etc.).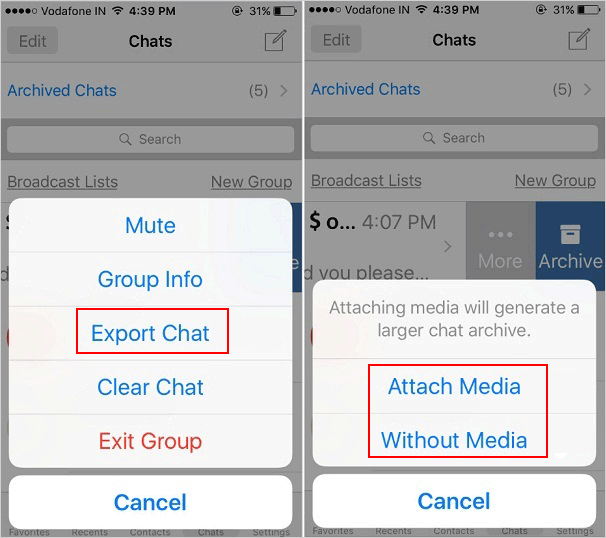 Step 4. Now choose the email provider you want to send the chat through and click "Send".
You can send an email to yourself or add another recipient. The text conversation in the form of an attached ".txt" file will be sent in the mail.
Also click to learn:
3 Ways to Sync WhatsApp Messages from iPhone to iPhone
How to Transfer WhatsApp Messages from Android to iPhone?
The Bottom Line
You now know multiple ways on how to backup your WhatsApp data on iPhone so you never have to be in a hopeless situation of losing your precious data ever. Whether you are changing your device or just backing up for safety, these iPhone WhatsApp backup methods will definitely be able to help you out. We recommend you to back up your conversations at regular intervals for preventing loss of WhatsApp data and other important files.
Related Articles:
Step-by-step Tutorial- Transfer WhatsApp from iPhone to Samsung S9
Transfer WhatsApp Messages from Android to Android
How to Move WhatsApp Data to SD Card?
Why Can't I Send & Receive WhatsApp Messages?