How to Uninstall Apps on Android Phone from Computer [2023 Updated]
"Having owned 11 Android phones since 2010, I have a gazillion apps listed in Google Play account. I know it's possible to delete them from my phones, but for the love of things telephony, once you delete an app it takes you back to the frickin' top of the list. Being the obsessive person, I can't stop trying to figure it out."
-- From "androidcentral.com"
If you have a similar problem, you may be wondering how to uninstall apps on Android phone from computer. Actually, some apps are tied to the mechanisms of Android phones, and they cannot be deleted, as doing so might result in some dysfunction. And most of them can be uninstalled. But, removing a large number of apps on Android one by one will be a boring experience.
Therefore, you may want to remove Android apps from your computer, which can be faster and easier. But how can you do that? Well, this review will talk about how to uninstall Android apps from PC or Mac computer in practical ways.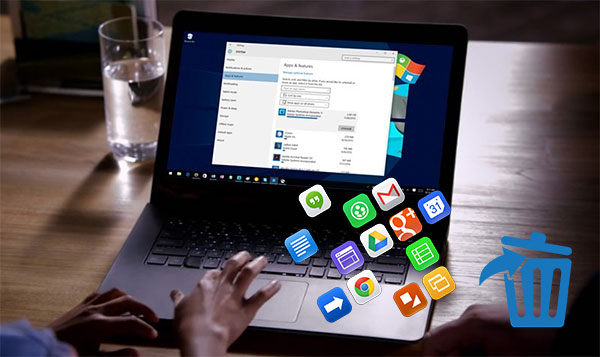 #1 How to Uninstall Apps on Android Phone from Computer Using Assistant for Android
When it comes to uninstalling apps on Android phone from computer, you need a program like MobiKin Assistant for Android (Windows and Mac version), compared with other common mobile management software, it can not only safely and quickly uninstall or install apps on Android from Windows or Mac computer directly, but also transfer important phone contacts, multimedia files and others between computers and mobiles.
Besides, it is able to save the files with original quality, back up and restore Android to prevent data loss and offer all-round management for contacts and SMS, etc. This utility comes with a trial version, which is a must-have for Android app management.
Check the list of the main strengths for Assistant for Android:
Install and uninstall Android apps safely on PC or Mac computer.
Be able to transfer data from Android to computer, and vice versa.
Supported data types: apps, contacts, SMS, call logs, photos, videos, music, and so on.
Be capable of Exporting SMS from Android to computer in such 5 formats as CSV, BAK, XML, HTML, and TEXT.
Backup and restore Android device with one click.
Support easy connection via USB cable or WiFi.
Work for a whole range of Android devices, such as Samsung, Huawei, Motorola, HTC, LG, Sony, Vivo, OnePlus, Xiaomi, OPPO, Meizu, etc.
OK, to uninstall apps on your Android, you can give either of the buttons a download as required.
Before we get into the point, let's see a common question first: what apps can I safely remove from my Android phone? Well, they are some apps for location navigation like Google Maps and MAPS.ME, social media apps as Instagram and Facebook, and some game apps, etc.
Now, let's check out how to uninstall apps on Android phone from computer with MobiKin Assistant for Android:
Step 1. Install MobiKin Assistant for Android on your computer by going with the setup wizard. Then connect your Android device to computer via a USB cord. Next, open the program on the computer.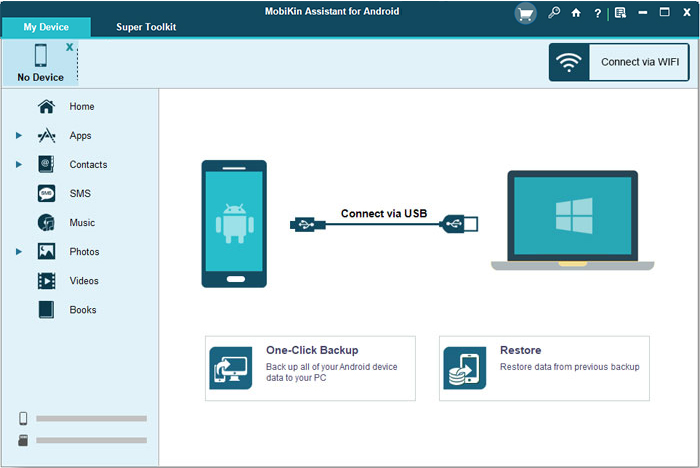 Step 2. You may be required to enable USB debugging on your phone and just complete it in accordance with the prompts. Then the tool will detect your phone automatically. Subsequently, you can see your file types on the left panel of the main interface.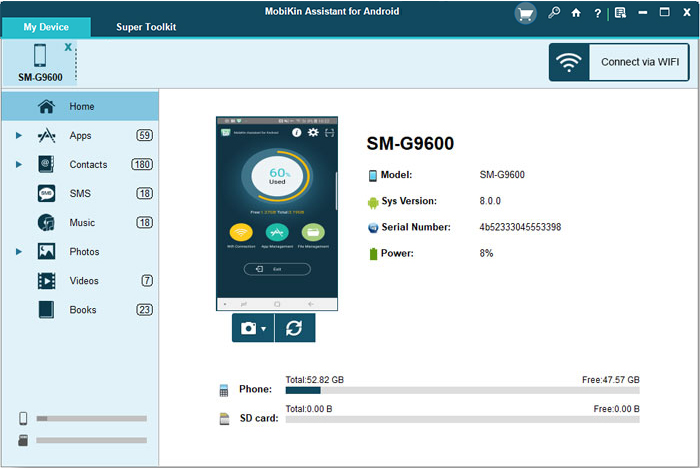 Step 3. Tap the "Apps" tab from the left menu and choose "User Apps" to locate all the apps on your Android phone. Then, you should click on "Uninstall" from the top menu and then mark all the unwanted apps. Next, confirm the operation to remove them from your Android.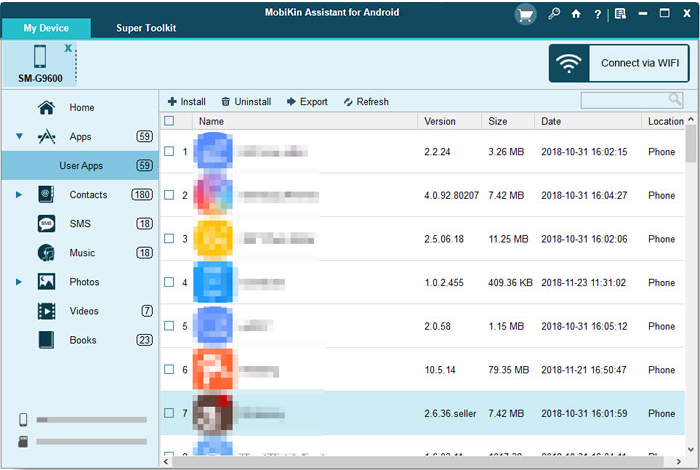 Note: Pre-loaded apps cannot be deleted, only if your Android phone is rooted. You can search "root uninstall" in Google market if required.
See Also:
#2 How Do I Delete Apps from Google Play on My Computer
Can I uninstall apps from Google Play on my computer? Sure! We know people often use Google play to search and download relevant mobile software. As you log in it directly on the computer, it can be used to uninstall undesired apps on the phone as well as update them. Although this function seems inconspicuous, it is fairly practical.
Before using it, you should have a Google account first, and it is better to ensure that this account is closely related to your own Android phone.
Now, here's how to uninstall apps on Google Play from computer:
Step 1. Please visit the website - play.google.com from the browser on your computer and enter your Google account info. Then tap "My Android Apps" to preview the apps housed in your Android.
Tips: If any applications have an update available, they will be listed at the top. Otherwise, the list will display them normally.
Step 2. There's a trash icon on the screen. You need to choose your unnecessary apps by pressing the corresponding icons to delete them. Note that you can only uninstall an app at a time.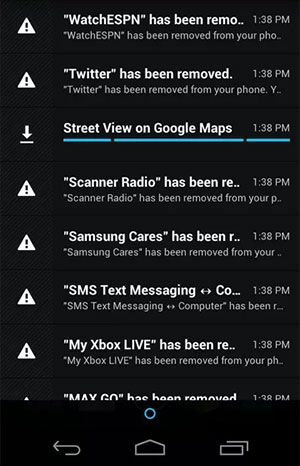 #3 How Do I Uninstall an App on My Phone from My Computer via SnapPea
SnapPea can be used to manage data on your Android devices. There's a column that contains quick access to things like "Contacts", "Text messages", "Apps" and more on the summary view of its interface. You can text SMS, edit contacts from the computer. To uninstall apps on Android phone from computer, you'll have to log in to the Windows version of this tool from your computer as well as the SnapPea for Android on your Android device.
Follow the steps to learn how to uninstall Android apps from PC with SnapPea:
Step 1. Turn on the WiFi feature on your Android phone. Then download and install this smart app. Later, open it and log in with your Google account.
Step 2. Download SnapPea for PC and run it on PC (or simply go to its web page from a browser on your computer). Then, enter with the same Google account.
Step 3. While the connection is made, tap "Apps" on the left panel of the interface from PC and choose the apps you wish to delete. Next, select "Uninstall" and a pop-up window will appear on your Android phone. Just tap on "OK" to remove them.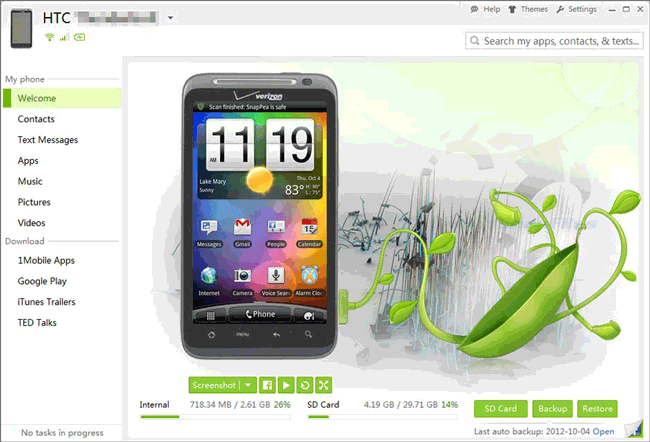 You May Want to Know:
Extra Tip: How to Uninstall Apps on Android Devices Directly
Here's a smart app manager - Easy Uninstaller, an application to uninstall apps for Android devices. It is quite easy to use. You can take it to classify all the Android apps, and then sort out the unwanted apps within a group. In this category, you can uninstall them as you like. Before uninstalling, it allows you to preview the app, showing the name, version, update time, and the size of it. However, some applications are not on the list perhaps, you should try to click "Menu" > "Refresh" to clean the cache and reload them.
Let's see how to uninstall apps on Android phones directly with Easy Uninstaller:
Step 1. Search and download the Easy Uninstaller app from Google Play. Then type the keyword in the search box on the top to find the app that you'd like to uninstall.
Step 2. Tap on "Menu" > "Sort" to classify the apps in many sort types. Then, long press the specific application to pitch on it and a menu will appear with many options as "Application Details", "Share", "Search in Google Market" and "Uninstall Selected Apps".
Step 3. Just choose "Uninstall Selected Apps" to delete it from your Android device, and then tap "OK". Besides, you can also go to the "sort type" to choose apps for deletion in batches if needed.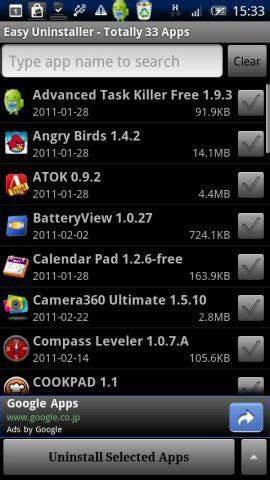 Closing Remarks
As a whole, for how to uninstall apps on Android phone from computer, we have introduced three fixed solutions, and a bonus which can be waged on your Android phone without computer. The above methods can all stand the gaff in general. And you can rest assured to try them. But it is more recommended that you go for MobiKin Assistant for Android, as a result of its screaming features, intuitive interface, easy operation, secure deletion and so on.
Finally, if you have any questions, feel free to post a comment below.
Related Articles:
Phone Transfer Apps: Top 8 Data Transfer Apps to Sync Phone Data
Top 5 Contacts Recovery Apps for Android
3 Effective Ways to Backup Android Apps [100% Secure]
How to Install APK on Android Devices