2023 Latest WhatsApp Viewer Review And The Best Alternative
WhatsApp is a popular messaging application that is used by many people all over the world. This app is useful for personal or professional communications. But, sometimes, users need to view and organize their WhatsApp chats on a PC or any other device. In that case, you need a reliable and efficient WhatsApp viewer tool to help you search for specific conversations, export chats, or restore deleted messages.
WhatsApp Viewer is a suitable solution that enables you to access or manage your chats efficiently. With this program, you can easily examine what is happening in your WhatsApp. The best thing is that you do not need to always take out your phone to check the messages on your PC.
If you want to learn more about WhatsApp Viewer, you're in the right place. In this WhatsApp viewer review guide, we'll take you through all the details about this tool, how it works, the pros and cons, and a better alternative. Let's get into it.
Part 1: Introduction to WhatsApp Viewer
WhatsApp has undoubtedly become the most used messaging application all over the world, enabling users to connect and communicate with their loved ones. But, there are instances when you wish to view your WhatsApp messages on the computer to monitor the conversations, recover them, or back them up. This is where WhatsApp Viewer comes into play.
WhatsApp Viewer is an amazing tool that lets users access and read their WhatsApp messages on their computers. It's made to extract then decode messages databases from the WhatsApp backup files and show them in a readable format. This is helpful when restoring deleted messages or exporting them for personal or legal reasons.
With this program, you can easily examine the chats as if viewing them in the app. What's more, it doesn't bring loads on the app system to read the older messages. This tool allows the exporting messages and files in TXT, HTML, or JSON formats. You can open text files and read them from the PC, Google Drive, etc. The best part is that the tool works online, so you do not have to download it.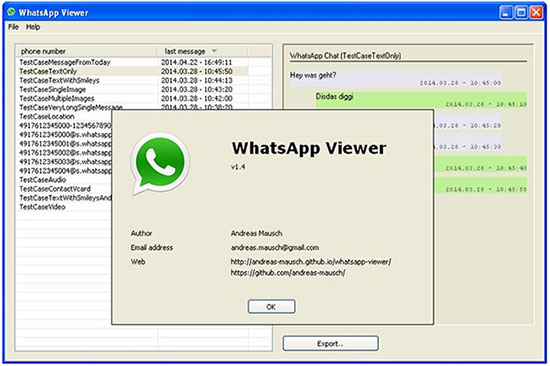 Main Features of WhatsApp Viewer:
Allows viewing of WhatsApp conversations on a PC.
Backup WhatsApp chats on the computer.
Allows you to conveniently read your old chats without pressing load on older messages.
Lets you search for the different chats with ease.
Export messages to .html, .txt, .Json.
Does not require the installation of additional libraries.
Related Recommendations:
Part 2: Pros & Cons of WhatsApp Viewer
Pros of WhatsApp viewer:
Mirrors your older chats from the phone to the PC conveniently.
Lets you also check live chats going on the phone on a computer.
No need to install the tool since it is an online program.
Np dual memory usage.
Supports different backup file formats such as Google Drive, local backups, etc.
Cons of WhatsApp Viewer:
Doesn't support iOS devices, meaning you can't check your WhatsApp chats.
Sometimes, it can be challenging to use this tool.
There are limited updates.
You can't view large images since only the thumbnails are stored in the database/folder.
Further Exploration:
Part 3: Is It Safe to Use WhatsApp Viewer
WhatsApp Viewer is an online tool that provides a safe connection to users. However, it may not be safe due to this:
It has gone through a few updates previously, so how it handles the cyber threats is unclear.
It isn't an official product for WhatsApp. Using third-party apps for WhatsApp-related jobs may be risky since they can't meet official apps' security standards.
It doesn't provide end-to-end encryption for your files like the official WhatsApp app. This implies that your files are vulnerable if processed by the app.
There may be privacy concerns as the tool may misuse your sensitive personal files, such as media files, chat messages, and chat details.
Even though it is a good tool to view your WhatsApp data, it comes with inherent security and privacy risks. Overall, there's no guarantee that this tool is safe. It's generally advisable to rely on a professional third-party tool like MobiKin Recovery for WhatsApp To ensure the safety of your data. This tool gets updated regularly, has end-to-end encryption, and offers advanced features.
Part 4: How to Use WhatsApp Viewer
Now, let's show you how to use WhatsApp Viewer for PC to access your WhatsApp messages:
Plug in your Android phone to your computer. Copy the database file from your device and keep it on the computer.
Download, then launch WhatsApp Viewer on the computer, tap on the "File" option from the upper left section, and hit Open.
Select the "msgstore.db" file from the "extracted" folder.
Now, view your messages on the computer by tapping on the chat.
Part 5: Best WhatsApp Viewer Alternative
Though the WhatsApp Viewer tool is popular and handy for viewing and accessing your WhatsApp chats on a computer, it is not the best. It has many drawbacks that make it not a very efficient tool. In this case, you should look for an alternative tool with similar, advanced features. Luckily, we have just what you need. MobiKin Recovery for WhatsApp is the most professional and easiest Whatsapp viewer that allows you to view and extract your WhatsApp chats on a PC.
It's an awesome tool for backing up WhatsApp chats to your PC. The transfer process from Android to PC is smooth with only a single click, and all your WhatsApp chats are exported to a PC. But that's not all. Recovery for WhatsApp lets you choose chats and attachment files on its friendly interface.
The best part is that it is regularly updated, which helps ensure you have a reliable and secure connection. If you are worried about the safety of your files, then don't be. All the tool does is read the WhatsApp files without sharing them. All the files will be saved on your PC and mobile phone, which is safer.
Top Highlights of MobiKin Recovery for WhatsApp:
View/Access WhatsApp chat history on your PC.
Extract WhatsApp conversations and other files from your Android device.
Back up chats to the computer and restore them in CSV and HTML formats. (How to restore WhatsApp chat after uninstall?)
Supports almost all Android devices like Samsung, HTC, Sony, etc.
It is very easy to use, and you don't need technical skills.
Works on Windows 7 OS and newer versions.
Here is how to use the MobiKin Recovery for WhatsApp:
Step 1. Launch the WhatsApp viewer alternative after installing it. Select "Recovery from Android Device" from the left side panel. Connect the Android phone to the PC, click "Next", and make sure USB debugging is activated.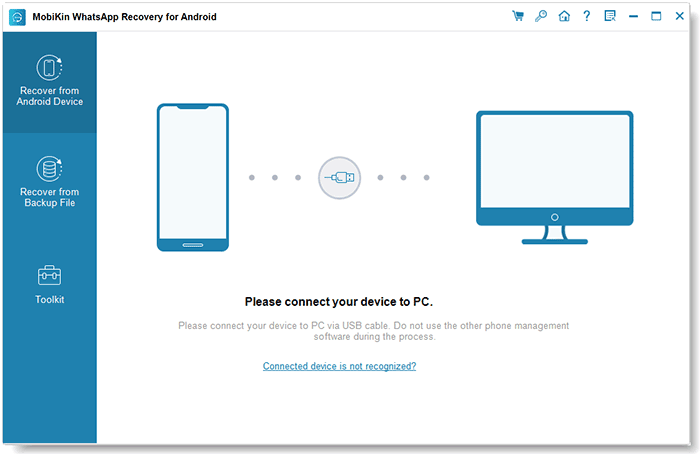 Step 2. The software will back up the WhatsApp data available on your phone. A prompt will appear requesting you to enable end-to-end encryption on your mobile phone. Click on "Turn on" followed by "Use 64-digit encryption key instead" option. Now, generate a 64-digit key.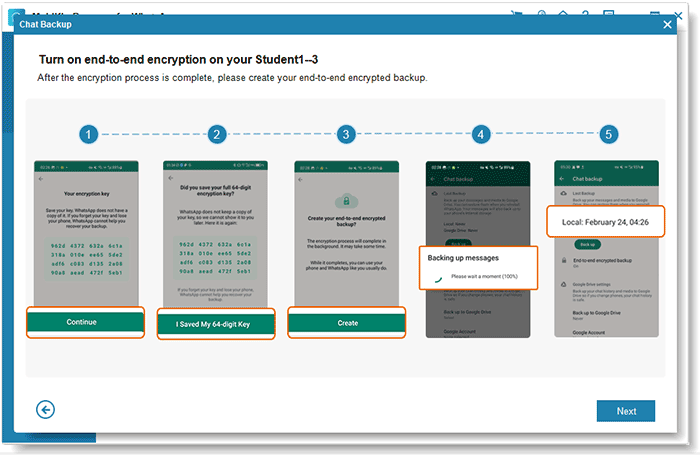 Step 3. When you get the key, the tool will read and put the data in the blank space. Hit the "Confirm" button. When the backup is done, click on "View It".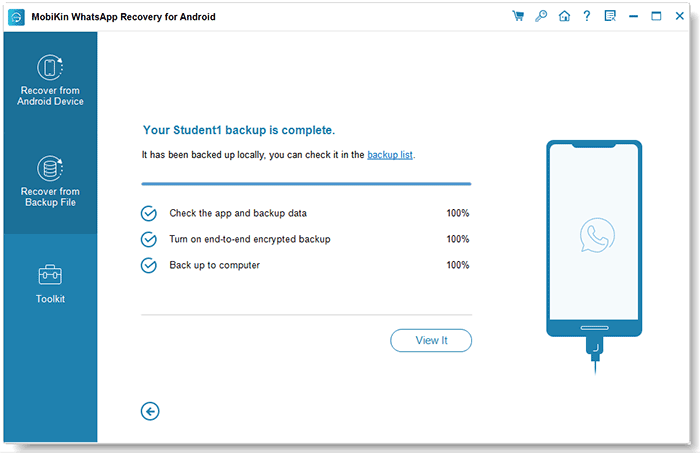 Step 4. Your data will be displayed in 2 categories: "WhatsApp" & "WhatsApp Attachments". Click on the "WhatsApp" option to recover specific messages, then choose the chats you wish to extract by clicking on them. Next, go to the "WhatsApp Attachments" folder and select to restore your media files. When done, click on "Recover to Computer".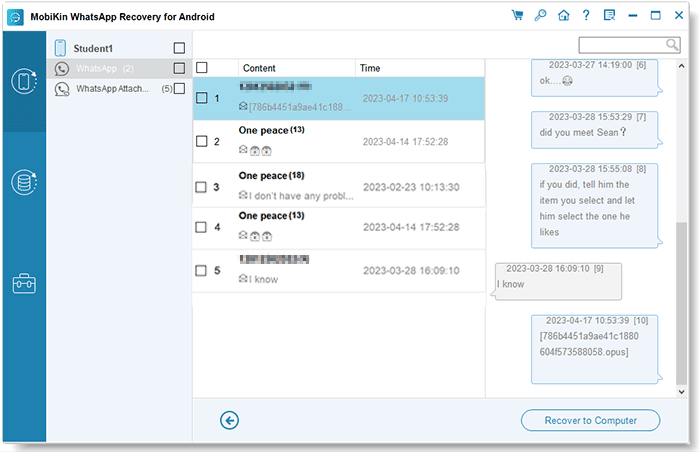 Finish Up
The WhatsApp viewer can be a valuable program for those who want to access or read their WhatsApp chats on the computer. WhatsApp Viewer is a user-friendly solution to restore deleted chats or browse the chat history. But, if you're looking for additional features or a more professional alternative tool to view and extract your WhatsApp chats hassle-free, MobiKin Recovery for WhatsApp is the tool. It is the safest and easiest tool to view your WhatsApp files without difficulty.
Related Articles:
18 Innovative Ways to Fix WhatsApp Chat Backup Stuck on iPhone/Android
3 Simple Steps to Transfer WhatsApp Backup from Google Drive to iCloud
How to Transfer WhatsApp Stickers to New Phone (Android/iOS)?
How to Turn on and off End-to-End Encrypted Backups
[100% Working] How to Restore WhatsApp Backup from Google Drive in iPhone
How to Restore WhatsApp Backup from iCloud to Android [3 Easy Methods]