3 Simple Steps to Transfer WhatsApp Backup from Google Drive to iCloud
Some Android users may be used to backing up valuable WhatsApp chats to Google Drive. But for many reasons, you got an iPhone. And the common service for iPhone backup is iCloud. In order to access them through iPhone or just want to create a copy available on iCloud for further use, you guys would choose to transfer WhatsApp backup from Google Drive to iCloud. There are differences in the format of backup files between the 2 types of cloud storage. Thus, a query - can I transfer WhatsApp backup from Google Drive to iCloud directly may float into your mind.
OK, this article will resolve your problems. Before going any further, let's explore is it possible to restore WhatsApp backup from Google Drive to iCloud in a direct manner.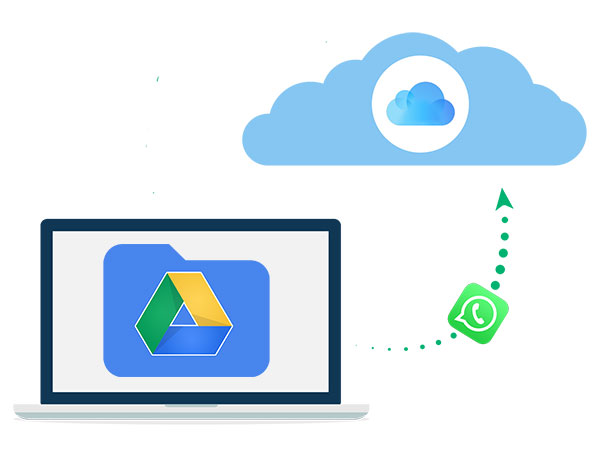 Part 1: Is It Possible to Move WhatsApp Backup from Google Drive to iCloud Directly?
To put it bluntly, the answer is no. Here's why:
To minimize the risk of data leakage, Google Drive needs to encrypt the backup files through some encryption protocol. This protocol is not compatible with iOS Devices. While iCloud is another separate storage service that is commonly used for iDevices. Its encryption mechanism is different from that of Google Drive, and the two are thus incompatible with each other.
Therefore, you cannot transfer backup from Google Drive to iCloud directly, in terms of WhatsApp chat history. But then again, even if there is a way to achieve this straightway, the transferred files in iCloud would prove to be unusable.
Well, "can I restore WhatsApp messages from Google Drive to iPhone, and then to iCloud in a well-organized manner"? Eh, this query might also be of concern to you. Today, we will illustrate an awesome method to guide you in the following.
See Also:
Part 2: 3 Steps to Transfer WhatsApp Backup from Google Drive to iCloud
Before figuring out how to restore WhatsApp backup from Google Drive to iPhone, one thing we ought to make sure is that this is just part of the procedure. To move WhatsApp backup from Google Drive to iCloud, we can divide the task into 3 phases: transfer WhatsApp backup from Google Drive to Android Phone, migrate the backup from Android to iPhone, and then copy it from iPhone to iCloud.
Step 1: Move WhatsApp backup from Google Drive to Android Phone
To accomplish this, ensure that the phone number and your Google account you'll type in are the same as what you've used for the backup before.
1. Remove WhatsApp application, and reinstall it on Android device. This helps create a backup from Google Drive to Android phone.
2. Sign in with the account after starting WhatsApp on this device. Enter the same phone number you've used for data backup, when prompted. Then tap "OK" to confirm.
3. The recent backup from Google Drive will appear on the incoming page. Just tap on "RESTORE".
4. After the task ends, click "Next" to set up the WhatsApp profile. The WhatsApp backup will now be moved to your Android phone.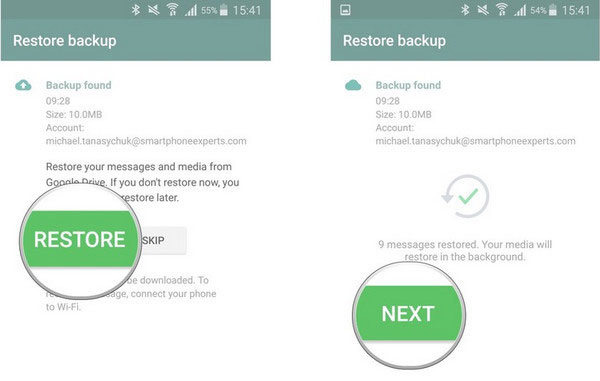 Step 2: Copy WhatsApp backup from Android Phone to iPhone
How do I restore WhatsApp chats from Google Drive backup on an iPhone after making the backup on Android phone? Namely, how do I transfer WhatsApp backup from Android to iPhone? Here's two ways to do this.
Way 1: Transfer WhatsApp via Restore Social App:
To make WhatsApp data transfer a simple, smooth, lossless and fast process, taking a third-party program can let you get twice the result with half the effort. Here, you can make the transfer with Restore Social App, which is highly valued by its users. As an all-rounder, it can be used to transfer several types of messages with no risk. Now let's take a look at this versatile utility first.
Major Characteristic of Restore Social App:
Transfer WhatsApp chat history from Android to iPhone, from iPhone to Android, and between iPhones/Android devices.
Empower you to preview and transfer WhatsApp messages and media files.
Enable you to back up and restore data like WhatsApp, Viber, Kik, Wechat chat history, etc.
It doesn't require any technical knowledge.
Run smoothly on both PC or Mac.
Compatible with a variety of Android and iOS devices, including Samsung, Motorola, Google, Sony, LG, Huawei, HTC, OnePlus, Xiaomi, Vivo, and iPhone 11/11 Pro, iPhone X/XS/XR, 8/7/6, iPhone SE, iPad Air/mini, iPod touch, etc.
This program puts your privacy first.
Step 1. Install and launch Restore Social App on computer after the download. Then select "Restore Social App" module from the initial screen as below.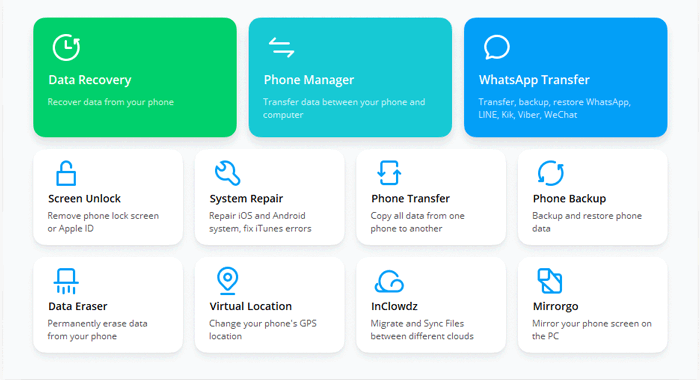 Step 2. Tap the "WhatsApp" tab from the left panel, and choose "Transfer WhatsApp messages". Now, link both Android and iPhone to the same computer through USB cables. The tool will make a detection for the devices.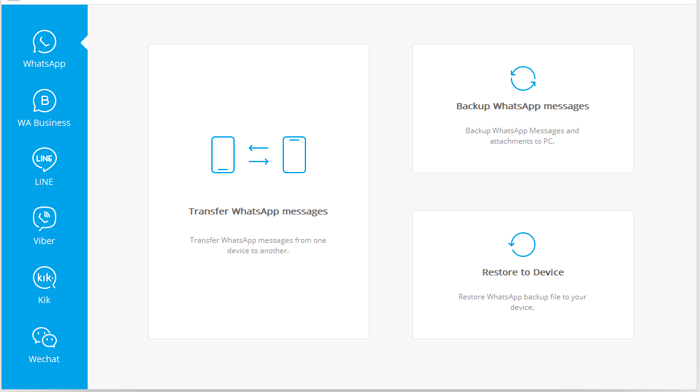 Tips: After the recognition, make sure the right device on the screen is your iPhone. If not, click the "Flip" button in the middle to put it on the other side.
Step 3. Tap "Transfer" button to transfer WhatsApp backup from Android to iPhone. After that, the transfer will occur at once.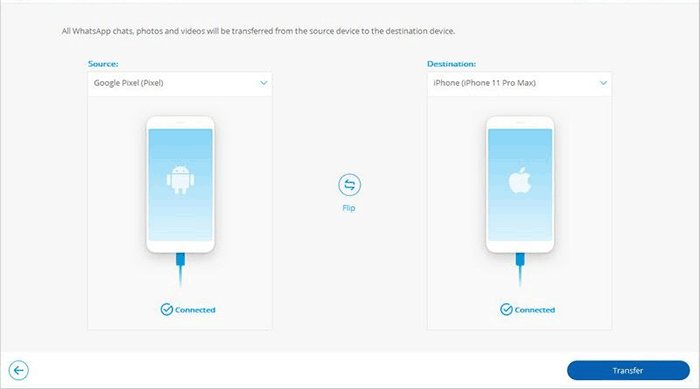 Can't Miss:
- Transfer WhatsApp chats via Email chat:
It's very inefficient to transfer WhatsApp messages and media through Email chat, as you can only send one message at a time. And if you choose to add an attachment, it will take longer to upload and send out. After the transfer, you are only allowed to view the items on your iPhone with a file reader, rather than the WhatsApp application.
Launch WhatsApp application on Android phone.
Find the desired WhatsApp chat, and tap on it. Then touch the group chat name or the contact's name at the top of the screen.
Swipe down to opt for "Export Chat". Here, you should decide to transfer with media or not by choosing "ATTACH MEDIA" or "WITHOUT MEDIA".
Select the "Mail" option, fill in the email box with your email address. Now, you can enter the subject of the email, and touch "Send" to get the mail out.
Unlock your iPhone, and enter the same email account to check the sent WhatsApp content.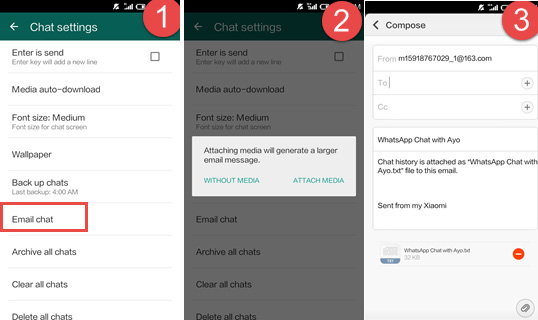 Step 3: Transfer WhatsApp backup from iPhone to iCloud
This is the last step for the task. To do this, you should have an iCloud account available. During the backup, you can turn on "Auto backup" feature, and select the frequency of backup. For instance, if you choose to "Daily" option, iCloud will complete the backup at a specific time every day.
1. Run the WhatsApp application on your iPhone, and enable WiFi feature.
2. Touch the "Settings" section at the bottom right, and tap "Chats", followed by "Chat Backup" to open the Backup window.
Tips: From this window, you can enable/disable the "Include Videos" button to include/exclude videos for backup.
3. Click "Auto Backup" under the "Chat Backup" tab. Then set the frequency of backup as "Daily", "Weekly" or "Monthly".
4. Touch "Back Up Now" to begin backing up your WhatsApp chats to the iCloud Drive account.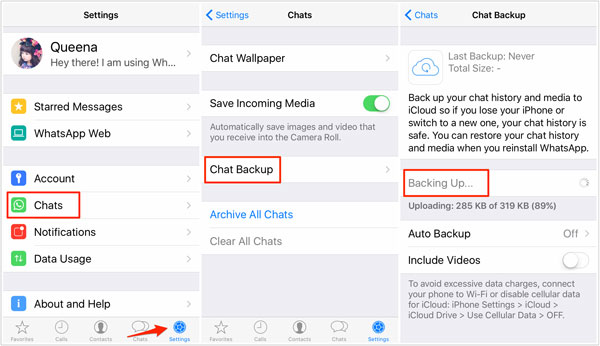 Finally, pick up your iPhone. Then head over to "Settings" > "iCloud" to find and turn on "iCloud Drive" switch. Next, scroll down for "WhatsApp" section, and ensure its button is enabled. This can make sure your WhatsApp messages and media will be synced soon.
Ending Words
That's all about how to transfer WhatsApp backup from Google Drive to iCloud. At present, there is no official or direct solution to this topic. The best alternative is in a step-by-step manner described above. During the use, first, please note that the account and the linked mobile number you type in are used for the previous backup. Next, if you have massive WhatsApp content, and want to make a simple, fast and lossless transfer, Restore Social App is your best bet. At last, just select backup interval for auto backup as needed.
Related Articles:
6 Best Alternatives to iCloud for Android (Creative Tools for You)
What to Do When Google Drive Not Working on Android?
How to Backup & Restore WhatsApp Messages from iCloud Backups?
[Step-by-step Tutorial] How to Backup iPhone to Google Drive?
How to Transfer WhatsApp Messages from iPhone to Android?