Can Facebook Retrieve Deleted Messages for Court? In-depth Handbook 2023
The exchange of messages on platforms like Facebook has become a common mode of communication. Whether it's sharing important information or making plans, we entrust a significant portion of our conversations when we use Facebook.
However, have you ever wondered what happens when these items become crucial pieces of evidence in a court of law? This question often arises in various legal situations, with "Can Facebook retrieve deleted messages for court?" as the fundamental query. This article will provide a detailed discussion of this concern.
Part 1: Where Do Deleted Facebook Messages Go
Typically, deleted Facebook messages are initially moved to the "Deleted" or "Archived" folder, where they stay for about 30 days before permanent deletion. You can recover them during this period by accessing the folder and selecting the messages you want to restore. After 30 days, they are permanently gone and cannot be retrieved.
You Could Potentially Like:
Part 2: Can Facebook Retrieve Deleted Messages for Court
Well, it depends! Social media content is deemed public and can be uncovered during legal proceedings. In a lawsuit, irrespective of its nature, the opposing party has the right to request access to all your social media content. Deleting content may not protect it, as you may be required to provide your data for inspection, even deleted material.
However, Facebook officially states that deleted messages or conversations cannot be recovered. Notably, Facebook maintains comprehensive data logs and backups, which could facilitate the recovery of deleted content when essential. As a result, Facebook might be able to retrieve deleted messages for legal purposes under specific conditions.
Part 3: Can Police/Government Recover Deleted Facebook Messages with Subpoena
Tip 1: It's rare for the police to need deleted Facebook messages. To access them, they can't request data directly from Facebook due to privacy rules. Instead, they must follow a legal process, including obtaining a warrant from a judge. Once they have a valid warrant, Facebook will assist law enforcement in retrieving deleted messages and locating deleted accounts.
Tip 2: Can deleted Facebook messages be recovered with subpoena from the government? Yes, in a technical sense, that's correct. Because your messages lack end-to-end encryption, it means that Facebook, law enforcement, hackers, governments with extensive reach, or individuals with the necessary knowledge could potentially access and read your messages.
Part 4: How to Retrieve Archived Conversations on Facebook
For frequent users of the Messenger app on Android or iPhone, it's more probable that you inadvertently archived the Facebook messages on your device. Deleting an FB message permanently involves a series of steps and results in a confirmation notification. After that, if you wonder how to get them back on Facebook, let's delve into the process:
Open Facebook and click on the Messenger icon in the top right corner of the page.
Click on "See All in Messenger" at the bottom of the drop-down menu.
Tap the gear icon in the top left corner of the page.
Select "Archived Chats" from the drop-down menu.
Scroll down to find the conversation you want to retrieve and click on it to open it.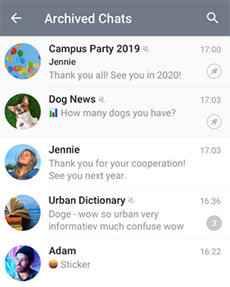 Delve Deeper:
Part 5: How to Check Downloaded Data for Deleted FB Messages
When you delete a message from your mobile device, it's permanently removed from there. Yet, Facebook retains that message on its servers for an undisclosed duration.
If you've ever used Facebook's "Download Your Information" feature, there's a good chance that you have the deleted conversation stored on your computer. You can locate it within a ZIP file labeled "facebook-yourusername.zip". Once you unzip it, the folder will be named "facebook-yourusername". Here's how you can recover them in this way:
Go to the Facebook page on your computer and click on the "Down Arrow".
Select "Settings & Privacy", then choose "Settings", and navigate to "Your Facebook Information".
Click on "Download Your Information", and then hit "View".

At the top of the page, you'll find the option to pick the format for the downloaded data.
Check the messages you want to download. Now, simply click "Create File" to initiate the download process.

You might be prompted to enter your password. Once the download is complete, you'll receive the data via Email.
Part 6: How to Recover Facebook Messages from the Recipient
Assuming you want to recover a chat log you've deleted, there's a chance it still exists with the person you were chatting with. In that case, reach out to them and request a copy. You can also do this for individual messages if you only deleted them from your end of the conversation. When you delete a message, Facebook gives you the option to remove it from both sides of the chat or just your own.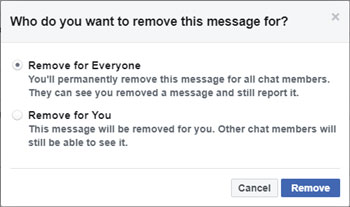 Part 7: How to Recover Facebook Messages on iPhone without Backup
No matter the circumstances, whether it's accidental deletion, water damage to your phone, forgotten passcode, device theft, system issues, and more, you can regain access to your data using iPhone Data Recovery. This software is highly reputable, boasting one of the highest data recovery success rates. It effortlessly restores a wide range of iOS files, encompassing personal data and content from social apps, even if you don't have a pre-existing backup.
Here are the main features of iPhone Data Recovery:
Retrieve deleted Facebook messages on iPhone for court without backup.
Selectively restore iPhone data from iCloud/iTunes backups without data overwritten.
Recover a whole range of data types, including messages, contacts, call logs, iMessages, images, videos, WhatsApp/Kik/Line/Viber chat history, notes, etc.
Easy-to-follow interface, fast scanning, and quick recovery.
Work well with overall iDevices, including iPhone 15/15 Plus/15 Pro (Max), iPhone 14/14 Plus/14 Pro (Max), iPhone 13/13 Pro (Max)/13 mini, iPhone 12/12 Pro (Max)/12 mini, iPhone 11/11 Pro/11 Pro Max, iPhone X/XR/Xs/Xs Max, iPhone 8/8 Plus, iPhone 7/7 Plus, iPhone 6/6S/6 Plus, iPod touch, iPad, etc.
It values your privacy.
How to retrieve deleted messages for court using iPhone Data Recovery?
Step 1. Establish a connection between your iPhone and a computer
Install and run the software on your computer after downloading it. Opt for "Recover from iOS Device" and connect your iPhone to the computer using a USB cable. Once your phone is recognized by the tool, click "Start Scan" to initiate the scanning process.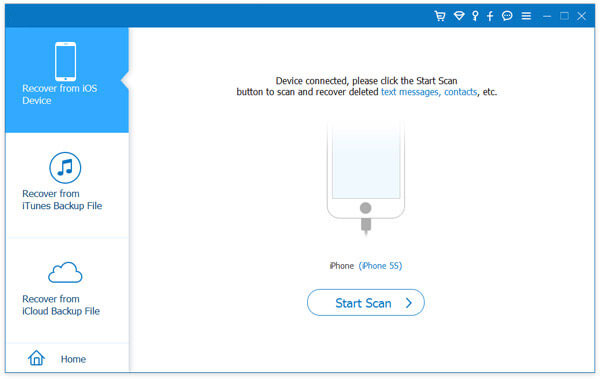 Step 2. Review the deleted Facebook messages
Shortly, all your iPhone data will be organized on the screen. Navigate to the "Messenger" checkbox in the left menu and examine the detailed content.
Tips: From here, you can also check the "Messenger Attachment" box to recover deleted photos on Facebook account without a backup.
Step 3. Retrieve deleted FB messages for court
Choose the specific Facebook Messenger messages you want to recover and click "Recover" to promptly restore them to your computer.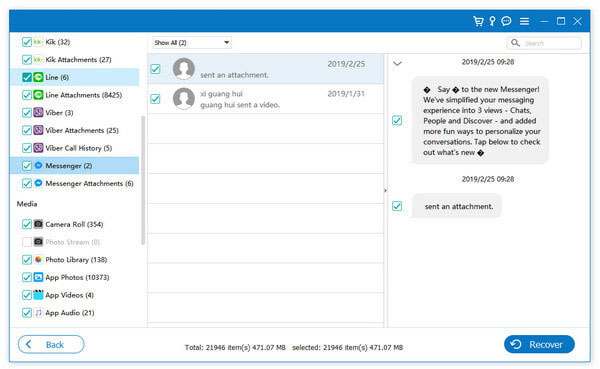 Part 8: People Also Ask about Facebook Message Backup & Retrieval
Q1: Is it prohibited to share Facebook messages?
No, there is no legal requirement for someone to maintain confidentiality if you voluntarily share the messages with them.
Q2: How to back up Facebook messages?
Log in to Facebook.
Go to "Settings & Privacy" > "Settings".
Click on "Your Facebook Information".
Select "Download Your Information".
Check the box next to "Messages".
Choose other options as needed.
Click "Create File" and download the file when it's ready.
Q3: How do private detectives unearth Facebook messages?
Private investigators utilize databases, interview associates, and assemble evidence to locate individuals you've lost touch with. They can employ public records to complete gaps in information and reveal fresh details, including a different name, address, phone number, and Social Security number.
In the End
For sure, retrieving deleted Facebook messages for legal purposes is crucial in various legal situations. However, this task can be intricate, requiring technical skills, particularly when archiving or alternative avenues aren't viable. Fortunately, a reliable solution is available in the form of iPhone Data Recovery, simplifying the retrieval, even without a prior backup for your iPhone. Finally, feel free to share this post on social media to help more people benefit from these valuable techniques.
Related Articles:
Why Is Facebook Messenger Video Calling Not Working? How to Fix It?
Easy Ways to Solve Facebook Messenger Not Responding Problem
The Ultimate Guide for How to Change Location on Facebook
[Solved] How to See Deleted WhatsApp Messages without Any App [Android/iPhone]
Things about Facebook Messages Encryption on Android