Step-by-step Tutorial to Permanently Erase Contacts from Samsung Galaxy S21
Are you going to sell your old Samsung Galaxy phone for a newer version or just give it to a friend or an acquaintance? If so, you need to safeguard or even delete any information that you deem private in nature. Most specifically, you need to permanently erase sensitive data such as contacts and messages. But while this may be a simple task on some phone models, erasing contacts from your Samsung Galaxy is a different story all together. If you just delete the contacts casually, there's a possibility of another person recovering the contacts and using them maliciously. Based on this, here is a guide highlighting the reasons why and how to permanently erase contacts from your Samsung Galaxy phone.
Reasons to Wipe Contacts on Samsung Galaxy
- Identity theft. There's no denying that Samsung galaxy phones are laden with features. But in the midst of increased capability and modernity lies identity theft risks as well. Thanks to the compatibility of the Android system that runs on Samsung Galaxy as well as the availability of devious third party applications, criminals and hackers can retrieve deleted contacts and use them maliciously.
- Account hacking. The risk of having your accounts hacked are as real as the possibility of identity theft. The fact that a Samsung Galaxy can accomplish as many tasks as personal computers mean most people may end up saving some of their sensitive data in their Galaxy's phone book. If such information gets in the wrong hands, there's every chance you'll get hit by hackers.
- Ruined reputation. While many malice oriented individuals would concentrate more on draining your financial accounts where possible, there are still others who would rather use your name with an intention to ruin to your reputation. This includes soliciting for money, bullying others and sometimes even worse. This can bring your career and character tumbling down.
- Spoofing. Well. Phone hacking isn't as common as computer system's hacking. Yet when it occurs it can have devastating results. If you just deleted your contacts from your Samsung phone temporary, hackers can retrieve your contact information and use it to track you through GPS, access your voicemail, or even make annoying prank calls to your contacts. The worst part is that your callers won't have a way to know it isn't you at all.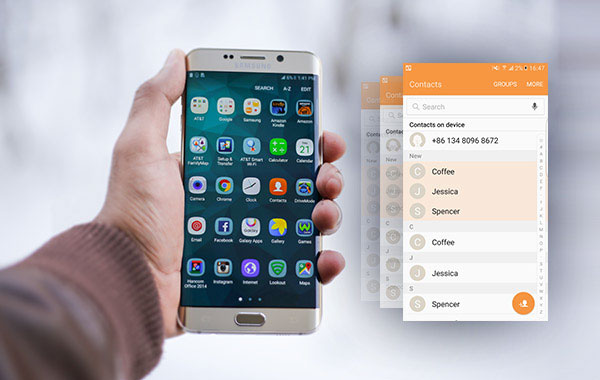 Delete Your Samsung Contacts by Factory Reset
Speaking of contacts deletion, many users may think that they can easily erase the files by going to Contacts> select the wanted contacts> Delete. But this means would only delete the data from the Contacts App and others still are able to recover them without any hassle. So here, to ensure the data safety, you can select to factory reset your device. This would erase all the settings and files on your phone, including contacts, messages, images and so on. So if you have saved something important in the old phone, you need to backup your Samsung device beforehand. Then you can start to clear the Samsung files:
Step 1. Go to the Home screen of your Samsung phone and tap on the Settings icon to open the application.
Step 2. In Settings section, you need to click on the option General Management and tap in Reset on this page.
Step 3. Next, you should continue to select Factory data reset and then scroll down the page to tap on Reset Device> Reset Everything.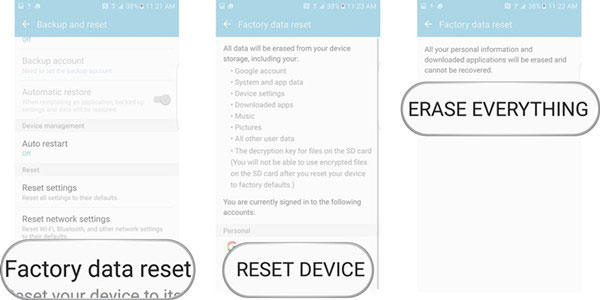 Compared with the common contacts deletion, this means would be more powerful and others are incapable of restoring the data from the factory reset device directly. However, there are still some software on the market like MobiKin Doctor for Android can extract the files from formatted Android phones so this means would not be completely secure. And if you want to permanently erase contacts from Samsung Galaxy S9/8/7, you need to turn to a professional Android files eraser. The following software could be a good helper for you.
You may be interested in:
How to Wipe Off Photos Permanently on Samsung Galaxy?
How to Remove Documents from Samsung phone?
Effective Way to Permanently Remove Contacts from Samsung S9/8/7
To permanently remove Samsung contacts, you can ask Android Data Eraser for help. With it, you can quickly delete all your personal contacts list from Samsung Galaxy or other Android devices like HTC, LG, Huawei, etc. completely yet permanently. After using it to erase Android data, all the deleted files won't be able to be restored by any tool so you have no need to worry about the information disclosure anymore.
Step 1. Download and install the program in your computer. Connect your phone to the computer by using a USB cable and launch the application. Then install the MobileGo connector on your device as asked.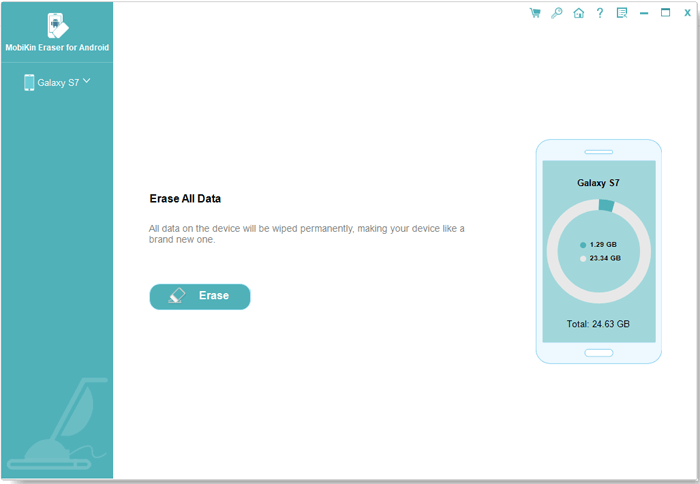 Step 2. Select the Erase All Data mode to delete and overwrite all existing and deleted contacts on your phone permanently.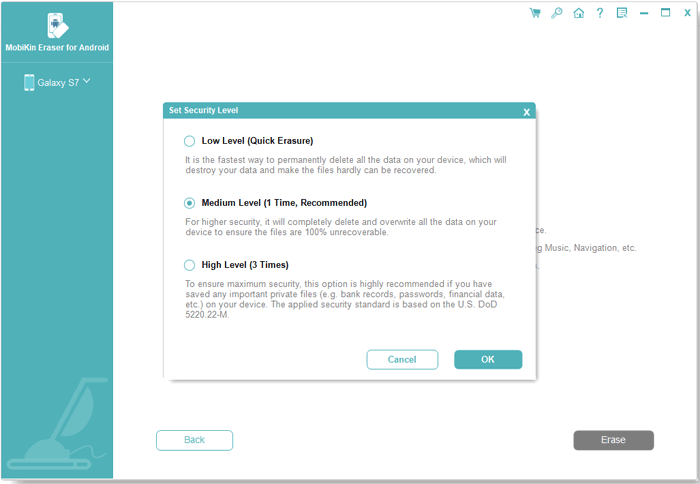 Step 3. When you get a new window, simply type "delete" on the box to confirm and then click on the Erase Now button to initiate the process. Wait for the process to run to completion and keep the phone connected during the process. Once the process is complete, no deleted contacts or messages can recovered.
For Android device, the software now only supports the Erase All Data mode and it will be improved soon with more functions. Please do make a backup before the process in case of unexpected data lost.
Conclusion
Above are two powerful ways to delete your Samsung contacts. But to better protect your privacy information, you are strongly suggested to use the software to permanently erase contacts or other significant files from your Samsung phone that you no longer need or are giving away. Wish this tutorial can help you.
Related Articles:
How to Erase iPhone Data without Restoring Permanently
How to Clear Cache on Android Devices
Simply Way to Clean Junk Files on iPhone 14/13/12/11