Wondershare SafeEraser Alternative & Similar Software
Summary: In this article, we would like to give a complete review on Wondershare SafeEraser and introduce the best alternative to Wondershare SafeEraser.
When you have the need to clear iPhone memory and search for reliable iPhone removal software on the Internet, you will often see Wondershare SafeEraser in front of the page, with other similar software to it. It is an easy-to-use data erasure software for Windows and Mac systems. It allows you to clean up junk files, temporary files and other unwanted data in your iPhone to optimize storage space in your phone.
Normally, if you do not use any software and delete data directly from your phone, the files you delete will not be permanently deleted, and others can access and recover using appropriate software and technology. Wondershare SafeEraser removes all of these files from the root directory, so they cannot be recovered. It also allows you to delete private files and allows you to delete deleted files. If you have some very sensitive data that you don't want to disclose, then using Wondershare SafeEraser is your smart choice.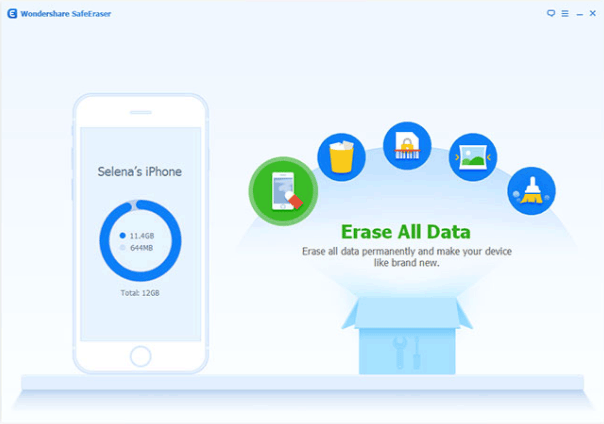 Part 1: Wondershare SafeEraser Review (Pros & Cons)
As I mentioned above, Wondershare SafeEraser is a very simple application designed to help you clean your phone. So let's take a look at some of the benefits that Wondershare SafeEraser can offer users, and some of its shortcomings.
Pros:
1. Simple operation
Wondershare SafeEraser is very easy to use and users can operate it without confusion. The product interface is very user-friendly and intuitive, and it provides good navigation throughout the operation, so you can easily find and choose the options you need. The entire process is easy and enjoyable.
2. Full-featured
Wondershare SafeEraser can completely delete all the data in your iPhone or other Apple devices, including private data, deleted files and more. Not only can you clean up unwanted files to free up space, but it also allows you to 100% securely avoid any privacy breaches. do you know? This is very important because many unscrupulous people in today's society use mobile phone privacy to commit crimes. Therefore, it is very important to protect the privacy of our mobile phones. Wondershare SafeEraser provides a completely cleansed service, which means there are no tools to recover these deleted data.
3. Work quickly
In addition to being easy to operate, another advantage of Wondershare SafeEraser is that it can be cleaned up very quickly. In other words, no matter how much junk or temporary files you have, whether you want to delete large or small files, it doesn't matter, because the application can quickly delete all these files without any restrictions. This speed of work is perfect for today's fast-paced life.
Cons:
1. Minor bugs occur from time to time.
However, using Wondershare SafeEraser is not always smooth. Sometimes the app stops working and crashes halfway, but the user doesn't know why. Although this is a problem that other data cleansing applications also have, Wondershare needs to find out why and fix them as quickly as possible to meet customer expectations.
2. The trial version has very limited functionality.
If you want to enjoy all the features of Wondershare SafeEraser, you need to pay for the full version. The trial version of the app does not have many key features, which makes the evaluation of the application very hampered.
3. Very basic functions
Although the application is easy to use and full-featured, these features are very common. Basically it does not provide any advanced features.
Part 2: Best Alternative to Wondershare SafeEraser
Above, we have introduced you about the convenience of using SafeEraser, with both danger and inefficiency. To this end, many people will ask if there is a better alternative. The answer is yes. MobiKin Eraser for iOS may be more convenient, efficient, and secure while providing similar functionality. The program can be used on Mac, PC, and all iDevices to erase data without any trace. No data can be recovered anyway.
Eraser for iOS – The Ultimate iOS Data Eraser Tool
As mentioned earlier, files that you normally delete are not actually deleted from the phone system and can be retrieved by the recovery software without using third-party software. MobiKin Eraser for iOS comes with 3 different erase levels, giving you the flexibility to erase data to meet your different erase needs. It is compatible with a variety of files, so it is a very powerful and efficient application.
Low level: Wipe data on iOS devices as fast as possible - twice as fast as the other two, which can save you a lot of time.
Medium level: Delete and overwrite all existing and deleted data on iDevice without the possibility of data recovery.
High level: The most secure data destruction option - it will overwrite all data on the iDevice twice to ensure that the data is 100% unrecoverable.
How to Use MobiKin Eraser for iOS?
This software is compatible with almost all generations of iPhone, iPad and iPod, such as iPhone XS/XS Max/XR, iPhone X/8/8 Plus, iPhone 7/7 Plus, iPhone 6s/6s Plus, iPhone 6/6 Plus, iPad Pro, iPad Air, iPad mini, iPad 2, etc.
Step 1. Connect your iPhone to computer
The first step to take is to launch the installed Eraser for iOS on your computer and then link your iPhone to the computer via the USB cord. Once connected, you will find the basic information of your iPhone displayed on the main interface.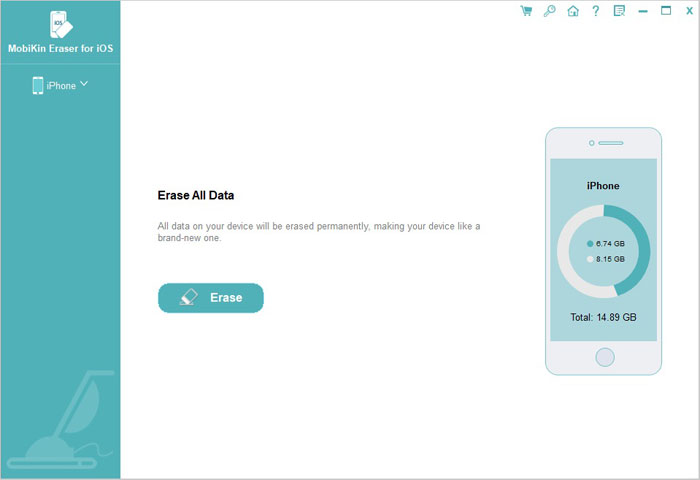 Step 2. Select security level you need
Just tap on "Erase" button on the interface to proceed to the next step. After that, you will be allowed to choose a security level you need by clicking on "Medium", which will bring out a window for you to choose a level: Low - Medium - High.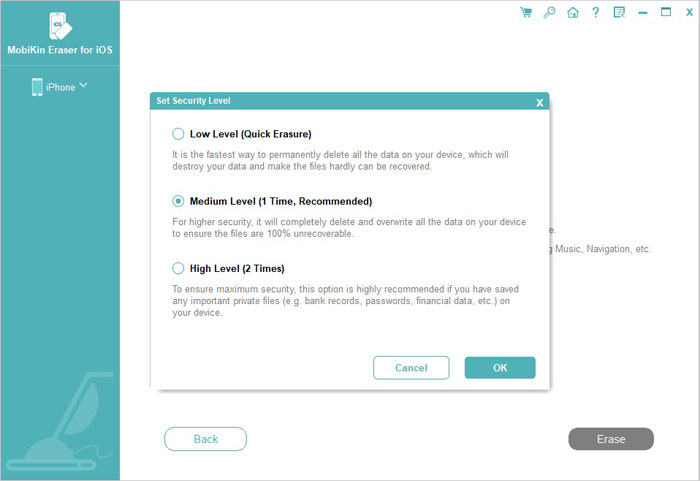 Step 3. Start to delete files from iPhone
Choose the right erasing mode according to your need and type "Delete" into the box to confirm. Finally, click on "Erase" button to erase all deleted data on your iPhone.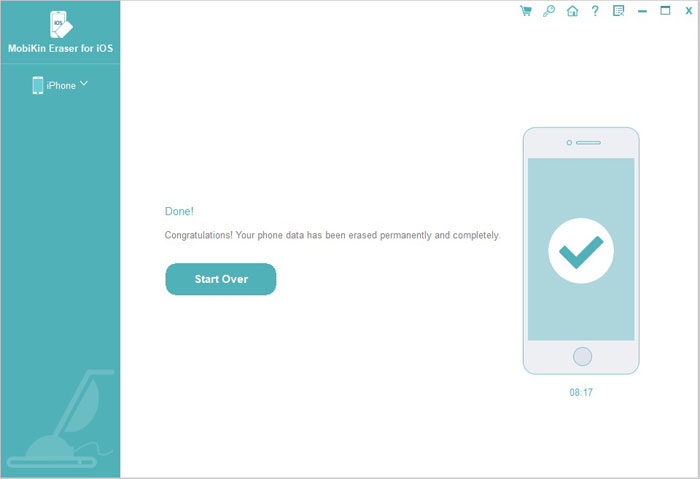 MobiKin Eraser for iOS is therefore a very innovative tool that can erase almost every type of file from iOS devices. This, only at a cost of $29.95.
Related Articles:
How to Delete WhatsApp Chat History on Android/Samsung
3 Ways to Delete Photos from Samsung Galaxy Permanently in 2023
4 Marvelous Ways to Delete Messages from iCloud Storage [Quick Guide]