HEIF vs HEIC: A Full Comparison of High Efficiency Image Format
Digital content consumption has risen, skyrocketing the need to produce appealing content. This has made developing efficient file formats such as HEIF and HEIC necessary. High-Efficient Image Format, abbreviated as HEIF, is a container that stores an image or a series of images in one file. This format stores images at an extremely high compression ratio, twice as efficient as its predecessors.
A high-efficiency image file format can store sequences of images such as HDR sequences or GIF animation. The format has been adopted by various manufacturing companies such as Apple, Canon, Microsoft, etc. Images in this format have a.heif file extension, whereas a .heifs represent image sequences.
On the Other hand, HEIC (High-Efficiency Image Coding) is a file format capable of packaging several HEIF image sequences alongside other media files, i.e., audio recordings. Live Video is one example of an application that uses the HEIC file format. The HEIF and HEIC file formats have become the best options, offering greater benefits than their predecessors. This article will cover everything you should know regarding HEIF and HEIC file formats. Read on to learn more!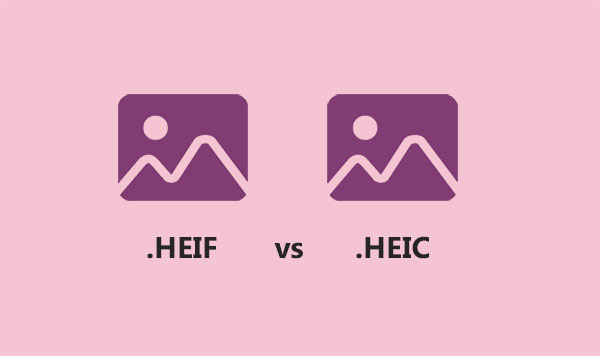 Part 1. What is HEIF Image
What does HEIF image mean? This is a next-level file format for encoding and storing images in a High-Efficiency Image Format that reduces the size of an image while maintaining/enhancing its quality.
1. HEIF Benefits
Improve the image quality - it provides higher-quality images than older formats such as JPEG. This format supports more color depth, resulting in more appealing images.
Offer efficient compression - This file formats use HEVC technology to compress its images into small files while maintaining quality. This enables more pictures to be stored on your device.
Provide a versatile container format - this allows for effective multimedia content management and storage, making storing several images at varying qualities possible. Additionally, it allows non-destructive image editing, which preserves the original image quality while allowing adjustments and modifications. However, using HEIF photos has some challenges too.
2 Disadvantages of HEIF Files
HEIF files are not natively supported by most operating systems. Only Apple's iOS supports HEIF files natively. Below are the platforms that support HEIF files:
iOS 11 and later.
Windows 10 and later.
macOS High Sierra and later.
Android P and later.
HEIF format is not yet supported by popular web browsers such as Firefox, Chrome, Apple's Safari, Brave, etc.
The printer manufacturers do not support this format. You can only print a HEIF file if you convert it to the supported file formats.
This format has not been adopted by social media platforms such as Facebook, Twitter, Instagram, TikTok, etc. This limits sharing of pictures and moments captured in HEIF file format.
You May Need:
Part 2. What is HEIC Image
HEIC is an acronym for High-Efficiency Image Coding file format for storing images using High-Efficiency Image Format. This peerless file format reduces the amount of space an image occupies while preserving its original quality. The HEIC file format was introduced by Apple in the year 2017 as a replacement for the popular JPEG format (HEIC vs JPEG). Compared to its predecessor, the HEIF file format is efficient in quality and size.
1. HEIC File Formats Advantages
Offer reduced file sizes - HEIC encoding is employed to compress the files to small sizes, improving bandwidth efficiency and storing more images using less storage space.
More compression options - this format offers both lossy and lossless compression options. The lossless compression maintains the original quality of the initial image. Lossy compression reduces the file size further by removing some details selectively while preserving the original image quality.
Support enhanced metadata - HEIC offers comprehensive metadata enabling users to attach myriad information within an image file. Storing the metadata in images directly streamlines the management and organization of images.
Animation and transparency capabilities - HEIC stores image sequences, thus enabling animated images to be created within one file. On the other hand, transparency allows alpha channels on images to create outstanding graphics with semi-transparent or transparent regions. The features make it a format of choice for digital artwork, editing images, and more.
2. HEIC File Format Downsides
HEIC file formats are only supported by iOS devices. The files require extra conversions to be used on Linux or Windows computers.
Most browsers do not support HEIC file formats. Even Apple's Safari browser application limits the use of the HEIC file formats.
Social media platforms like Facebook, Twitter, and others do not support HEIC file formats. (How to turn off HEIC on iPhone?)
Learn More:
Part 3. HEIF VS HEIC Similarities
Let us discuss the similarities of these outstanding file formats in this section:
Compatibility - These are relatively new formats that older software and devices cannot support. This makes viewing or opening HEIC or HEIF images on older software and devices hard and may force users to transcode or convert images to more supported formats.
Transmission & Adoption hurdles - Although newer software and devices support HEIF and HEIC encoding, adopting these file formats across all applications and platforms will take longer. This brings inconsistencies when transferring or sharing images from one device to another.
Licensing and patenting - HEIC vs HEIF use compression algorithms subject to patent restriction and licensing, challenging its widespread adoption.
FAQs of HEIC and HEIF
Q1. How can I convert HEIC files to JPG files in Windows 11?
Double-click the HEIC file of your interest, and open it using the Windows Photo application. After that, hit the "Edit and Create" button and select the "Save a copy" option. Select a location where you want to save the file, and Windows will save the file as a JPEG or JPG file.
Q2. What is a HEIF file?
A HEIF file is a file that is saved using a lossy compressed High-Efficiency Image Format. It can contain image collections, still images, image sequences, and image bursts. A HEIF file occupies less memory space, has better image quality, and stores the image metadata.
Q3. How do I convert HEIC images to JPEG format?
You can apply to a professional HEIC Converter to convert iPhone, iPad, iPod HEIC files to PNG/JPG/JPEG photos one by one or in batches, without any hassle or quality loss. Here is a guide on how to convert HEIC to JPEG/JPG.
Conclusion
Notably, the new HEIC and HEIF formats are gaining momentum in the modern world. These formats employ more sophisticated algorithms, which can compress images more efficiently, resulting in smaller files that take up less storage space. However, it poses some serious restrictions regarding widespread adoption and usage due to licensing and patent issues. Fortunately, ongoing compatibility improvements across devices and updates address these hurdles. And sooner rather than later, HEIC-encoding will have taken the mantle since its benefits outweigh the limitations.
Related Articles:
Free HEIF/HEIC Converter You Can't-Miss
5 Best Methods to Open/View HEIC File on Mac [Easy As Pie]
Complete Guide on How to Connect iPhone to PC and Transfer Files?
Different Ways to Download HEIF Images from iPhone to Mac/PC
[Solved] How to Permanently Delete HEIC Photos on iPhone or iPad?
How to Transfer Photos from iPhone to External Hard Drive? [6 Ways]