Everything You Should Know about iMazing HEIC Converter
HEIC is the file extension of the HEIF image format released by Apple, which is a more simplified image file storage method. However, there is not much software that can read HEIC images. Therefore, on many platforms, if you want to view them, you need to convert them to standard JPG images first. For the conversion of HEIC to JPG, many people use iMazing to complete it.
In this article, we will provide a comprehensive review of iMazing HEIC Converter, listing its advantages and disadvantages, usage guide, and some of its alternatives.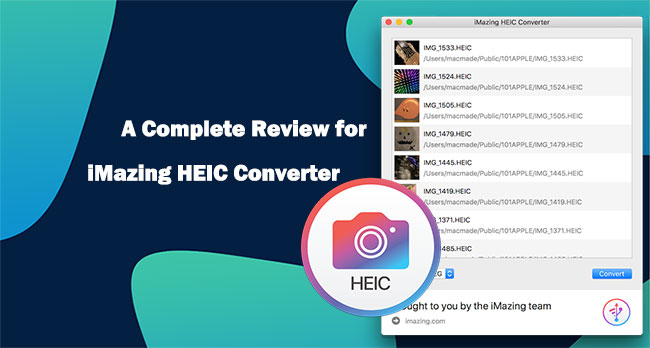 Part 1: What is iMazing HEIC Converter
The iMazing HEIC Converter is a free tool that works on PC or Mac computers. It can convert HEIC format images to JPG or PNG. This is its only function, so it is relatively simple to use. Recently, iMazing HEIC Converter announced that it is compatible with the latest version of iOS 14.
Main features of iMazing HEIC Converter
Convert HEIC format pictures to standard JPG or PNG format for free.
Support drag and drop commands and batch conversion.
Single function and easy to use.
Preserve EXIF data while converting HEIC images.
Compatible with Windows 10, macOS 10.9 or later.
Compatible with the latest version of iOS 14.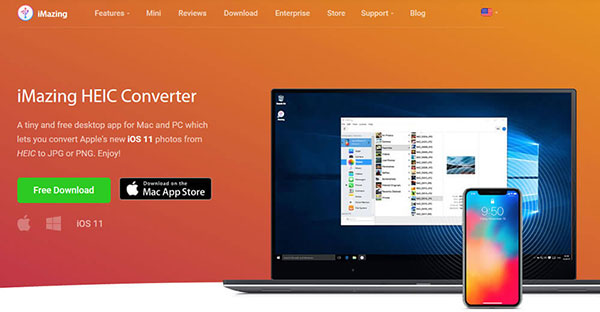 You May Also Need:
Part 2: How to Use iMazing HEIC Converter
Here, we take HEIC to JPEGs conversion as an example, to show you how to use iMazing HEIC Converter.
Step 1. iMazing HEIC Converter free download
You can download iMazing HEIC Converter here. After the downloading and installation, launch the program.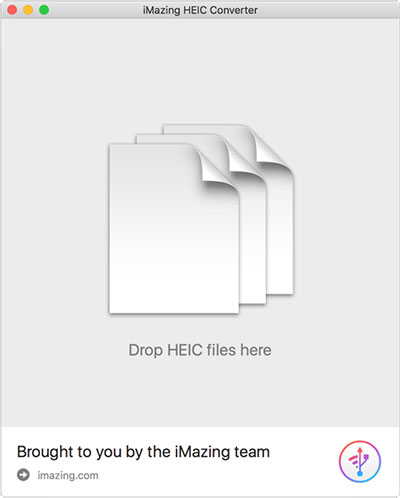 Step 2. Drag and drop the HEIC files
Drag and drop the HEIC files or folders containing the HEIC files you want to convert to iMazing HEIC Converter's window.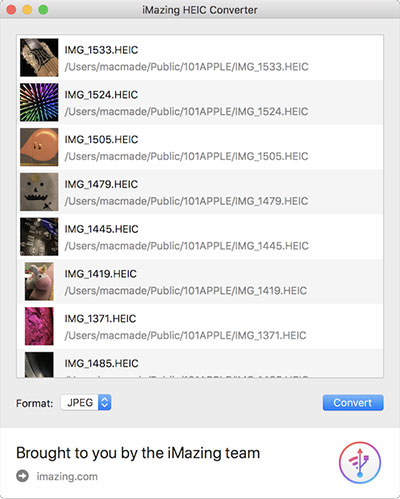 Step 3. Start the conversion
Click the "Convert" button on the program window, and choose a target location to save the converted JPEG files. Then, the conversion will begin at once.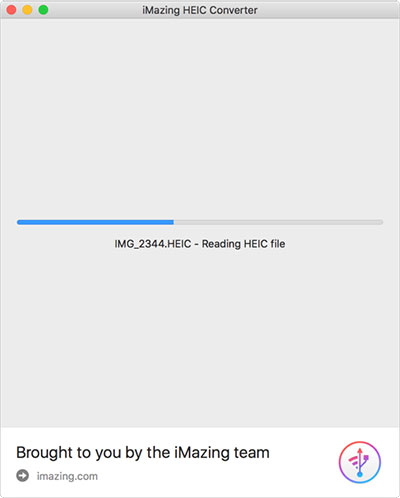 The time required for conversion depends on the number of files you need to convert. iMazing HEIC Converter will have a progress bar to show you the progress of the conversion process.
Part 3: iMazing HEIC Converter Review
Is iMazing HEIC Converter safe?
Is iMazing HEIC converter safe to use? Many people care about this issue. Well, we recommend that you download iMazing HEIC Converter from iMazing official website or App Store. Prevent malicious software or other related problems from other unsafe third-party download sites.
https://imazing.com/heic
https://apps.apple.com/us/app/imazing-heic-converter/id1292198261?mt=12
iMazing HEIC Converter Pros
It supports converting to both JPG and PNG formats.
It supports batch conversion of HEIC files, which can save time.
The output quality is okay, although the photos will be compressed.
It's free.
Keep EXIF metadata when converting HEIC photos.
Very easy to use. Downloading and installation are fast.
Support almost all iOS versions.
iMazing HEIC Converter Cons
Occasionally, the iMazing HEIC converter does not work due to unknown reasons.
Some files were not recognized as valid HEIC files.
You can only batch convert HEIC photos on the computer, not on the iPhone.
Batch conversion sometimes fails.
Does not support adjusting photo quality.
It is only available in English.
It does not provide history of HEIC conversion.
Pause the HEIC to JPG conversion is not supported.
Know More:
Part 4: Best Alternative to iMazing HEIC Converter
Of course, iMazing HEIC Converter is not your only choice to achieve the HEIC conversion. Now, we will share with you two best alternatives.
Choice One: Best Alternative to iMazing HEIC Converter on Desktop
As one of the best HEIC to JPG converters, MobiKin HEIC to JPG Converter enables you to convert HEIC files to JPG and PNG formats on both PC and Mac. It provides almost everything you need when converting HEIC files. One of the advantages over iMazing HEIC Converter is that you can adjust the Image quality before converting HEIC to other image format.
Key features of HEIC to JPG Converter:
Convert HEIC images to JPG or PNG without any quality loss.
Batch convert unlimited HEIC images without any hassle.
It allows you to adjust the image quality before converting HEIC files.
It is easy to use, and support the drag-and-drop operation.
Allow you to adjust picture quality as you wish.
It is compatible with a wide range of Windows and Mac computers.
How to convert HEIC to JPEG/JPG via HEIC to JPG Converter?
Step 1. Import HEIC files
Install the HEIC Converter on your computer, and launch it. Click the "Add HEIC" button to import the HEIC images that you want to convert.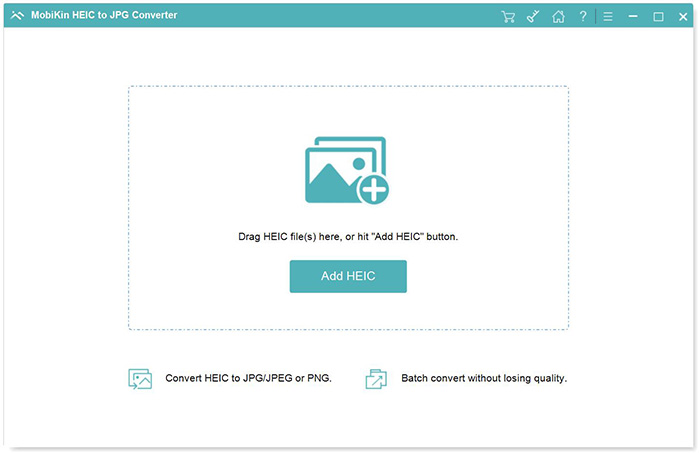 Step 2. Set output format
Click the "Format" option and choose the output format. If you want to convert to JPG format, you should choose "JPG/JPEG", and set the image quality through the "Quality" option. You can also specify the destination folder in the "Output Path" field.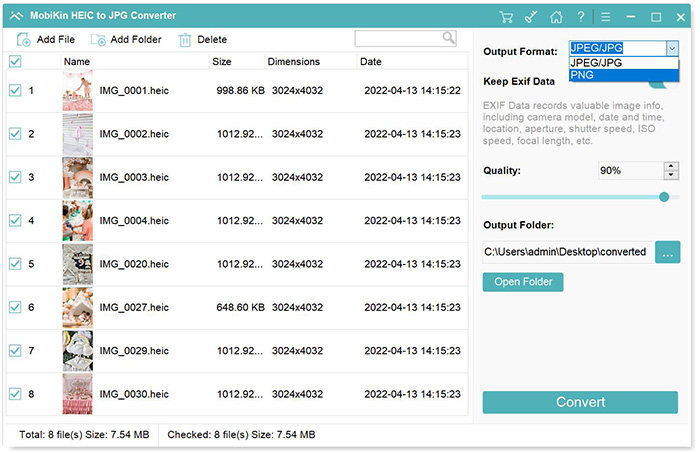 Step 3. Convert HEIC to JPG/JPEG
When you are ready, you can click the "Convert" button to start the HEIC to JPG/JPEG conversion with this best iMazing HEIC Converter alternative.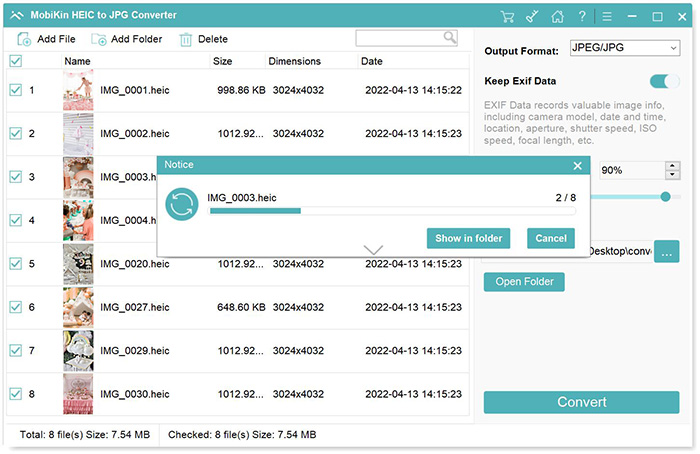 Choice Two: Best Alternative to iMazing HEIC Converter Online
Sometimes, you don't want to be too troublesome to install third-party software on your desktop. In this case, you can try the free online HEIC conversion tool. Now, we take HEICtoJPEG Converter as an example to tell you how you can complete the conversion of HEIC photos online without installing software. It is a well-reviewed online HEIC converter to convert HEIC photos to JPEGs with zero quality loss.
How to use online HEICtoJPEG Converter to convert HEIC to JPG:
Open the browser on your computer and enter the URL: https://heictojpg.com/
Click the "+" icon on the screen to add the HEIC file you need to convert, of course, you can also directly drag and drop the file onto the interface.
After uploading, the online alternative to iMazing HEIC Converter will convert your images immediately.
After the conversion is complete, click the "Download" button to download the JPG files to your hard drive.
Please note that you can only convert 5 photos at a time.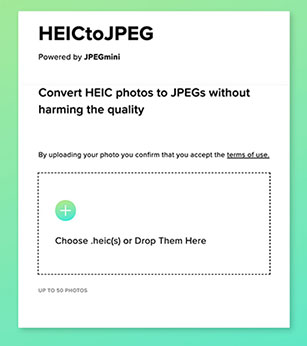 Summary
The above is all about iMazing HEIC Converter review. It is a free program and does not contain annoying advertisements. You can use it to convert iPhone photos from HEIC format to JPG or PNG, which can be viewed on Windows or Android devices. Of course, if you want faster conversion speed and better image quality, you can turn to the best alternative to iMazing HEIC Converter - MobiKin HEIC to JPG Converter.
What do you think of this article? Please feel free to tell us in the comment area below and we will reply as soon as possible.
Was the article helpful? Please leave your comments or suggestions. Your feedback is important.
Related Articles:
HEIF vs. JPEG: What is the Difference?
[Fixed] How to Fix HEIC Display Issue?
Free HEIF/HEIC Converter You Can't Miss
How to Transfer Photos to iPhone 14/13/12/11/X?
7 Ways to Transfer Photos/Pictures from Computer to Phone (iOS & Android)