How Long Does It Take to Back Up iPhone to iCloud/iTunes? Here's The Answer
- "How long does an iPhone/iCloud backup take?"
- "Why is my phone taking so long to backup?"
- "How to fix iCloud backup taking days?"
When you update your iPhone to the latest version or factory reset the device to fix a tricky bug, you may first decide to back up your iOS files to iCloud or iTunes. "How long does it take to back up iPhone" might be what you want to know since many people around you say it can take a long time.
Well, this guide focuses on this topic. You can now learn about the duration of the backup under normal conditions, the reasons for the slowness, and how to get it settled efficiently.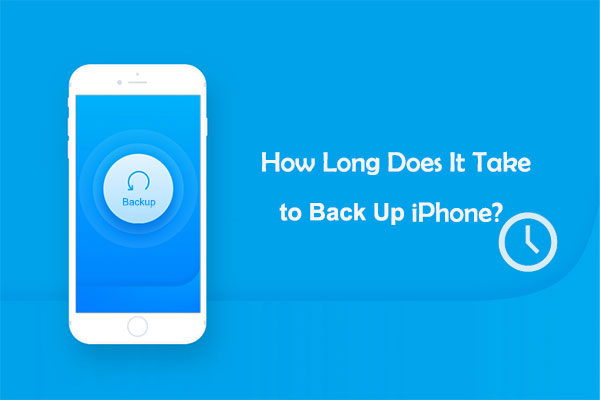 Part 1: How Long Does It Take to Back Up iPhone
1.1 How Long Does iCloud Backup Take
"How long should an iCloud backup take" should be the most concerning issue for you. This task is mainly affected by such factors as the network's speed, the size of backup content, and other unknown reasons.
Generally speaking, the first two are the key aspects determining the backup time. Specifically, if you have a fast and stable Wi-Fi network, it may take only a few minutes to run iPhone iCloud backup. Assuming you use cellular data, it may take 2 to 3 hours to complete. Finally, for those with a host of items to back up and the network state is poor, it may take several hours, and "iCloud backup stuck" might occur anytime.
Know More:
1.2 How Long to Back Up iPhone to iTunes/Computer
Some may wonder how long to back up your iPhone to iTunes. On the whole, it takes 15 to 40 minutes, which is more efficient than iCloud.
As for a reason, it is similar to the iCloud backup we just said, such as file size, network speed, etc. In addition to those, this is also related to iPhone storage. For example, the backup time of a 256GB device is more than 30 minutes slower than that of a 64GB one.
Part 2: Why Is My iCloud/iTunes Backup Taking So Long
In the previous section, we briefly covered "iCloud/iTunes backup how long" and "iPhone backup taking forever why". Next, let's summarize the causes with a simple list.
* Why does iCloud/iTunes backup take so long?
Data size: Too many media files and apps on your iPhone.
Network status: Inefficiency internet connection brought by Wi-Fi or mobile data.
Backup plan: Whether or not you have a full backup also contributes to the miserable backup efficiency.
iPhone condition: An iPhone's memory size determines the smoothness of its running and also affects the duration.
iCloud/iTunes backup location: Factors like backing up to cloud storage or a computer and whether a wired connection is used can influence the completion time.
Other unexpected reasons like iPhone system glitches.
Part 3: How to Troubleshoot iCloud/iTunes Backup Taking Forever (5 Fixes)
Fix 1. Try Another Wi-Fi Network
The primary factor affecting the backup efficiency is the Wi-Fi network regarding how to speed up iPhone iCloud backup. Therefore, please determine whether there is a reliable and stable network. You can try to disconnect it and wait a moment before reconnecting if the network is poor. In addition, trying to link to another one may get better expectations.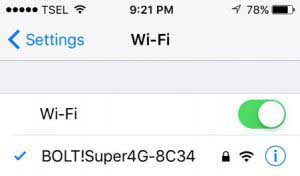 Further Reading:
Fix 2. Run iPhone Backup Frequently
It is not efficient when iPhone creates all new files on iCloud or iTunes. This usually occurs during the first backup. In each backup in the future, the actual amount of backup to be added will be much less than the primary one because only part of the content needs to be handled incrementally. So how to make iPhone iCloud backup faster? Just back up your iPhone frequently.
Fix 3. Remove Unwanted Files before Backup
As you know, the most memory occupied in an iPhone is usually some media files, such as photos, videos, music, etc. There is always old or less commonly-used content. Therefore, you might as well go into your device's internal storage, check unused and large files, delete them or transfer iPhone files to an Android device or another iPhone when the iCloud backup is slow.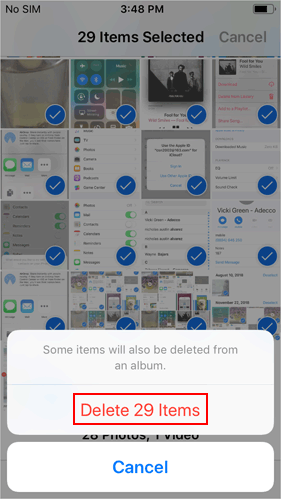 Fix 4. Delete Unnecessary Backups
First, please make sure that at least one local copy of iPhone data has been made before, and you can then disable the unnecessary iCloud backup to fix iCloud backup taking hours as follows:
Go to your iPhone's "Settings" > [your name] > "General".
Tap "Storage & iCloud Usage" > "Manage Storage".
Choose the name of the iDevice whose backup you intend to remove.
Touch "Delete Backup" > "Turn Off & Delete."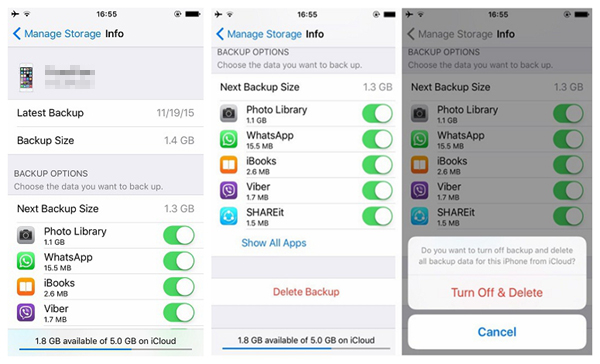 Fix 5. Avoid Syncing Large Apps
Removing apps that are out of proportion can also help troubleshoot "iPhone taking forever to back up", especially when you haven't decided whether to uninstall some apps directly from your phone. Here is how to delete them to free up space on iPhone. To do it, just go to "Settings" on your iPhone > tap [your name] > "iCloud" > turn off the App's backup option.
Part 4: Use an iCloud/iTunes Alternative to Back Up iPhone Quickly
As it is the case that "how long does it take to back up iPhone" isn't equivalent to "how long does it take to back up iPhone to iCloud/iTunes", the tool or service can behave very differently in practice than they do ideally. So, some folks want to know the fastest way to back up iPhone. OK, just take a look at MobiKin Assistant for iOS (Win and Mac).
Why choose MobiKin Assistant for iOS?
Back up iPhone data to computer/iTunes independently and quickly.
Work for such data types as Contacts, Text Messages, Video, Photo, Music, eBook, Notes, Safari Bookmarks, Voice Memo, Podcast, Ringtone, Playlist, etc.
Restore iPhone from backup with one click.
Let you view files and select your desired items to back up and restore.
Allow you to manage/organize your iOS device from a PC/Mac without trouble.
Play functions on overall iDevices, including iPhone 13/13 Pro (Max)/13 mini/12/12 Pro (Max)/12 mini, iPhone 11/11 Pro/11 Pro Max, iPhone X/XR/Xs/Xs Max, iPhone 8/8 Plus, iPhone 7/7 Plus, iPhone 6/6S/6 Plus, iPod touch, iPad, etc.
It won't divulge your privacy.
Let's expound on how to back up your iPhone to a computer/iTunes via Assistant for iOS.
Step 1. Connect your iPhone to computer
After downloading the Assistant for iOS, please install and run it on your computer. Then connect your iPhone to the computer via USB and follow the on-screen prompts to have your iDevice recognized by this utility.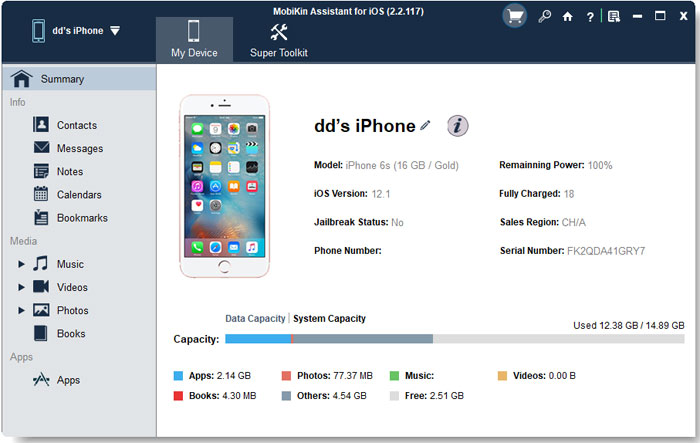 Step 2. Access the "iTunes Backup & Restore" feature
Click on "Super Toolkit" from the top menu, and you will see the "iTunes Backup & Restore" option there. Just tap the option to go on.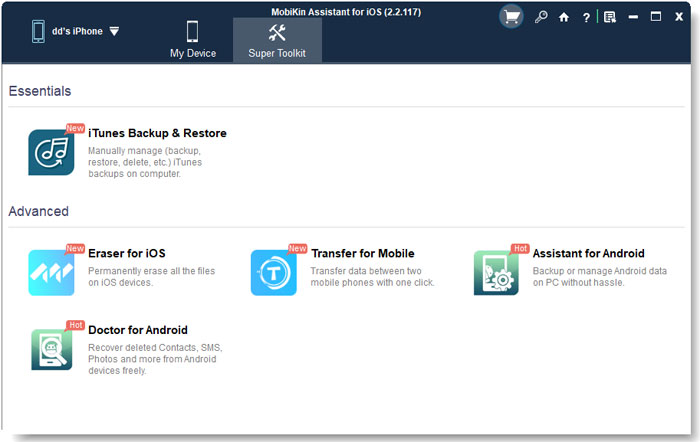 Step 3. Back up iPhone to iTunes/computer
Select "Backup", and all manageable iOS devices will be listed below. Please choose your iPhone and pick "Backup file(s) to default iTunes backup location" or "Customize" as per your needs. Lastly, click "OK" to run the backup.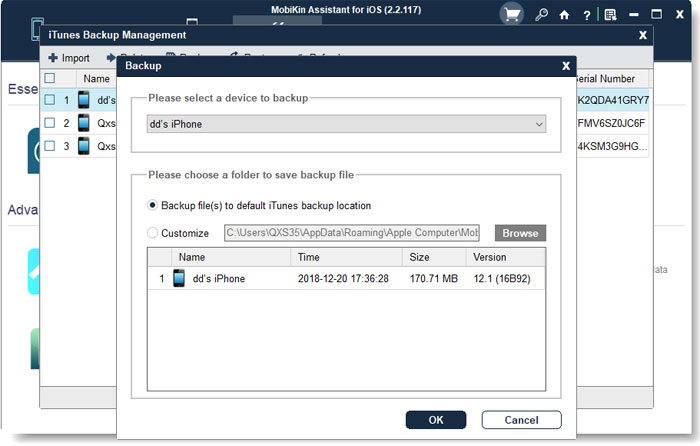 As you can see from the just screenshot in step 1 above, you can also go to any of the files types from the left pane of the program and use this tool to back up the corresponding items to this machine selectively.
The Bottom Line
Overall, iCloud takes longer to complete a backup than iTunes. However, due to the complexity of their backup mechanisms, both may waste your time in practice (especially when you take a backup with them for the first time), and the process may not be smooth. So if you wish to complete the backup faster and more flexibly, you can consider MobiKin Assistant for iOS directly. After all, we all want to save the iOS content with a more reliable and efficient tool.
Related Articles:
[Marvelous] Top 8 iCloud Alternatives for Backing Up iPhone, iPad & iPod
iCloud Not Backing Up on iPhone 13/12/11/Xs Max/8 Plus/8? Here's the Fix!
How to Fix the "Not Enough iCloud Storage" Errors Easily & Quickly?
iPod/iPad/iPhone Won't Sync with iTunes? 10 Easy Solutions to Fix It!
Authoritative Answer: How Long Does It Take to Restore an iPhone?