Does Smart Switch Transfer WhatsApp? Here Are the Answer & Transfer Methods
Text messages, photos, etc., are now easily moved between two devices with the same operating system. Yet, for end-to-end encrypted items like WhatsApp data, you need to pick an appropriate phone transfer tool to handle it. Further, these files may be difficult to be copied across smartphones with different OSes.
Well, if you want to transfer WhatsApp chats from Samsung or iPhone to a new Samsung Galaxy, you may first turn to Smart Switch, Samsung's official tool. Then here's a question - Does Samsung Smart Switch transfer WhatsApp messages? How to transfer WhatsApp data to a new Samsung phone? OK, just check out this step-by-step guide to get what you want.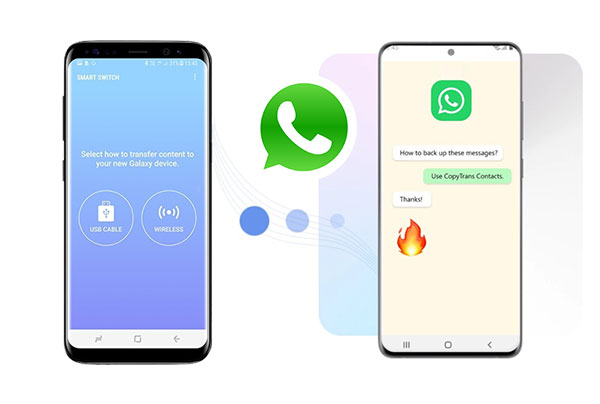 Part 1: Does Samsung Smart Switch Transfer WhatsApp Messages
First and foremost, does Smart Switch transfer WhatsApp? The short answer is YES.
Samsung Smart Switch can now give you the freedom to transfer a plethora of WhatsApp conversations from an iOS/Android phone and a new Samsung Galaxy S22/S21/S20/S10/S9/S8/S7. Well, there's no denying that the old versions of Smart Switch could not transfer such files because they are end-to-end encryption content, not supported by the tool.
However, the incompatibility issues have been conquered, and Smart Switch has been encryption-capable recently.
You May Need:
Part 2: How to Transfer WhatsApp Messages to Samsung Phone via Smart Switch
We just gave a positive response to "can Smart Switch transfer WhatsApp messages". Next, let's figure out how to transfer WhatsApp from Samsung/Android or iPhone to a Samsung device:
Transfer WhatsApp from Samsung/Android to Samsung with Smart Switch:
Preparations:
Ensure your devices are running the latest version of WhatsApp and Smart Switch.
It would be better to install the latest version of Android OS on the new Samsung phone.
An original USB-C to USB-C cable.
Input the same WhatsApp number you use for your old phone on the new one.
Both your phones are at least 50% charged.
User Guide:
Use your USB-C to USB-C cable (Or with the help of a USB-OTG adapter) to connect your devices.
Run Smart Switch and choose "Send data on the old device" > "Receive data on the new device".
Select the "Cable" as the transfer mode on both phones.
The tool will soon scan all your device files for transfer.
View and pick what you want to send from your old smartphone and kick-start the transfer.
Open the WhatsApp application on your new phone.
Sign in with the same number you used on your old cell phone.
When you are prompted to import messages, please click "Import" > "Continue" to transfer WhatsApp messages. (What if Samsung Smart Switch is stuck?)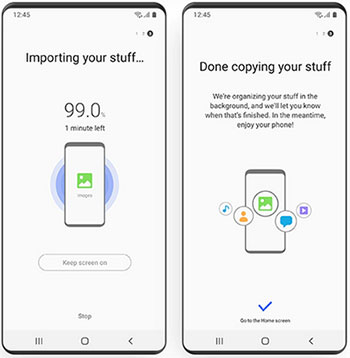 Transfer WhatsApp from iPhone to Samsung via Smart Switch:
Preparations:
Samsung Smart Switch on Samsung: Version 3.7.22.1 or later.
WhatsApp on Samsung: Version 2.21.16.20 or newer.
WhatsApp on iPhone: Version 2.21.160.17 or higher.
A USB-C to Lightning cable or an OTG adapter.
Enter the phone number you used for your iPhone on Samsung when prompted.
Erase your Samsung phone or factory reset it.
User Guide:
Open your target phone (Samsung) and connect it to the source device (iPhone) via the cable.
Run Samsung Smart Switch on both phones and set it up for migration.
Scan the QR code listed on your Samsung phone via the iPhone's camera when asked.
Proceed to "Start" on your sending device.
Continue setting up your Samsung, and when you get the "Home" screen, launch WhatsApp.
Sign in to the phone number used on the iPhone.
Go for "Import" to allow the WhatsApp transfer to commence.
Activate your Samsung phone and check the WhatsApp messages there.
Part 3: How to Transfer WhatsApp Data to New Samsung via Google Drive
Besides copying WhatsApp with Smart Switch, you are enabled to use Google Drive, a Samsung Smart Switch alternative, to move WhatsApp chats from a Samsung/Android phone to a new Samsung.
Preparations:
Both your phones are associated with a Google account.
Install Google Play on your devices.
There must be enough space on the Drive's storage.
Be sure to configure a smooth Wi-Fi network for data syncing.
Enter the correct phone number when you're asked.
User Guide:
Run WhatsApp on your source Android/Samsung phone.
Go to "More Options" > "Settings".
Navigate to "Chats" > "Chats backup" > "Back up to Google Drive".
Set the backup frequency > pick an account > tap "Back up".

Open WhatsApp on your new Samsung phone and select "Agree and Continue".
Verify your phone number when required.
Input the verification code sent from WhatsApp.
Press "RESTORE" > "NEXT" to transfer WhatsApp data to the new Samsung phone.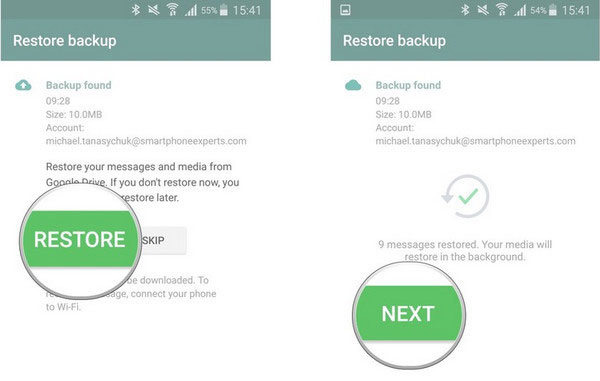 Know More:
Part 4: How to Copy WhatsApp Chats to Samsung over Email
Email is free and easy to move WhatsApp messages across. But after the migration, you cannot preview the exported WhatsApp messages. And this method isn't ideal for bulk transfer.
Preparations:
User Guide:
Open WhatsApp on your source iPhone or Android phone.
Click on the three dots icon to access "Settings".
Select "Chat Settings" > "Email Chat".
Choose the WhatsApp messages you wish to transfer.
You'll be asked if you want to transfer chats "Without Media" or "Attach Media".
Pick any options as per your needs.
Input your Email credentials in the given field.
Tap "Send" to get out the WhatsApp content.

Once complete, please go to your new Samsung phone.
Enter the exact email account to access the incoming data.
Check your WhatsApp conversations on your new device.
Part 5: Best Way to Transfer WhatsApp Messages Between Devices (Android/iOS)
This way supports the most types of mobile phones among all methods. This is thanks to the state-of-the-art technology WhatsApp Transfer incorporates. As a top-rated data transfer program, it lets you flexibly copy WhatsApp messages from one device to another, irrespective of the system they're running. And you have the option to back up data for various social apps.
Core highlights of WhatsApp Transfer:
Transfer WhatsApp data from Android to Android, Android to iPhone, iPhone to Android, iPhone to iPhone.
Simple clicks to back up and restore WhatsApp and WhatsApp Business.
Back up Viber/LINE/Kik/WeChat chat history easily.
Let you preview and pick details for selective backup.
Work for various smartphones, covering Samsung Galaxy S22/S21/S20/S10/S10+/S10e/S9/S8/S7/S6/S5, Galaxy Note 20/Note 10/Note 9/Note 8/Note 7/Note 6/Note 5, Xiaomi, Google, Sony, Huawei, Motorola, iPhone/iPad/iPod, etc.
It won't divulge your privacy.
Preparations:
A Windows PC or Mac.
Download and install WhatsApp Transfer.
Two USB cables for your phones.
User Guide:
Step 1. Start the installed program on your computer and go for "WhatsApp Transfer" from the initial screen.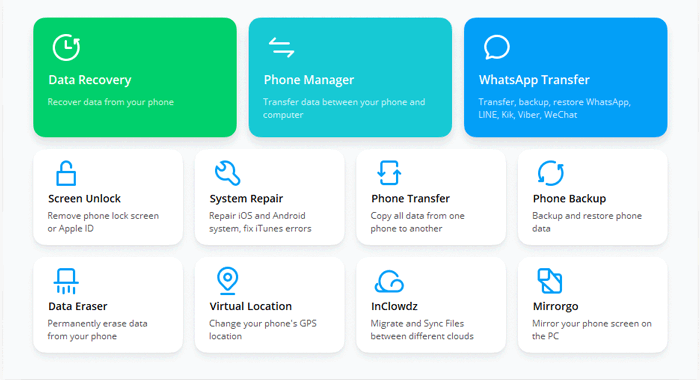 Step 2. Get into the "WhatsApp" tab from the left menu, followed by "Transfer WhatsApp messages".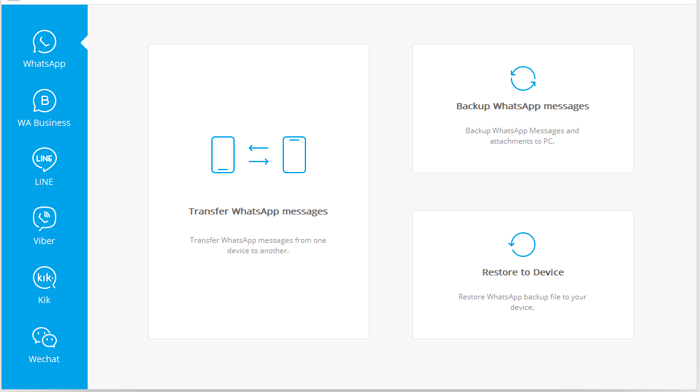 Step 3. Plug your two mobile phones into this computer and wait until the tool recognizes them. Next, ensure the devices are in the correct positions. If not, just tap on "Flip" on the screen.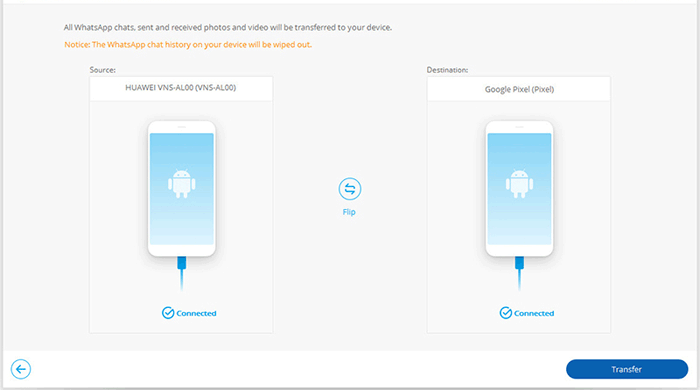 Step 4. Click on "Transfer" to start the transfer from your old phone to the new Samsung. The progress bar will show you the status of the task.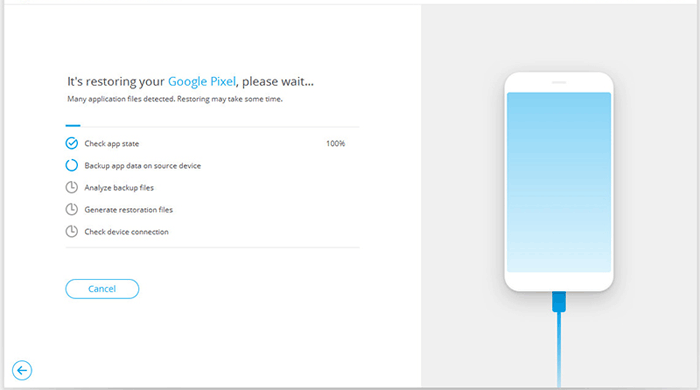 Step 5. Once accomplished, please unplug your phones from the computer and re-launch WhatsApp on your Samsung device. If the following interface turns up, hit "Restore" to receive the transferred WhatsApp messages.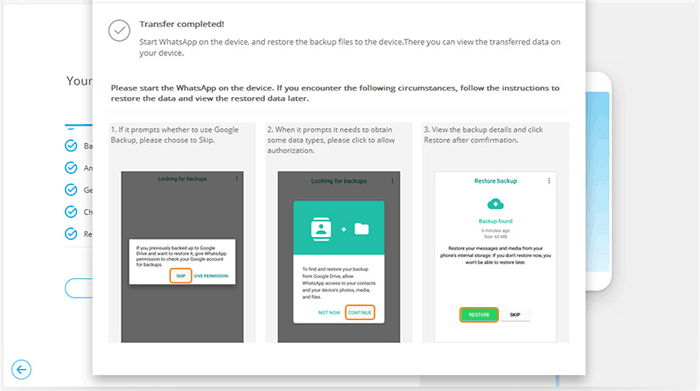 Final Thoughts
OK, some of the steps in the method above may be slightly complicated, albeit with no know-how for any of them. Finally, let's make a brief summary of this passage:
Demanding premises are essential when using Smart Switch for WhatsApp chat copy, and once you've met all, you should follow a specific practice, depending on your old phone's OS.
Google Drive supports WhatsApp data transfer from Android/Samsung to Samsung if you have enough preparations in advance.
Email is only good for transferring small amounts of WhatsApp data and cannot be viewed directly on the new Samsung phones.
WhatsApp Transfer is quite easy to use and is the most compatible, with the ability to switch WhatsApp messages quickly between devices running various operating systems once an easy connection is created.
Related Articles:
2023 Latest WhatsApp Viewer Review And The Best Alternative
How to Retrieve WhatsApp Messages from Lost Phone without Backup? [iPhone/Android]
[Fixed] Where Are WhatsApp Messages Stored on Android/iPhone/PC?
How to Edit Samsung Contacts on PC? 2 Methods Most People Don't Know.
6 Methods to Backup and Restore Your Samsung Galaxy/Note/Tablet