Authoritative Answer: How Long Does It Take to Restore an iPhone?
"I forgot my password in my iPhone 12 Pro, so I am trying to restore it via iTunes. I have done this about four times, and it still hasn't worked. So, how long does it take to restore iPhone? Any tips?" -- from Apple Support Communities
You may want to restore your iPhone from iTunes or iCloud due to the scenarios like accidental deletion, password forgotten, iPhone black screen of death, iPhone bricked, etc. Yet, a new problem - how long does iPhone restore take - may arise, for the process did not go as smoothly as you might have been expected sometimes.
Well, in this definitive guide, you will learn how long to restore iPhone, why iPhone restore take so long, and how to fix the issue in a quick manner. Let's dig deeper now.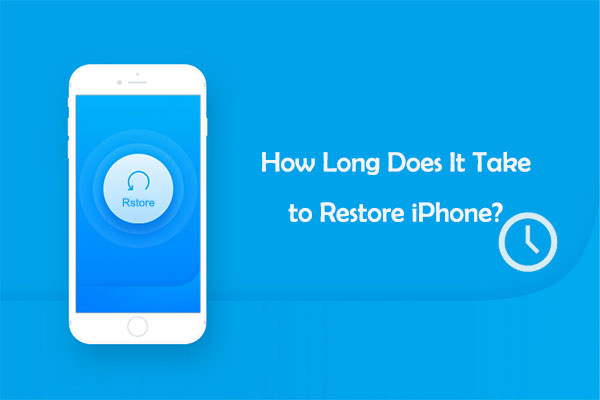 Part 1: How Long Does It Take to Restore iPhone?
In terms of how long does it take to restore an iPhone from/on iTunes, it generally takes between 15 and 30 minutes. But that can also not be considered as a matter of experience, for the time taken to restore an iPhone also hinges on the amount of data you have on your iPhone. You know, more data leads to slower speeds.
Next, how long does it take for iPhone to restore from iCloud backups? Well, the answer can be 1 to 4 hours, or even longer. iCloud works at the speed of 100 MBps by and large. So, restoring content from iCloud can be a headache for us, and the same could happen when backing iPhone to iCloud.
You May Be Interested in:
Part 2: Why Does iPhone Restore Take So Long?
So, what is responsible for iPhone restore taking so long or forever? The following are generally the main factors contributing to this phenomenon:
Network Conditions: ensure a stable network connection first. It's better not to use your mobile data, which might have a bearing on the restore and incurs additional costs.
iOS Update: iTunes usually take more time to restore an iPhone just because it has to download and install the latest iOS.
Size of Data: a minimum number of items can fasten your iPhone restore process. Thus, you can screen out large and unnecessary videos before backing up your iPhone to get a smooth restore.
Part 3: How Long Does It Take to Factory Reset an iPhone?
It mainly depends on your iPhone models. Specifically, a factory reset may take approximately 30 minutes on the latest iPhone 12 series. While for the older version, such as iPhone 8/7/6, it may be 2 hours or more.
But there are also exceptions. For instance, some users reported that when they restored the factory settings on iPhone X, the progress was still only 10% after two hours.
In addition, you might dump into the iPod/iPad/iPhone white screen of death after restoring the factory settings.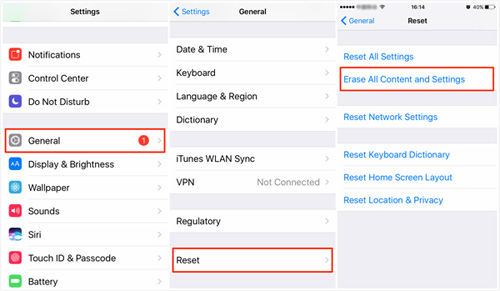 Tips: You had better not directly restore your iPhone to factory reset if it is jailbroken. This could result in an iPhone that won't boot up.
Part 4: What Can We Do When iPhone Restore Takes Too Long?
1. Restart Your iPhone
Please unplug your iPhone from your computer and restart the PC before you try to recover the content from your iTunes backups again.
Learn More:
2. Connect to a Strong WiFi Network
You can check on the Internet connection if iPhone restore takes too long. Next, restart your router and connect to a strong WiFi network if necessary.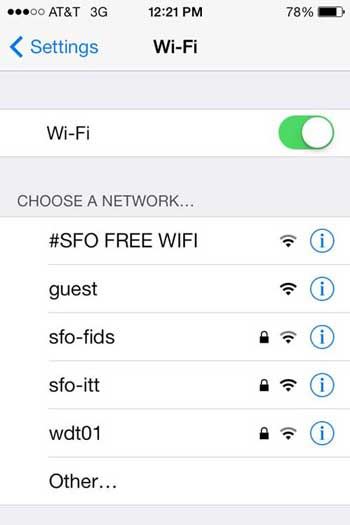 3. Reboot You Computer and Try Another USB Cable
Sometimes, iTunes/iCloud restore takes forever. This issue might be deep down inside your PC or the USB cable. So rebooting your computer and getting another applicable USB cable might work.
4. Switch to a Different Computer
There may be something wrong with your computer after rebooting. This is mainly because your PC cannot interact with your iOS device. Simply opt for a different computer instead.
5. Put Your iPhone in Recovery Mode
Recovery mode is a form of hard reset. By trying to put your iPhone into recovery mode, you may shorten the painful process caused by your iPhone itself.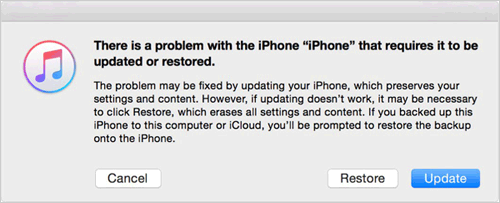 6. Update iTunes
If this situation does not change whatsoever, it's time to go check the version of iTunes. And you can update iTunes to the latest version on your PC/Mac if required.
Part 5: The Fastest Way to Restore iPhone without iTunes/iCloud
Most of us think that iTunes and iCloud are not the ideal tool/service to back up and restore an iPhone. One of the major reasons is their poor efficiency when executing tasks.
So is there a quick and easy way to restore your iPhone? Exactly, MobiKin Assistant for iOS (Win and Mac) is the appropriate program you are seeking. It is a tip-top tool for backing up and restoring your iOS devices, as well as a great assistant for managing your iOS devices on PC/Mac directly.
Main features of MobiKin Assistant for iOS:
Back up and restore iPhone data easily and quickly.
Transfer data between iDevices and iTunes/computers.
It's an iPhone file manager, helping control iOS data on a computer directly.
Work well on various PC and Mac.
Run smoothly on various iOS devices, including iPhone 14/14 Pro/14 Pro Max/14 Plus, iPhone 13/13 Pro (Max)/13 mini, iPhone 12/12 Pro (Max)/12 mini, iPhone 11/11 Pro/11 Pro Max, iPhone X/XR/Xs/Xs Max, iPhone 8/8 Plus, iPhone 7/7 Plus, iPhone 6/6S/6 Plus, iPod, iPad, etc.
It never gives away your privacy.
> Back Up Your iPhone in One Tap
Step 1. Run the tool on your computer and use a USB cord to link your iPhone to the PC. Have the device recognized by the utility according to the on-screen hints.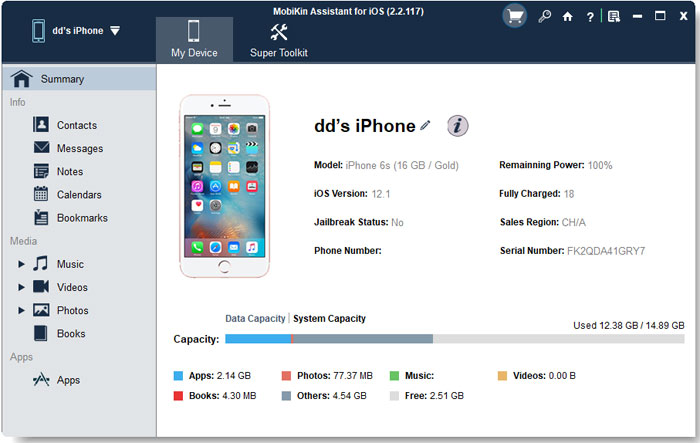 Step 2. Click "Super Toolkit" from the program interface, followed by "iTunes Backup & Restore".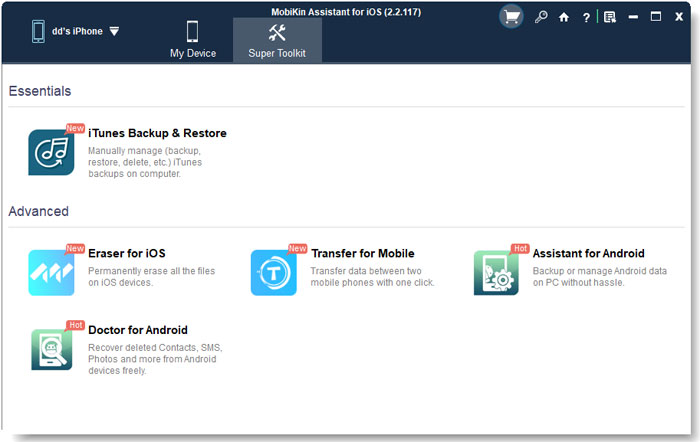 Step 3. A window will then pop up. Just select "Backup" from the top screen.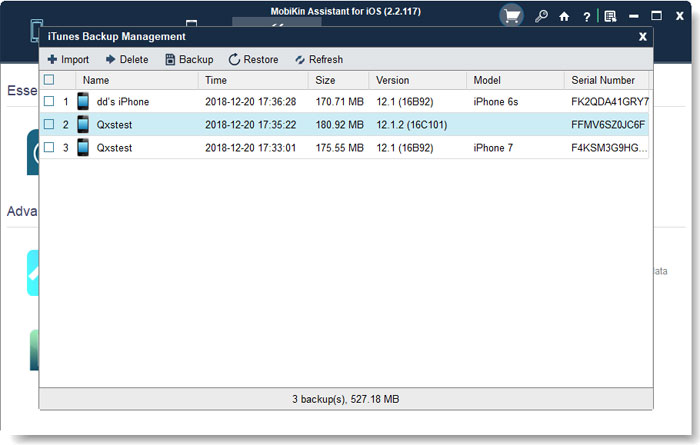 Step 4. Choose a device to back up and select a location to store the backup content. Finally, tap "OK" to start backing up your iPhone data.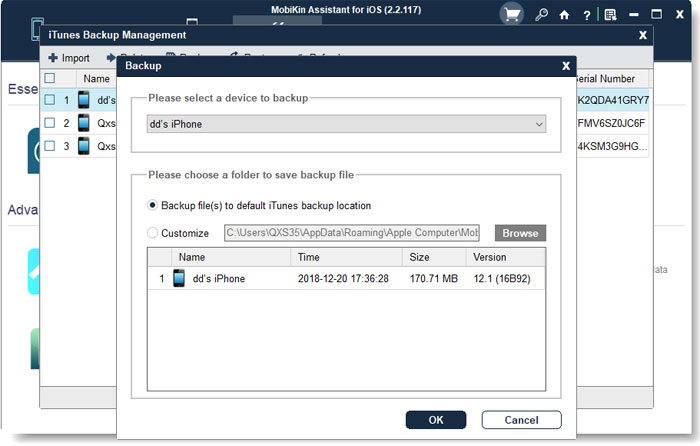 > Restore your iPhone Data Quickly
Step 1. Launch the program and attach your iPhone to a computer through a USB cable. Then do as the prompts imply to let the software recognize your iPhone.
Step 2. Head to Super Toolkit > iTunes Backup & Restore > Restore.
Step 3. Choose the backup files you wish to get back and click "OK" to restore them to your iPhone without delay.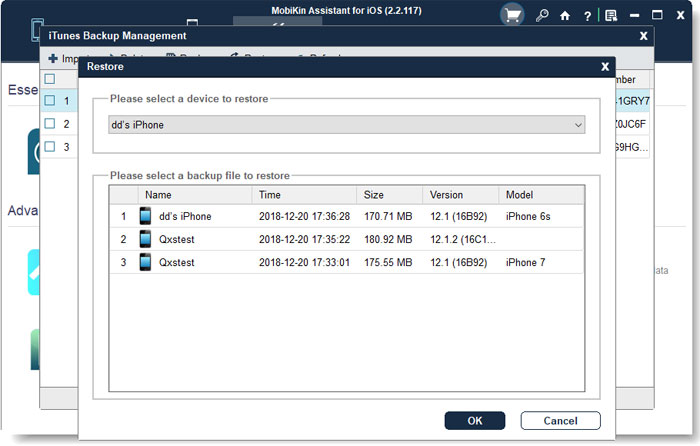 Final Part
We have explored the answer to the question - "how long does restoring an iPhone take" in the first part. Subsequently, we also analyzed the reasons for the long wait and then offered the workarounds. Here, you can try these measures, but they are not guaranteed to work.
To make your iPhone restore easier to operate and more efficient, you can consider picking MobiKin Assistant for iOS. This software equips you with great options to back up, restore, and control your iOS content at short notice.
Related Articles:
iCloud Not Backing Up on iPhone 14/13/12/11/XS Max/8 Plus/8? Here's the Fix!
[Guide] How to Reset iPhone 14/13/12/11/11 Pro/XR//Xs/8 Plus without iTunes?
iTunes Could Not Connect to This iPhone? Here's the Full List of Fixes!
Send Long/Large Videos on iPhone: The Definitive Guide (7 Ways Included)
iCloud Backup Taking Hours? Here're the Efficient Solutions
3 Solutions to Restore iPhone/iPad from Backup (98% Success Rate)