3 Useful Tips to Refresh iTunes Library
Listening to music is one of the most effective ways of keeping ourselves entertained and in the process ensures that we are able to keep our minds relaxed especially after a hard day at work. Listening to music using the iOS devices is sometimes challenging especially when your iTunes library fails to refresh automatically and you want to listen to your favorite music from your recently created playlists. How to refresh iTunes library? Due to the different technology perspectives there are several methods which you can use to solve this problem and in the process get to experience an amazing music experience with the iTunes library.
Different Methods on How to Refresh iTunes Library
There are several ways to help you solve the problem.
Method 1: This method is certainly the most recommended method since it guarantees to solve your issues with just a simple process that will take you less than 5 minutes.
Step 1. If your library fails to refresh, you should begin by first closing your iTunes altogether.
Step 2. After you have closed down the application, launch it again and at this time make sure your iTunes library starts while you are holding down the option key. You will be prompted with the several options after which you will choose the library option.
Step 3. While in the library folder, you will be expected to browse through to the iTunes folder after which you will be required to select it and this will automatically refresh your library.
Method 2: The next method is quite involving and is not straightforward as the first method.
Step 1. This method will require you to locate the iTunes folder in your device and you may achieve this by following down the users/YOURUSER/Music/iTunes path. While at iTunes, you should locate the iTunes Library.itl file and then delete it. This is the file that acts as the database and by deleting it, you will be subjecting your iTunes library to create a new database for it to access the songs since there will be none at that moment.
Step 2. When creating a new database, iTunes will have no option other than to refresh where the new database will incorporate all the current songs in your library. While using this option, it is important that you note that the newly created database might show only the songs that you have purchased through iTunes and not the entire list of songs in your device. To enable the library to show all the songs, you should turn off this feature by choosing to hide music in the cloud.
Method 3: You can also opt begin the process of refreshing your iTunes library by browsing your device and open iTunes.
Step 1. From there then choose to add file to library.
Step 2. After that, choose My Music folder or any other folder where you have saved your music files.
Step 3. Enter the folder with all your music files and then select all music files then enter. By pressing enter, you will be subjecting iTunes to review the newly created list and compare it with the previous list where it will delete those files that do not exist and add the new files to the library folder.
There is still another option which is highly recommended as the last option when all the above methods have failed. The final method of how to refresh iTunes library is an easy process. You will need to delete all the files in the iTunes files listing. After that you will be prompted to remove and keep files after which you will be required to say yes in both prompts just to be on the safe side. After that you should go to the iTunes folder and choose the add file function and you will guide it on where to locate the music files you wish to add to your iTunes library.
Conclusion:
When using iTunes on devices that do not use the iOS operating system, the condition of the library failing to automatically refresh the music is expected and it is precisely why the above information is made available. Now that you have all the relevant information you may need to know about how to refresh iTunes library, you should make sure that your library is always refreshed. By constant refreshing of the iTunes library, you are guaranteed an opportunity to enjoy an amazing music experience.

Extra: We all know that during the process, any malfunction can cause the data loss of your iOS devices. So to retrieve the deleted data on your iPhone, iPad or iPod touch, you can turn to the MobiKin Doctor for iOS software. Now you may get the free trial version to have a try to restore iOS data.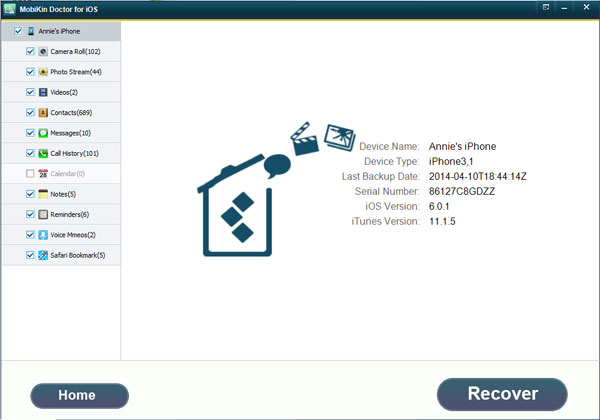 Related Articles:
What If You Forgot Your iPhone/iTunes Backup Password? A Complete Guide Here
How to Fix Restore from iCloud Paused in 12 Reliable Ways? [SOLVED]
Troubleshoot "Unable to Share Photos from iPhone" with 9 Common Tricks
5 Proven Ways to Sync Videos to iPhone 14/13/12/11/X/8/7
How to Transfer Photos from Android to PC Easily? [3 Ways]
7 iPhone Photo Recovery Apps Help Restore Pictures Easily [iOS 16 Supported]