What If You Forgot iPhone/iTunes Backup Password? A Complete Guide Here
iTunes enables its users to make a secure backup of iPhone with the "Encrypt local backup" option on it. And an encrypted backup is created when the tool is called on to generate one. Typically, you have so many different passwords to remember; chances are that you're worried about restoring your backup if you forgot encrypted backup password. Simply put, this easy guide lets you know how to fix "forgot iPhone backup password" differently. Let's get down to business now.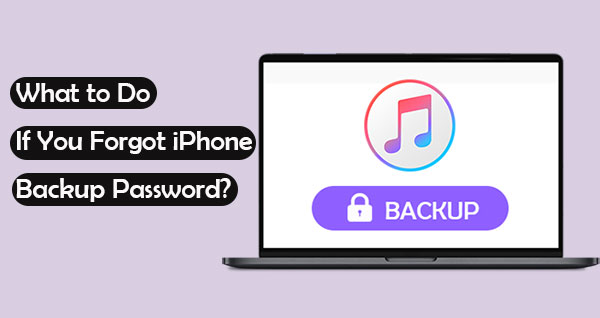 Part 1: Forgot iPhone/iTunes Backup Password? 8 Quick Fixes for You
Fix 1: Try All Possible Passwords
iTunes put a password on my backup. When you cannot remember it, try the most common codes or strings like "qwerty123", "1111", and "1234". Apart from that, you can fix iPhone/iTunes encrypted backup password by recalling the content like:
Wi-Fi settings.
Saved passwords.
Health data.
Website history.
Call history.
Blank or empty password.
iTunes/iCloud account password.
Email account.
Computer's login password.
Next, how do I find my encrypted backup password? Can I remove it from the backup or change a new one? OK, keep reading for what you want.
Click to Know:
Fix 2: Reset All Content & Settings
Take a new backup of your iPhone via iTunes.
Head to your iPhone "Settings" > "General" > "Reset" > "Erase All Content and Settings".

Input the password when asked.
Tap "Erase" and confirm the action to eradicate encrypted iPhone backup.
After that, connect your iPhone to the PC using a USB cable.
Run iTunes, go for "Summary" > "Restore Backup".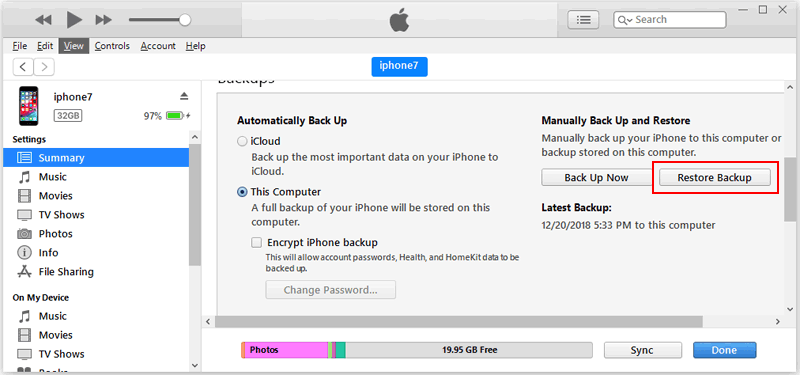 Fix 3: Reset All Settings in iOS 11 or Later
iPhone running iOS 11 or higher comes with the "Reset All Settings" feature, which helps you regain iOS backup when prompted to enter the password to unlock your iPhone backup. Here are the steps:
On your device, go to its "Settings" > "General" > "Transfer or Reset [Device]" > "Reset".

Touch "Reset All Settings".
Enter your iPhone passcode and confirm the operation.
Follow the direction to finish the reset. (Resetting your settings won't erase your iPhone).
Connect your iPhone to iTunes again and make a new encrypted iPhone backup.
Fix 4: Reset iPhone Backup Password in iOS 10 or Earlier
The encryption happens on your iPhone itself. As the backup is set up, all your backup files are encrypted. Here, there's good news here: if your device is running iOS 10.0 or older, you have the freedom to reset the code when you can't remember iTunes encrypted backup passwords. Here are the concise directions:
Uninstall and reinstall iTunes on your computer.
Remove the current backup files.
Run a new backup from scratch on another PC/Mac.
When you reach the "Encrypt iPhone backup" box, place a checkmark on it.
Dig into the "Manifest.plist" file as claimed by some trusted websites.
Fix 5: Find the Password from the macOS Chain
Open your Mac computer and choose "Application".
Proceed to "Utilities" > "Keychain Access".
Go to the search bar to look for your iPhone's backup.
Double-click and choose "Show Password".
Next, enter the keychain password to remove the iTunes forgotten password for the encrypted backup.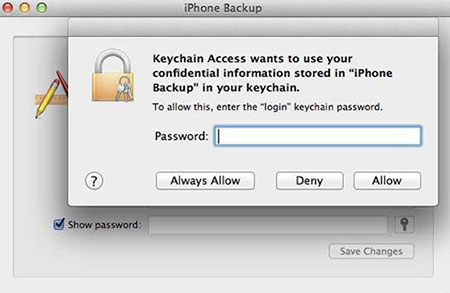 See More:
Fix 6: Back Up iPhone to iCloud & Restore Backup Accordingly
iCloud officially assists in backing up and restoring an iPhone. Before getting any further, please ensure the Wi-Fi connection is stable. Next, we'll show you how to back up your iPhone to iCloud to fix "iPhone backup password incorrect" by taking a shortcut:
Navigate to your iPhone's "Settings" > [your name] > "iCloud".
Choose "iCloud Backup" > "Back Up Now".

Once the backup is done, check for the Hellow screen when setting up your iPhone.
Follow the screen prompt to erase and remove all content.
Tap "Apps & Data" > "Restore from iCloud Backup". (How to restore iPhone from iCloud backup without resetting?)
Log in to Apple ID and choose the backup you just ran.
Fix 7: Use iTunes Password Decryptor
On your PC, download and install iTunes Password Decryptor.
Run the program and click "Open" > "Add file" to add the iTunes backup file manually.
Choose the Manifest.plist from the path C:\Users\(username)\AppData\Roaming\Apple Computer\MobileSync\Backup
Click "Open" and select one password attack type. (Note: 1. Mask or Dictionary attacks could be an alternative if you can recall a portion of the iTunes password. 2. Use the default brute-force assault if you forgot your password completely.)
Press the Start button to let the tool immediately decrypt your iPhone backup password.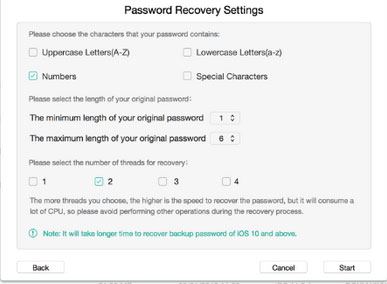 Fix 8: Brute Force Attack the Backup Password
iTunes cannot restore backup because password is incorrect. If this problem persists, it's wise to use a professional product to force your way through it.
Currently, an iPhone iTunes backup uses AES-256 with 10,000,000 iterations. A brute-force attack gives you the opportunity to try every possible password combination. To get the job done quickly, you can give hashcat a try. Notably, tools of that kind may take you quite a while to attack the password.
Part 2: Delete iPhone/iTunes Backup Password with iOS Unlock (Ultimate Way)
Rather than removing or unlocking the backup password on an iPhone for an uncertain outcome, it would be a great option to remove the frustrating code. Given that, try iOS Unlock, the most recommendable password eliminator for Apple device users. With a considerable amount of user base, this utility is dabbed as the best terminator of almost all kinds of iPhone passwords.
Overview of iOS Unlock:
It doesn't require a password to unlock iPhone/iTunes backup decryption.
Bypass various kinds of iPhone lock screens.
Delete your iCloud account/Apple ID even when Find My iPhone is enabled.
Remove the iCloud activation lock on iDevices without a password.
Bypass remote management/MDM without harming iOS data.
Apply to overall iOS devices, including iPhone 14/14 Plus/14 Pro (Max), iPhone 13/13 Pro (Max)/13 mini/12/12 Pro (Max)/12 mini, iPhone 11/11 Pro/11 Pro Max, iPhone X/XR/Xs/Xs Max, iPhone 8/8 Plus, iPhone 7/7 Plus, iPhone 6/6S/6 Plus, iPod touch, iPad, etc.
It won't let out your privacy.
How to remove encrypted iTunes/iPhone backup passwords via iOS Unlock?
Step 1. Get into the "Screen Lock" tab
Install and open iOS Unlock on a computer after the free download. Then launch the software and go for the "Screen Lock" section.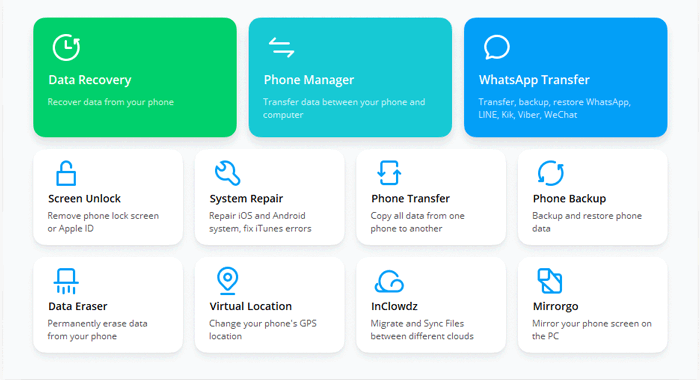 Step 2. Choose "Remove iTunes BackUp Encryption"
When you are on the next screen, click "Remove iTunes BackUp Encryption" to continue.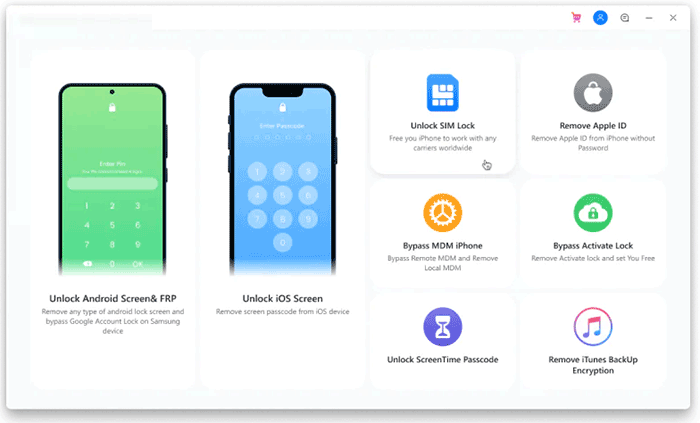 Step 3. Delete iTunes/iPhone forgotten password
Attach your iPhone to the computer through a USB cord. After the program detects your device, turn off "Find My iPhone" and do not start "iTunes". Next, press "Remove Now".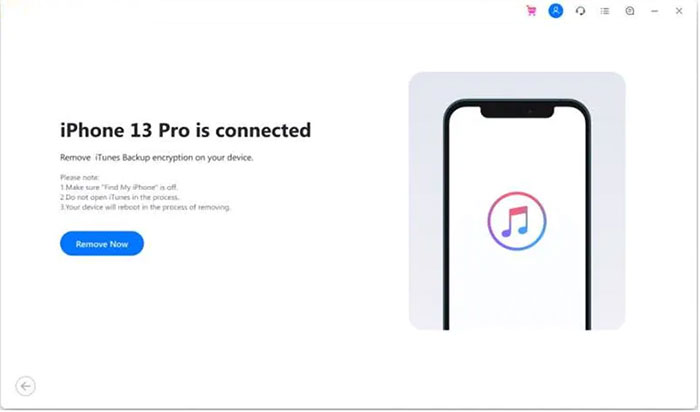 This tool will begin to remove the iTunes/iPhone backup encryption immediately. Once completed, the encryption will no longer exist, and you can do whatever you want for your iPhone.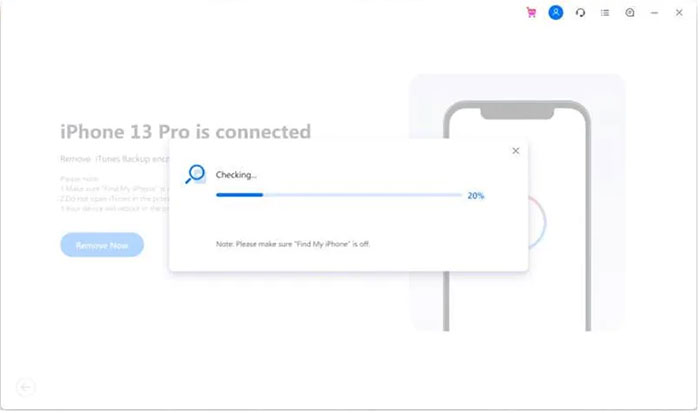 Extra: Tips to Change iPhone Backup Password
iTunes makes it convenient for you to turn your iPhone/iTunes backup password into a stronger or easier one to remember. Here's how:
Run iTunes on your computer.
Connect your iPhone to this PC via USB.
Press the "device" icon on the left.
When a new interface appears, you'll find the "Encrypt local backup" option.
Tap "Change Password" and enter your old backup password.
Enter the new one and verify it.
Hit "Change Password" again.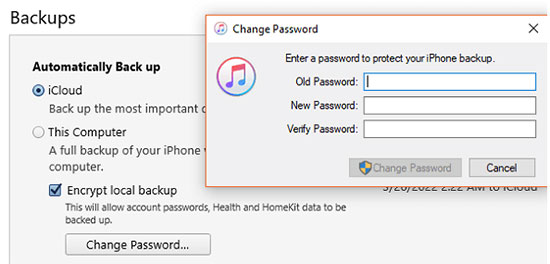 The End
As we described above, it is not easy to recover the iPhone/iTunes backup password directly. On the one hand, violent attacks with 3rd-party software will take you quite long and may expose your iOS content to the risk of disclosure on the other. From the perspective of security, iOS Unlock, reputed as a master key, is a desirable tool for removing your iPhone/iTunes password. Finally, please add a comment below if in doubt.
Related Articles:
How to Restore iPhone from iCloud with/without Resetting [Ways & Troubleshooting]
Top 4 Solutions to Fix iPhone Unavailable without Data Loss
Where Is My iPhone Backup Stored? A Detailed Guide You Should Never Miss
5 Proven Ways to Fix iPhone Passcode Expired [2022 Latest]
What Happens If You Delete a Backup? Get Some Helpful Tips Here
How to Bypass FRP Google Account Lock? [General & Detailed Guide]