8 Quick Ways to Transfer Photos/Pictures from Android to Computer/PC
Taking precious moments on our Android smartphones has become second nature. Whether they're breathtaking landscapes, unforgettable memories with loved ones, or creative snapshots, our Android devices serve as personal galleries, preserving these visual treasures. However, there may arise situations when we need to transfer cherished photos from Android to a computer for backing up, editing, printing, or sharing.
Well, we shall scrutinize eight effective ways on how to transfer photos from Android to computer effortlessly. By going through this page, you'll surely find a suitable approach that aligns with your specific needs.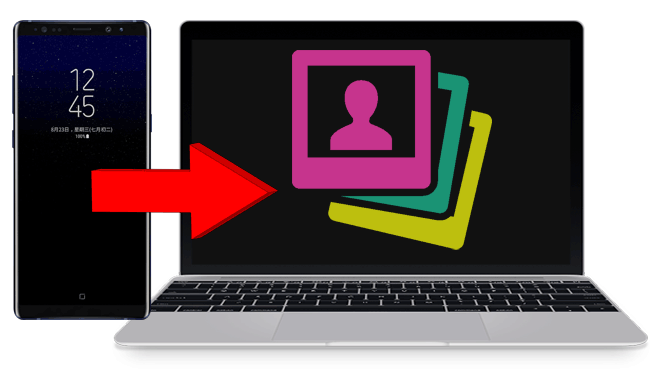 Way 1: How to Transfer Photos from Android to Computer via Assistant for Android
If you are looking for a convenient and effortless method to copy photos from Android to PC or Mac, MobiKin Assistant for Android (Win and Mac) is highly recommended. This intelligent tool allows you to easily preview and synchronize all or specific images from nearly any Android device to your computer with just a few simple clicks. Moreover, it offers additional features such as media file management and direct handling of other essential data on your computer.
Noteworthy features of Assistant or Android:
Selectively transfer photos from Android to a computer.
Easily and quickly copy data from a laptop/desktop to Android flexibly.
Bulk back up and restore Android phones/tablets with one click.
Move such files as contacts, call logs, text messages, music, pictures, videos, books, apps, etc.
Manage Android pictures and other items on a computer directly.
Two connection modes: Wi-Fi and USB.
Work well with 8000+ Android phones/tablets, including Samsung, HTC, Xiaomi, Huawei, Google, Sony, Motorola, LG, DELL, vivo, etc.
It won't compromise your privacy.
Free download MobiKin Assistant for Android and learn how to send pictures from phone to computer with it:
Step 1. Install the program on your computer and launch it. Connect your Android phone to the computer using a USB cable. Follow the on-screen instructions to allow the utility to recognize your smartphone.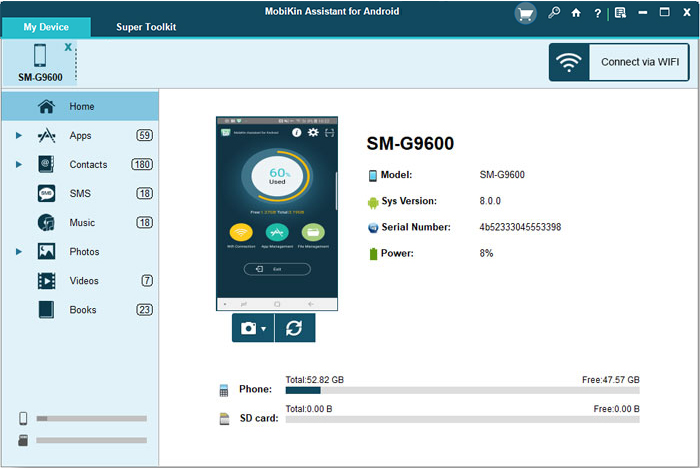 Step 2. On the program's interface, navigate to the left panel and click "Photos". Then choose either "Camera" or "Library". This will display all Android images in the right column. You can now preview and select the desired pics for transfer.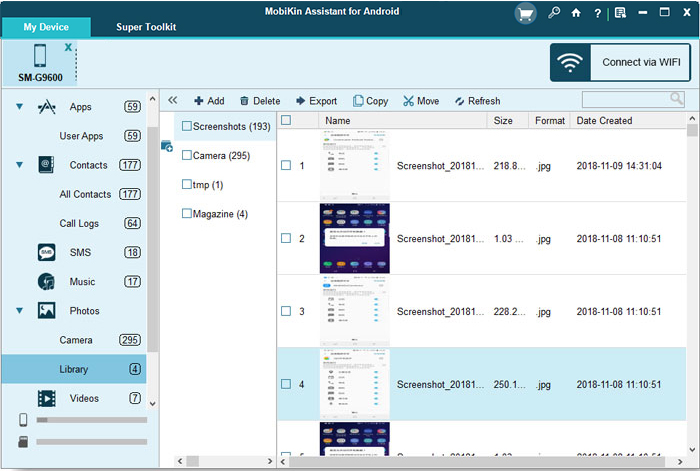 Step 3. Once you have made your selection, click on "Export" in the top menu to instantly transfer the chosen photos from your Android phone to your computer. That is how to transfer photos from phone to laptop/desktop/PC/Mac.
Way 2: How to Transfer Photos from Android to PC via USB Cable Only
To quickly access your photos, use a USB cable to transfer them from your phone to your computer. Simply connect the cable from your phone to your computer's USB port, preferably using the original cable that came with your phone for charging.
How to transfer photos from camera to computer/PC Windows 10 via a USB cable only?
Utilize a genuine USB cable to establish a connection between your Android phone and PC.
Access your phone's notification shade and tap on the USB notification.
Choose "File transfers" and navigate to your computer.
Click on your device's name to access the internal storage.
From there, locate and open the "DCIM" folder.
Finally, select the desired photos and transfer them to any location on your PC.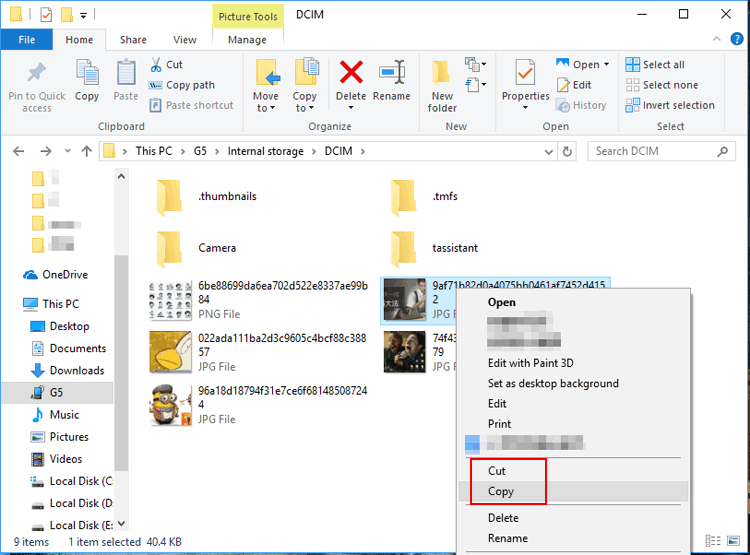 You Might Also Want to Know:
Way 3: How to Transfer Photos from Phone to Computer Using File Explorer
File Explorer provides an alternative method to transfer photos from an Android phone to a PC. With this approach, you can manually copy pictures from your Android phone to your computer with ease and without encountering much difficulty.
How to import photos from Android to PC with File Explorer?
Connect your Android phone to your PC and set it to MTP mode.

Then, launch "File Explorer" on your PC and select "Find your device".
Double-click to access your Android device and navigate to "Internal Shared Storage" or "SD Card Folder".
Open the "DCIM" folder and proceed to "Camera", where your Android device stores all its photos.
Alternatively, you can explore other folders to locate the specific photos you wish to transfer.
Finally, select the desired photos and copy them. Paste the copied photos into a designated folder on your PC where you want to save them. (Can you transfer photos from iPhone to a computer?)
Way 4: How to Transfer Photos from Android to PC via Windows Photos App
To perform the photo transfer in this way, make sure your Android phone is unlocked and set to "File transfer" or "Transfer files" mode when connecting it to your computer. Also, ensure you have the necessary USB drivers installed on your computer for proper device recognition.
How do I transfer photos from Android to computer using the Windows Photos app?
Make sure your PC is operating on Windows 10 or a newer version.
Launch the Windows Photos app on your computer.
Link your Android phone to the computer via USB.
Locate and click the "Import" button, then choose the "From a connected device" option.
Select your Android phone from the available devices, granting the app permission to access and display all the photos on your phone.
If desired, click the provided link to change the destination folder for the imported photos.
In the drop-down menu labeled "Select", opt for "All items" to import all photos.

To remove the photos from your phone after import, check the box for "Delete original items after import".
Once ready, click the "Import" button to initiate the transfer process.
You May Be Inclined to Explore:
Way 5: How to Transfer Pictures from Phone to Computer with Google Photos
How to download pics from phone to computer without USB? Try Google Photos. This service has implemented updates to its photo management system. Prior to initiating the transfer, ensure that the photos on your phone are backed up and synchronized with this cloud storage.
How to put pictures from phone to computer using Google Photos?
Launch the Photos app on your Android phone. Tap your profile icon and select "Photos Settings".
Choose "Back up & sync" and ensure the switch for "Back up & sync" is turned on.

Verify that you have sufficient space in your Google cloud storage to accommodate all your photos. If needed, adjust the "Upload size" settings to compress photos and save space.
Open a web browser on your computer and visit the Google Photos website.
Sign in to your Google account if prompted. You should be able to view the photos synced from Android.
Assuming you want to download all the photos to your PC, click the first photo, hold down the "Shift" key, and select the last photo to select multiple pics at once.
In the upper right corner, tap the three-dot icon and choose "Download" to download Google Photos to your PC.
Way 6: How to Download Photos from Android Phone to Computer via OneDrive
OneDrive lets you upload Android images to your computer directly on your phone. And you can also access your photos on your PC by signing in to the OneDrive website using your Microsoft account and downloading the photos from there.
How to move photos from phone to computer using OneDrive?
Launch the OneDrive app on your Android device and log in using your Microsoft account.

Tap on the "Photos" icon at the bottom of the app interface.
Select the option for "Camera upload" and tap on the "Turn On" button. (OneDrive not syncing?)
Once the photos have been successfully synced, open the OneDrive folder on your computer.
You should now be able to view and access all the synced photos within that folder.
Way 7: How to Transfer Photos from Phone to Laptop Windows via Microsoft Phone Link
Microsoft's Phone Link offers an alternative for accessing and retrieving photos and various items from an Android phone. However, it lacks the capability to select and download multiple photos to your PC simultaneously.
How to upload photos from Android phone to computer with Microsoft Phone Link?
Install the Microsoft Phone Link app (Known as Link to Windows) on your Windows PC.
Install the Link to Windows app on your Android device.
Connect your device to your Windows using a USB cable.

Open the Microsoft Phone Link app on your computer.
Select "Photos" from the left pane of the app.
Choose "Import photos from phone".
Pick the photos you want to transfer and click "Import".
For troubleshooting purposes, you can also attempt the following steps: Close both the Phone Link app on your PC and the pre-installed Link to Windows app on your Android device. Then, reopen both apps. If your connection is functioning correctly, you should be able to see your recent messages, photos, and notifications within the Phone Link app on your PC.
Way 8: How to Get Pictures from Phone to Computer over Bluetooth
Despite the declining popularity of Bluetooth in favor of Wi-Fi, it remains a useful option for transferring data between Android devices and PCs. However, please note that not all computers are equipped with Bluetooth capabilities. If things go well, you can first pair the devices before proceeding.
How to get pictures off old Android phone by Bluetooth?
Access the Bluetooth settings on your computer.
Ensure both your phone and computer have "Bluetooth" enabled and are discoverable.
From the list of available devices, select Android and establish a connection with your computer.
If prompted, enter the provided security code for pairing.

On your computer, click the option to send or receive files through Bluetooth, typically located to the right of the Bluetooth settings.
It may be necessary to grant permission on your phone to receive files on your computer.
Locate the file you wish to transfer on your phone. Pick the "Share" option and select "Share via Bluetooth".
Follow the prompts and click "Finish" to save the transferred file from your phone to your PC.
Ending Words
OK, we just provided step-by-step instructions and insights to help you make the most informed choice regarding Android to computer photo transfer. Whether you prefer using USB cables, cloud storage services, or specialized software, we have got you covered.
Concluding this article, we highly recommend utilizing MobiKin Assistant for Android to enhance your photo transfer experience. Its user-centric interface, selective transfer capabilities, and advanced management features make it an exceptional choice for handling your Android photos effortlessly.
Related Articles:
10 Best Photo Managers for Android: Manage Android Pictures with Ease
[Top 5 Ways] How to Bluetooth Photos from iPhone to Android?
4 Ways to Download HEIC as JPG in Google Photos [Step-by-Step Guide]
5 Easy Ways to Get Pictures off a Broken Phone That Won't Turn on
How to Move Pictures/Photos to SD Card on Android [A Comprehensive Guide]