Tutorial about How to Fully Use iOS 12 Memoji
Although Animojis are quite fun, we can also all agree that they are limited in a great way. But with the launch of iOS 12, things have changed - new features like Memoji, Screen Time, Group FaceTime, etc. have been introduced into the latest iOS version. And with the introduction of the iOS 12 Memoji, you are presented with a customizable or personalized version of Animoji. You can then use the customized Memoji to send those fun and silly photos and videos.
What is Memoji in iOS 12?
The Memoji feature in iOS 12 allows a user to transform his/her face into a character of cartoon and customize their own face version. The application of this feature relies on the use of the front-facing camera system of the device. With this feature, you are able to create the characters that are cartoon-like through your own particular expressions.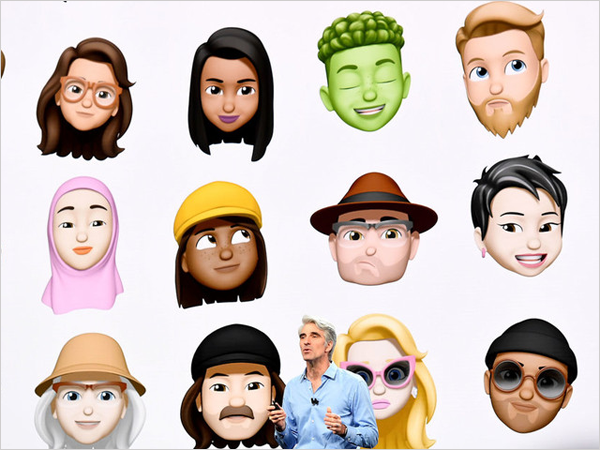 How to Create & Use iOS 12 Memoji?
First, it is essential that you appreciate the fact that with the iOS 12 Memoji, limitless possibilities are available. You can choose your preferred skin color, eye color, nose shape, and even hairstyle apart from other options to be able to create a Memoji that appears like you or anybody else that you desire to look like.
Moreover, it is even possible to add various accessories including earrings, hats, and glasses. There is also the addition of the tongue plus wink detection feature. All of these features or additions serve the purpose of giving users more freedom to be able to express.
Then how to create the iOS 12 Memoji on the iPhone XS/XS Max/XR/X? Here are detailed steps for your reference:
Step 1. Open up the app for Messages and choose a particular conversation.
Step 2. On the bar for the Messages app, simply tap on or select the Animoji button indicated by a monkey face.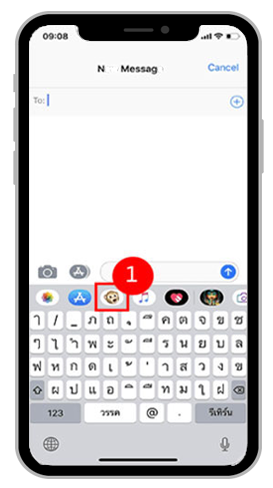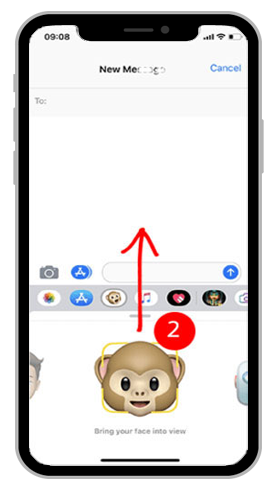 Step 3. Scroll to the right of the screen and you will see the + sign or button and therefore tap it.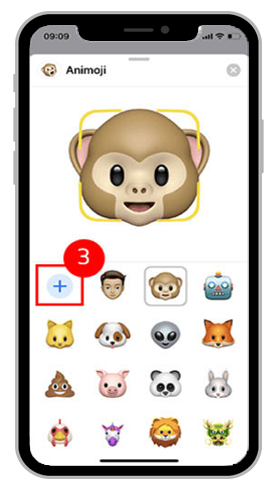 Step 4. After that, Messages app will guide you through the process of customizing your iOS 12 Memoji.
Step 5. Once the process ends, you can tap/select the done button on the right-hand corner to complete Memoji creation and therefore use it.
Tips: If you haven't updated your iOS device to iOS 12, you can click to learn the full iOS update guide.
How Can I Customize the Created Memoji?
Subsequently, here is detailed information concerning how you can customize your iOS 12 Memoji. First, the iOS 12 Memoji would appear as a blank face. It is incumbent upon you to modify the iOS 12 Memoji to appear like you. Here is how:
1. Skin Color
The iOS 12 Memoji interface that opens up enables you to first choose the particular skin color for you to begin with. There is an array of skin tones provided for you to be able to choose from. When creating an iOS 12 Memoji, you can also use other different colors like green, blue and even the classic emoji yellow. Once you have selected your preferred skin color choice, you can even further customize it by using the color slider function provided.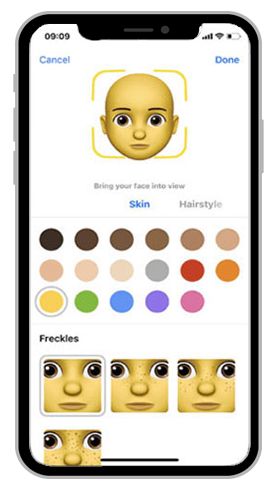 2. Hairstyle
A wide range of hairstyles, over 90 in number, are provided for you to create your own iOS 12 Memoji. The various hairstyle choices provided are enough to fit the choice of the real or imagined style of anyone. However, choosing appropriate hairstyle may be a bit challenging even from the huge selection provided. But anyway, you can choose the one that you deem suits you and choose the appropriate color as you like. Here, the option provided by Apple of being able to add highlights to the hair is also a great addition.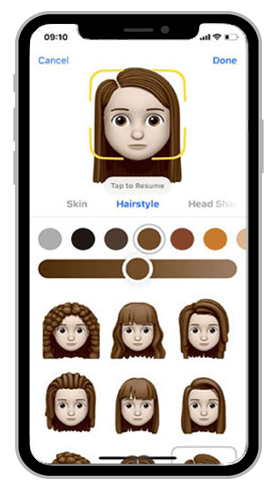 3. Head shape
We tend to have different head shapes and the iOS 12 Memoji creation recognizes that by giving you a wide range of options to choose from. You can choose your head shape in relation to your age and chin, eyebrows, eyelashes and eye. There are three general age group options provided - young, in between, and old. Besides, there are also about 15 chin styles provided, which helps dictate the shape of your head.
After choosing the head shape, you can go on to select the eye shapes. iOS 12 Memoji provides a variety of eye shapes and colors for you to select and you can choose the one you like to express yourself. Apart from shape and color, it enables you to modify the eyelashes as well. Just elect the options according to your appearance or like.
4. Nose
The options for the nose are a bit limited. It only provides three-button shaped nose and they are categorized under small, medium and large. Lips, on the other hand, are slightly more diverse - nine lips options and plenty of different colors and shades of the lips are available for you to choose from.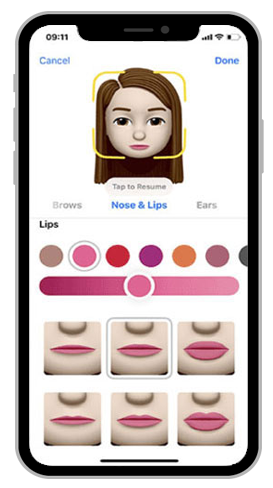 5. Ears
The options for ears are limited to three options - small, medium and large. There is a possibility for you to add a little ear style as up to 11 earring styles are available for creating Memoji in iOS 12. And also, there is the presence of different earrings colors and shades.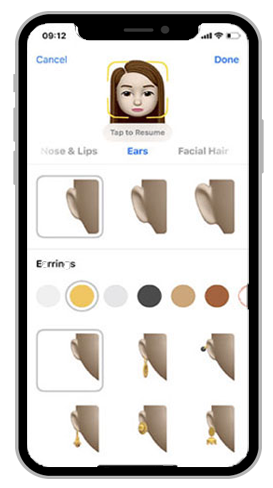 6. Facial hair
In the category of facial hair, you can add either the long or short sideburns to your iOS 12 Memoji or avatar. Meanwhile, you can add beards and mustaches if you like. After that, it is also possible to choose or add different beard color and even add highlights.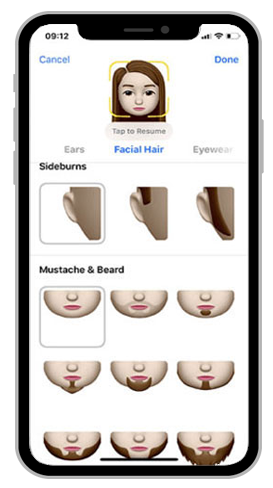 7. Glasses
Eyewear is important in helping you see clearly or shield the eyes from the sun. For that reason, Apple has got you covered since there are up to 12 frame options available, including Gold and silver. You can choose your preferred frame color, tint color, and lenses darkness.
8. Headwear
Adding headwear is also available in iOS 12 Memoji. There are up to 25 headwear options for you to choose from, including turbans, baseball caps, and even the Santa Claus-style hat.
See also:
iMessage Not Working, How to Fix It?
Wrapping Up
When you have finished creating your own iOS 12 Memoji according to your preference or likeness, you are supposed to save and therefore be able to use your created Memoji. You can use your created iOS 12 Memoji while recording clips, making FaceTime calls to family/friends and of course sending stickers to your friends. The use of a Memoji is guaranteed to add some essential level of fun needed when you communicate with family and friends. So now just start creating your own Memoji and use it for fun.
Related Articles:
A Complete Tutorial about How to Downgrade iOS 12
How to View iPhone Messages on Computer?
How to Record iPad Screen Video?
How to Capture and Record An iPhone Screen Video?