[4 Tips] How to Print Text Messages from iPhone for Court
"How to print text messages for a court case? I need the date and times on the messages." -- from Apple Support Communities
We communicate personal and business information via texts almost every single day. And we may have some iPhone messages that need to keep on paper. In doing so, we can use them as evidence in court or simply for preservation. Imagine if you were involved in a lawsuit, the texts might be of paramount importance to seek justice for you.
Aha, is there any way to print out text messages? If possible, how to print text messages from iPhone for court? Well, check out this passage to learn the 4 reliable methods to print iPhone messages for trial. Yet, before the printing, do remember to get your printer connected. (Android users can go to see how to print messages from Android phones?)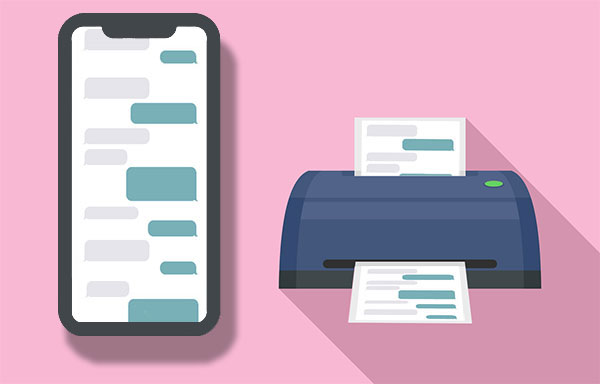 Part 1: Can iPhone Text Messages Be Used in Court?
The short answer is YES! To print text messages from iPhone for court accurately, please check the two requirements below:
The cell number of all conversation participants should be clearly displayed.
There must be a time stamp nearby each text message.
Although we have learned that many iPhone users successfully print messages out and present them as evidence in court, we didn't get access to details of any such cases. And in fact, it's said that some printed messages cannot guarantee forensic accuracy while using conventional means.
Well, can text messages all be printed continuously? Or how can you print text messages from your phone for court correctly? Next, we will mention 4 feasible ways for your reference.
Know More:
Part 2: Print Text Messages from iPhone for Court with One Click
"Is it possible to print text messages on iPhone for court conveniently?" MobiKin Assistant for iOS (Win and Mac) makes it as easy as pie. This program lets you preview and take control of every single text message on your computer before printing. And you can even use the Search box to locate the specific message.
Major features of Assistant for iOS:
Selectively transfer and print text messages from iPhone for court.
Export iPhone texts in 4 formats: HTML, CSV, Text, DB.
Let you preview, open, view, and print messages on a computer.
Transfer data between iPhone/iPad/iPod and computers.
Back up and restore iPhone messages and other data in one click.
Manage iOS content on a computer directly.
Work for such iOS files as messages, contacts, notes, calendars, bookmarks, music, photos, videos, and more.
Run smoothly on various iDevices, including iPhone 13/13 Pro (Max)/13 mini/12/12 Pro (Max)/12 mini, iPhone 11/11 Pro/11 Pro Max, iPhone X/XR/Xs/Xs Max, iPhone 8/8 Plus, iPhone 7/7 Plus, iPhone 6/6S/6 Plus, iPod touch, iPad, etc.
It won't interfere with your privacy.
How to print out text messages thread for court on iPhone via Assistant for iOS?
Step 1. Run the software on a computer
Download the program and install it on your computer. Then connect your iPhone to the computer with a USB cable and launch the program. You will see the interface below after your iPhone is detected by the program.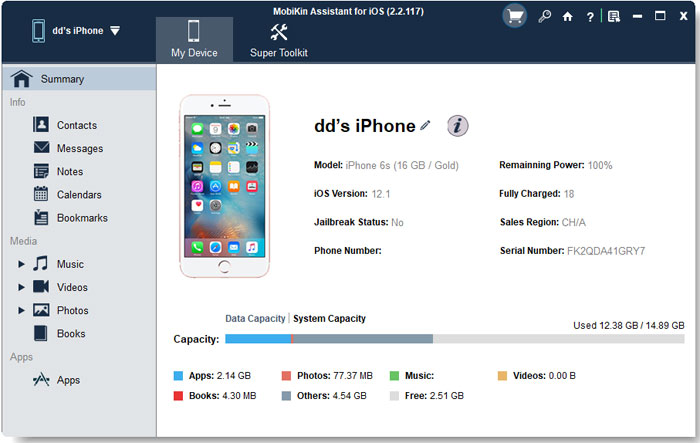 Step 2. Select your desired messages to print
Select "Messages" from the left panel. Next, you can preview the text information on the right. You can then mark the conversations you want to save.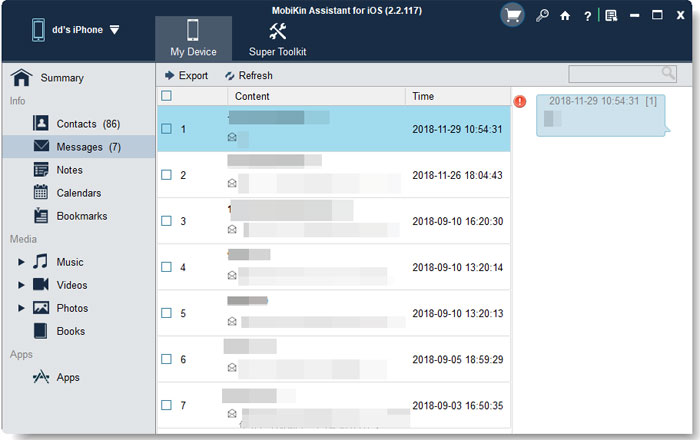 Step 3. Print text messages from iPhone for court
Click "Export" on the top of the window, and all the messages you selected will be stored on the computer. You're allowed to select Text file or HTML as the output format. Finally, open the file on your computer and get it printed easily.
Part 3: Print out Text Messages for Court on iPhone by Taking Screenshots
After you locate the messages and capture screenshots on your iPhone, you can then handle the printable text messages with your AirPrint. This works great if you have only a few messages for printing and wish to print off your iPhone texts for free. Now, here's how to print text messages from iPhone for court free by taking screenshots:
Open the text conversation on your iPhone.
Press and hold the "Home" and "Power/Lock" buttons at the same time for a few seconds.

If you want to reveal each message's timestamp, just slide left on the screen.
Once the flash appears on your screen, it is done.
To save it to the Photos app, tap "Done" at the top left corner.
You will see two new options; please select "Save to Photos".

Go to the Photos app and choose the screenshot you wish to print.
Tap the square with an arrow pointing upwards, and you will see the "Print" button.
Press the button to start printing with the AirPrint.
You can also email the screenshots to yourself and print them out as images from your computer.
Further Reading:
Part 4: Print Text Messages from iPhone for Court Free via Email
Also, if you just need to print a few texts out, you can try the email method. To do it, you have to copy the messages, email them to yourself, and then print them off by an AirPrint-enabled printer. Wonder how to download text messages for court via Email? Please check the steps below.
How can I print out a text message conversation on iPhone 13/12/11/X/XR/Xs/8 for court over Email?
Open "iMessages" on your iPhone.
Choose a conversation and find a message you want to print out.
Press and hold it until you get a "Copy/More" dialogue.
Then tap on the "Copy" option.

Open the Mail app on the iPhone.
Paste the copied text into the "New Message" field.
Enter your email address and touch "Send".
You will have a new email; open it and tap on the arrow at the bottom.
Choose the "Print" option.

Finally, select a connected AirPrint-enabled printer to start printing.
Part 5: Print Text Messages for Court By Contacting Your iPhone Carrier
Well, any ideas on how to get a printout of text messages on iPhone for court by contacting your iPhone carrier? Generally, getting a text message from your iPhone carrier can be tricky sometimes. Not each service provider is willing to disclose such data. What's worse, some of them may not store all the content of messages at all, only your contacts, date, and time.
Yet, you can still ask your iPhone carrier about their policies on text messages. Often, they will require you to provide a reasonable cause for your request. You might even be asked to fill out and then notarize a special form. And, of course, the carrier may directly reject your requirements if you're unable to offer a legal document from the court.
Besides, you can try to log in to your phone carrier's official website. Then check if you can copy or transcribe text messages for court. Likewise, it may not work for everybody, but it's surely worth spending a minute to check out.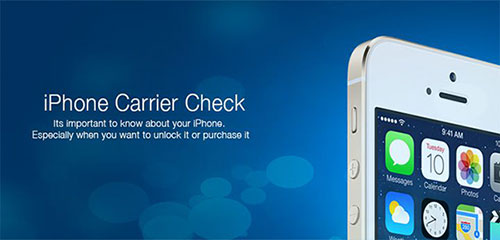 Calling It a Wrap
We delved into how to get text messages printed for court on iPhone just now. Below is a brief summary of the methods described in this article:
MobiKin Assistant for iOS can classify the detailed content of text messages, which enables you to preview them, select them, and provide continuous printing in several formats.
Printing screenshots might quickly drain your printer cartridge ink or toner and cannot ensure continuity of messages.
It's really time-consuming to do the job with email if you have a lot of content to deal with.
Your iPhone carrier may provide you with printing services, but it is strictly examined, and you may only be allowed to print the latest content.
Related Articles:
[Updated] How to Print Contacts from iPhone? It's a Cinch!
5 Ways to Print WhatsApp Messages from iPhone/Android Phones
How to Print from an Android Phone with Ease?
How to Transfer Text Messages from Android to iPhone Easily & Quickly?
Full Guide on How to Back Up Text Messages from iPhone to Gmail
4 Easy Approaches to Export Text Messages from iPhone to PDF