Two Ways to Upload iPhone Videos to Facebook
Facebook, one of the most popular social platforms around the world, allows users to view, download and upload photos or videos on it. So, it is certain that there are various videos shown on Facebook for users to appreciate. However, some of you may not be satisfied with the visual enjoyment only but also like to download Facebook videos to iPhone or upload iPhone videos to Facebook.
By uploading some videos about your daily life to Facebook, you can share your happiness or sadness with your friends, which can make you get closer. So it is really a good way to exchange felling. If you don't know how to do that, don't worry! This article will show you the step-by-step guide to upload videos from iPhone to Facebook. So you can complete the uploading process by following the detailed steps within several minutes. Just read on and make an attempt.
See also:
Two Ways to Upload Photos from iPhoto to Facebook
How to Sync Facebook Contacts with iPhone Easily?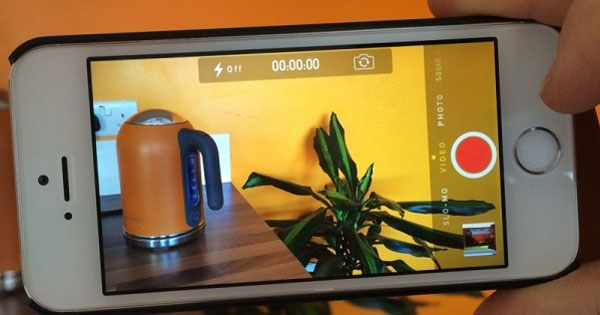 Upload iPhone Videos to Facebook via Photos App
The first method is to use "Photos" app on your iPhone to upload the videos. It is an easy-to-learn and time-saving means. You can master it within several simple clicks and minutes. Let's begin our journey of videos uploading.
1. Launch "Photos" app on iPhone
Open the "Photos" application by clicking on its icon on your iPhone screen. Then go to "Camera Roll" to select the videos that you want to upload to Facebook.
2. Select to upload the videos on Facebook
Tap on the "Blue Arrow" at the bottom left and then click on "Next". Now you can see several options are listed in a pop-up window for you to choose. Just find out the "Facebook" option and tap on it. Then you need to sign in your Facebook account.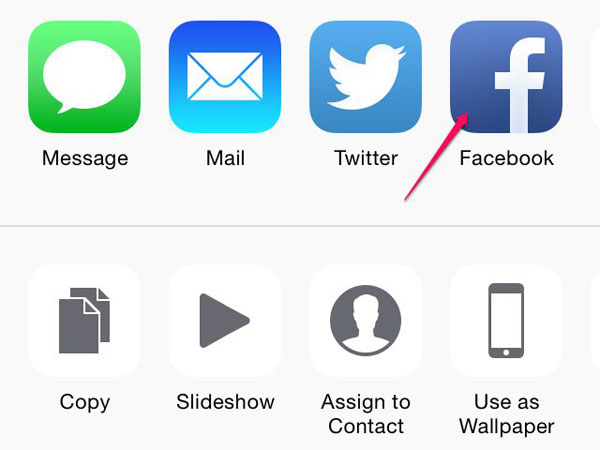 3. Post your video on Facebook
Now you need to complete the detailed information of your video, including description, quality, category and right audience. After confirming the description and settings of your video, hit "Post" button at the top to finish the uploading process.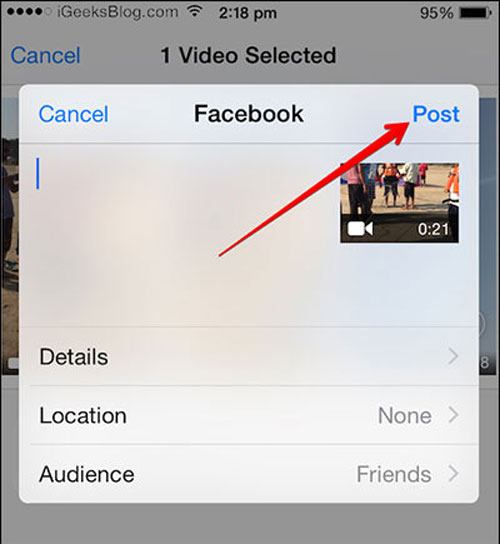 Now you as well as your friends or your Facebook followers can see the shared video on Facebook.
Using Facebook Application to Share Your iPhone Videos
If you do not like to upload the video to Facebook by Photos app, you can select to use Facebook Application to accomplish it. This way is not difficult as well. Just take a look and have a try!
1. Open Facebook application
Click on the icon of "Facebook" on your device to launch it and tap on "Photo" right next to the status.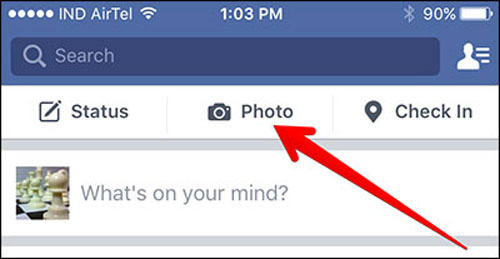 2. Select your wanted video
Now you are in the Camera Roll of your iPhone, just elect the video you want to upload and tap on "Done" button at the top to confirm your choice.
3. Upload the selected video to Facebook
Fill in the description of the video and decide its quality, category and right audience. In the end, hit the "Post" button at the top right corner to upload the video.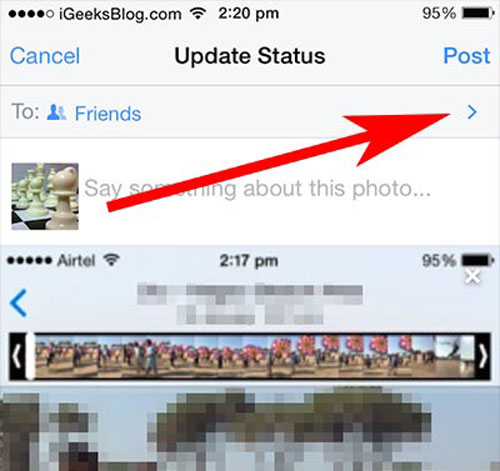 Really easy, right? Don't hesitate to try it and share your life.
Related Articles:
How to Download Twitter Videos on iPhone/iPad?