How Can I Transfer WhatsApp Chats from iPhone/Android to Email?
Everyday thousands of conversations occur on WhatsApp. These chats may be related to the business affairs, domestic affairs or personal topics with your friends. Therefore, as for those important chats, users tend to transfer them to other devices or software to save them. In this case, some may select to move their WhatsApp chats from their mobile phones to computer but you are suggested to send and back up them on to your email here.
Part 1. Why Should You Transfer WhatsApp Chats from iPhone or Android to Email?
There are several reasons for backing up WhatsApp chats from iPhone or Android devices to email:
1. You can save the important chats so you can find back them when you lose them accidently. In this case, email is better than computer because the latter also has the risk of data lost.
2. you are able to free up your mobile phones. Once you send the chats to email, they will stay in it for a long time no matter whether you delete the original conversation or not. So you can remove these saved chats in WhatsApp to free your phone.
3. Sending to email is securer. Some people may use your personal computer or phone and they may view the chats without your permission. But no one can access your email without a passcode so that you can keep your secrets.
Thus, we can say that transferring WhatsApp chats to email would be the best way.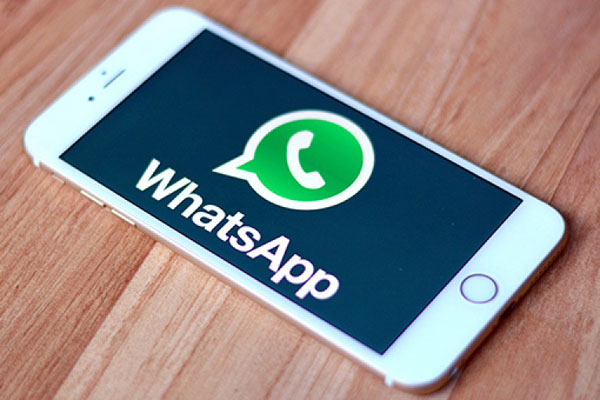 Part 2. How to Transfer WhatsApp Chats from iPhone to Email?
Actually, WhatsApp equips the Email Chat feature but fewer customers know it, let alone make full use of this function. This would be a kind of source waste. In fact, the operation of syncing the WhatsApp chats from iPhone to email is not complex at all and the whole process will be operated in WhatsApp so it won't take you too much time. Just try it.
1. Launch WhatsApp on your iPhone then elect the chat that you want to email.
2. Tap on the name of the chat to enter the Contact Info.
3. Several options will listed on the screen, just click on "Export Chat" and select "Mail" in the pop-up window.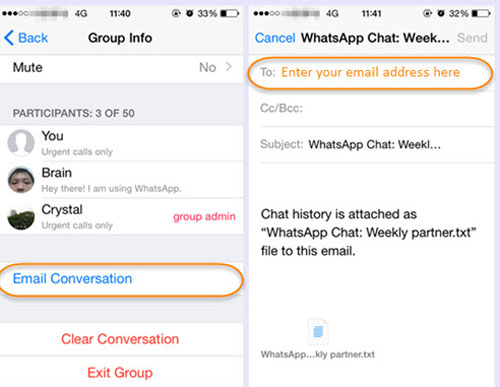 4. You will be required to make an option between "Attach Media" and "Without Media", just choose one of them.
5. Fill in the destination email address and then tap "Send" button.
Done! You can view and use the WhatsApp chats via email anytime and anywhere as you like now.
Can't miss:
Restore Deleted WhatsApp Messages on iPhone X/8 Plus/8/7/6S/6/5S
How to Recover WhatsApp Images/Pictures on iPhone Selectively?
Part 3. Move Android WhatsApp Chats to Email
The steps to move Android WhatsApp chats to email is similar to the above one. The transferring process also could be realized via the Email Chat feature of WhatsApp which allows users to share their chats with others. For Android users, you can:
1. Open up the WhatsApp on your Android phone and then navigate to Settings> Chats> Chat History> Email Chat.
2. Select the conversation that you want to email. Here you will be asked to make a decision as well- Attach Media or Without Media. Just choose one of them and then go on.
3. Finally fill in the email address and click on "Send" button to move and save the chats.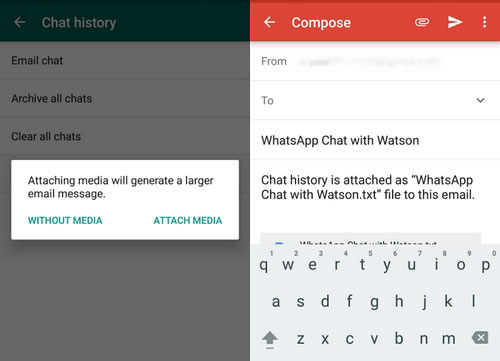 After accomplishing the transferring process, you can go to your mailbox to check the chats you have sent just now and you can manage them as you like.
Related Articles:
Methods to Backup WhatsApp Messages for Android and iPhone