[Useful Tips] How Long Does It Take to Restore iPhone from iCloud?
Are you eagerly awaiting the moment to restore your beloved iPhone from an iCloud backup? But just how long does it take to restore from iCloud? In this exciting and insightful article, we're diving headfirst into the world of iCloud restoration. I will unravel the factors that affect the restoration time, from the size of your backup to the speed of your internet connection. We'll also explore clever tips to optimize settings, monitor progress, and ensure a smooth and swift restoration.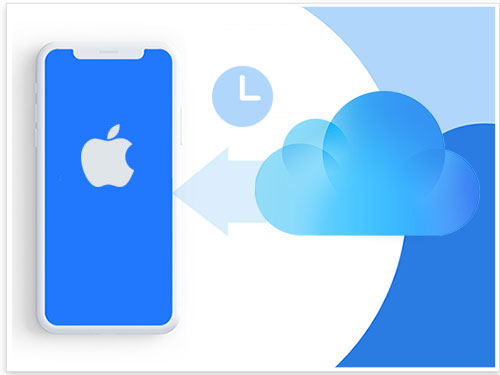 Part 1. How Long Does It Take to Restore from iCloud?
Restoring from iCloud can vary in terms of the time it takes. The duration primarily depends on the size of the backup and the speed of your internet connection. If you have a large file, the restoration process will take longer.
If you have a fast and stable internet connection, the restore process will be faster than a slower or intermittent connection. On average, the time it takes to restore from iCloud can range from a few minutes to several hours or even longer for substantial backups with limited network speeds. Ensuring a stable internet connection and having patience during restoration are essential.
You May Be Interested in:
Part 2. Why iPhone Restoring from iCloud Backup Taking Forever Too Long?
The lengthy duration of iPhone restoration from an iCloud backup can be attributed to several reasons. Let's explore the primary factors contributing to this prolonged process:
Backup Size: The size of your iCloud backup directly affects the time required for restoration. Larger backups with significant data and media files naturally take longer to download and restore to your device.
Internet Connection: If you're experiencing slow internet speeds, it can significantly impact the time it takes to download the backup from iCloud. The speed and stability of your internet connection play a crucial role in the restoration process. Slower connections or intermittent network issues can cause delays and prolong the overall duration.
Data Transfer: During restoration, your iPhone must download and install apps, settings, photos, and other content from the iCloud backup. This data transfer process can be time-consuming, especially when dealing with substantial information.
Apple Server Congestion: During peak usage times or system updates, Apple's servers may experience increased traffic, leading to slower download speeds. You can do little in this case except wait or try again later.
Interrupted or Incomplete Backup: If your previous iCloud backup was interrupted or incomplete, it could cause delays during the restoration process. In such cases, you may need to start the restoration again from a different or more recent backup.
Learn More:
Part 3. How to Make iPhone Restore Faster from iCloud?
Are you in the process of restoring data from iCloud? Do you want to make your restoration process quick? Don't worry, as this can be possible. You only need to follow simple tips and achieve the optimal speed. Below are some:
1. Connect to a Reliable Wi-Fi Network
Are your network connections stable? If not, then you will experience slow restoration from your iPhone. Use a reliable and fast Wi-Fi network. A strong internet connection will facilitate faster download and restoration speeds.
2. Optimize Backup Size
Before initiating the restoration process, consider reviewing the contents of your iCloud backup. Delete unnecessary files, such as duplicate photos, unused apps, or large videos, to reduce the overall backup size. This will help speed up the download and restore process.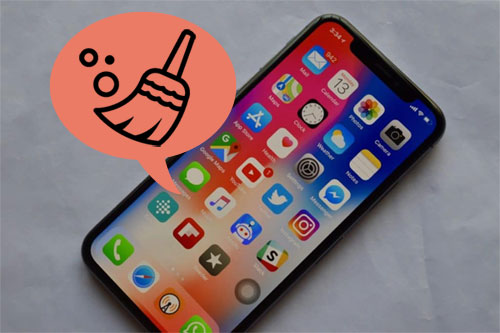 3. Perform a Clean Restore
Selectively restore only the essential data and settings instead of restoring all data from your iCloud backup. This can be done by choosing the specific apps and data you wish to restore rather than restoring the entire backup. This method saves time and avoids unnecessary data transfer.
4. Optimize Backup Size
Before initiating the restoration, review the content of your iCloud backup and exclude any unnecessary data. Minimizing the backup size can reduce the time required for restoration.
5. Disable Unnecessary Features
Temporarily disabling certain features and services on your iPhone, such as background app refresh, automatic downloads, and iCloud Drive, can help allocate more resources towards the restoration process, ultimately speeding it up.
6. Ensure Sufficient Storage Space
Ensure your iPhone has enough storage space to accommodate the restore process. If your device runs low on storage, it may slow the restoration. Delete unnecessary apps, files, or media to create more space before initiating the restore.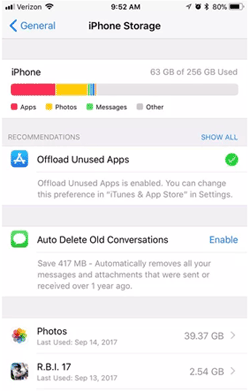 7. Restart your iPhone
Sometimes, a simple restart can improve the overall performance of your device and speed up the restoration process. Before initiating the restore, restart your iPhone by pressing and holding the power button, then sliding to power off. Wait for your iPhone to power off. Press and hold the power button again until the Apple logo appears to turn it back on.
Part 4. Alternative Tool to Restore iPhone from iCloud Flexibly
If you're looking for a flexible and reliable alternative to restoring your iPhone from iCloud, MobiKin Doctor for iOS is an excellent choice. It offers a straightforward process and several useful features to enhance the restoration experience. Doctor for iOS is a professional iOS data recovery and management tool for iPhone users. It enables users to recover lost or deleted data from iOS devices, iTunes backups, and iCloud backups.
Desirable features of MobiKin Doctor for iOS:
Selectively restore data from your iCloud backup without overwriting any existing data.
Recover files from iPhone directly, and restore data from iTunes backup without covering the existing iOS content.
Supports the recovery and restoration of various data types, includes contacts, messages, videos, call logs, photos, notes, voice memos.
Preview the recoverable data and selectively restore only the desired files to your iPhone, iPad, or iPod touch.
Offers a simple and intuitive interface, making it easy for users to navigate the recovery and restoration process.
No data is lost during restoration, giving you peace of mind while recovering valuable information.
Work along well with all iDevices, containing iPhone 14/14 Plus/14 Pro (Max), iPhone 13/13 Pro (Max)/13 mini/12/12 Pro (Max)/12 mini, iPhone 11/11 Pro/11 Pro Max, iPhone X/XR/Xs/Xs Max, iPhone 8/8 Plus, iPhone 7/7 Plus, iPhone 6/6S/6 Plus, iPod touch, iPad, etc.
It won't let out your privacy.
Here's a step-by-step guide on using Doctor for iOS to restore your iPhone from an iCloud backup:
Step 1. Download and install MobiKin Doctor for iOS on your computer. Launch the program and select the "Restore from iCloud" option from the main interface.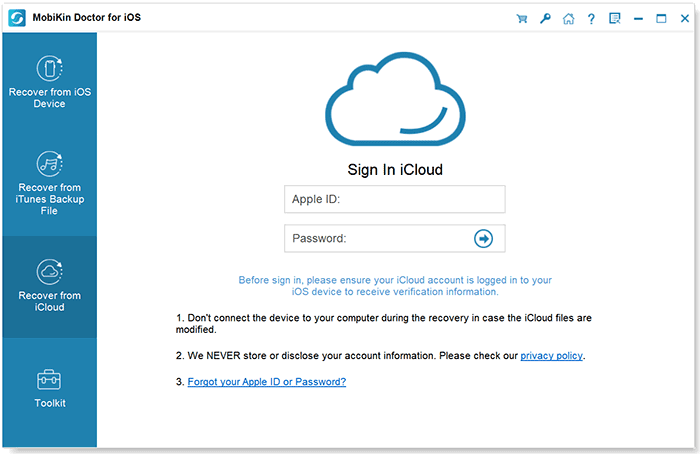 Step 2. Use your Apple ID and password to log into your account. Then, you can pick the types of data you want back, and hit the 'Next' button.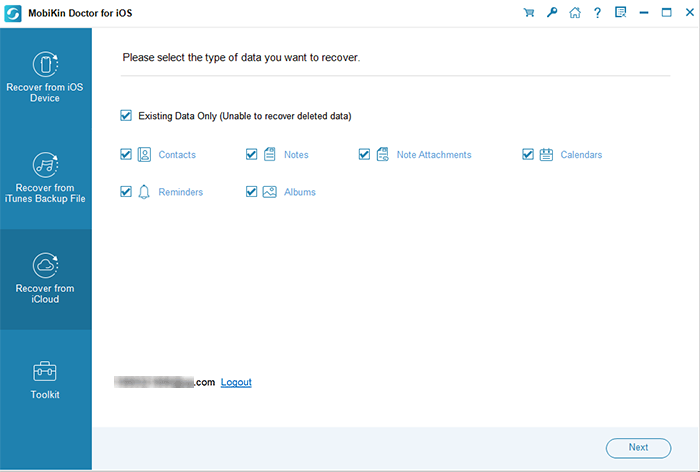 Step 3. After the scanning, you can preview the recoverable data. Select the desired files and click "Recover to Computer" to restore them to your computer.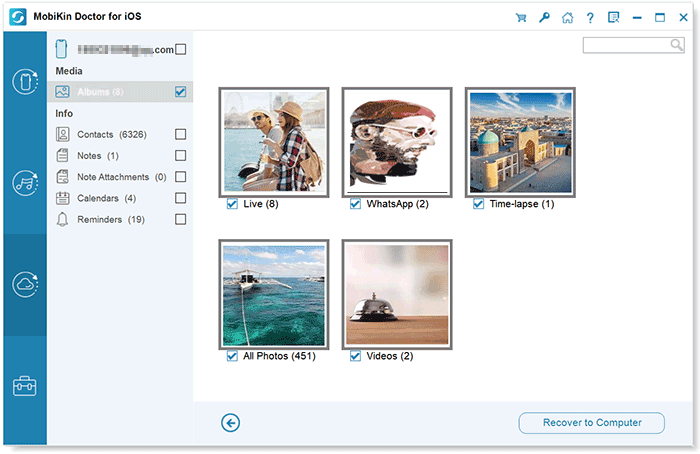 Final Part
Restoring your iPhone from an iCloud backup can take time as several factors influence the duration. However, clearly understanding these factors will help you set realistic expectations and better manage the process. By following the tips provided and considering alternative tools like MobiKin Doctor for iOS, you can streamline and expedite the restoration process, ensuring a faster and smoother experience.
Related Articles:
iCloud Not Backing Up on iPhone? Here's the Fix!
[Guide] How to Reset iPhone without iTunes?
iTunes Could Not Connect to This iPhone? Here's the Full List of Fixes!
Send Long/Large Videos on iPhone: The Definitive Guide (7 Ways Included)
iCloud Backup Taking Hours? Here're the Efficient Solutions
3 Solutions to Restore iPhone/iPad from Backup (98% Success Rate)