iPhone Screen Black and White? 9 Effective Solutions for You
If you've ever encountered the perplexing scenario of your iPhone display suddenly turning monochromatic, you're not alone. The iPhone screen black and white can be disconcerting. But fear not, as we are here to help you understand "Why is my iPhone screen black and white". More importantly, you'll know how to tackle the problem head-on. Let's check out the underlying causes and go through each solution right now.
Part 1: Why Is My iPhone Black and White?
The primary reason for an "iPhone screen keeps going black and white" is adjustments made to the device's software settings. The device offers multiple accessibility options that allow users to switch the display to black and white. These features are particularly beneficial for individuals who experience difficulty in perceiving colors or have difficulties with low-contrast visuals.
On top of that, the occurrence of the "iPhone is black and white" error can be attributed to a potential hardware problem. Issues with the display or the connection between the display and the mainboard could lead to this situation. Nonetheless, such hardware-related causes are uncommon, and in most cases, the challenge could be traced back to settings within the iPhone.
Read Also:
Part 2: iPhone Is Black and White? Fix It with 9 Quick Solutions
Solution 1: Toggle off Color Filters
Overall, Color Filters provide a flexible way to personalize the display. To restore color on your iPhone screen, follow the steps to ensure "Color Filters" are disabled. And here's a detailed guide for how to get iPhone off black and white:
Open the "Settings" app on your iPhone.
Go to "Accessibility" and enable "Display & Text Size".
Select "Color Filters".
On the next screen, toggle the switch next to "Color Filters" to the "OFF" position.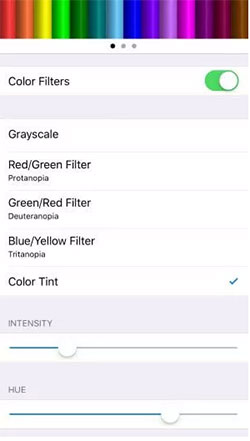 Solution 2: Disable Zoom Filters
Zoom allows screen magnification, aiding users with low vision. Gray Scale Filters remove colors for a simplified display, helpful for those sensitive to bright hues or needing reduced visual stimuli. Users can turn off the functions to fix "iPhone went black and white":
Open the "Settings" app on your device.
Go to "Accessibility" and tap on "Zoom Filter".

On the next screen, select the "None" option. (Please note that this setting activates Greyscale Filter only when the "Zoom Mode" is enabled on your device.)
Solution 3: Check for iPhone Battery
If your iPhone turned black and white, the battery might be running low. You can activate "Low Power Mode", which automatically switches the display to black and white to save battery. To address this, either connect your iPhone to a power source or turn off "Low Power Mode" by going to your iPhone's "Settings" and navigating to "Battery". If "Low Power Mode" is enabled, toggle it off. (Your iPhone battery drains faster after iOS update?)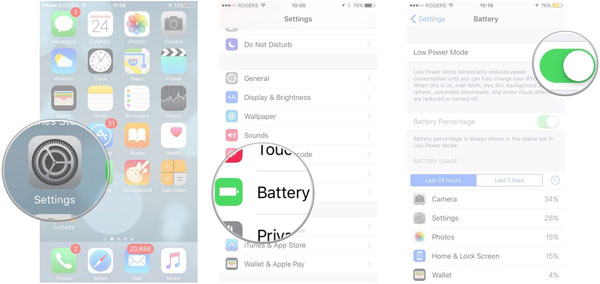 Solution 4: Use Accessibility Shortcut
Before considering the problem solved, check the "Accessibility Shortcut" setting by going to "Settings" > "Accessibility" > "Accessibility Shortcut".
This feature allows you to enable or disable Accessibility options by triple-clicking the "Home" button (on iPhone 8 and older) or the "Side" button (on iPhone X and newer). If you find "Grayscale" listed with a checkmark, the feature can be turned on or off by triple-clicking. To prevent accidental activation, uncheck the "Grayscale" option within that setting.
You Might Also Enjoy:
Solution 5: Reset All Settings on Your iPhone
You can use the "Reset All Settings" option on your iPhone to revert all settings back to their default values, effectively disabling any iOS feature that turns your screen black and white. This isn't considered a last resort, though it will also reset all other settings on your device. However, it's important to note that this process doesn't delete any of your content from the iPhone.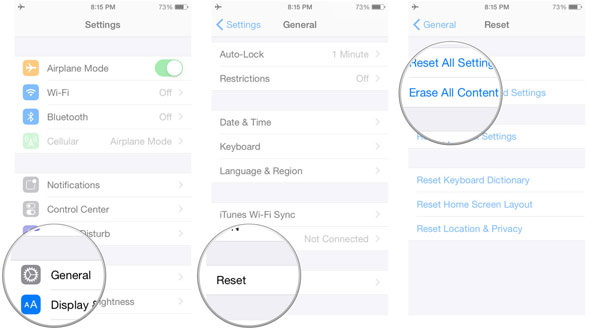 Solution 6: Update iOS
If you encountered a failed update while updating your outdated iPhone software, attempt to restart the update process to resolve the issue. Furthermore, if you haven't attempted an update before and your iPhone's software is outdated, it could lead to the screen turning black and white. Learn how to turn off black and white on iPhone 14/13/12/11 by updating iOS:
Open "Settings" > "General" > "Software Update".
Tap "Download and Install" when the update is available.

Press "Install Now" and enter your passcode.
Agree to the terms and conditions to initiate the download of the iOS software immediately. (What if your iPhone keeps turning off after iOS update?)
Solution 7: Restore iPhone from a Backup
If the black and white screen problem is caused by a software glitch or setting, restoring from a backup could potentially resolve it indirectly. Before proceeding, ensure you have kept a backup of your iPhone using iTunes or iCloud.
* How to get color back on iPhone from an iTunes backup?
Open iTunes on your computer with the backup files.
Connect your iPhone using a USB cable and trust the computer if prompted.
Click the device icon on the upper-left corner to view your device info.
Under "Backups", click "Restore Backup".

Select the desired backup file and click "Restore".
* How to fix iPhone turned black and white from iCloud backup?
Open "Settings" on your iPhone and go to "General".
Tap "Reset" and choose "Erase All Content and Settings".
Your iPhone will restart and initiate the setup process.
Follow the on-screen instructions to set up your iPhone.
On the "Apps & Data" screen, select "Restore from iCloud Backup" and sign in with your Apple ID and password.

Tap "Choose backup" and pick the most recent backup to restore your iPhone from iCloud. (Restore from iCloud paused?)
Solution 8: Contact Apple
If the issue persists despite attempting these solutions, it could indicate a hardware problem. In such cases, it is advisable to seek further assistance by contacting Apple Support or visiting an authorized service center for professional evaluation and repair.
Part 3: Fix iPhone Screen Black and White with No Data Loss [Best Practice]
No matter if your iPhone is stuck in black and white or you are facing other abnormal occurrences on your phone, you can resolve these problems effectively using iOS System Recovery. This exceptional tool allows you to fix issues without causing any harm to your iOS data. With its remarkable success rate, you can confidently address various problems, including iTunes issues, iOS mode problems, device malfunctions, and screen-related difficulties, all with ease and peace of mind.
A concise overview of iOS System Recovery:
Fix iPhone screen black and white without hesitation.
Repair 50+ system issues, such as iPhone stuck in guided access, iOS 16 photo cutout not working, iPhone overheating when charging, iTunes errors, etc.
Grant the option to upgrade or downgrade iOS to a compatible version suitable for your specific device.
Deliver two repair modes to efficiently address system problems and restore your iPhone's functionality.
Work well with a whole range of Apple devices, including iPhone 14/14 Plus/14 Pro (Max), iPhone 13/13 Pro (Max)/13 mini/12/12 Pro (Max)/12 mini, iPhone 11/11 Pro/11 Pro Max, iPhone X/XR/Xs/Xs Max, iPhone 8/8 Plus, iPhone 7/7 Plus, iPhone 6/6S/6 Plus, iPod touch, iPad, etc.
It won't reveal your privacy.
How to fix black and white screen on iPhone with iOS System Recovery?
Step 1. Go to the "iOS System Recovery" section
Begin by downloading and installing the iOS System Recovery software on your computer. Afterward, connect your iPhone to the computer using a USB cable. Now, navigate to "More tools" > "iOS System Recovery".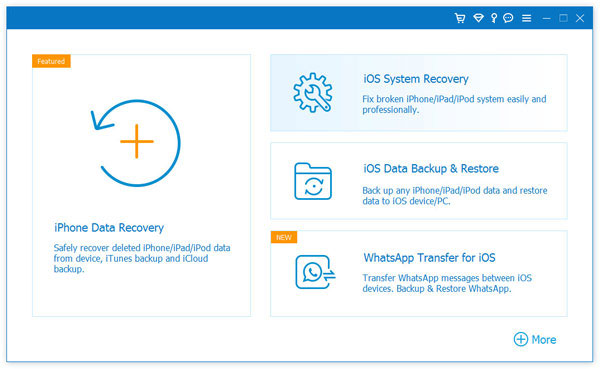 Step 2. Click "Start" when the software recognizes your iPhone
The program will automatically detect the iPhone turned black and white issue on your iPhone. Please click "Start" to proceed.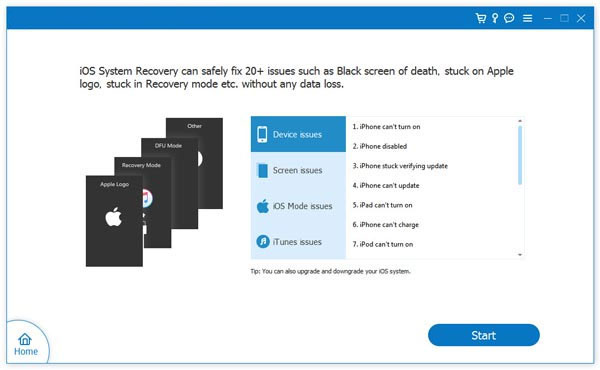 Step 3. Put your iPhone into Recovery Mode or DFU Mode
To troubleshoot common iPhone issues, tap "Free Quick Fix" and put your iPhone into Recovery Mode or DFU Mode. Then, depending on your needs, choose either "Standard Mode" or "Advanced Mode" for repair before clicking "Confirm".
Step 4. Fix the iPhone screen black and white in minutes
Ensure the accuracy of the firmware info and make adjustments if necessary. Allow the tool to download the appropriate firmware package. Finally, click "Repair" to initiate fixing the black and white screen problem on your iPhone.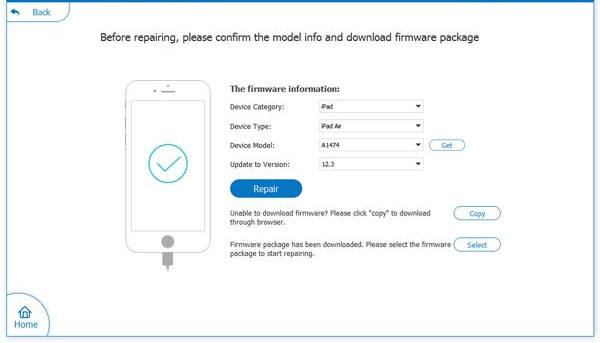 Conclusion & Tips to Keep iPhone Screen from Going Black and White
Check Grayscale Mode: Ensure the "Grayscale" accessibility feature is disabled. Go to "Settings" > "Accessibility" > "Display & Text Size" > "Color Filters". If "Grayscale" is turned on, toggle it off.
Ensure regular charging: Keep your iPhone's battery charged to avoid it entering low-power mode, which can lead to a black-and-white screen.
Keep software up to date: To prevent a black-and-white screen, regularly update your iPhone software to fix bugs and address potential issues.
Use a protective case: Shield your iPhone with a robust case to prevent physical damage that might cause the screen to turn black and white.
Avoid jailbreaking: Refrain from jailbreaking your iPhone, as it can cause various problems, including triggering a black-and-white screen.
Round Off
We understand the urgency to restore your iPhone's vibrant colors and seamless functionality. Therefore, we have compiled a diverse set of remedies, from simple troubleshooting steps to more advanced methods, all aimed at returning your iPhone to its full-color glory.
In our pursuit of perfection, we have also included an expert solution - iOS System Recovery, which has proven to be remarkably effective in fixing the "iPhone screen black and white" issue. This comprehensive way, backed by our experts' expertise, provides you with a seamless and professional approach to regain control over your device's display.
Related Articles:
iPhone Unavailable Try Again in 15 Minutes? 4 Common Solutions & 1 Ultimate Way
How to Fix iOS 16 Photo Cutout Not Working? 13 Ultimate Solutions
2 Awesome Ways to Recover Data from Broken iPhone without Backup
[2023] Helpful Tips and Tricks to Share Screen on Zoom on PC/Mac/iPhone/Android
6 Most Effective Tactics to Bypass iPhone Locked to Owner Quickly
How to Fix iPhone Screen Flickering/Flashing? 15 Tricks You Should Never Miss