How to Fix iPhone Screen Flickering/Flashing? 15 Tricks You Should Never Miss
Your iPhone has been functioning normally, but suddenly, iPhone screen flickering arises. And you're left dazed and overwhelmed. So, it's time to tackle this annoying issue. There could be various reasons behind this problem, ranging from software-related to hardware-related issues. If you are currently facing the screen blinking dilemma, just move ahead, for we shall compile potential causes and many operable methods to get you out of your tough times.
Part 1: Why My iPhone Screen Blinks On and Off?
Often, there can be several reasons why your iPhone screen flickering on and off. Some common causes include:
The enabled auto-brightness setting: If your iPhone's auto-brightness setting is enabled, using a light sensor to adjust the screen brightness, sudden changes in light intensity during movement could result in screen flickering.
Memory issues on your iPhone: Your iPhone storage is full, which can lead to various problems, including screen flickering, unresponsive display, and sluggish performance.
Water damage: Prolonged exposure to water can significantly increase the chances of your iPhone's screen flickering and even render the touch screen unresponsive.
System glitches: System errors, particularly in the newly released iOS 16, may alter screen display settings, causing abnormal screen behavior, including flickering.
Corrupted Apps: Conflicts or incompatibility between the software and the Graphics Processing Unit (GPU) responsible for displaying images can cause the screen to glitch and flicker.
Hardware issues: Hardware problems within the internal components responsible for screen display can be the root cause of your iPhone's flickering screen, especially after a fall or liquid spill.
You May Find Useful:
Part 2: How to Fix iPhone Screen Flickering with 15 Quick Tricks
Trick 1: Force restart iPhone
Primarily, a hard reset can be a possible fix to screen flickering on iPhone:
For iPhone 8, iPhone SE 2nd gen, and later:
Press and quickly release the "Volume up" button.
Press and quickly release the "Volume down" button, then press and hold the "Side" button.
When the Apple logo appears, release the button. (Is your iPhone stuck on the Apple logo?)
For iPhone 7 and iPhone 7 Plus:
Press and hold both the "Volume down" button and the "Sleep"/"Wake" button at the same time.
When the Apple logo appears, release both buttons.
For iPhone 6S and iPhone SE 1st gen:
Press and hold both the "Sleep"/"Wake" button and the "Home" button at the same time.

When the Apple logo appears, release both buttons.
Trick 2: Use MFI-certified accessories
Using faulty accessories like non-MFI lightning cables and power adapters with your iPhone poses risks. Improper voltage regulation can cause the flickering screen iPhone issue. Thus, stick to genuine MFI accessories, and Apple provides a list of approved vendors on its website.
Trick 3: Adjust the brightness
Navigate to your iPhone "Settings" > "Display & Brightness" and reduce the brightness, which also helps fix iPhone getting hot.

Keep it in this state for approximately 10 minutes to reset the brightness, which should stop the flashing iPhone screen.
Trick 4: Check battery health
Monitor your iPhone's battery health regularly, and if it falls below 80%, it's time for a replacement. Visit an authorized Apple repair service for battery replacement. To check your battery health, you can:
Trick 5: Disable HDR on the Photos app
Is your iPhone screen blinking on and off when you switch through pictures on the Photos app? Many users have found a solution by disabling the HDR setting in the Photos app. (Quick Guide: Open "Settings" > "Camera" > Disable "Auto HDR")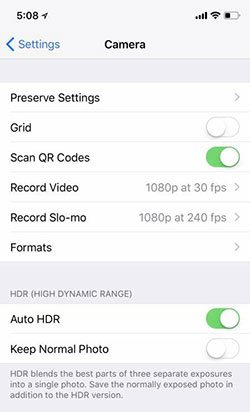 Click to See:
Trick 6: Inspect iPhone storage space
Screen flickering and other performance issues can be caused by insufficient memory or low storage space. Next, abide by the following guide to manage memory on most iPhone models:
Go to "Settings" > "General" > "iPhone Storage".

Check "Used storage" and "Available Memory".
Delete unused apps to free up space if needed.
Trick 7: Close malfunctioning apps
If the iPhone screen blinks on and off while using a specific application, the challenge may be with that app. To check, close the app, and see if the flickering stops, follow the instructions:
On your iPhone X and above, swipe up from the bottom of the screen to access the app switcher. (On iPhone 8 or earlier, double-click the "Home" button.)
Swipe left or right to find the app you want to close.
Swipe up on the app's preview to close it. And if needed, you can delete apps on your iPhone.
Trick 8: DFU restores your iPhone
Connect your iPhone to a computer with iTunes/Finder open.
Follow the specific DFU mode steps based on your iPhone model: On iPhone 8 or newer, press "Volume up" and the "Volume down"; hold the "Side" button until the screen turns black; then, hold the "Volume down" while still holding the "Side" button for 5 seconds. On iPhone 7 or 7 Plus, hold "Volume down" and "Side" buttons for 8-10 seconds; release the "Side" button but keep holding "Volume down" for 5 seconds. On iPhone 6S or earlier, hold the "Home" and "Side" buttons for 8-10 seconds; release the "Side" button but keep holding "Home" for 5 seconds.
When in DFU mode, iTunes/Finder will detect your iPhone in recovery mode.

Click "Restore iPhone" and follow the on-screen instructions to complete the process. Your iPhone will be restored to factory settings and thereby fix the iPhone screen flashing on and off.
Trick 9: Turn off Reduce White Point
Reducing the white point setting may fix the shaking iPhone screen, as reported by some users in a community forum. Here's how:
Go to "Settings" > "Accessibility" > "Display & Text Size".
Turn off the "Reduce White Point" toggle. Then check if the issue persists by running an app.
Trick 10: Turn on Reduce Transparency
Enabling "Reduce Transparency" on your iPhone reduces the graphical workload by removing some transparent aesthetic features in iOS 9 and newer. For instance, Spotlight will have a grey background instead of a translucent image of your home screen wallpaper. You can now reduce transparency by going to "Settings" > "General" > "Accessibility" > "Increase Contrast" > enabling "Reduce Transparency".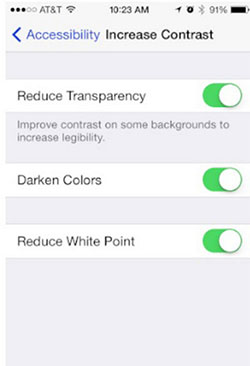 Trick 11: Reset all settings
To fix the shaky iPhone screen caused by invalid system settings, you can reset all settings on your iPhone. Don't worry; this won't erase your important files. Now, learn how to do it:
Go to "Settings" > "General" > "Reset".
Tap "Reset all settings".

Enter your passcode if prompted.
Confirm the reset.
After the reset, all default values and options will be restored, and you'll need to re-enable necessary features, especially those that are disabled by default.
Trick 12: Update your iPhone
Apple is vigilant in addressing problems and bugs related to iOS. If a widespread bug causes the iPhone screen shaky, Apple will release a new over-the-air update. So ensure you're running the latest iOS version by adhering to the guide:
Open "Settings" > "General" > "Software Update".
Download and install any available updates.
Can't access your iPhone due to the display issue? You can update it using your Mac and iTunes on Windows. If the flickering issue persists after updating, you can try to factory reset your iPhone.
Trick 13: Erase all content and settings
Erasing your iPhone removes all data and might help when your iPhone screen jumps. But before that, remember to back up your iPhone to a computer or iCloud.
Open "Settings" > "General".
Select "Transfer or Reset iPhone".
Tap "Erase all content and settings".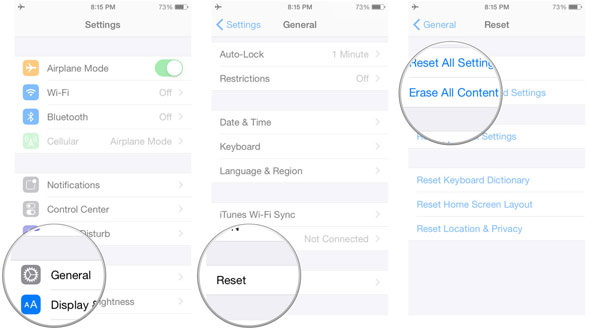 Trick 14: Repair your device if it's hardware-damaged
For display or hardware issues like iPhone screen flickering after drop, the safest choice is to visit an Apple-authorized service center. They have the expertise to identify and fix the problem effectively. While Apple's after-sales service is dependable, there might be some associated costs.
Part 3: Fix iPhone Screen Flickering/Blinking with a Specialized Tool
The overheating problem on an iPhone is primarily caused by system errors. You can avoid overheating by addressing iOS system issues with an exceptional tool available in the market. Introducing iOS System Recovery, a dependable system repair software that can independently detect and resolve various iPhone problems, including screen issues like iPhone screen flashing on and off.
Eye-catching features of iOS System Recovery:
Resolve iPhone screen flickering without losing data.
Troubleshoot 50+ system issues, including iPhone frozen on lock screen, iPhone unavailable, green lines on iPhone screen, iPhone stuck on emergency SOS, various iPhone screens of death, iPhone keeps restarting, and more.
You have the option to upgrade or even downgrade iOS to a version compatible with your device.
Offer two repair modes to effectively tackle system problems.
Compatible with almost all iOS devices, iPhone 14/14 Plus/14 Pro (Max), iPhone 13/13 Pro (Max)/13 mini/12/12 Pro (Max)/12 mini, iPhone 11/11 Pro/11 Pro Max, iPhone X/XR/Xs/Xs Max, iPhone 8/8 Plus, iPhone 7/7 Plus, iPhone 6/6S/6 Plus, iPod touch, iPad, etc.
It won't disclose your privacy.
Fix the iPhone screen flickering and unresponsive with iOS System Recovery:
Step 1. Download this utility on your computer for free. Connect your iPhone to the computer using a USB cable. Next, navigate to "More tools" > "iOS System Recovery".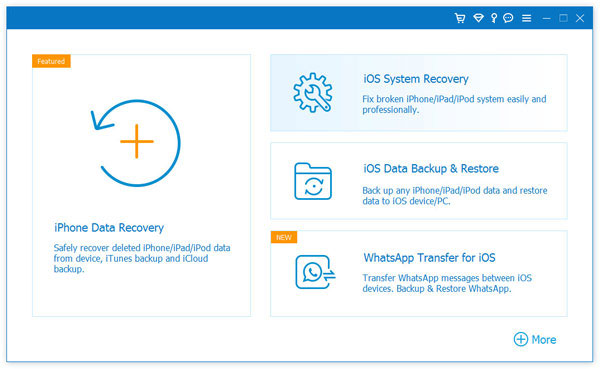 Step 2. Tap "Start" to initiate the scan of your iDevice. The program will display your iPhone information on the screen. Review the details and follow the on-screen directions to enter either Recovery mode or DFU mode.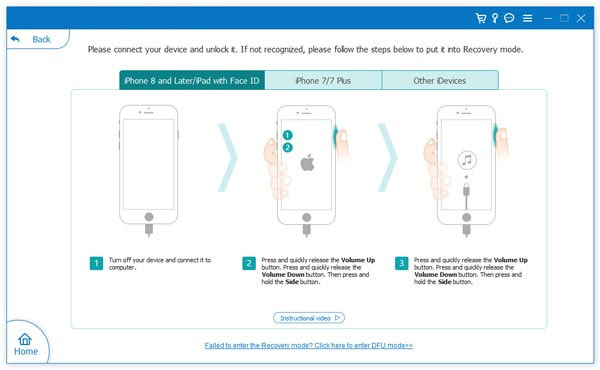 Step 3. Once your phone is in the chosen mode, click "Repair" to fix the unresponsive bottom of the iPhone screen. The program will automatically download the firmware and troubleshoot the issue.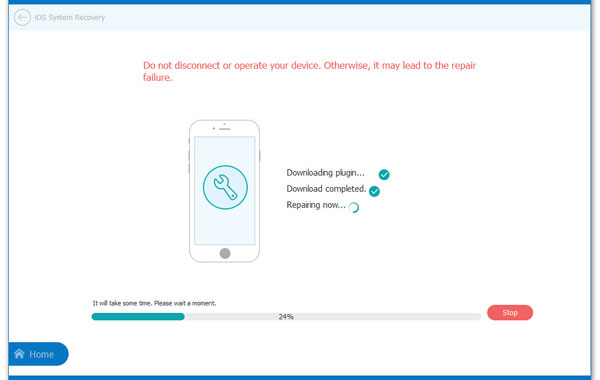 Final Words
No matter if you're dealing with consistent iPhone screen glitches or occasional screen flickering, this guide is designed to help you overcome obstacles and restore your iPhone's display to its optimal functionality. Thank you for sticking with us to the end of this passage.
Generally, we introduced more than a dozen basic methods to cope with the puzzle. And most of them we have covered can be started directly from the iPhone's Settings, while some require running iTunes or Finder. If your iPhone continues to overheat excessively after picking the ultimate tool - iOS System Recovery, it's advisable to contact Apple Support or visit an Apple-authorized service center for further assistance.
Related Articles:
iPhone Touch Screen Not Working/Responding? 10 Troubleshooting Tips for You
How to Hack Screen Time on iPhone and iPad with/without Passwords?
Top 8 MP4 Screen Recorders: Which One Do You Like Best? [Pros, Cons, Reviews]
Can I Get Photos off Broken iPhone? Very Likely [3 Easy Ways Here]
How to Fix iPhone/iPad Pink Screen of Death [Answered 2023]
5 Easy Ways to Recover Data from Locked Android Phone with Broken Screen