Tips & Tricks to Troubleshoot iPhone Typing on Its Own Effectively
"I try to text someone, and the iPhone typing on its own issue arises without being pressed any keys. It will go crazy until I turn it off." -- from Apple Support Community
Recently, many users have reported that iPhone X would automatically execute click commands without any manual operation. The same is occasionally seen in other iPhone models. And it first arose on iPhone 6 series. It's rather frustrating that your iPhone accidentally runs apps or even types the messages by itself. Given the situation, you may want to restart your phone to make the iPhone clicking on its own disappear, as mentioned in the preface.
So, why does my phone keep typing by itself? And how can I fix it in an efficient manner? Let's check the answers to these questions now.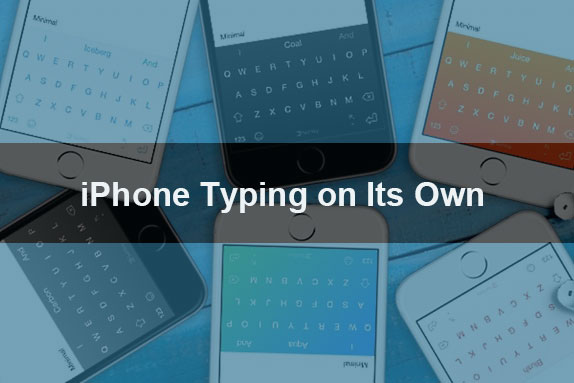 Part 1: Why Is My Phone Typing by Itself?
When you put your iPhone into your trouser pocket with its screen still being awakened, you may accidentally touch the screen as you are swaggering. This is indeed a common occurrence. However, if nothing touches the screen, it's strange that your iPhone unexpectedly types on its own. You can check whether the following situations are contributing to this phenomenon:
A corrupt or even failed iOS update. (How to undo an iOS update on iPhone?)
An outmoded system firmware.
Digitize manufacturing defects.
Incorrect installation.
Faulty display or broken screen components.
Unknown system errors.
Touch screen replacement after the repair.
Hardware issues.
Know More:
Part 2: Tips to Follow before Resolving iPhone Random Typing on Its Own
After figuring out the possible reasons, we will introduce how to troubleshoot iPhone randomly typing on its own. Before that, there are some tips or preparations that are required to grab your attention:
Clean your iPhone's touch screen: Use a clean and soft cloth to wipe the iPhone screen, getting rid of possible debris or dust.
Remove your iPhone case and screen protector: Ghost touch may occur due to an incompatible screen protector or case. At times, you might even find the fault, especially from its corners, making your iPhone click on its own.
Restart the device: Some minor faults can be repaired automatically by restarting your iPhone.
Back up your iOS data: Want to prevent data loss on your iPhone during the fixes? It's best to back up your iPhone to a computer/iTunes or cloud storage in advance.
Part 3: Fix iPhone Typing on Its Own with 5 Methods
Fix 1: Reset all settings on the iPhone
Since doing it will correct some iPhone settings and won't erase any data on your iPhone, we put this method at the top of the recommendation list. To make it, you can:
Go to your device's "Settings" > "General".
Proceed to "Reset" > "Reset All Settings".

Enter your screen password when required to confirm the action.
Fix 2: Update your iPhone
Your iPhone may behave abnormally if it is working with an outdated iOS. To fix iPhone texting by itself, you can update iOS with iTunes as follows:
Install the latest version of iTunes on your computer.
Plug your iPhone into the computer via USB and run iTunes.
When your device is recognized, choose the "device" icon > "Summary" > "Check for updates".

Hit "Download and Update" to update the iOS to its latest firmware.
Extended Reading:
Fix 3: Hard reset your iPhone
Force rebooting does nothing more than cut the power and restart the device again. It might mildly fix iPhone texting by itself. The actions for hard resetting your iPhone vary, depending on its model:
For iPhone 8 or later: Press and quickly release the "Volume Up" button; repeat the action on the "Volume Down" button; press the "Power" button until you reach the Apple logo.
For iPhone 7/7 Plus: Press both the "Power" and "Volume Down" buttons for around 10 seconds until the Apple logo appears.
For iPhone 6S or earlier: Press both the "Power" and "Home" buttons for seconds until the Apple log comes out.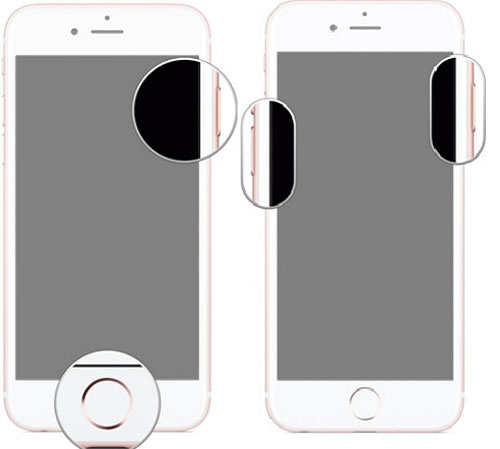 Fix 4: Factory reset iPhone
Unlike the method above, a factory reset on iPhone will erase all iOS data within. But it sometimes does help when the "my iPhone screen is typing by itself" happens. Now, please follow the drill below to check if a factory reset plays a role in fixing the ghost touch problem:
Navigate to your device's "Settings" > "General" > "Reset"/"Transfer or Reset".
Hit "Erase All Content and Settings" > "Erase iPhone".

Enter your password to confirm, and the factory reset will occur immediately. (How to factory reset an iPhone without a password?)
Fix 5: Ask Apple Support
Finally, a common means is that you can reach out to Apple Support. You may draw a satisfactory conclusion to this issue by contacting Apple or taking your iPhone to the nearest Apple Store. Yet before that, please prepare the necessary information as required.
In Conclusion
On balance, we discussed a few workarounds to troubleshoot the ghost touch on your iPhone today. If the problem is noticeably more drastic after the fixes, or the device cannot even turn off properly, just turn to Apple Support for help. Chances are that there's something wrong with the touch screen, and it can be settled by replacing the component from its manufacturer.
Related Articles:
[11 Ways Offered] How to Unfreeze iPhone Screen in Minutes
iPhone Stuck on Black Screen with Spinning Wheel? 5 Fixes You Need to Know
Why Does My iPhone Keep Restarting? Reasons and 13 Great Solutions for You
Android Phone Keeps Turning/Shutting off? You Can Now Fix It Like a Pro
Ultimate Guide to Reset Restrictions Passcode on iPhone 14/13/12/11/Xs Max/XR/X/8
[Full Guide] How to Transfer Data from iPhone to iPhone after Setup?