[Full Guide] How to Transfer Data from iPhone to iPhone after Setup?
In order to facilitate users to complete data transfer when replacing a new iPhone, Apple allows users to easily transfer data from the old device to the new iPhone during the process of setting up a new phone, whether it is restoring data from iCloud or iTunes backup, or if both iPhone devices are running iOS 12.4 or late, you can directly transfer data between the two.
However, for some reasons, you may miss or forget the data transmission step when setting up a new phone. Now that you have set up your iPhone, you remember that you need to transfer data to your new iPhone from your old device. So, you will ask: how do I transfer everything from one iPhone to another after setup? Don't worry, you will know the answer if you continue reading.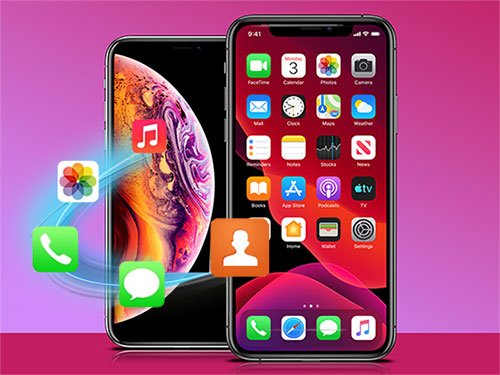 Way 1: Transfer Everything from iPhone to iPhone after Setup via Setup Process
First of all, you need to reset your iPhone to factory settings, restart the setup process to access the data transfer option, and then set up new iPhone from old one. This will erase all the data on your iPhone, so, you can consider to back up your iPhone data beforehand.
Step 1: Reset your iPhone and restart the setup process
On your new iPhone, go to "Settings" > "General" > "Reset" > "Erase All Content and Settings" to erase the device.
The setup process will be restarted and you will see the "Hello" screen, Choose your language and select your location.
Use "Quick Start" or not.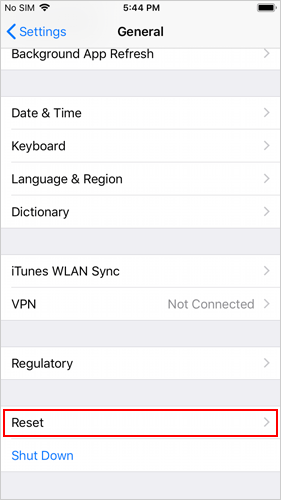 Step 2: Start to transfer or restore data to the new iPhone
If your old iPhone and new iPhone are both by your side, you can directly set up new iPhone from old iPhone.
> If your old iPhone is at hand:
Put the old and new iPhone together.
The Quick Start screen will pop up on the old iPhone.
Use your Apple ID to set up a new iPhone.
Once the Apple ID is set correctly, click "Continue" and follow the instructions on the screen.
Next, you can select "Download from iCloud" to restore data from iCloud backup, or select "Transfer Data from iPhone" to transfer data directly from the old iPhone.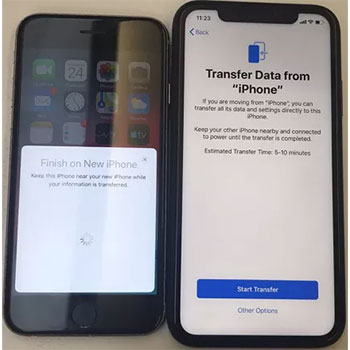 Can't Miss:
> If your old iPhone is not at hand:
Select "Set Up Manually".
Join a Wi-Fi network > set up face ID or touch ID > set password.
When you enter the App & Data screen, you can choose "Restore from iCloud Backup" or choose "Restore from Mac or PC" according to your needs.
Option 1: Restore from iCloud backup
Log in to your iCloud account and select the backup file you want to restore.
If you use multiple Apple IDs, then you need to log in one by one.
Ensure that your iPhone is always connected to a stable WiFi, and it is best to connect the device to a power source until the data restoring process is successfully completed.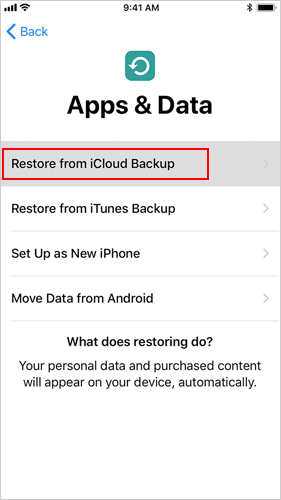 Option 2: Restore from iTunes backup
Connect your new iPhone to the computer, and then launch iTunes.
Click the "Device" tab on the iTunes interface and then go to "Summary".
Select "Restore Backup" and choose the backup file you want to restore to start the data restoration process.
If the backup file you choose is protected by encryption, you need to enter a password to restore it.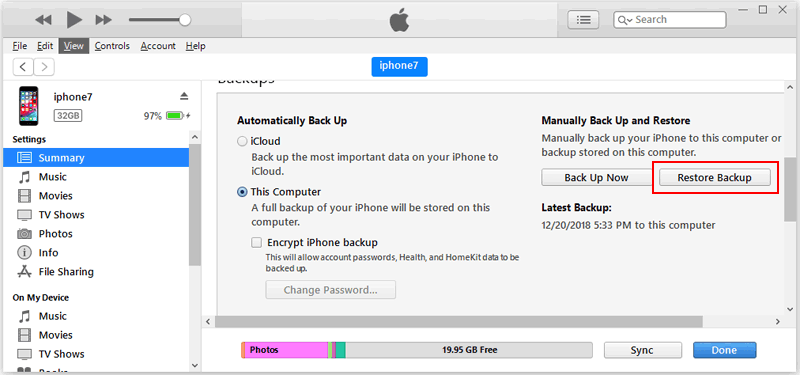 Option 3: Transfer from iPhone to iPhone after setup using a Mac
Connect your old iPhone to your Mac and click the Finder icon to open a new Finder window.
Find your old phone in the "Location" option. If prompted, you need to click "Trust" to let this Mac trust your iPhone.
Click the check box next to Encrypt local backup and create a password to encrypt the backup file.
Click the "Back Up Now" button to back up the old phone data to the Mac.
After the backup is complete, unplug the old iPhone, shut it down, and remove the SIM card.
Insert the SIM card into the new iPhone and connect it to the Mac.
Turn on the new iPhone and start the setup process.
Select your language, set the WiFi network, and select "Restore from Mac or PC".
Go to your Mac, enter the Finder window, and select your new iPhone under "Locations".
Click the "Restore from this backup" button.
Select your newly created backup file and click "Continue". If it is an encrypted backup file, please enter the password.
Finally, click the "Restore" button to start iPhone migrate to new iPhone by using a Mac.
See Also:
Way 2: Transfer Data from iPhone to iPhone after Setup via Transfer for Mobile
If you already have important content stored on your new iPhone and you don't want to erase it, then the third-party tool - MobiKin Transfer for Mobile can help you directly transfer data from the old iPhone to the new iPhone. It provides a one-click transmission method, of course, you can also selectively transmit the data you need. It supports almost all Android and iOS devices. Without iTunes or iCloud syncing, you are not afraid of losing data anymore.
Steps: how to transfer from one iPhone to another after setup by using Transfer for Mobile?
Step 1: Install and launch Transfer for Mobile
Download, install and launch MobiKin Transfer for Mobile on your computer. Connect the two iPhones to your computer with two USB cords. Click "Trust" when a popup message prompts to ask you whether to trust this computer. (Can't see the popup?)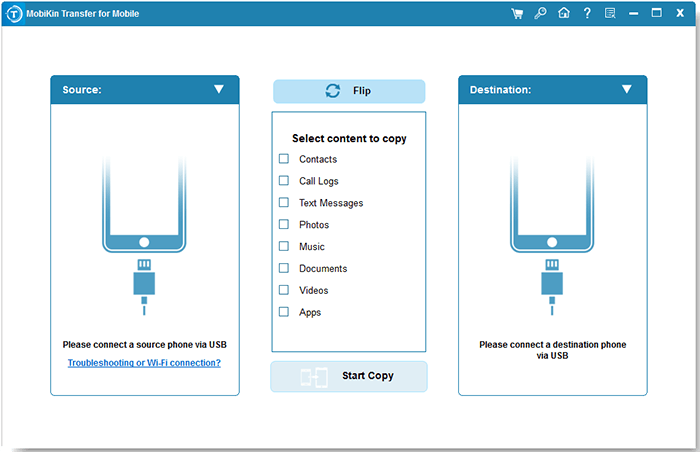 Step 2: Confirm the source and destination iPhone
Once connected, the program will automatically display the two iPhones as "Source iPhone" and "Destination iPhone". Data will be transferred from source to destination. So, you can click "Flip" to put the new iPhone as the Destination device.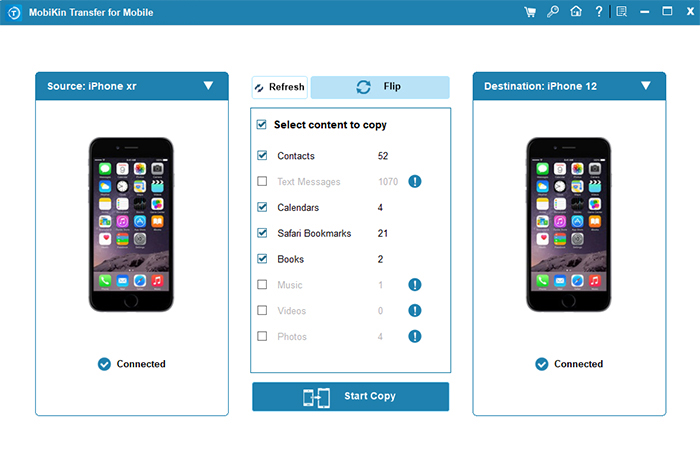 Step 3: Transfer data to new iPhone after initial setup
From the middle of the screen, you can tick the boxes before the data types you want to transfer, and then click on "Start Copy" to transfer data from iPhone to iPhone after setup.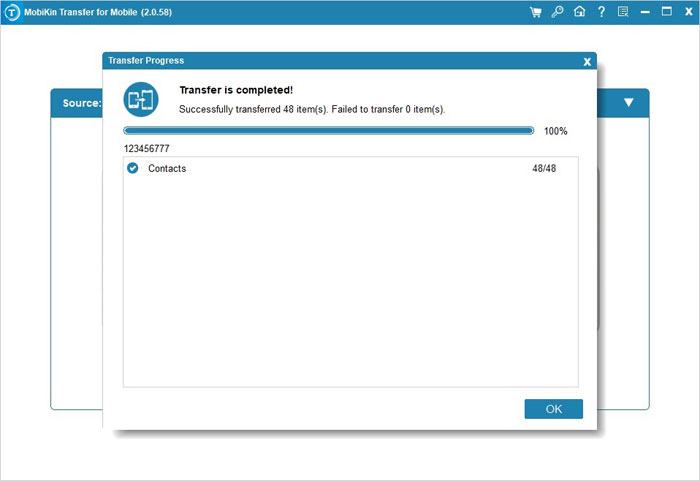 Conclusion
The above is the whole content of how to transfer iPhone to new iPhone after setup. To sum it up briefly, if you don't mind deleting all the content on your new phone, you can reset your iPhone and restore from your old phone, Mac, iCloud or iTunes backup. If you don't want to erase the data, you can use MobiKin Transfer for Mobile to help you transfer all or selected data directly from the old phone to the new iPhone without erasing the data.
If our guide can help you, please don't forget to share it with your friends to help more people.
Related Articles:
How to Sync Contacts from iPhone to iPad? 4 Ways for You!
How to Transfer Photos from iPhone to Samsung? [9 Ways in 2023]
Can't Delete Photos from iPhone/iPad? Here are Solutions!
Top 4 Ways on How to Transfer Photos from Laptop to iPhone
How to Erase or Wipe iPhone 11/X/XR without iTunes?
[Solved] How to Recover Deleted SMS from iPhone 14/13/12/11/XS/8/7?