3 Proven Ways to Transfer Data from LG to Samsung
Summary: Want to let go of your old LG smartphone and switch to a new Samsung phone, and looking for an easy way to transfer data from LG to Samsung, including the Samsung S10/S10+/S10e? All of the following methods have been tested by our editors, you can read and compare them, and then choose the method that suits you to achieve LG to Samsung transfer.
Today, we can do everything on smartphones, from sending and receiving messages to checking emails, from buying items to getting to know news, from production schedules to recording important moments. All of these can be dependent on a mobile phone. As a LG G5/G4/G3 user, when you receive a new mobile phone such as the Samsung Galaxy S10 or Note 9, the first thing to consider is how to transfer data from LG to Samsung phone, such as Samsung Galaxy S10/S10+/S10e/S9/S8/S7.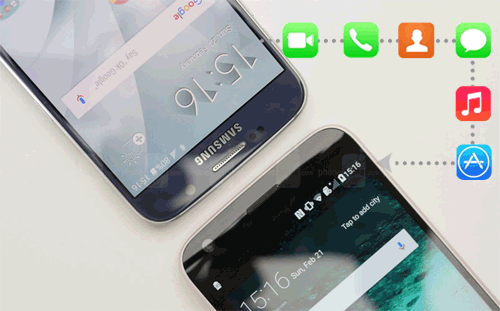 LG to Samsung phone transfer is easy to achieve because both phones run on Android system. And, if you use the same Google account on both phones, you can sync your email, contacts and calendar right away. However, in fact, we have some free ways and one of the best tools to transfer photos, music, videos, apps, contacts and other data from LG to Samsung.
Solution 1: Transfer LG Data to Samsung with LG to Samsung Transfer (Recommended!)
If you want to transfer everything from LG to Samsung with one click, the best solution is to use MobiKin Transfer for Mobile. It is a cross-platform phone to phone transfer tool that transfers data between two smartphones by connecting them to a computer via USB. You are free to choose the type of data you want to transfer, including photos, videos, music, apps, contacts, and more. It can complete the task in a few minutes. Simple and effective!
Currently Transfer for Mobile is available on Windows and Mac platforms, and it supports more than 5,000 Android devices. In addition, it also supports the iOS operating system. In a word, it not only supports data transfer between Android devices, but also is able to transfers between iOS devices, Android and iOS devices.
MobiKin Transfer for Mobile - Transfer data from LG to Samsung with One Click
> Copy contacts, text messages, call logs, music, videos, photos, documents and apps between LG and Samsung phones
> Works perfectly with Apple, Samsung, HTC, LG, Sony, Google, HUAWEI, Motorola, ZTE and more smartphones and tablets.
> Fully compatible with iOS 11 and Android 8.0
> Fully compatible with Windows 10 and Mac 10.13.
Detailed Steps to Transfer Data from LG to Samsung Phone
Step 1: Download the suite and install it on your computer. Open the software and you will get its main interface like below. You are required to connect your LG and Samsung phones to the computer through USB.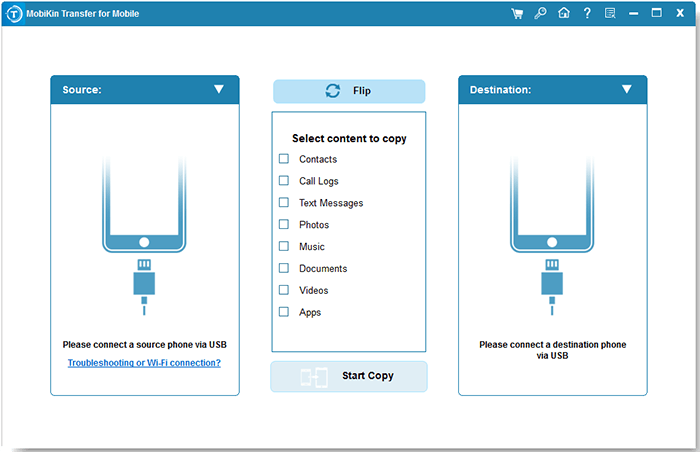 Step 2: Now connect both of your phones to the computer via USB cables. Wait for Transfer for Mobile to detect the two phones. After that, you should make sure that your LG phone is connected as Source Device and Samsung as the Destination Device. If they are in a wrong place, then, you can click "Switch" button to change their positions.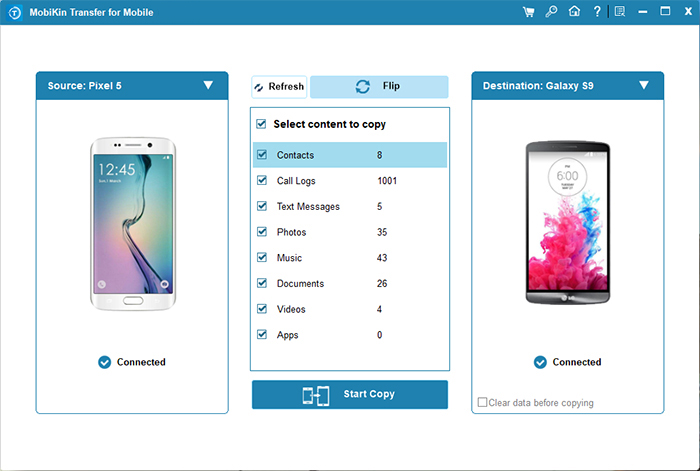 Step 3: Select the content you want to transfer. For example, if you want to transfer photos from LG to Samsung, you need to tick off the "Photos" tab. Then, click the "Start Copy" button and the program will start to transfer your selected data from LG to Samsung phone instantly.
You will see a new pop up appear showing the file transfer status. Once the process is completed, you can remove both devices and check the transferred data on your new phone.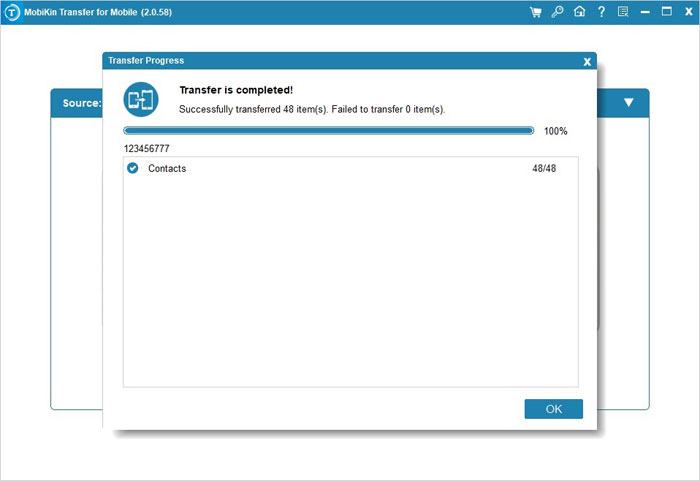 You May Also Like: How to Transfer Photos from iPhone to Samsung? [9 Ways in 2021]
Solution 2: Transfer Data from LG to Samsung Phone with Smart Switch
Another useful app to transfer files from LG to Samsung is called Smart Switch. It is a free and intuitive program developed by Samsung to help users to copy data to Samsung phone from other Android and iOS devices. You can download it freely on Google Play Store and follow the steps below to move data from LG phone to Samsung Galaxy.
Step 1: Search for Smart Switch Mobile in Google Play and install it on both Samsung and LG phones. Launch the app on the two phones at the same time.
Step 2: From your LG phone, choose "Android device" on the home interface and tap on "Start". On the following page, tap "Wireless".
Step 3: Choose "Sending device" to set LG as the source device, and choose "Receiving device" on Samsung. Then tap on "Connect" on both phones to pair each other.
Step 4: Next, you will be asked to select the file types that you wish to move, like Pictures, Music, Videos, App list, Messages, etc. After that, tap on "Send" on LG phone and "Receive" on Samsung to start transferring data from LG to Samsung.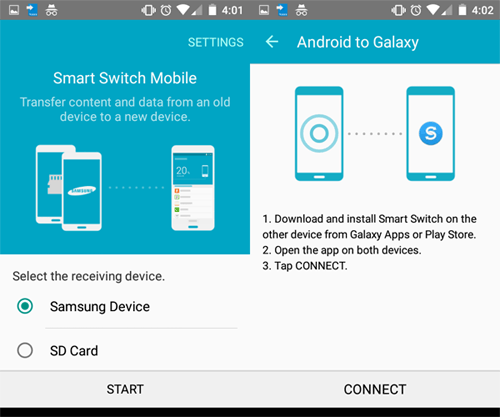 The time required for the entire LG to Samsung transfer process depends on the amount of data to be transferred and the speed of the Wi-Fi network.
Read Also: How to Transfer Contacts from LG to Samsung S5/S6/S7/S8/S9/S10
Solution 3: Using Google Drive to Achieve LG to Samsung Phone Transfer
Finally, we'll show you how to use Google Drive to help with LG to Samsung data transfer. Google Drive is an Android app developed by Google that allows you to upload 2GB of data for free on its cloud server and access it from anywhere, anytime. Here's how to use Google Drive to send data from LG to a Samsung Galaxy phone.
Step 1: Find the Google Drive app on the Google Play store and install it on two phones.
Step 2: Open the app on your LG smartphone, then find and click the "+" icon on the interface to upload all the data from your phone to Google Drive.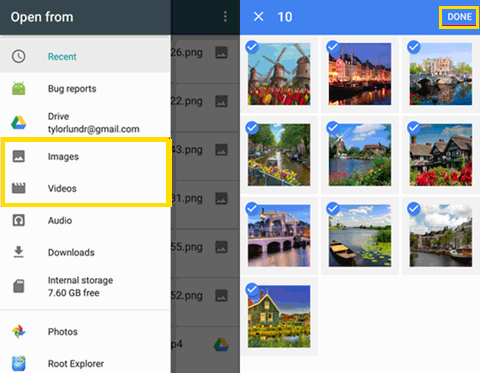 Step 3: Open the Samsung device and log in to the Google Drive account with the same account information used on the LG phone, then download the previously backed up data to the Samsung phone.
Which Way is the Best?
Solution 2 - Smart Switch only supports some common phone models, and some older LG and Samsung phones may not be supported. It does not support the transfer of apps and app data. In addition, because it is transmitted over the wireless network, the transferring speed is slow and there is a possibility of interruption at any time.
Solution 3 - Using Google Drive is time-consuming and labor-intensive, you need to upload all the files one by one. If the file size is too large, this will be a very troublesome job. And like Smart Switch, Google Drive supports a limited kinds of files, some data types are not supported, such as messages, apps, and app data.
Solution 1 (Best!) - Unlike the two tools above, MobiKin Transfer for Mobile uses a physical connection (of course it also supports wireless connections). After several system tests, this software is effective and secure. In just a few minutes, you can transfer all the data on your LG phone to your Samsung phone, including contacts, text messages, call logs, music, videos, photos, documents and apps. Say goodbye to cumbersome and time-consuming work, and Transfer for Mobile can help you save a lot of time. In addition, it can bring you more convenience. So why not download it and try it?
I hope you like this article, don't forget to click the share button.
Hot Articles:
How to Transfer Contacts from iPhone to Samsung (Practical in 2019)
Transfer SMS (Text Messages) from Android to iPhone Xs/Xs Max/XR/X/8 Plus/8
How to Transfer Music from iPhone to iPhone? [6 Proven Tips in 2019]
How to Transfer Photos from iPhone to iPad Easily?
Photo Transfer Apps for iPhone, iPad or iPod touch