6 Astounding Methods to Transfer Data from HTC to Samsung
Samsung mobile has won the favor of many users throughout the world with its vogue appearance and cutting-edge technology. The camera and screen of Samsung Galaxy S20/S10 etc., come with advanced hardware specifications. HTC phone, as we know, is weak in image info processing. So many youngsters who go after the sense of fashion tend to switch to a Samsung. Whereafter, the most important thing to consider is probably how to transfer data from HTC to Samsung, especially the migration of contacts.
The good news is that there are several solutions now that can help do that. Have no idea about which one to choose? Never mind! Please concentrate on this blog post.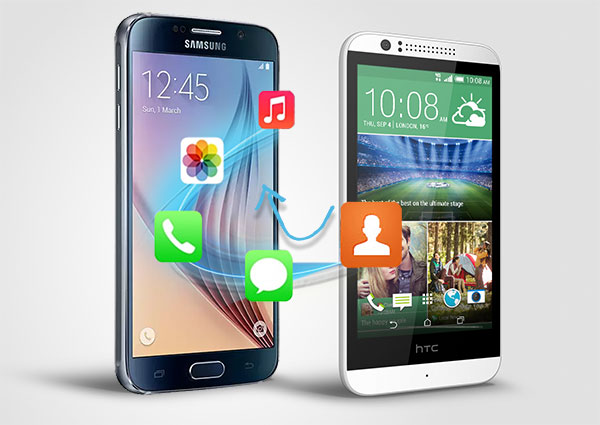 Way 1: How to Transfer Data from HTC to Samsung via Transfer for Mobile
Primarily, we want to advise you to transfer data from HTC to Samsung with MobiKin Transfer for Mobile (Windows and Mac version), an off-the-peg solution to cope with the file transfer between two Android devices. With the presence of this program, you are allowed to sync various data between HTC and Samsung or other Android and iOS devices.
Let's go through the list of the main features of Transfer for Mobile:
- Transfer data between two Android phones, covering contacts, call logs, SMS, photos, videos, music, documents, apps and more.
- Move contents from Android to iOS, from iOS to Android and between iOS devices.
- Run on standalone environment and switch data quickly with few clicks.
- Fully compatible with Windows 10/8/7/XP/Vista and Mac OS X 10.9 or above.
- Go on well with 6000+ smartphones, including HTC 12+/12/11+/M10H/A9W/M9W/M9Et/M8W/U11/U10, and Samsung Galaxy S20/S10/S10+//S9/S8/S7/S6/S5, Galaxy M20/A51/A71, Galaxy Note 20/10/9/8/7/6, etc.
If you are fond of this program, download it on your PC/Mac and give it a shot. The overall transfer process can be accomplished with a wet finger.
Here's how to transfer data from HTC to Samsung Galaxy S20/S10 with MobiKin Transfer for Mobile:
Step1: Launch the program on your computer
Open MobiKin Transfer for Mobile after you download and install it on your computer. Then you'll get the initial interface like below, which prompts you to connect your devices to computer.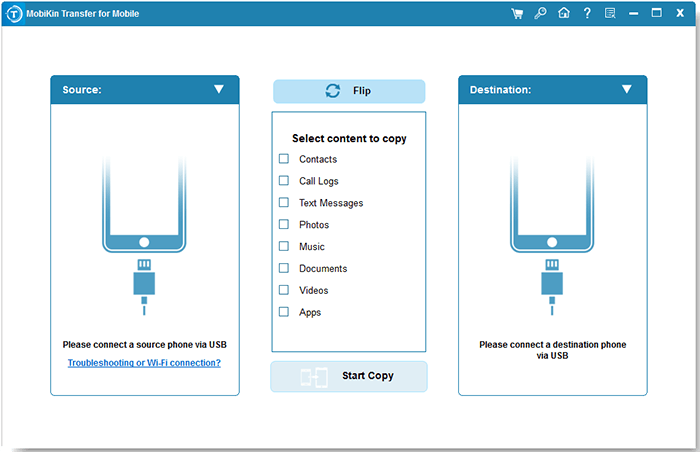 Step 2: Check the positions of the devices on the window
After the devices are connected, their icons will be on the left and right panel respectively. And in the middle panel, you can see the transferable data types. Here, you need to ensure whether the source device is HTC phone. If not, please click "Flip" to correct their positions.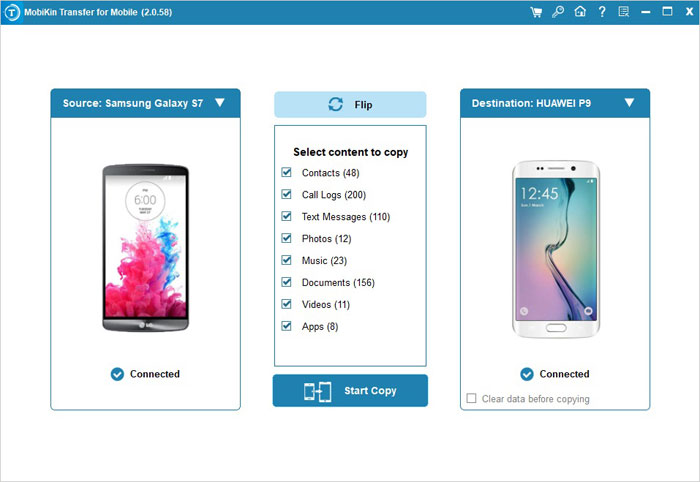 Step 3: Transfer data from HTC to Samsung device
You can tick off your desired data categories like "Contacts", "Videos", "Photos" from the middle of the window and click "Start Copy" to transfer your chosen files from HTC to Samsung.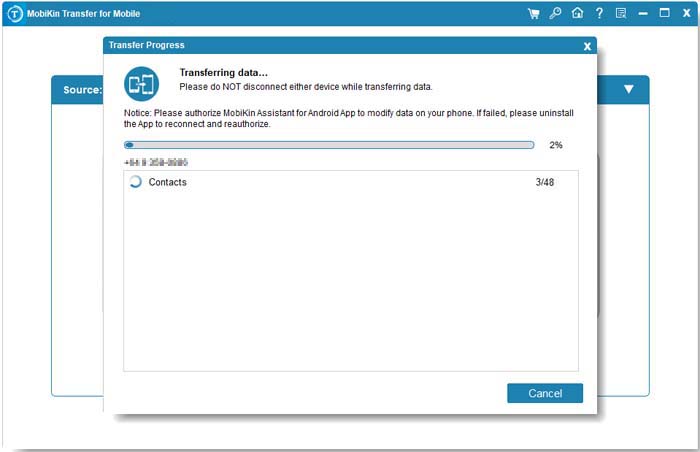 Way 2: How to Transfer Files from HTC to Samsung Using Assistant for Android
What we just talked about is to transfer HTC data to Samsung directly. Next, another tool will help move files between two phones through backup and restoration. This is MobiKin Assistant for Android (Win and Mac version). As a mobile manager customized for Android users, it supports both USB cable and WiFi connection.
Then, it can transfer unlimited Android data to another Android device on PC or Mac. In addition, this software can help manage contacts, text messages, call logs, pictures, videos, and other files on your computer without a hitch.
How do I transfer data from my HTC phone to My Samsung Galaxy Note 20/10 using MobiKin Assistant for Android?
Step 1. Run this tool on your computer after downloading and installing it. Next, link your HTC phone to the computer and go to click "Super Toolkit" from the top menu of the window. Then, you'll get the interface for backup.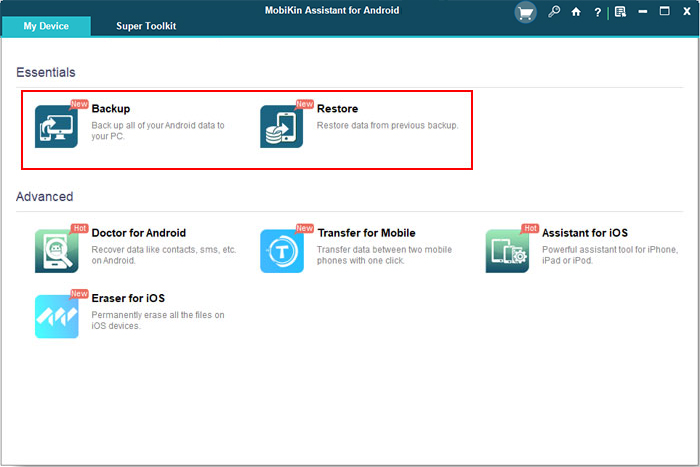 Step 2. Select "Backup" section and choose the data types you'd like to transfer to Samsung. Assign an output location on your computer to store those backups. Then, tap the "Back Up" button. After a while when the backup process is complete, please disconnect your linked HTC from the computer.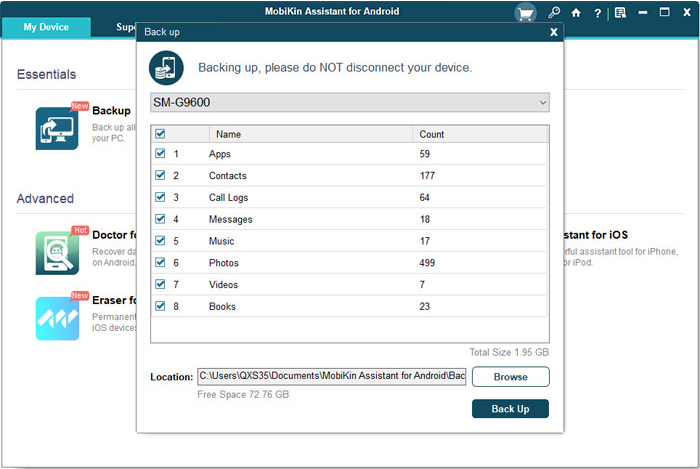 Step 3. Plug your Samsung to your computer via a USB cable and get it recognized by the software. Afterwards, go to "Super Toolkit" > "Restore". Then choose backed-up file types that you need to restore to your Samsung phone and press "Restore" again to get this task done.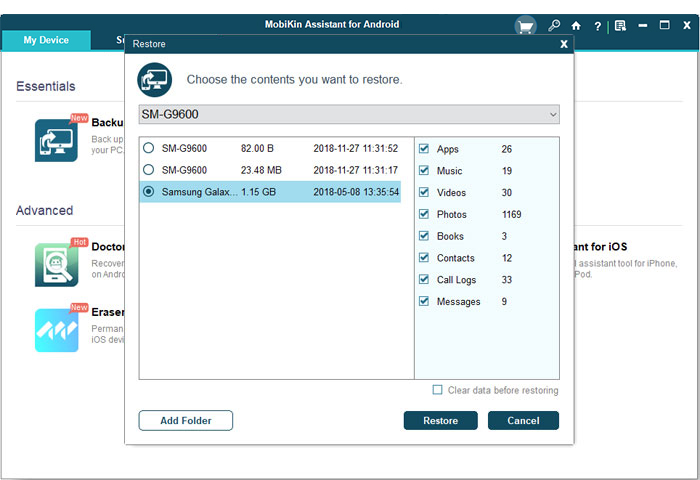 You May Be Interested in:
Way 3: How to Transfer My Data from HTC to Samsung with Samsung Smart Switch
Samsung also offers a phone application - Samsung Smart Switch to help users do mobile file transfer. If you use it in this case, it will detect the data on your HTC mobile automatically and then get ready for moving the data to Samsung phone. To be specific, this app can give you the freedom to send your phone numbers, music, pictures, calendars, SMS, device settings, etc., between two devices.
The detailed steps to transfer my data from HTC 12+/11+ to Samsung A71/A51 by using Smart Switch are like below:
Step 1. Download and install Samsung Smart Switch (from Google Play Store) on both your HTC and Samsung handset.
Step 2. Open the app on both your two mobile phones and connect them via WiFi or USB adapter.
Step 3. When the connection is made, you should simply choose your HTC as the sending device and the Samsung as the receiving one. After that, you can mark the files that you want to move and press "SEND" to start the transfer process.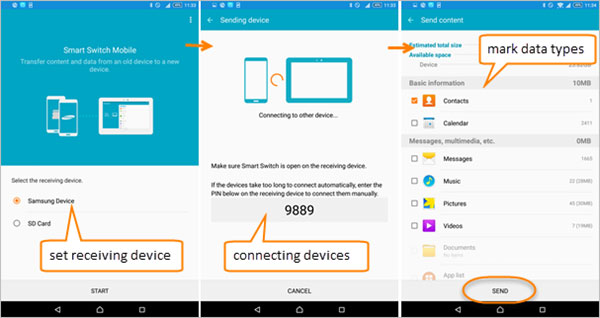 Way 4: How Do I Transfer from HTC to Samsung Galaxy with Google Drive
Google Drive is often used to back up and restore the data on devices. Here, it can be used to sync or share HTC data to Google cloud service, and then restore or download the needed data from cloud drive to Samsung mobile. To perform this operation, you need to first have a Google account, which is generally a Gmail mailbox, with free storage space of 15G currently. If the space is not enough for you, you can pay to upgrade to OneDrive.
Additionally, please note that your sharing files on Google drive cannot involve copyright or other sensitive contents, otherwise it may be blocked.
How do I backup my HTC phone to Google Drive and then save the data to Samsung mobile?
Step 1. Assuming that you have got a Google account before, navigate to "Settings" > "Accounts" > ("Add Account") > "Google" on your HTC phone and follow the hints to log in your Gmail account.
Step 2. After that, you can see "Sync App Data ", "Sync Calendar ", "Sync Contacts", etc., from the page of "Google". Just choose the items you need to sync them to Google account.
Step 3. Follow "Step 1" to add the same Google account on your Samsung phone. Then go to "Settings" > "Accounts" > "Google" > to choose the exact data types from the backup list and tap "Sync Now" to sync data from Google account to Samsung mobile.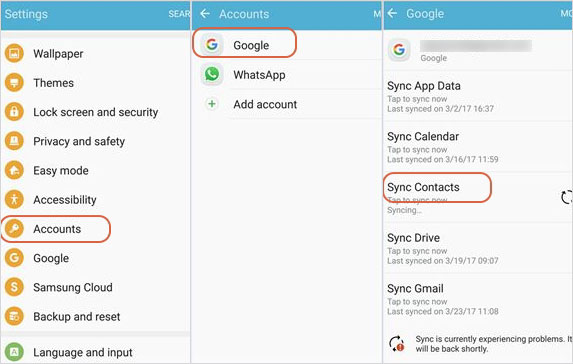 You May Like:
Way 5: How to Transfer Data from HTC to Samsung Galaxy via Bluetooth
If you are not used to installing any third-party software on their computer or mobile phones. Then in this case, you can choose to sync the files via Bluetooth. But this operation won't be as easy as the above 4 means in fact. You need to pair two devices via Bluetooth and keep them connected during the moving process or it would fail.
After the transfer task, if you don't choose to disconnect the connection made at this time, the next time you open the Bluetooth on the two devices, they will automatically connect with each other.
Here we set contacts as example, to show you how to Bluetooth contacts from HTC to Samsung Galaxy:
Step 1. Keep the two devices as close as possible. Then switch on the Bluetooth feature on both your HTC and Samsung from "Settings" and pair two devices.
Step 2. Go to the "Application" that contains the data you need to transfer. Here, let's set contact transfer as an example. You can click "Contacts" on your HTC and click "three vertical dots" > "Send contacts".
Step 3. Choose your desired contacts and tap "SEND". After that, a pull-down list will ask you to choose a means to transfer your HTC data. Just select "Send contacts by Bluetooth" option.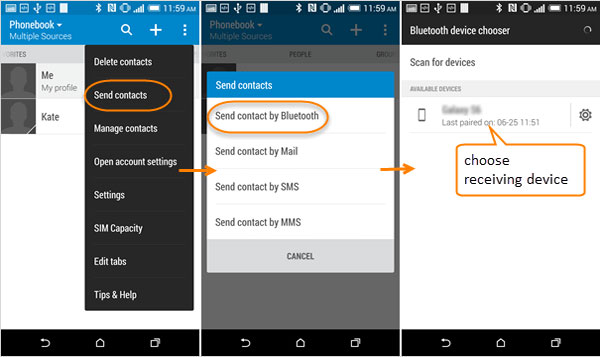 Step 4. Next, set Samsung as the receiving device. And a notification would appear to ask you to accept the VCF file. Agree with this operation and then you can slide down the notification panel from your screen to check the received files.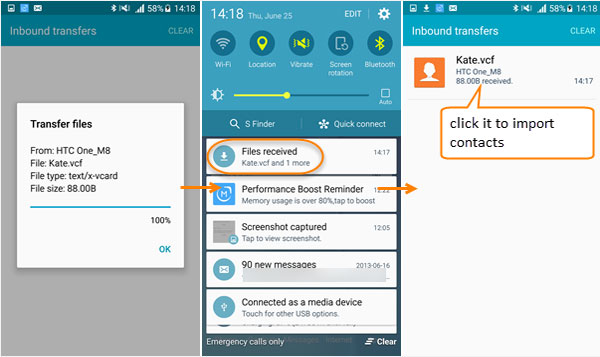 Note: If the Bluetooth on two mobile phones is paired but not available, first scrutiny whether the Bluetooth version is 4.0 or up, which boasts good compatibility. Then check if the security settings on the phones limit its access permission.
Way 6: How Can I Transfer Contacts from HTC to Samsung via SIM Card
To use this method, first check if the card slots of both your HTC and Samsung phone match. For instance, HTC One X9 has two Nano-SIM card slots while HTC 10 only has a micoSIM card slot. In contrast, Samsung uses microSIM card on S4 and nano SIM on S10, while S20 supports both Nano-SIM and the latest eSIM card. Secondly, before moving the SIM card, please notice that you have powered off the two phones first, and then remove the SIM from the HTC and insert it into the Samsung with care.
Now, how can I transfer HTC phone numbers to Samsung via SIM card?
Step 1. On your HTC mobile, open the "Contacts" app and click the "more" (three-dot icon). Then go to "Manage contacts" > "Import/Export".
Step 2. Choose "Export to SIM card" and opt for the contacts you need to export to HTC SIM card from the phone.
Step 3. Take the SIM card out of the HTC mobile and put it into your Samsung phone. Then, go to "Contacts" > "more" > "Manage contacts" > "Import/Export" on your Samsung and choose "Import from SIM card" to send contacts from the SIM card to Samsung phone.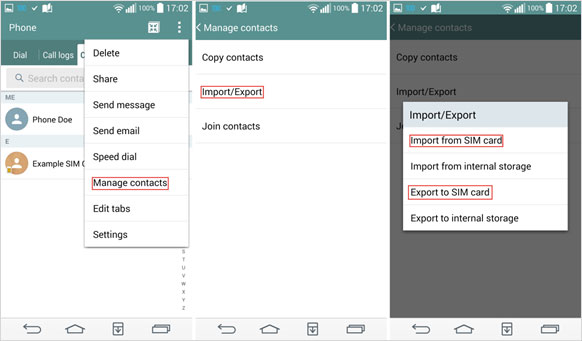 Write in the End
6 various solutions are introduced above. Now, you can take one of them to transfer data from HTC to Samsung. Personally, I suggest choosing MobiKin Transfer for Mobile, as it is the only method that can make your transfer experience extraordinary. Apart from supporting transferring data between mobiles with the same or different OSes, it comes with a trial version to meet your diversified needs. Besides, MobiKin Assistant for Android is also worth a shot, for it can not only move data between Android phones, but also manage your Android devices in a personalized way.
Of course, other methods can be your cup of tea, but they have limitations in mobile phone brands, security risks or restricting in data types. Well, which method do you like best? Welcome to share your views with us.
Related Articles:
[100% Working] How to Fix "Unable to Complete Data Transfer" Error on iPhone 13/14/15?
How Can I Transfer or Copy Contacts from HTC to Computer/Mac
How to Transfer Photos from iPhone to Samsung? [9 Ways in 2020]
Samsung Contacts Backup - How to Backup Contacts on Samsung?
Effective Ways to Transfer iCloud Backup to Samsung