How to Transfer Calendar from Motorola to Samsung?
Samsung and Motorola are the most two most popular Android mobile device manufacturers worldwide. If you were a user of Motorola phone in the past and now get a new Samsung handset, such as Samsung Galaxy S7/S7 edge or Note 7, the first thing occurs in your mind should be "How to transfer data from Motorola to Samsung". If you have no idea, you are in the right place. Here, we will provide you the most efficient solution about how to transfer data, such as calendars from Motorola to Samsung Galaxy effortlessly, by using Motorola to Samsung Transfer. Now, let's take a view on the program:
Main features of the Transfer for Mobile:
i. It exports phones content from one device to another in one click
This software allows you to exchange files without risking your data content from one phone to another with 100% compatibility, no matter they are Android, iOS or Symbian devices. It is effective in that it can transfer almost everything without any data loss or interference with the quality.
ii. It allows you to backup your data to Mac and restores it anytime you want
With this software, you can create a backup for your phones content; contacts, music. Calendars, videos among others and getting it back anytime. A backup will avoid a crisis that may result from data loss. With a Mac backup, you can get that data again on the same phone if you accidentally lose it or you can restore it to a new phone.
iii. It enables you to wipe off your old phone completely
When you get a new phone, you may decide to resell the old one. With such a mission, you may not want to let private information in your phone get into the wrong hands. With this software, you will be in a position to delete every tiny bit of data off your old phone hence protecting the data you had. It permanently empties the existing data together with the one you had erased without chance of recovery.
The program also enables you to:
How to Transfer Calendar from iPhone to Galaxy?
How to Transfer Call Logs from Android to Android?
After viewing the main features of the transfer program, are you interested in this tool? The following guide will tell you how to transfer calendar from Motorola Atrix/Droid/Moto X to Samsung Galaxy S7/S6 Edge/S5/S4/Note 7/6/5 by using this software.
Copy Motorola Calendar to Samsung Galaxy S7/S6/Note 7
Step 1. Connect Motorola and Samsung phones to computer
Download and install the Motorola to Samsung calendar transfer software from the buttons above. Run the software and connect your Motorola and Samsung phones to the same computer with USB.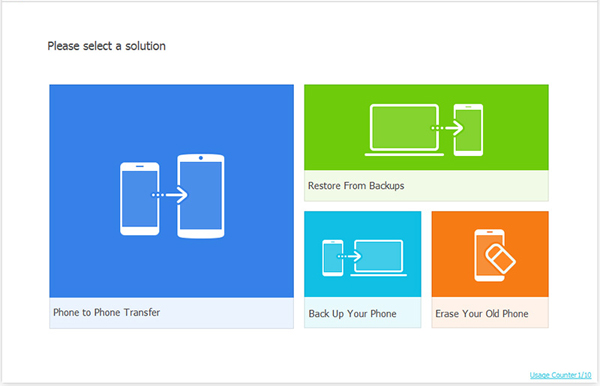 Step 2. Enter Phone to Phone Transfer option
There are 4 different options provided on the program interface. Just select "Phone to Phone Transfer" and the program will detect the two connected phones and display all the phone data (i.e. Calendar, Contacts, Photos, Music, Videos etc.).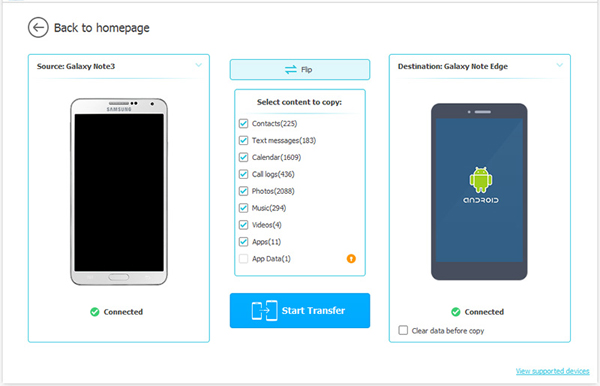 Step 3. Transfer Calendar from Motorola to Samsung
Now tick the data type labeled "Calendar", click on the Start Transfer button in the middle. and the software will start transferring calendar from Motorola to Samsung phones.
Related Articles:
How to Read HTC Calendars on iPhone
Transfer Calendar from Samsung to Samsung
Samsung Transfer Files over WiFi: How to Copy Samsung Data to Computer Wirelessly