[Proven Tips] How to Transfer Call Logs from Android to Android?
For keeping up with the technology and experiencing the advanced functions of the device, most phone users especially the Android phone users may change their mobile phones very frequently. Then in this case, it is common that users need to sync their desired files like call histories between two Android phones. So here, to help you transfer call logs from Android to Android more easily, this tutorial will show you 4 effective ways to migrate the files.
Way 1. One Click to Transfer Call Logs from Android to Android
To transfer files between two mobile phones, the easiest and quickest way is to ask a professional software for help. Here you can try out the MobiKin Transfer for Mobile program. It is a powerful and useful phone to phone transferring tool that enables you to sync data like contacts, text messages, photos, call logs, music, videos, apps, calendar – you name it between mobile phones. It is worth mentioning that this software is perfectly compatible with Android and iOS devices. For Android users, Samsung, HTC, LG, Motorola, Sony, Google, Huawei, ZTE and so on, all can be supported by the software.
Maybe you will be interested in:
The instructions supplied for this tool is easy to follow because they clearly written and provided in a simple 1-2-3 transferring process. Just download the Windows or Mac version of the program for free and keep on reading the guide.
Step 1. Run Android to Android transfer tool
Run the transfer tool on the computer, and you will see the window as follows. Use two USB cables to connect your two Android phones with the computer via USB cables respectively. Make sure that both phones can be successfully detected by your computer.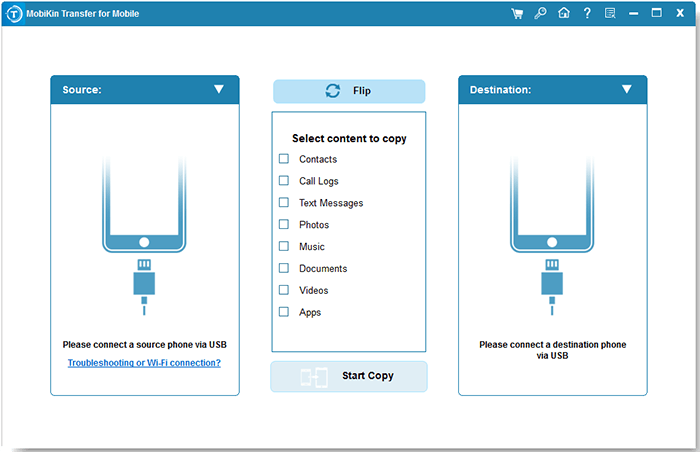 Step 2. Choose the wanted files
In the main window, you will see the program displays as follows. You can see the data of your two Android phones displayed on the interface like call logs, contacts, photos, music, etc. Just mark the "Call Log" folder.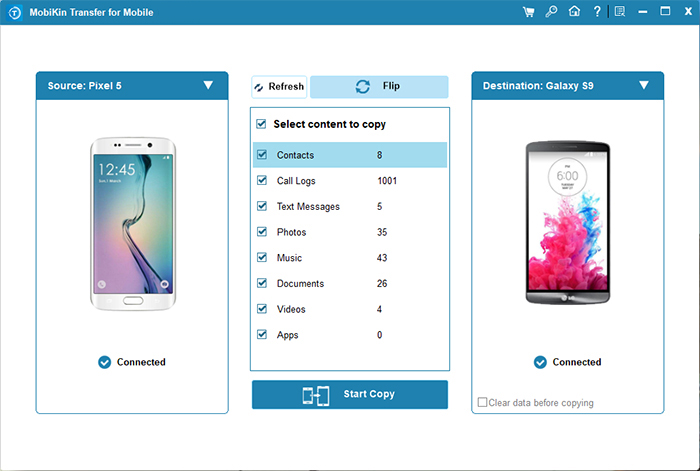 Step 3. Transfer call logs from Android to Android
Finally, click the "Start Copy" button to begin the transmission. During the process, you should never disconnect either device.
Way 2. Migrate the Call History via Android Assistant Software
Except for the Phone Transfer tool, you have another choice- MobiKin Assistant for Android. By using this tool, you are able to export the call logs or other files from Android to computer as a backup and then import the exported data from PC to Android when you need them. Meanwhile, it also allows you to manage the phone data on computer. Compared with the first program, this tool would be indirect but more multifunctional.
The followings are the detailed migrating process:
Step 1. Connect your old Android phone to computer
At first, you need to connect your old Android phone to computer with a USB cable and launch the program. Then you should go with the prompts to enable the USB debugging on your phone and install the USB driver on your computer to let the program recognize your device.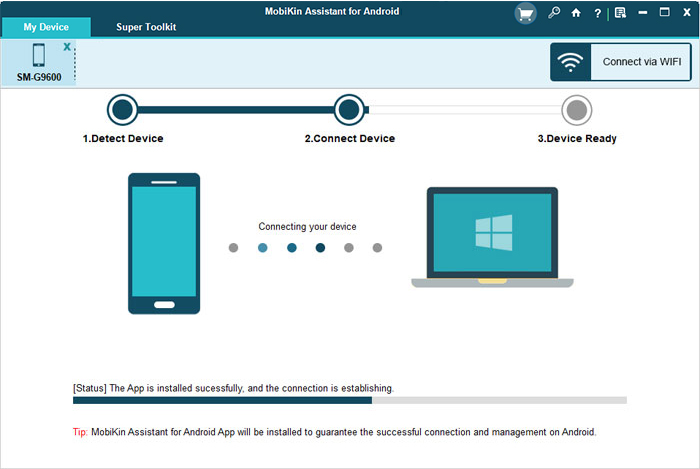 Step 2. Export Android call logs to PC
The next step is to export the call history from Android to PC. To complete that, you ought to click the option "Contacts"> "Call Logs" on the main interface and then select the wanted records in the right panel. Finally, you should tap on the "Export" option from the top menu to save the files to computer.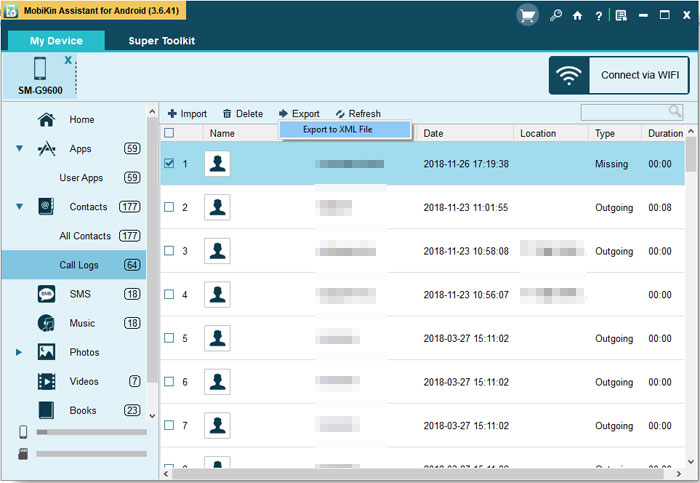 Step 3. Import call history from PC to new Android
After that, you need to disconnect your old Android phone and plug another phone into the computer and make it be recognized. Next, you should tap on "Contacts"> "Call Logs" in the left panel again and then choose "Import" from the menu to view, select and transfer the wanted call logs to your Android phone.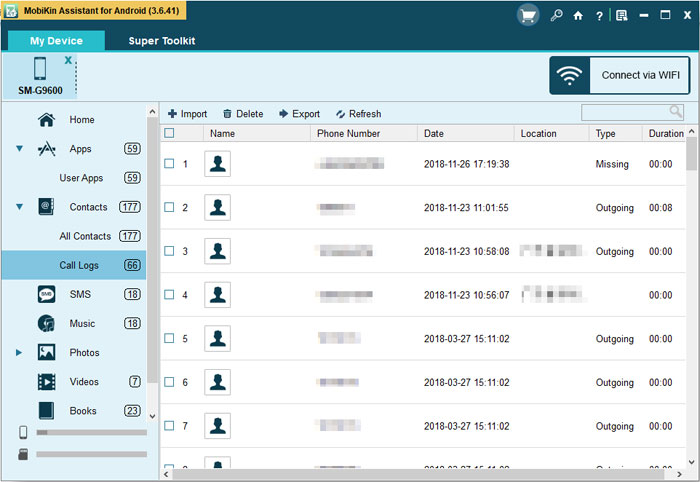 Way 3. Sync the Android Call Logs with Google Drive
Google Drive is also an option to sync call logs between two Android phones. With it, you can sync your call logs from your old phone to the cloud server and then restore them to your new device. But to use this means, you need to meet two requirements:
Download and install the Google Drive on both your Android phones;
Have a valid Google account.
If you ensure that you meet these two requirements, you can begin to sync the call logs.
Step 1. Backup the mobile phone records to Google Drive
Open the Google Drive on your old Android phone and then go to "Menu"> "Settings"> "Backup". Here you will be asked to add your Google account if you haven't added it. Then you can mark "Call History" or other files you want to backup and hit "Start Backup" to sync the files to Google Drive.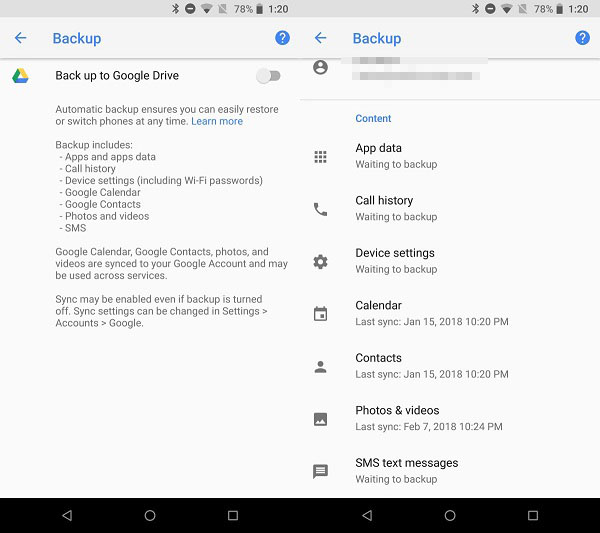 Step 2. Sign in the same account on your new phone
Now you can power on your new Android phone and enter the Google Drive with the same account. Then you can find the option "Backups" to view or download the call logs without any limitation.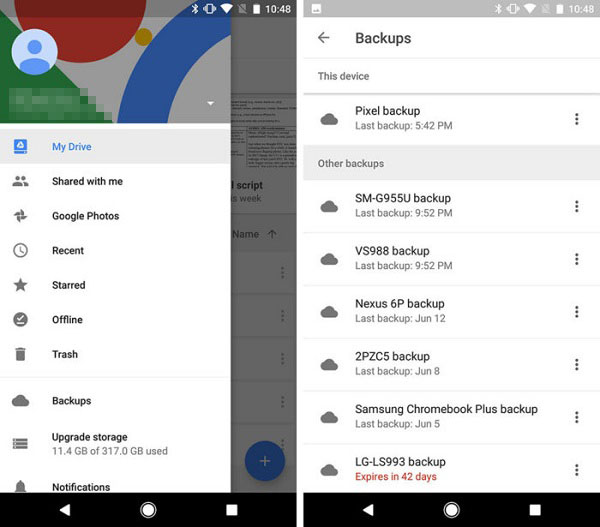 Way 4. Use SMS Backup & Restore to Copy the Call Logs between Two Android Phones
Here is another method to transfer call logs from Android to Android without PC- making use of the application SMS Backup & Restore. Just as its name says, this application is good at backing up and restoring messages and call logs. But apart from that, it also supports a fast transfer between 2 phones over Wi-Fi. The transferring process is as below:
Step 1. Set the sending and receiving phone
Download and install the application on both your devices and then launch it. Next, tap on "Transfer" button on both Android phones. Then on the sending phone, you need to select the option "Send from this phone" and click on "Receive on this phone" on the receiving phone.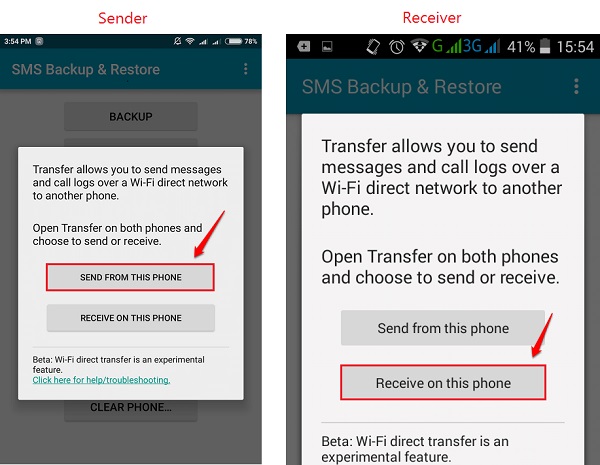 Step 2. Pair the devices
After that, the sender will scan for nearby devices and send an invite to the receiver. While receiving the invite, receiver should click the "Accept" button to continue.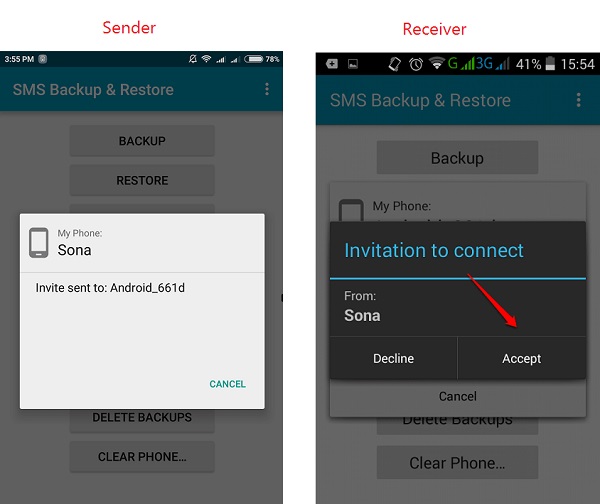 Step 3. Backup the call logs & messages
Next, you should go to the sending phone and choose "Transfer text messages and call logs from the current state of your phone" to let the sending phone start backing up the call logs and messages.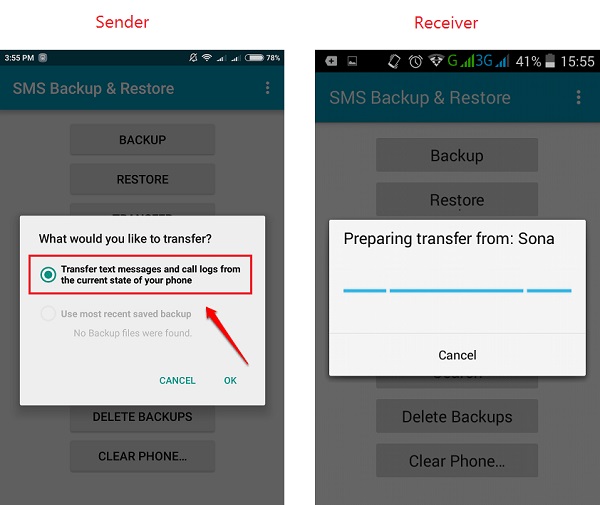 Step 4. Accept and restore the files
Now you have to click on the "Accept and Restore" button on the receiving phone and set the SMS Backup & Restore App as the default messaging application (you can change it later). Then the sender will begin the transferring process and you will receive a success message when the transmission ends.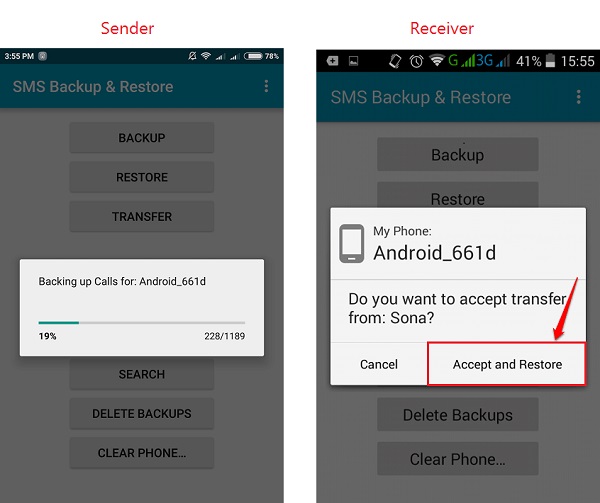 Wrapping Up
These are all the methods you can use to transfer call logs from Android to Android. If you have any problem or have any new idea about this tutorial, please feel free to let us know.
Related Articles:
Android Call Log Manager- How to Manage Call Logs on Android Easily?
Ultimate Guide on How to Transfer Contacts from Android to Android
How to Transfer Contacts between iPhone and Android Easily?
How to Transfer SMS (Text Messages) from Android to iPhone 14/13/12?
Tutorial to Transfer Data from Android to Android Devices
How to Export Samsung Calendar? 4 Methods for Samsung Calendar Export & Import