How to Transfer Files between iPhone and Samsung Galaxy
The advantage of transferring data from old phone to new one is that users can keep in touch with their family members or friend's at any time; review the photos taken in the last for recalling some memorable moments; set your favorite music or songs as the ringtones as you like.
We know that there are lots of versions of operating system on the market, so when you switch your phone from one system to another, you always be frustrated by the problem of moving data between two different devices, right? That's why we write this page here. In this article, we'll take two of the most popular smart phones on the market as an example: iPhone and Samsung Galaxy.
Consideration about Transferring Files between iPhone and Samsung:
No matter why you wish to copy data from iPhone to Samsung Galaxy or from Samsung Galaxy to iPhone, the problem here is how to reach it? Obviously, you can't achieve the goal by simply plugging the devices into your computer via USB cable, and you also can't transfer data like music, photos, video, voice memos, etc. between iPhone and Samsung Galaxy via Bluetooth due to the Apple's technology limitation.
Of course, you don't want to waste too much time on the data transmission, right? Therefore, in order to save your time and reach the goal of transferring files between iPhone 6/5S/5/4S and Samsung Galaxy Note or S2/3/4 effectively, here we could like to kindly recommend Mobile Phone Data Transfer program as your assistant.
About Mobile Phone Data Transfer:
With it, you can transfer not only contacts or SMS, but also call logs, photos, videos, music, etc. from an iPhone to a Samsung device or from Samsung to iPhone 6 Plus/6/5S/5/4S easily yet effectively within few simple clicks. And this program is a standalone program that is 100% risk-free, so here is no need for you to worry about your personal information of leaking out.
Supported OS: Nokia, iOS, Android and BlackBerry.
Supported Files: Contacts, Text Messages, Videos, Music, Photos, Call logs, etc.
In addition, there is another application can also help you and that is Move to iOS, which enable you to transfer files from Samsung to iPhone easily and quickly. But the disadvantage is that you are not allowed to transfer data from iPhone to Samsung. Besides, it only support the Android 4.0 and later. You can download the software by clicking the icon below.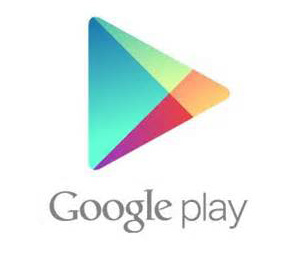 1. Steps on Transferring Files between iPhone 6/5S/5 and Samsung Galaxy
First of all, make your devices be recognized by the program.
Directly launch the program after the installation, then enter the mode of "Phone to Phone Transfer". After that, using the USB cable to connect the iPhone and Samsung Galaxy device to the computer at one time.
The program will detect your device and show them in the "Source" and "Destination" area randomly. Check the device position and if your device have been shown in a wrong area, click "Flip" button to change it.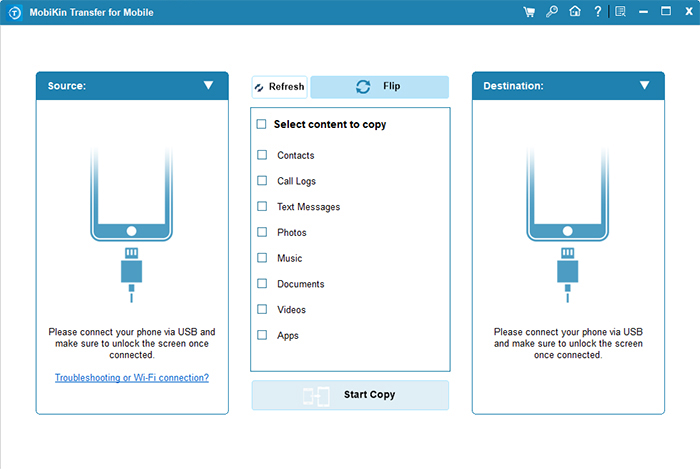 Note: iTunes is required to be installed on your computer. If you haven't installed it, the interface will remind you to install one before transferring the precious data between Samsung Galaxy and iPhone.
Then, select the file type and begin to transfer.
Tick the option of "Contacts", "Music", "Photos", "SMS", etc. one by one, and click "Start Transfer" button to begin the transferring process as you like. You can check the process in the interface as below: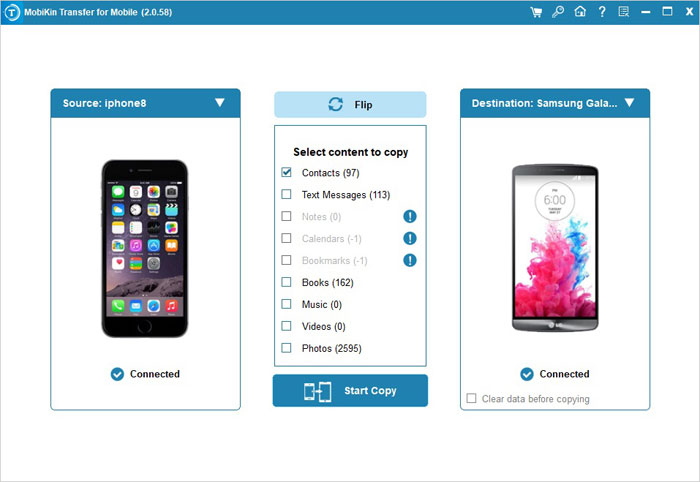 2. Guide to Transfer Data from Samsung to iPhone
1. Make sure the devices be connected to the Wi-Fi and plug them to the power. And the files you are going to export should be fitted to the iPhone. Download the Move to iOS and install it on your Samsung Phone.
2. When you choose to copy the data, the iPhone will create a private Wi-Fi network. Then iPhone will detect and find the Samsung phone. The files will be transferred after you type the security code.
3. Finally, you can find the files on the iPhone. The free and paid apps will be added to the iTunes Wish List.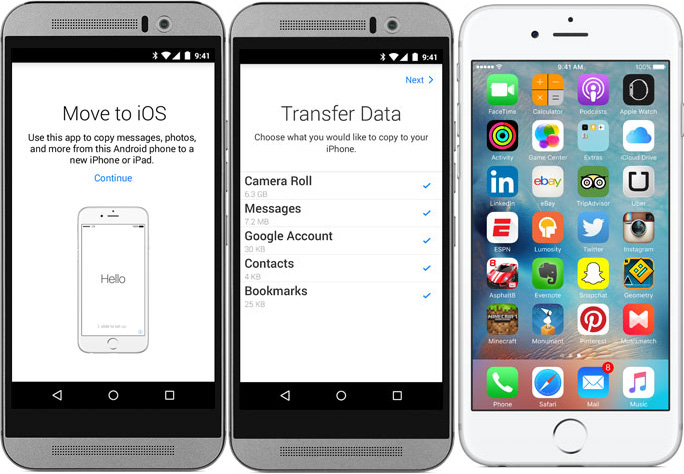 Related Articles:
Easy Way to Transfer Contacts between iPhone and Android
How to Transfer Data between Android and iPhone 6/5S/5