[Tutorial 2023] How to Bypass Android Lock Screen Using Camera
Do you ever find yourself locked out of your Android phone and unable to regain access? If so, discover how to bypass an Android lock screen using the camera in this comprehensive guide. We delve into the steps for unlocking your device via its camera, providing a smart alternative when traditional methods fail. Whether you've forgotten your lock screen password or your fingerprint sensor is unresponsive, this approach offers a reliable solution for regaining access to your device. So, let's explore this technique for bypassing your Android lock screen.
Part 1. Is It Possible to Bypass Android Lock Screen Using Camera?
Yes! With the "emergency number" feature, you can use the camera to unlock your security lock. The feature is a bug that can be exploited to bypass security measures. Google allows phone users to access the camera even when the phone screen is locked.
Unfortunately, using the camera to unlock the screen won't work on newer Android versions. The Android developers have fixed the camera loophole to strengthen security. If your phone has Android 5.0 or an older version, the camera trick may help.
Check if You Need:
Part 2. How to Bypass Android Lock Screen Using Camera [Android 5.0 and Lower Only]
Do you own an Android device running on version 5.0 or lower? If yes, bypassing the lock screen using a camera might be possible. All you need is a camera and the following simple steps shows you how to bypass Android pattern lock screen using camera:
On your locked screen, press the power button to wake it. Now tap "Emergency", located at the bottom.
Type ten "*" (asterisks) once the dial box appears.
Long press and select all to copy. Then, paste the copied asterisks into the dial box. Repeat the pasting process until you can't do it anymore.
Return to the lock screen and tap on the camera. Open the notification bar by swapping it down. Tap on Settings in the top right corner.
A lock screen will appear again. Paste the copied asterisks repeatedly on the dial box until your screen crashes.
Your phone will now be unlocked, and you will have access to the home screen.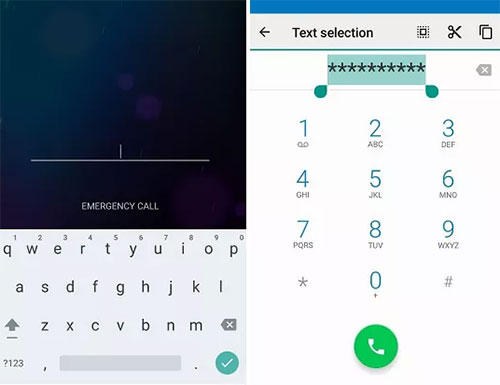 Can't Miss:
Part 3. How to Bypass Android Lock Screen without Using Camera [Up to Android 13]
Android Unlock is a powerful and easy-to-use tool that effortlessly bypasses lock screens on Android devices. It is compatible with various Android versions up to Android 13. It enables users to regain access to their devices without any data loss while maintaining user privacy and securing confidential information.
Key Features of Android Unlock:
No prerequisites are required to bypass the Android lock screen.
Unlock various screen locks such as PIN codes, passwords, patterns and fingerprints.
Eliminate facial recognition and Samsung FRP.
No data loss when unlocking some Samsung and LG phone.
Your information is not disclosed to the third party.
It works for all Android phones: Xiaomi, Huawei, OnePlus, Samsung, Motorola, Kyocera Hydro, Google Pixel, OPPO, LG, Vivo, ZTE and more.

Step-by-step on how to bypass Android lock screen without using camera:
Step 1: Install Android Unlock
Install and launch it on your computer. Click on the "Screen unlock" options.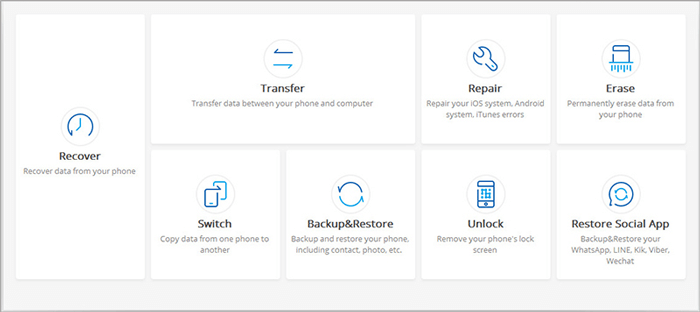 Step 2: Connect Your Phone
Use the USB cable to connect your phone to your PC. Then select the "Unlock Android Screen" option.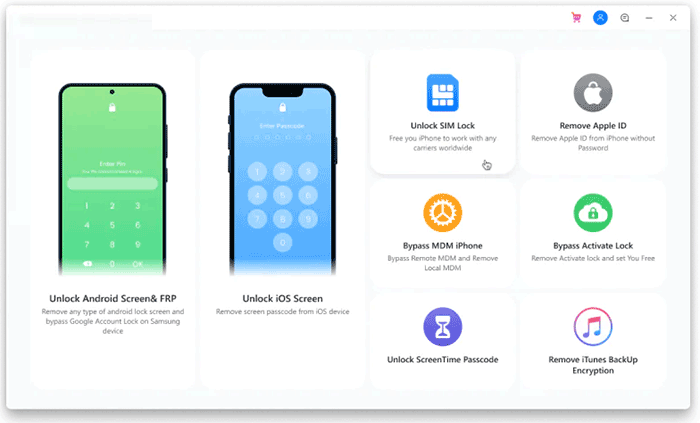 Step 3: Select Your Phone Model
Use the down arrow on each option provided to select the right phone. Then click the "Next" button.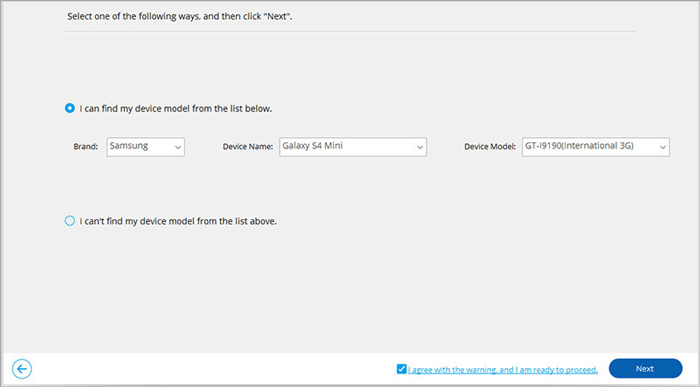 Step 4: Put the Phone into "Download Mode."
Switch off your phone. Simultaneously, press the Vol (-), Home and Power buttons. Now press the Vol (+) to get into Download Mode."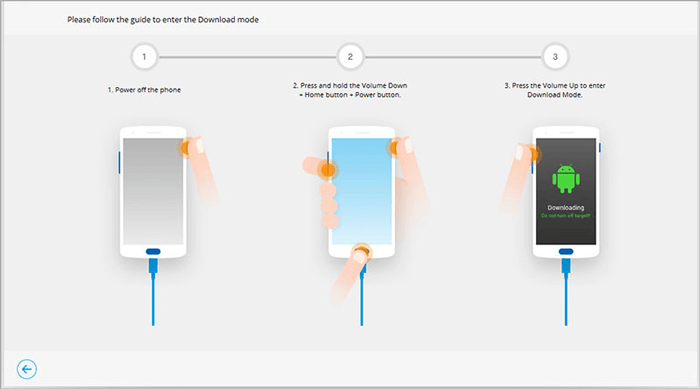 Step 5: Recovery Package Download
The recovery package will be downloaded automatically once the phone enters Download Mode. Wait until it completes the process.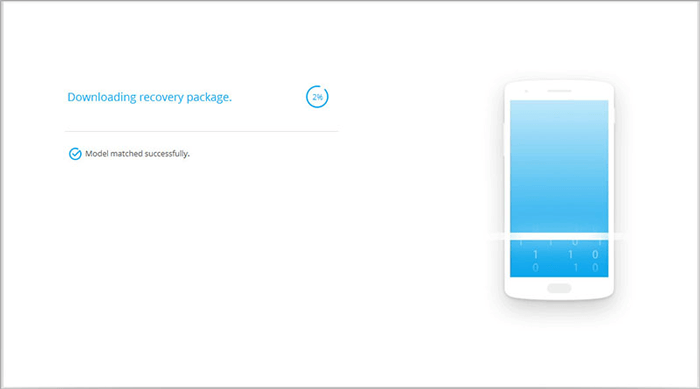 Step 6: Bypass the Android lock screen
The software will automatically start to bypass the lock screen. When it is done, your phone will reboot, and you can use it again as normal with the lock screen gone.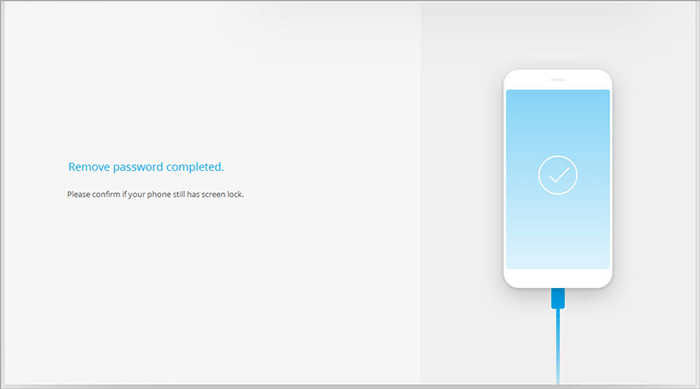 Part 4. Other Unlocking Methods to Bypass Android Lock Screen
Below are some other methods on how to bypass Android pattern lock screen without using camera:
Method 1: Using Find My Device
Do you want a convenient method to bypass the lock screen and access your Android? The Find My Device feature is a great option. It is a free app from Google that allows you to remotely locate, lock, track, or erase your Android device. It allows you to access your phone using any browser.
For a smooth unlock process, you need your Google account and enable the Find My Device service before unlocking. Then you can follow the steps below on how to bypass Samsung lock screen using camera:
Log in to your Google account on another device. Select the locked device from your phone list.
The remote options will appear under your phone's name. Select Lock/Unlock here. Set a new password. However, if you don't get the option to Lock/Unlock your phone, you may be required to select Erase. This will reset your device and remove the existing screen lock.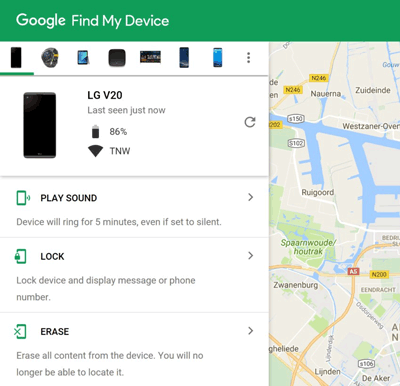 Note: Your device must be connected to the internet for Find My Device to work.
Method 2: Using Forgot Pattern Feature
This option only works for phones with Android version 4.4 and earlier versions. Google removed this feature from later Android versions. You must be logged in with your Google account to the device if you want to use this option. If not, follow the below instructions:
The magic here is to enter the wrong passwords until the "Forgot Pattern" option appears.
After tapping on this option, enter your Google Account credentials. (How to unlock Android without Google account?)
Reset your password on the screen when prompted.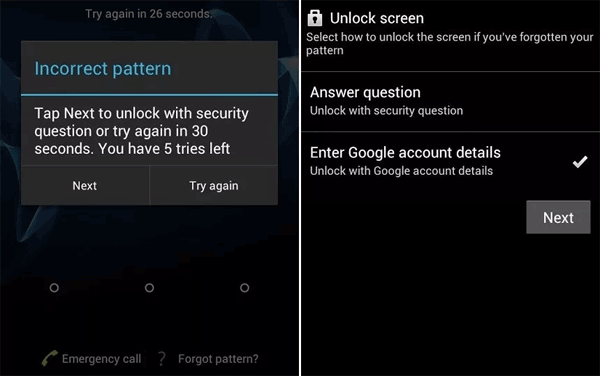 Method 3: Using Factory Reset
Wiping the data on your device is a last resort to unlocking it. This will erase all your personal information from your device, and you'll have to re-install all the applications. It is strongly recommended to back up your data before initiating factory resetting. This will ensure no data is lost. To use this method, you need to follow these steps:
Switch off your device. Simultaneously press the Volume Down + Power button. It will boot into recovery mode.
Use the volume keys to navigate up and down to the "wipe data/factory reset" option, and press the power key to select it and confirm the action.

Select "Yes" to confirm the "Delete all User data". Confirm by pressing the power button.
The reset process will begin and take a few minutes to complete.
Part 5: FAQs on How to Bypass Android Lock Screen Using Camera
Q1: Will the data be deleted if I bypass Android lock screen using camera?
Simple answer: No. You will not lose any data by bypassing the lock screen using the camera. The process is safe. The data stored on the device will remain intact and fully accessible after unlocking. You only need to crash the lock screen temporarily to access it. This will enable you to access the homepage. However, your phone must meet the requirements for this process to work. This includes having a compatible version of Android.
Q2: Can you take photos when your phone is locked?
Yes. You're allowed to take photos on your locked device. Tap on the camera app. Then, press the shutter button to take the snapshot. The image will be saved on your album. However, you won't be able to access and edit the image once you unlock the device.
Q3: How to bypass Samsung lock screen using camera?
Once you get the passcode screen to enter your password, paste the copied password repeatedly until the password insertion option disappears. The user interface will crash at this point, and then you will be redirected to the camera.
The Bottom Line
In summary, bypassing the Android lock screen using the camera offers a quick and simple solution for those who have forgotten their passcode. It's a practical method that leverages the built-in features of the Android system, providing a pathway to access and securely regain control of the device without compromising any data. The above methods should help you bypass the lock screen on your Android device and provide you with access once again.
Related Articles:
[Fixed] Samsung Phone Stuck on Odin Mode, How to Fix It?
7 Useful Methods to Unlock Android Phone without Password
Tips & Tricks to Remove Swipe Screen to Unlock Android Phone
How to Remove Gmail Account from Android?
Retrieve Deleted Photos/Videos from Locked Samsung