Top 6 Methods to Cast Android to Windows 10 Easily
Controlling apps on an Android phone greatly limits the experience we get from it. (How to uninstall apps on Android from a computer?) For example, when you play mobile games, the sensitivity of the screen may lead to unsatisfactory results directly; and if you're reading eBooks, small fonts will also make your eyes uncomfortable. With cutting-edge tech development, those can be solved almost perfectly by mirroring the Android screen to a computer.
OK, how can you cast Android to Windows 10? Here are some easy ways to stay in control of your Android phone from a machine with a larger screen. Before we get started, let's know what the words related to "screen casting" mean.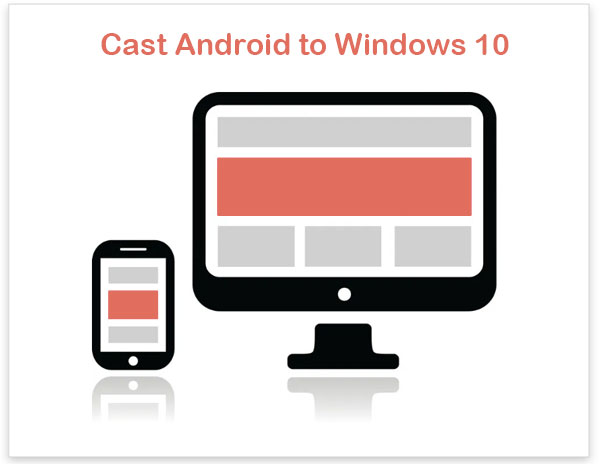 Part 1: What's the Difference among Screen Casting, Screen Mirroring, and Screen Sharing?
When you get the topic "Android screen mirroring on Windows 10", the terms, including screen casting, screen mirroring, and screen sharing, might pop into your mind. Well, what are the differences and connections between the three? Generally, they all enable the audience to get a better visual feast by displaying content on the large screen. And specifically:
Screen casting: Project video clips to a larger screen and let you use your phone without disturbing its operation.
Screen mirroring: Convert the connected devices into mirrors and present the same content on both screens synchronously.
Screen sharing: It is also dubbed screen reflecting, which works to mirror screens on someone else's monitors in any other location.
You Might Also Need:
Part 2: How to Cast Android to Windows 10 with Screen Mirror
Would you like to adventure action games voraciously on a larger screen by streaming Android/iOS devices to a computer in various situations? Just take a glance at Screen Mirror. This program features stable connection, fluent mirroring, and ease of use. And it gives you full control over your Android phone without root on a computer.
Screen Mirror - an arresting tool for mirroring screen:
Cast Android to Windows 11/10/8/7 with minimum effort.
Easily manipulate an Android phone/tablet from a PC.
Allow you to flexibly manage social apps or play games on a computer directly.
Stream in-app displays and audio into conferencing software.
Play functions on almost all Android phones/tablets, covering Samsung, Xiaomi, Google, Motorola, LG, Huawei, Sony, Vivo, OPPO, iPhone, iPad, iPod touch, etc.
It won't let out your privacy.

How to cast Android to Windows 10 laptop/desktop via Screen Mirror?
Step 1. Get the Screen Mirror installed on a computer. Then open the program and link your device to this Windows computer via USB. Next, select your device from the popup and go for "Transfer files".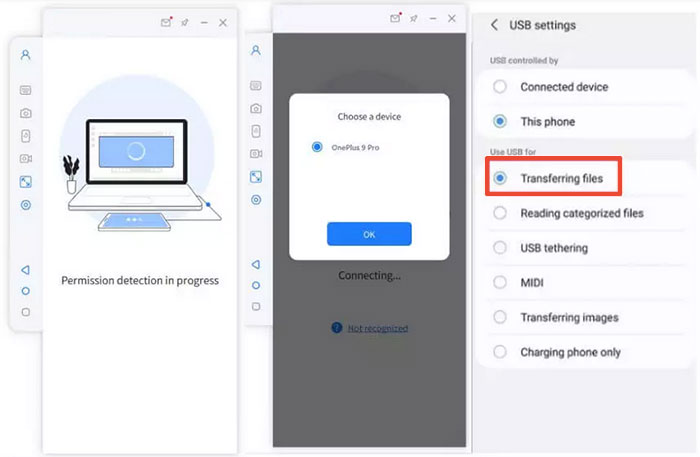 Step 2. Go to your Android phone's "Setting" > "About phone" > "Software information". Tap "Build number" to get the "Developer option". Afterward, enable USB debugging on the Android device.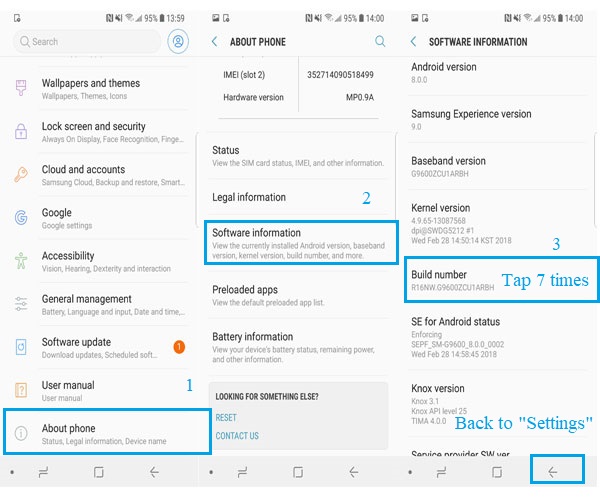 When you reach the "Always allow USB debugging from this computer" window, tap on "OK" if you wish to make the utility easier to work next time.
Step 3. Give permissions to the software and let it list items on its top. Next, tap "Turn on" to allow your Android phone to automatically download the Android Screen Mirror apk.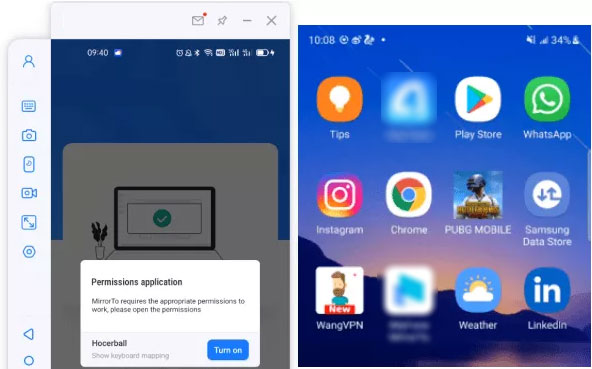 Step 4. Once completed, your device screen will be successfully mirrored to this PC Windows 10. You are now free to use the keyboard and mouse to experience the social activities on the spacious screen.
Part 3: How to Mirror Android to Windows 10 via Connect App
The Connect app, built-in Windows 10, makes it easy for you to fluently watch great movies, check memorable pictures, or give presentations. However, the quality of screen mirroring might differ hinging on your devices. And it doesn't work well with all Android versions.
Steps for Android screen sharing to Windows 10 with Connect app?
Tap the Windows start menu and click the gear sign to install the Connect app.
Click on "Apps" from the Windows settings.
Go to the "Optional Features" from "Apps & Features" and tap "Add a Feature".
Check the "Wireless Display" option to have it installed.
When the installation is complete, open the Connect App to begin casting your Android screen on Windows 10.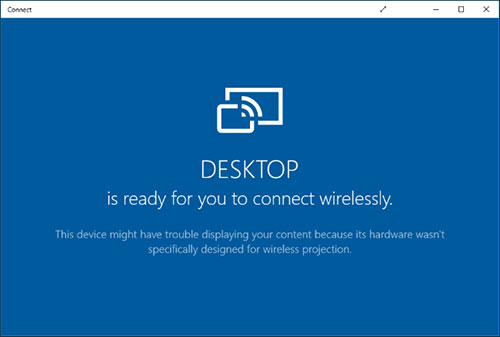 View More:
Part 4: How to Screen Share Android to Windows 10 via LetsView
LetsView, working on Windows, Mac, Android, iOS, and TV, is capable of screen mirroring Windows 10 to an Android phone or vice versa. When you connect your phone and Windows 10 with a smooth Internet connection, you'll get the feature of screen casting, screen recording, and screen capturing.
How to project an Android sharing screen to Windows 10 via LetsView?
Get LetsView from Google Play before installing it on your computer.
Link your Android phone to this PC within the same Wi-Fi.
Run LetsView on your Windows PC and click on the "code" sign on its right.

Activate LetsView on your Android phone and choose the second option.
Scan the QR code displayed on your computer.
Once the connection is made, you have the ability to control your Android phone on the computer.
Part 5: How to Mirror Android to PC Windows 10 with Vysor
Available on Android, Chrome, Windows, and iOS, Vysor offers you the ability to manage apps, play games, take screenshots, and record screens. To your surprise, it lets you control files by drag & drop. Yet, everything begins with a subscription.
How to screen mirror Android to PC Windows 10 with Vysor?
Install Vysor for Windows on your PC.
Plug your phone into the system via a USB cable.
Enable USB debugging on your Android phone.
Run the Vysor Installer file on your machine.
When the "Vysor has detected a device" prompt appears, tap on "View" to start projecting your Android screen to your computer.

Part 6: How to Cast Android Phone to Windows 10 via AirDroid
AirDroid is equipped with a web client, allowing its users to control Android phones on the webpage. It helps you take screenshots, record the screen, share files, read notifications, as well as go through missed calls & call logs. Nevertheless, even with its pro account, you cannot play mobile games and run apps on your computer.
How to mirror Android to Windows 10 with AirDroid?
Go to the AirDroid Cast website to download the app on a Windows computer.
Head to the AirDroid Cast Desktop Client and input your login credentials. (Get a premium account by following the screen instructions if you don't have one.)
Attach your phone to this PC via USB.
Click "Cable" and choose your Android device.
After a few seconds, your phone screen should come out on your computer.
Trust your computer when asked; this will finally help mirror your Android screen on Windows 10.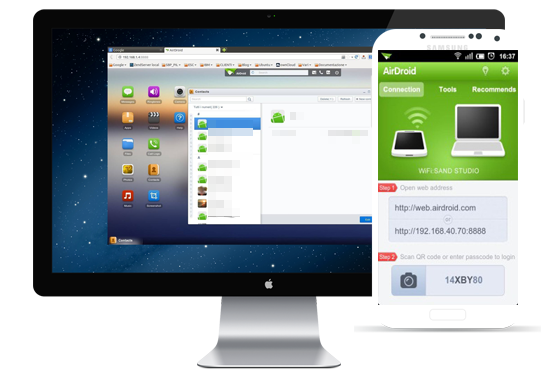 Part 7: How to Display Android Screen on Windows 10 Using Mobizen
Endowed with many functions, Mobizen is capable of using your Android device remotely. It mirrors a web browser like Chrome or an Android device (via keyboard and mouse). Then you'll get the ability to view or transfer files from Android to computer, or vice versa.
How to mirror cast Android to Windows 10 with Mobizen?
Get Mobizen on both your Android phone and PC.
Allow USB Debugging on Android.
Install and open the app on your phone and log in to it.
Do the same on your Windows PC before selecting USB or Wireless.
When everything is ready, click "Start now" to commence the connection and screen mirroring.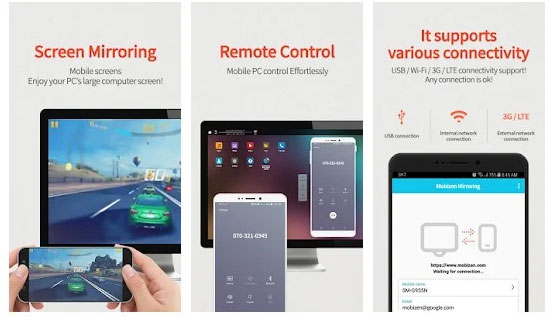 Roundup
Above are the six most recommended solutions for screen mirroring Android to Windows 10. And Screen Mirror obviously deserves to be No.1. When you get to know this utility, you'll always cast Android to your computer easily and fluently. It harbors the authority of the product in the industry, smoothness of screen projection, and great compatibility. Consequently, just give this program a download before a wonderful screen casting. Finally, any questions? Please leave us a message below.

Related Articles:
Top 7 Best Screen Mirroring Apps for Android to PC [2022 Updated]
5 Popular Ways to Mirror iPhone/iPad to Windows 10 [2022 Latest]
Can I Remove Screen Lock PIN on Android Phone? Top 7 Means for You
How to Access Phone with Broken Screen with PC Easily & Safely?
Best 10 Android Desktop Managers to Manage Your Android Devices on PC/Mac in 2022