How to Bypass LG FRP/Google Account with or without Computer [Hot Tips 2023]
When you excitedly perform a factory data reset for the second-hand LG phone you just snapped up, a dilemma can be rather frustrating. To be precise, it seems that you could access the phone smoothly until you were suddenly stuck on the Google FRP lock screen. Like many others, you may not be able to enter the correct Google authentication info for various reasons. Then you cannot enjoy Google services, let alone the in-depth configuration of your phone.
Well, is there any solution to bypass LG FRP in minutes? OK, just read on, and you will find satisfactory answers here.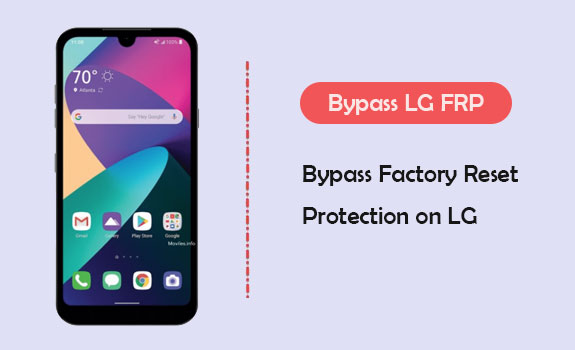 Part 1: What Is LG FRP?
What Is LG FRP?
FRP (short for Factory Reset Protection) is a feature on LG and some other devices with Android 5.0 and higher utilizing a Google account. When enabled, it only allows a user with the relevant credential to factory reset and activate a device. So, some may want to perform an FRP bypass on LG to get full access to the phone.
Similar to screen lock, pattern, or PIN on LG, FRP, termed as Google account lock, aims to provide extra security for LG. It can protect the user from data loss when someone other than the owner tries to reset the phone. (How to recover contacts from Android after a factory reset?) Hard resetting LG will put the phone into Google lock if FRP is enabled. Namely, no one can access a Google-locked LG phone without the original account and password.
Well, if you get a used LG phone, how to bypass LG Google verification may pique your curiosity. Next, we shall describe it in four scientific methods, with which you can have a comprehensive grasp of LG phones after FRP bypass.
You May Also Wonder:
Part 2: How to Bypass LG FRP Lock in 4 Smart Ways
Way 1: How to Bypass FRP on LG via Language Settings
Language Settings lets you change the default language on LG. You can also bypass the LG FRP lock from the Settings on LG if you'd like to use LG to bypass your Google account without a computer/PC. Yet, it is a bit complicated. Learn how to bypass Google lock on LG without a computer via Language Settings:
Connect your LG phone to a Wi-Fi network.
Go back to the home page and click "Language Settings".
Tap the third language and head to "Wi-Fi Settings" > "Add Network".

Press and hold the "plus" icon at the bottom of the keyboard.
Click the option under the keyboard and the blue icon from the incoming window.
Press the language that includes an arrow and three dots.
Hit the second option and tap search before inputting "About Switch Access".
Click the "share" icon to share it on Google.
Press the option from the next window and tap the blue option at the bottom of the screen.
When you're on the Google page, just change the "Language Settings" to "English" from the keyboard.
Enter albastuz3d.net on the browser and tap "Enter".
Get Google Account Manager and FRP Bypass app.

Access Google Account Manager from the downloaded file.
Enable "Setting" to allow access from this source when the Internet popup occurs.
Return to the downloaded files to get Google Account Manager and FRP Bypass app.
Run the FRP Bypass app and select the option at the top after tapping the three dots.
Enter your Google login details to bypass FRP on LG.
Way 2: How to Bypass Factory Reset Protection on LG via FRP Bypass .apk
The introduction of new security measures for Lollipop makes it even impossible to access LG with a hard factory reset. When googling "LG FRP/Google bypass 2022", you'll find a workaround with the FRP Bypass .apk installed. Then how to bypass Google lock on LG with a computer via FRP Bypass .apk?
Make sure your phone is working with a strong Wi-Fi network.
Head to your LG phone's "Accessibility" and enable "Switch Access".

Find the key "Combo For Overview", press the "Volume Down" key, and tap "OK".
Go back to "Accessibility" and touch "Vision" > "Talkback".
Proceed to "Settings" > "Privacy Policy".
Open the Google browser and enter the FRP Bypass .apk file or URL for download.
Once done, press "Volume Down" again and select "Dual Window" > "File Manager".
Choose "Download" from "All files" and locate the .apk file you downloaded.
Install the file and tap "Accept" when prompted.
Run the app and go to its "Settings" > "General" > "Users"/"Add Users".
Tap the "Set up user" option to add a new Google account.
Log in with your Google account and follow the wizard to go through all the necessary steps. (Can't sign in to your Google account on Android?)
After that, go to LG "Settings" > "General" > "Users" > "Owner" > "YES" to switch the user to the owner.
Back to "Settings" and proceed to "Backup & reset" > "Factory data reset" > "Reset phone" > "Delete all".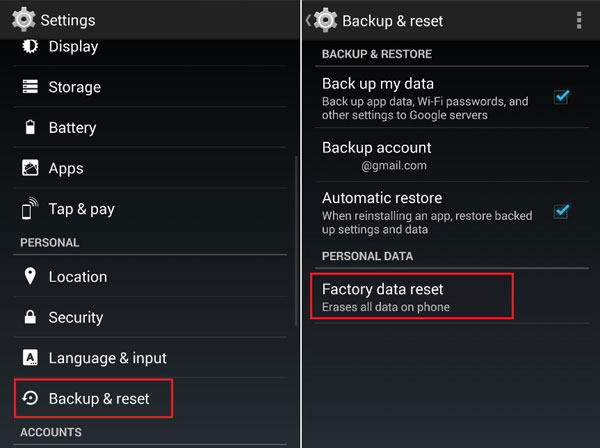 Way 3: How to Bypass Google Lock on LG with SIM Card
Want to get the easiest methods for bypassing Google lock on LG among all with no technical knowledge? Check out this one if you have an idle unlocked phone and a PIN-locked SIM. (Want to recover lost data on SIM? Try the best SIM card data recovery tools). Here's how to Google unlock an LG phone with a SIM card:
Insert a PIN-locked SIM card into LG.
Restart the phone, enter SIM PIN, and click "OK".
Go to the notification bar to activate the Bluetooth option.
Pick the unlocked device to send an image to the Google-locked LG.
Tap on "Receive" when popping out a massage for "File transfer".
Touch the three-dot avatar on the top right corner.
Hit the received file and select the picture before opening them with Google Photos.
Share the pics by Email and tap on "Allow".
Press "Other", enter an email address, and click "Add".
Select "Change" > "PIN screen lock" > "Create a new PIN".
Go back to the home screen, enter the new PIN code, and tap "OK".

During the setup, there will be a Google account "SKIP"; just skip it to accomplish the setup without Google credentials.
Extended Reading:
Way 4: How to Bypass Google Verification on LG Using Tungkick
Just imagine! You have just done a factory reset on LG and found that it asks for Google account verification. What do you do to access the phone if you don't remember the Google login info? OK, Tungkick gives you the freedom to bypass the LG Google account, yet it may not be well compatible with some new LG models.
How to bypass the Google account on LG TracFone with Tungkick?
Download the Tungkick app on a computer.
Locate the folder containing the bypass tool and get it installed.
Boot your phone to Download Mode: Power it off, wait for a few minutes, hit the "Power" and "Volume Up" buttons simultaneously, and attach your phone to the computer via a USB cable; when the "Download Mode" screen appears, release all keys.
Go to the location where you extracted the tool and find "Tool.exe" to run it.
The app will start on your computer and display all its compatible devices.
Finally, choose the LG phone and give permission to the LG Google FRP bypass tool. (Need to change the Email address for the Google account after removing FRP on LG?)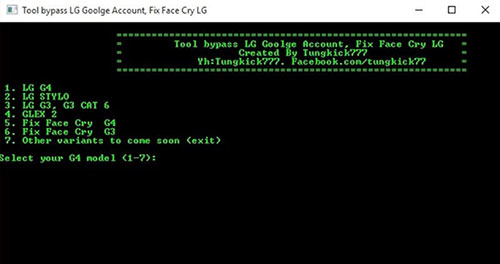 Extra Tips: How to Bypass LG Lock Screen in Minutes
OK, after the FRP unlock on LG with any of the methods above, you might be interested in how to unlock your phone in other situations. For example, the LG device is locked by lock screens like PIN, password, fingerprint, or pattern. How can you reset or bypass the phone without a Google account? Well, it's time, quite literally, for Android Unlock to work its magic.
What can Android Unlock do for you?
Bypass some LG/Samsung phones' passwords without data loss.
Bypass Samsung FRP easily.
Remove various lock screens, including passwords, patterns, PINs, fingerprints, and Face IDs.
Easy to handle, clean interface, and quick unlocking.
Work for 15 brands (2000+ Android phone/tablet models), including LG G9/G8/G7/G6/G5/G4/G3/G2, LG V70/V60/V50/V40/V35/V30/V20, Samsung, Huawei, Xiaomi, etc.
It won't disclose your privacy.

How to unlock the LG lock screen without losing data via Android Unlock?
Install and open Android Unlock on your computer.
Select "Screen Unlock".
Connect LG to the PC and pick "Unlock Android Screen".
Fill in the blank with your LG info by selecting it from the drop-down menu. (Can't find your phone, go to Advanced Mode instead.)
Follow the on-screen instructions to enter the Download Mode.
The tool will download a recovery package on LG.
After that, confirm the info to eliminate the lock screen without data loss.
Next, type in "000000" and tap "Remove Now" to unlock the LG phone without effort.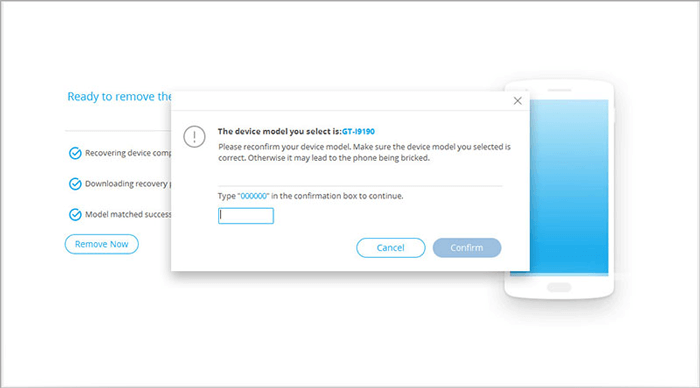 Final Part
We just detailed four methods to bypass the LG FRP lock. In spite of being a bit complicated in terms of the operating steps, we hope one will get you out of the difficulty finally. OK, it's your turn now. Moreover, after the LG FRP bypass, if you have further requirements, let's say you don't want to remove the LG screen lock by factory reset, don't hesitate to try Android Unlock.

Related Articles:
Download the Top 6 Samsung FRP Bypass Tools to Unlock Samsung Devices
HTC to LG Transfer: 4 Efficient Ways to Transfer Data from HTC to LG
SIM Unlock: 4 Hot Tips to Unlock SIM Cards on Android Mobile Phones
How to Print Text Messages from LG Phone [5 Tested Methods]
[4 Ways] How to Fix LG G9/G8/G7/G6/G5 Cannot Turn on Issue?
iPhone to LG Transfer: 4 Ways to Transfer Data from iPhone to LG