iPhone to LG Transfer: 4 Ways to Transfer Data from iPhone to LG
When it comes to iPhone to LG transfer, you may unconsciously associate it with LG Mobile Switch. Indeed, it's relatively smooth to transfer data from LG to LG in most cases. However, if the source phone is an iOS device, its performance may not be as good as expected. And you may encounter issues at every stage of device connection or data transmission.
To this end, like most mobile users, you may expect a better tool to implement how to transfer data from iPhone to LG efficiently. Well, this article is written to settle this matter. Read on to get the solutions now.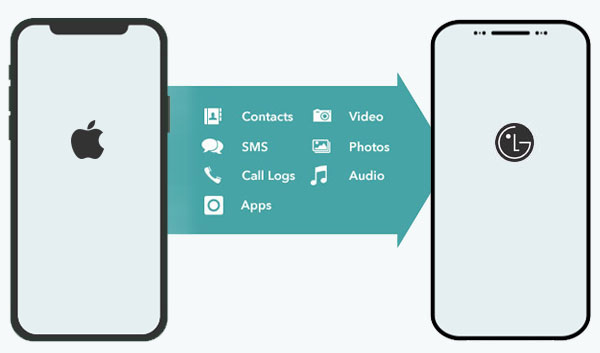 Method 1: How to Transfer Data from iPhone to LG in One Click
Many mobile users complain that it is not smooth to transfer files from iPhone to LG in some cases, especially when there's a large amount of data. Exactly, this thus could occur if you pick an improper tool. But MobiKin Transfer for Mobile (Win and Mac) will end all that, regardless of the operating system your device is running. This professional software allows you to transfer various data types between two devices as quickly as possible with just a single click.
Main highlights of Transfer for Mobile:
One-tap to trigger the iPhone to LG transfer without data loss.
Copy data from Android to Android, Android to iPhone, iPhone to Android, and iPhone to iPhone.
Support processing files like contacts, text messages, call logs, music, videos, photos, documents, calendars, notes, books, apps, etc.
Compatible with almost all mobile phones, including iPhone 14 Pro/14/13/13 Pro (Max)/13 mini, iPhone 12/12 Pro (Max)/12 mini, iPhone 11/11 Pro/11 Pro Max, iPhone X/XR/Xs/Xs Max, iPhone 8/8 Plus, iPhone 7/7 Plus, iPhone 6/6S/6 Plus, iPod touch, iPad, LG G10/G9/G8/G7/G6/G5/G4/G3/G2, LG, V70/V60/V50/V40/V30/V20/V10, LG Stylo 4/Stylo 3, LG GT540, C550, E400, E720, etc.
It won't let out your privacy.
How to make iPhone to LG transfer via Transfer for Mobile?
Step 1. Connect iPhone and LG to a computer
Launch the installed program on your computer. Connect your iPhone and LG mobile to the computer with USB cables. Then you may need to follow the simple prompt to have your devices recognized by the software.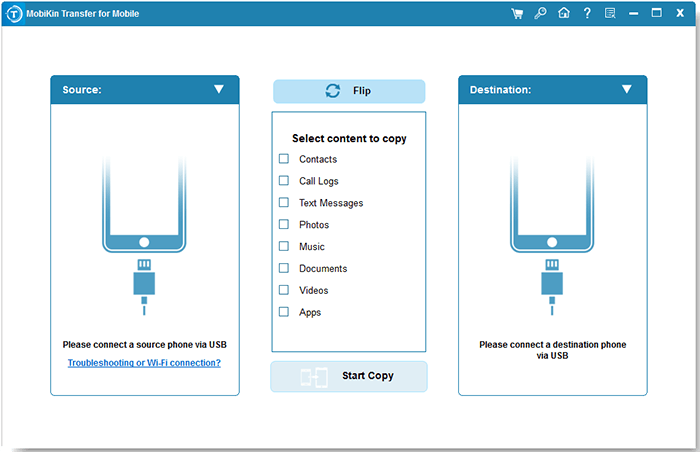 Step 2. Check the source and destination device
After the recognition, please ensure your iPhone is the source device, and the LG phone is the destination one. If they're in the wrong positions, you can just click the "Flip" button to correct them.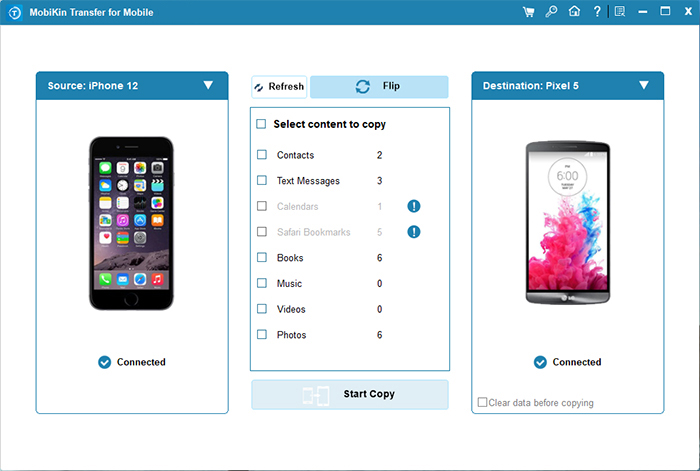 Step 3. Trigger the iPhone to LG transfer
After selecting the files you want, please click on "Start Copy" to start the transfer right away. Once completed, you will get a notification as below.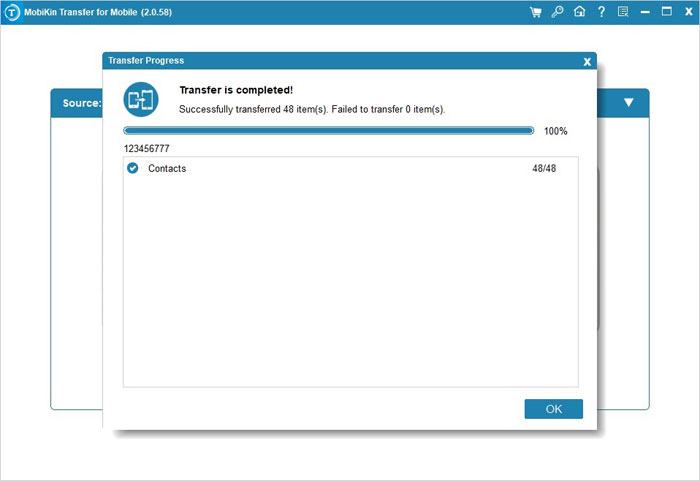 Read Also:
Method 2: How to Transfer Files from iPhone to LG via LG Mobile Switch
LG Mobile Switch enables LG owners to copy data from an iOS/Android device to a new LG phone. It is an official tool, though this method is quite a time-consuming and somewhat demanding way of doing other things. (LG Mobile Switch not working?)
How to use LG mobile switch for iPhone to LG transfer?
Install the LG Mobile Switch on both the iPhone and the LG device. (You can install it from App Store on iPhone and Google Play on LG.)
Give the app the permissions on both devices and launch it.
Select "USB cable".

Use the USB cable and USB connector to link the devices.
Tap "Trust" on your iPhone, and the app will start automatically.
Select "Send" from the iPhone and "Receive" on LG.
Choose the types of data you want to transfer from the options provided.
Click on "START".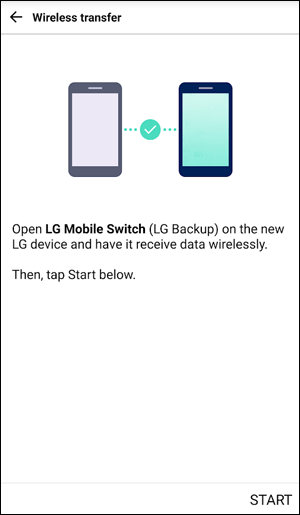 Method 3: How to Transfer Data from iPhone to LG with OneDrive
Cloud storage services like OneDrive can upload your iPhone data on its cloud rather than locally. Thus, you can download the items from anywhere else so long as you have a smooth network connection and have access to OneDrive on the device.
How do I transfer data from iPhone to LG with OneDrive?
Primarily, you need to have a OneDrive account.
Download and install OneDrive to your iPhone from the Apple Store.
Log in to this app with your account (if you require more storage, please purchase this for a small monthly fee).
Tap the "+" button and choose "Upload" to upload files. (OneDrive won't sync?)

Browse through the files and select what you want to move to your LG phone.
Once uploaded, download and install OneDrive on LG.
Sign in to your account and download the recently uploaded items from your iPhone.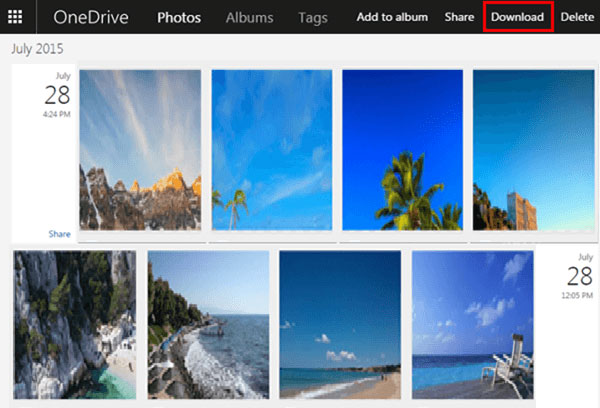 After the transfer, you can utilize a file explorer to copy these files to your desired location, such as the "Photos" folder on LG's internal storage.
Check If You Need:
Method 4: How to Transfer Files from iPhone to LG via iTunes
iTunes comes in handy when you wish to migrate data from an iPhone to an LG smartphone. Yet this tool only allows you to transfer items like contacts, calendars, some purchased files, etc. Now, let's take contact migration as an example to show you how to transfer data from iPhone to LG Stylo 4/3/2/G6/G5/G4 via iTunes:
Start the latest version of iTunes on your computer.
Connect your iPhone to the computer and click the iDevice icon when the device is recognized.
On the "Summary" page, choose the "Info" tab.
On the right pane, mark "Sync Contacts With" and choose "Google Contacts".
Tap the "Sync" option, and your Google account will be uploaded with the contacts from your iPhone.

After that, you'll have the contacts migrated to the LG connected to this Google account.
Summary - Comparison of the Methods Above
Well, that's all for how to transfer data from iPhone to LG. After we covered the four methods above, you may want to know if there is an evaluation of them? OK, let's make a list of the core content for your reference and take it as the conclusion of today's article.
LG Mobile Switch: It is a free and official data transfer tool. But it's reported that this product doesn't work properly in some situations. You might need to deal with the issues like LG Mobile Switch not detecting any data, LG not receiving the incoming files, etc.
OneDrive: It offers 5GB of storage for free. You should check if the content you want to transfer falls within this range. Moreover, it fully relies on a WiFi connection, which is prone to exposing your privacy, and it is tricky to uninstall after the migration.
iTunes: This tool is great to copy data like contacts from iPhone to LG, but it's unable to process non-purchased music, movies, iBooks, etc. Plus, it is restrictive in terms of data access.
MobiKin Transfer for Mobile: As one of the best phone to phone data transfer tools, it gives you the ability to seamlessly copy many file types in one tap. And it won't bring about any worries after the smooth transfer.
Related Articles:
4 Amazing Ways to Transfer Contacts from LG to iPhone 14/13/12/11/Xs Max/8
[Easy Guide] How to Transfer Data from iPhone to iPhone without iCloud?
[Easy Guides] How to Transfer Data from Samsung to LG?
Recover Lost Data from iPhone 13/12/11/X/XR/8/7/6S/6
iPhone Internal Storage is Empty on Windows 10/8/7? 10 Solutions Offered