[Latest] How to Unlock LG Phone for Free by Using Free LG Unlock Codes
LG smartphones are popular for their sleek design, innovative technology, and user-friendly interface. However, they may come locked by certain carriers. This restricts users to a particular network. This article will guide you through what an LG Unlock Code is, how to obtain it for free from various online sites, and applications that can assist you in this process. We will introduce you to an exceptional tool for unlocking LG phones. This guide will help you unlock the full potential of your LG device.
Part 1. What is LG Unlock Code?
When traveling to a different country, you may need help using an LG device. This happens when the phone is locked and can't register to another network. To counter this issue, an LG network Unlock Code can be obtained, which allows users to switch networks without any headaches. The carrier provides this code type, which is unique for each device. But what exactly is LG Unlock Code?
An LG Unlock Code is a unique numerical sequence that can remove the carrier lock on LG smartphones. This code acts as a key, overriding the restrictions imposed by the network provider and allowing the user to access any GSM carrier. It's pertinent to add that the unlocking process doesn't affect the phone's warranty or any of its features. Once unlocked, the device will remain so even after subsequent updates.
People Also Read:
Part 2. Top 3 Sites to Find LG Unlock Code List Free
Obtaining an LG Unlock Code is not difficult, though it may require little effort. Several reliable online sites provide these codes for free. You'll be needed to enter your phone model and IMEI. After a short verification process, the unlock code will be sent to your email. Users can then input this code into their device, freeing it from carrier restrictions. Below are our top three websites to get your LG Unlock Code list for free.
1. Unlockitfree.com
Unlockitfree LG is a leading website that offers unlock codes for various LG models. The website allows users to unlock their LG devices with ease and efficiency. While the website does provide paid services, its main focus is on providing free unlock codes to its users. But how do you use the Unlockitfree boost mobile LG website? It's quite simple. Follow these steps:
Head to the website and enter your device information. Please enter your IMEI and wait for the site to check if it is genuine.
Now, choose your model from the list provided. Then choose your current country. A list of service providers will show up. Choose the one you want to use.
Read and accept the terms and conditions, then click generate. You'll receive your unlock code in no time.
The universal unlock LG code generator will provide you with 7 different unlock codes. Usually, the best options are the 1st and 7th codes on the list.
Without removing the SIM card, input the unlock code into your phone's Home screen, and it should be unlocked!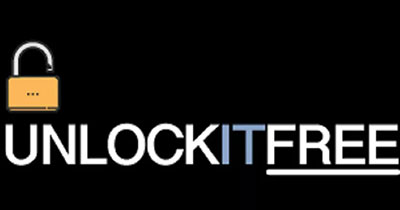 2. DoctorSIM Online Service
Do you want to remove any network restrictions from your LG device? DoctorSIM is one of the most reliable online LG network unlock tool, offering unlock codes to its users for a fee. This service does also offer free unlock codes for various LG models. All that's needed is your IMEI number. Not only can you unlock LG devices with this service, but you can also check if the phone has been blacklisted and make sure that it's compatible with the latest iOS version.
DoctorSIM allows users to unlock their phones from their original carrier permanently. So if you want to use your LG phone on another network, this online unlock code service is the perfect option. With DoctorSIM, users can unlock a range of LG devices, such as G6, Q9, K10, V30, and more.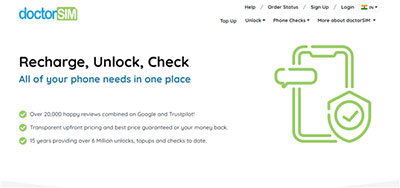 Pros
Affordable
Powerful tool
Easy unlocking process
Cons
It can take long for the unlock to take place
3. Freeunlocks.com
Freeunlocks.com is a renowned website with an excellent track record for unlocking phones. It has a lot of unlock codes, making it more reliable and trustworthy. Moreover, using it is safe and secure, as there are no risks of bricking your phone. It offers unlocking codes for most major brands, including LG phones. How to unlock LG k51 for free:
Go to the official website and choose the model and brand of the LG phone you want to unlock.
Select the network operator you want from the country you are in. Complete your order by filling out your name and email address. Choose "get it now" or "buy now," depending on whether you want to pay. For free LG phone codes, use TrialPay.
Login to your email address to receive the unlock code and the instructions.
Enter the unlock code, restart your phone, and check if it is unlocked. If not, contact Freeunlocks.com customer service for help.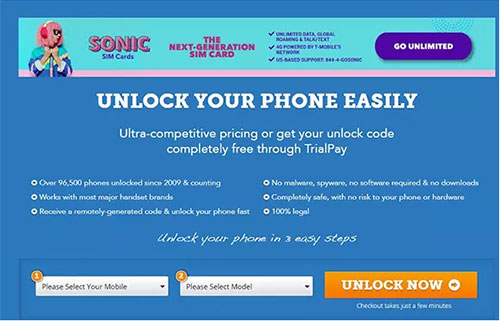 Check if You Need:
Part 3: Top 3 Apps to Get LG Unlock Code List
Now you have tried all the websites, and nothing seems to work. Don't worry. There are many apps out there that can help you get the LG unlock code list you need. Below are some of the top 3 apps for unlocking your LG phone:
1. Free SIM Unlock Code App
It is a popular app for unlocking your LG phone. It has different features, such as getting the unlock code for any LG device. You unlock your phone with just a single click. It provides you with the Free IMEI checker and view your order status. It has two modes: Free and premium. The free mode allows you to unlock your LG phone for free, while the premium mode will cost you a little. It is compatible with LG Stylo 6, LG Stylo 5, and velvet devices. (How to Unlock SIM Card on Android?)
Pros
A feature to check IMEI.
It has an intuitive interface.
Different payment methods.
Cons
Premium mode is expensive.
2. WorldUnlock Codes Calculator App
Next on our list is the WorldUnlock Codes Calculator app. It helps you to get the unlock code for your LG phone. It provides a wide range of services, such as unlocking phones, resetting security codes, and much more. You can use it on LG devices such as G6, V35 ThinQ, and many more. You only need to check your IMEI number, and the app calculates your unlock codes. This you can use in any country.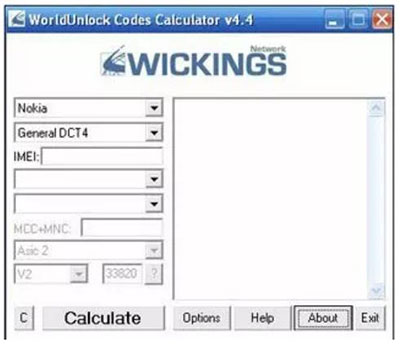 Pros
It is entirely free to use
It provides unlock codes for any LG device
It is user-friendly and easy to use
Cons
Not available for windows
3. NokiaFREE Unlock Codes Calculator
This app is the best choice for those looking to unlock their LG devices. As the name implies, Nokia can generate codes for other phone models such as LG, Maxon, Sony, and Samsung. Download this app to unlock LG TracFone free. You can also unlock the LG Stylo 6.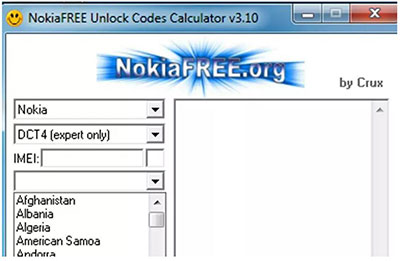 Pros
Easy-to-use interface
Support a wide range of devices
Calculator functions for the unlock code
Cons
Not compatible with all LG models
It may take some time to generate the unlock code
Extra Tip: Best Tool to Unlock LG Phone - Android Unlock
Android Unlock is a powerful tool designed specifically to unlock LG phones. It effortlessly bypasses screen locks, granting users full access to their devices. This reliable tool is compatible with a wide range of LG models, and its user-friendly interface simplifies the unlocking process. You can safely unlock different screen locks without a Google account.
Main features of Android Unlock:
Bypass four types of Android screen locks: PIN, patterns, passwords, and fingerprints.
No data lose during the unlock process.
Intuitive interface that is easy to handle. It does not display ads.
Supports all phones models which include LG G8/G9/G10/G7/G6/G5/G3/G4, LG V60/V20/V50/V35/V40/V30/V70, LG C550, GT540, E720, E400, P350, GW620, P503, P500, P509, P990, P970, Huawei, Google, Xiaomi, Sony, Motorola, Samsung, etc.
Your privacy isn't compromised.

How to Unlock LG Phone Screen using Android Unlock:
Step 1. Install the software on the PC. Then choose "Screen Unlock" after launching the program.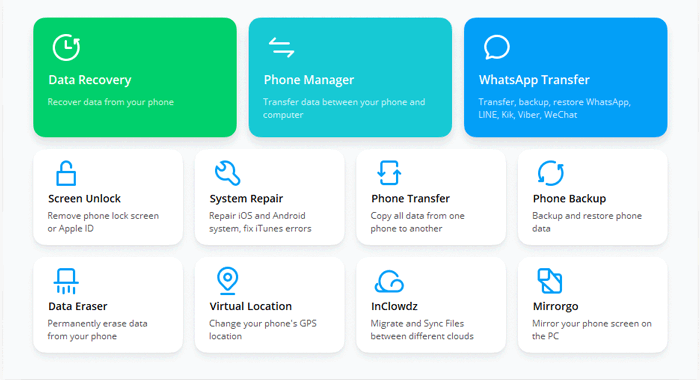 Step 2. Use a cable to connect your LG phone and click on "Unlock Android Screen."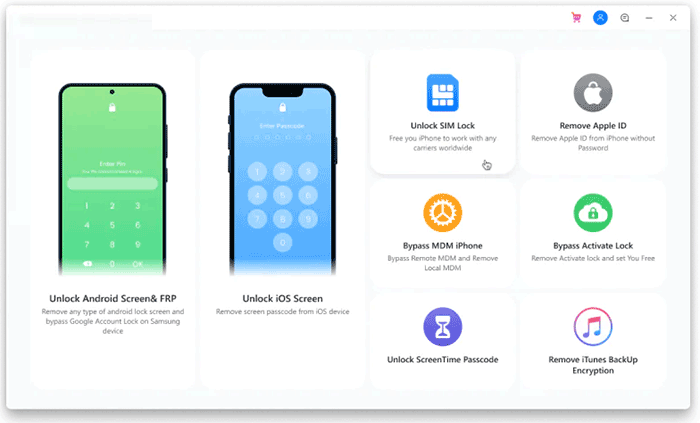 Step 3. Select your device from the interface provided. You need to click the arrows to make your selections.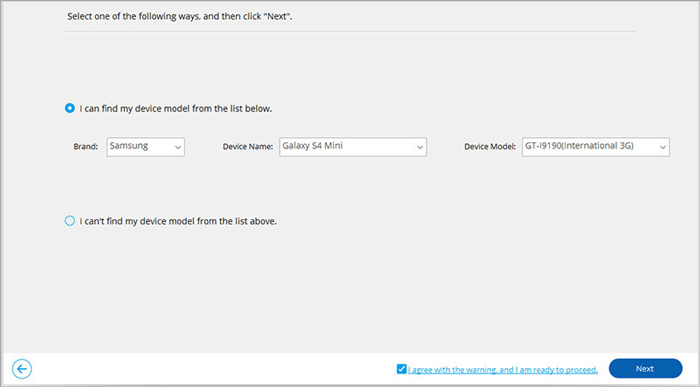 Step 4. Enter your LG into download mode by:
Turn the phone off.
Press the combinations of Vol- + Home button +Power button simultaneously.
Then press Vol + to enter into download mode.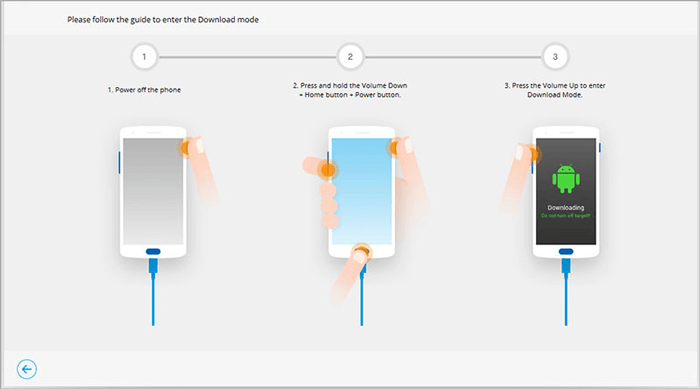 Step 5. The recovery package will be downloaded. Confirm the unlock without the data loss.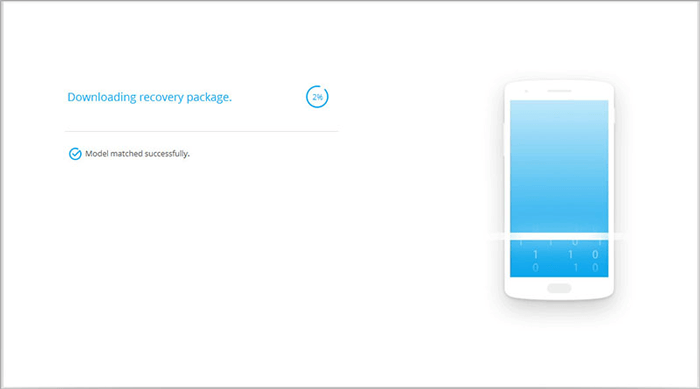 Step 6. Type the code you will be provided. Then unlock the phone by clicking on "Remove Now" After that, you can use your phone freely with no restrictions.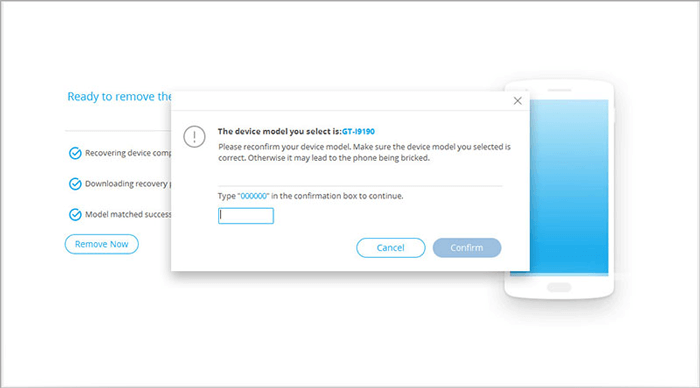 The Bottom Line
The LG network unlock code free provides an easy and cost-free path to unlocking your LG smartphone, liberating you from network restrictions. Utilize this comprehensive guide to explore top websites and apps that offer free unlock codes, or consider Android Unlock for a streamlined solution. Unlock your LG device's full potential today. Just be patient and follow the instructions carefully to ensure success. Good luck!

Related Articles:
[Fixes in 2023] How to Unlock Android Phone with Broken Screen?
Top 3 LG Google Account Bypass Tools to Bypass LG Google Account [Full Overview]
Forgot Pattern Lock? Here's How to Unlock Android Pattern Lock if Forgotten
4 Ways on How to Remove Apple ID from iPhone without Password?
What You Should Know about iCloud Password
What If Samsung Tablet Won't Turn on? Try the 12 Solutions Here