Top 3 LG Google Account Bypass Tools to Bypass LG Google Account [Full Overview]
Today, there are reliable LG Google Account bypass tools that you can use for your account verification without the need to input your username and password. Hence, the tools give you a free way to unlock the factory reset protection lock on your LG phone or tablet. The best part about LG Google ID remover is that it works on many LG devices. You might be stuck in a Factory Reset Protection (FRP) Google verification process on your LG device. Perhaps you're confused about which LG FRP bypass tool to use.
Our in-depth article is a complete guide on how to bypass Google verification on LG devices. Let's delve in.
Top 1 LG Google Account Bypass Tool - Tungkick
Tungkick-LG Google account bypass tool is an exclusive software application made to help LG mobile device customers when stranded. It's a bypass tool used to eliminate the Google account verification process whenever you're trying to factory reset your mobile gadget. So, it comes in handy when you forget your Google account password linked to the device. You can use a secure link to download the complete tool. Although it may take a longer time to bypass your Google account, the process will mostly end up successful. The slow processing is mainly because the tool hasn't been updated for a long period. This makes it quite strenuous for the Operating System (OS) to process everything quickly.
Pros:
It works on most LG devices.
You can use it to get rid of the Google account verification process without ID and password requirement.
The tool is easily accessible and freely available.
Cons:
The process of bypassing a Google account can get complex.
The tool may not support several mobile brands.
There's no technical support or proper tool guideline.
You may not find a secure download link/get a reliable source to download.
Step By Step Guide on Using Tungkick to Bypass Google Account
Place your LG device into the download mode. Do this by downloading the app via the internet and extract the files from the content downloaded on your PC.
Switch off your mobile device.
Long-press both the "power" and "volume up" buttons.
Use a cable to link your mobile device to the computer.
Release the buttons once the "download mode" screen pops up.
Get back to the folder where you extracted Tungkick's tool content.
To launch the tool, double-click on "tool.exe."
It will take quite some time for the tool to launch.
Finally, the Tungkick tool will show the LG mobile models that agree with it.
Select your LG model from the list presented to permit the tool to proceed automatically.
Once the process completes, disconnect your LG mobile and then restart it to confirm that your Google account is successfully removed.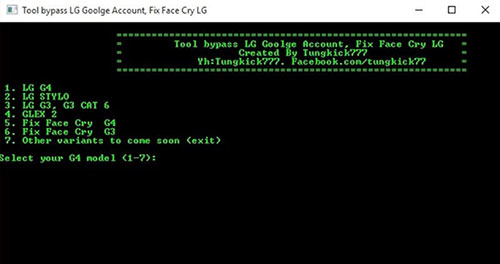 People Also Read:
Top 2 LG FRP Bypass Tool - FRP APK
FRP APK is mainly generated as LG's FRP bypass tool. It enables LG mobile users to eliminate the Google account verification step from their phones whenever they reset them. This tool works best, especially for version 5.0 and above Android phones that contain activated factory reset protection. This makes it more challenging to reset the phone. You can use the FRP APK method to bypass the Google account on LG or Samsung mobile phones only. The procedure can be complex and time-consuming, which explains why most Android users tend to avoid using this method. Being the lengthier process it is, you can miss some steps in between, which can disrupt the whole process or even affect your LG mobile's normal functioning. So, before you start the process using the LG FRP bypass tool, it's important to ensure you're connected to a stable and fast internet.
Pros:
You don't have to provide any Google account details to bypass the factory reset protection lock.
This method operates on wide-ranging Android smartphones, hence high compatibility.
The tool is free to use.
Cons:
The tool is not easily accessible through direct resources.
The process tends to be lengthier. Hence you can miss some steps and disrupt the entire process.
Step-By-Step Guide for Using the LG FRP APK Bypass Tool.
Put your phone on recovery mode by long pressing the volume up, volume down, and the power buttons all at once.

Switch on your LG device and check through the Setup Wizard.
On the main screen, select "accessibility."
To have an overview, go to the settings and choose the key combo.
The pop-up option will open, where you should select "volume down."
Click "Ok."
On the Accessibility menu, click on "Talkback" and choose "Vision."
Scroll to the page's bottom and click "settings."
Tap on "privacy policy."
On your Android phone, open the browser and type; "samsung.bypass.google.verify.apk."
You can download the apk file here.
Once you've downloaded the apk file, click on the "volume down" button. This will enable an overview.
Select "Dual Window."
Go to File Manager and click on "download folder" to access the app. Click and install it.
Launch the app, and go to "General," then select "Users."
Now, add the new Google account and navigate to "Settings" to switch the Google Account.
Finally, you can now enter your new Google account password to reset your device.
Check if You Need:
Top 3 LG Google Account Bypass Tool - Samsung.Bypass.Google.Verify.apk
Today, there are new Android device security measures that make it even harder for Lollipop users. In this case, even the most powerful factory reset won't work in making you access your device. However, Samsung.Bypass.Google.Verify.apk comes in as the best solution. You can download and install the apk file on your LG Android device to start operating on it.
Just ensure you're connected to the WiFi network for the process and that your mobile appliance is fully charged or at least 80% battery. This ensures that the charge can sustain the entire process.
Step-By-Step Guide to Use Samsung.Bypass.Google.Verify.apk
Navigate to the "recovery mode" and reset your LG device. You can use the volume up, volume down, and power buttons.

Switch on the device and then follow the "Setup Wizard."
On the phone's main screen, enter the "accessibility menu" by clicking on "accessibility."
Click on "Switch Access" to turn it on.
Navigate to the "Settings" and scroll down to the bottom.
For an overview, click on "key Combo."
A pop-up appears, and you should click the "volume down" button, then "OK," and go back.
The process changes the key combination for an overview.
Click on "vision" and then on "talkback."
Scroll down to get to the bottom and tap on "settings."
Scroll down again and get to the bottom, then click on "privacy policy."
You can now go to the browser boom and download the apk file.
On top of the browser, click on the "Google Logo," which should redirect you to Google's homepage.
On the Homepage, type "samsung.bypass.google.verify.apk" to download the app. You can also use "https://tinyurl.com/jbvthz6".
To enable overview, press the "volume down" button and then tap on "Dual Window." Scroll down to locate "File Manager," and click on it.
Click on "All Files" and then get to the "Download Folder" to locate the downloaded apk file.
Click on the apk file to have the application installed. Ensure that at the time of installation, you have enabled an unknown source.
Once the installation is done, open the app, which will direct you to "settings."
Get to the general tab followed by "Users," and tap on "Add Users" there.
Here, you manage to set up a new account and login with a Google account.
You can now access Settings normally.
From "Status Bar," go to "settings," "General Tab," and then to "Users," click on "Owner" and wait to switch the Owner.
Now, reset the device by getting into "Settings" and then tapping on "Backup and Reset." (The device takes a few minutes to reset, and once done, you can now restart the device, set it up, and start using it normally.
Bonus: Remove LG Lock Screen with the Best LG Bypass Tool
Aside from the LG FRP bypass tools we've discussed, you might also want to know how to unlock your mobile device in other situations. Sometimes, you might lock your LG device using lock screens such as; password, PIN, pattern, or fingerprint. So, how do you reset to bypass the phone without a Google account? Here, you can use the Android Unlock.
Main features of Android Unlock:
It has the capacity to eliminate different lock screens, such as PINs, passwords, fingerprints, patterns, and Face IDs.
Manages to bypass some Samsung or LG device's passwords without losing data.
With the clean interface and faster unlocking, it becomes easier to handle it.
Work for all mainstream Android brands like Samsung, Huawei, LG, Xiaomi, OPPO, Vivo, Sony, etc.
Bypassing Samsung FRP is quite easy.
It's highly confidential, hence can keep your privacy.

Step-By-Step Guide on How to Use Android Unlock to unlock the LG phone screen:
Install the "Android Unlock" on your computer and open it, then choose "Screen Unlock,"
Link the LG to your PC and select "Unlock Android Screen."
Fill your LG details in the blank by choosing it from the drop-down menu. If you can't locate your phone, navigate to the "Advanced Mode."
Check the on-screen instructions and follow it to enter the "download mode." for the tool to download a recovery package on your device.
Confirm the information to remove the lock screen without experiencing any data loss.
Type in "000000" and click "Remove Now" to unlock your LG device almost effortlessly.
The Bottom Line
The Factory Reset Protection (FRP) lock is an in-built protective feature found in Android devices. It helps safeguard your device from unfavorable intruders. Having all the devices subjected to the Google verification process boosts the security of Android users. It can be frustrating when you're locked out of FRP Google verification. It becomes hard to regain access to your phone.
Now, when you forget your Google account's password yet you want to factory reset it, the LG Google ID remover comes in handy. In this article, you have learned about how to download LG bypass tools and methods to bypass an LG's Google account. bypass Google verification on LG devices. You can download the complete tool cost-free from a secure link or website. Luckily, most LG Google account bypass tools are compatible with various LG mobiles.

Related Articles:
[Fixes in 2023] How to Unlock Android Phone with Broken Screen?
[LG Backup & Restore] 5 Ways to Easily Back Up & Restore LG Phone/Tablet
Forgot Pattern Lock? Here's How to Unlock Android Pattern Lock if Forgotten
4 Ways on How to Remove Apple ID from iPhone without Password?
What You Should Know about iCloud Password
What If Samsung Tablet Won't Turn on? Try the 12 Solutions Here