Best Practices to Remove Remote Management from iPad Pro/Air/mini/4/3/2?
Remote management on iPad devices provides administrators with iPad remote control, collecting data, and enforcing policies. If you received the Apple device from an organization or the configurations interfere with certain apps, you may want to remove remote management to regain full control of it.
Fortunately, this detailed guide offers step-by-step instructions on how to remove remote management from iPad, allowing you to customize your Pad according to your preferences. Let's cut to the chase right now.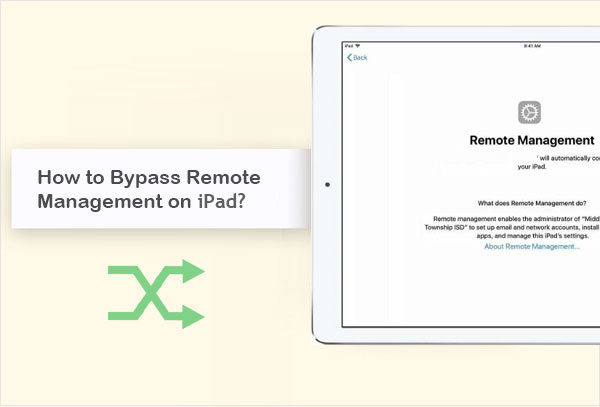 Part 1: What Is Remote Management on iPad
Before we explain how to get around/erase remote management on iPad, let's take a brief look at iPad remote management. Generally, remote management on iPad allows administrators to control and manage multiple iPads from a central location. It involves tasks like app deployment, configuration, software updates, and security enforcement. (iPad won't update to iPadOS 15?)
This feature is facilitated through Mobile Device Management (MDM) solutions or Apple Configurator. What's more, it also streamlines iPad management, reduces manual intervention, and ensures consistent configurations.
Click to Know:
Part 2: How to Check If Your iPad Is Supervised
When you receive an iPad from your organization or school, it's likely supervised and controlled by remote management. This imposes limitations on features. Supervision is typically enabled during device setup, and if it's not currently supervised, the administrator must erase your iPad to enable it.
If you personally own the iPad and did not intentionally set it up under supervision, it is unlikely to be supervised unless it was previously used in a managed environment. To check whether your iPad is supervised, you can:
Open the "Settings" app on your iPad Pro, Air, mini, 4/3/2.
Scroll down and tap on "General", followed by the "About" section.
On the "About" page, scroll down and look for the "Supervised" field.
If you see "Supervised" on the page, your iPad is supervised. This typically indicates that the device is being managed and controlled by an organization or administrator. You can now remove or bypass remote management on this iPad as required.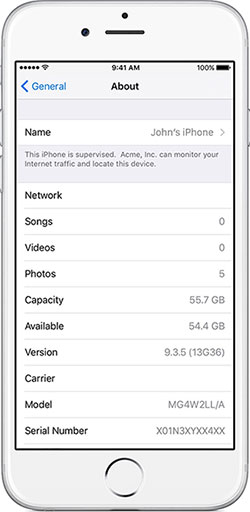 Part 3: Can I Remove/Erase Remote Management from iPad
YES, it is possible to remove remote management from an iPad, but you will generally need to contact the administrator or organization that implemented it for assistance. If you have a personal device wrongly under remote management, you can try removing the management profile, assuming it's listed there. However, if the profile has specific restrictions or your device is supervised, contacting the administrator first is recommended.
Moreover, respecting remote management policies is important to avoid violating terms of use or agreements. Next, we shall explain how to take/turn off remote management on iPad with the most advisable methods.
You Might Also Like:
Part 4: How to Bypass Remote Management on iPad from Settings
MDM, or Remote Management, is part of the Apple Platform Deployment program that organizations use to manage Apple devices. If you received an iPhone or iPad from an organization with MDM, ask them to remove the device from their platform, which can be done through your device's Settings.
How to disable/get rid of remote management on iPad from Settings?
Open the "Settings" app on your device.
Navigate to "General".
Scroll down to locate and select "Device Management".
If there is an "MDM Profile" listed, tap on it.
Finally, look for and press "Remove Management" or a similar button.
Enter the possible passcode when you are asked to eradicate the "Remote Management" eventually.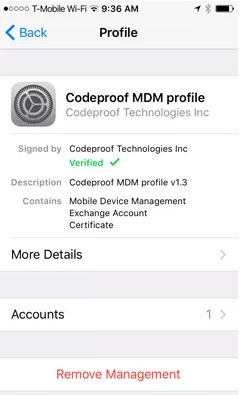 What's the difference between Remote Management and MDM? Remote Management and Mobile Device Management (MDM) are closely related but not exactly the same. The former is the ability to control a device remotely, while the latter is a specific framework and technology that enables remote management of devices. Moreover, MDM provides a comprehensive set of tools, protocols, and policies for managing devices within an organization, including configuring settings, deploying apps, enforcing policies, and more.
Part 5: How to Remove Remote Management from iPad after Restore via Professional Tool
When dealing with locks like MDM or remote management on a used iOS device such as an iPad, you may require a reliable third-party utility to remove them effectively, particularly when restoring your device. If you lack information such as passwords, consider using iOS Unlock for remote management lock removal.
This intelligent software is highly regarded in the market and offers a beginner-friendly solution for bypassing various iOS locks with just simple clicks.
What can you get out of iOS Unlock:
Remove remote management/MDM from iPad, keeping data integrity.
Bypass Apple ID/iCloud account and iCloud activation lock.
Unlock various screen locks, including Screen Time Passcodes.
Eliminate SIM lock and iTunes backup password.
Work well with overall Android devices, including iPad Pro, iPad mini, iPad Air, iPad 4, iPad 3, iPad 2, iPhone, iPod touch, etc.
It won't let out your privacy.
Next, we shall explain how to remove remote management iPad without password via iOS Unlock:
Step 1. Run iOS Unlock after you download and install it on your computer. Link your iPad to the computer and pick "Screen Unlock" on the program screen.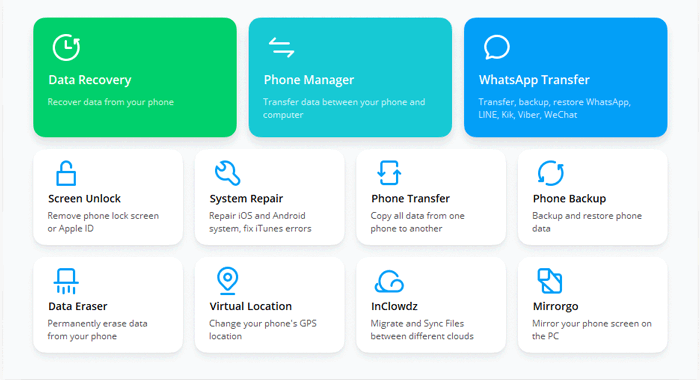 Step 2. Choose "Unlock MDM iPhone", which also assists in removing MDM from the connected iPad.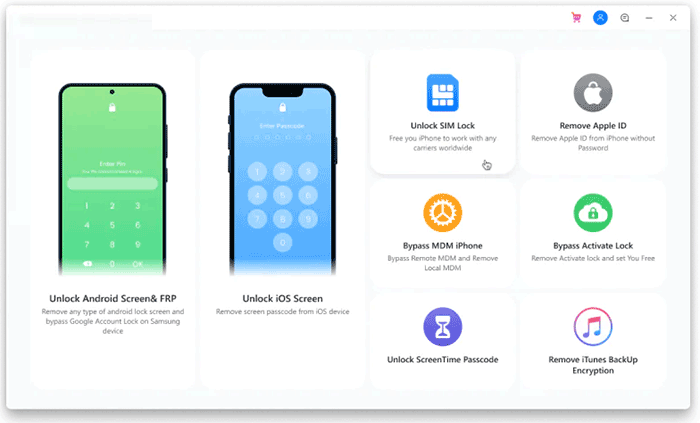 Step 3. Opt for "Remove MDM", followed by "Get Start".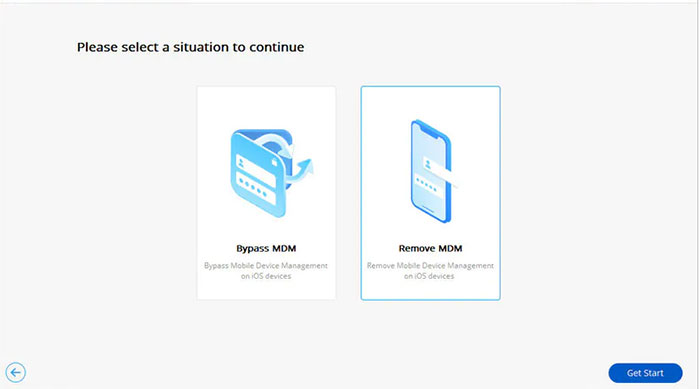 Step 4. As you get the "Successfully removed" prompt, you'll successfully delete MDM from your iPad without losing data.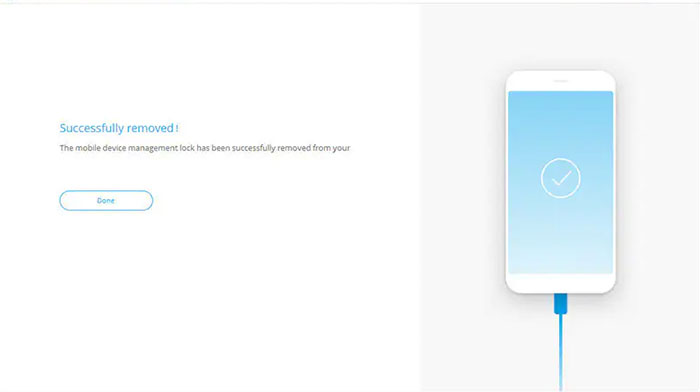 Frequently Asked Questions on Remote Management on iPad:
Q1: Is an MDM profile safe on your iPad?
An MDM profile on your iPhone or iPad imposes restrictions, such as limited app usage and password-protected access. It also brings risks of data leakage and virus attacks, making it unsafe.
Q2: Will jailbreak remove remote management?
Yes! Jailbreaking removes remote management restrictions, but it violates device terms, voids warranty, and may pose security risks. So, please proceed with caution.
Q3: Is MDM bypass temporary or permanent?
MDM bypass is typically a temporary solution rather than a permanent one. It involves removing restrictions imposed by a mobile device management system. Please note that unauthorized attempts to bypass MDM can have legal consequences.
Q4: How to manage remote employees?
Share a tip sheet with suggestions from other remote employees.
Provide the right technological tools.
Promote dialogue and ensure understanding of decisions and protocols.
Offer effective recognition for motivation.
Schedule time for team interaction.
Reinforce organizational values.
The Bottom Line
To sum up, figuring out how to override/delete remote management on iPad can be a liberating experience, granting you the freedom to regain control over its features and settings. By following the methods outlined in this guide, you can get rid of remote management and enjoy the full potential of your iPad without limits.
Finally, as a kind reminder here, it's essential to respect organizational policies and guidelines when removing remote management from a company-owned or supervised device.
Related Articles:
4 Easy Ways to Sync Contacts from iPhone to iPad Pro/Air/mini/4/3/2
6 Easy Ways to Transfer Music from PC to iPad without iTunes
[Easy Guide] How to Recover Data from Broken iPad Pro/Air/4/mini?
How to Fix "iPad Is Disabled Connect to iTunes" Easily with 4 Solutions
7 Practical Tips to Change Weather Widget Location on iPad Air/Pro/mini/4/3/2
iPad Touch Screen Not Working? Troubleshoot It in 11 Quick Fixes