Great Tips to Erase iPad to Sell [Tip 1 Is the Most Advisable]
Nowadays, people are used to storing almost all kinds of personal items in digital form on an iPad, iPhone, computer, etc. For example, an iPad Pro may contain data like contacts, photos, music, videos, eBooks, or even online banking passwords and Apple Pay info.
When you intend to sell the old device, how to erase iPad to sell may be your main concern. This is indeed a practical matter. Well, go through this page to learn the top 4 methods to completely wipe your iPad data for sale.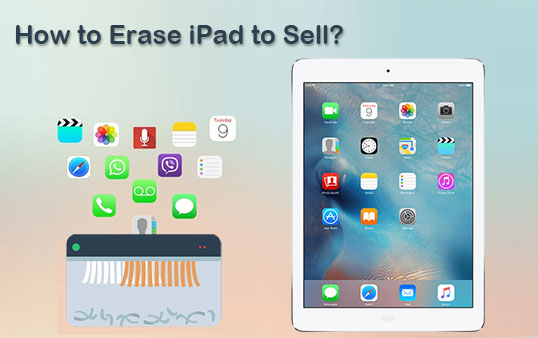 Section 1: Preparing an iPad for Sale
First and foremost, what to do when you sell your iPad? Now that you have decided to sell your old device, you might as well make a backup of it. Here, you're advised to back up your iPad to iCloud. (How to back up an iPad to a computer?) As you might know, Apple iCloud includes only 5GB of free storage in its basic plan, so you may have to get a subscription to obtain more space if necessary.
Now, please prepare your iPad for selling by running a backup of it as below:
Unlock your iPad to get into its "Settings" > [your name].
Go to the "iCloud", followed by "iCloud Backup".
Make sure the "iCloud Backup" is enabled.
You can now see the status of your backup and the records you last made.
Or please manually click "Back Up Now" to take a backup at once.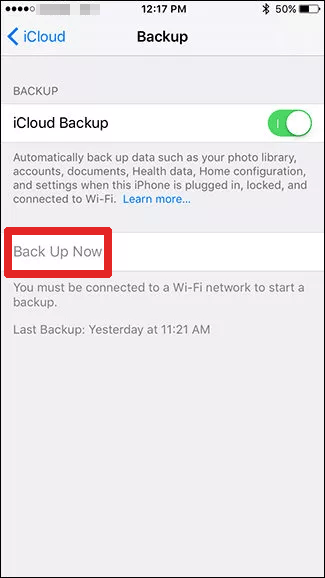 After the backup, just read on to get the most trusted solutions to wipe out your iPad.
Know More:
Section 2: How to Erase iPad to Sell with Eraser for iOS [Completely]
In this section, we will recommend the most technical tool - MobiKin Eraser for iOS. For professional software, in addition to completing the most basic content emptying, it also provides you with several levels of erasure.
If you want to sell your iPad, you can first pick its medium or high-level features to ensure your privacy. Plus, it is also fairly easy to use - download the software and connect your iPad to the computer before following the foolproof instructions on the program window.
Eraser for iOS is splendid because it can:
Permanently erase iPad to sell (100% unrecoverable).
Offer three erasing levels: "Low Level", "Medium Level", and "High Level".
Clear all your private data and junk files with simple clicks.
Wipe your iPad completely without a trace behind.
Compatible with almost all iDevices, including iPad Pro, iPad Air, iPad mini, iPad 4, the new iPad, iPad 2, all generations of iPhones, iPod touch, etc.
It won't let out your privacy.
How to wipe/clean an iPad via MobiKin Eraser for iOS?
Step 1. Launch Eraser for iOS
Have the program installed on your computer when you download it. Open it on the computer and connect your iPad to the computer via a premium USB cord. And the tool will soon identify your device.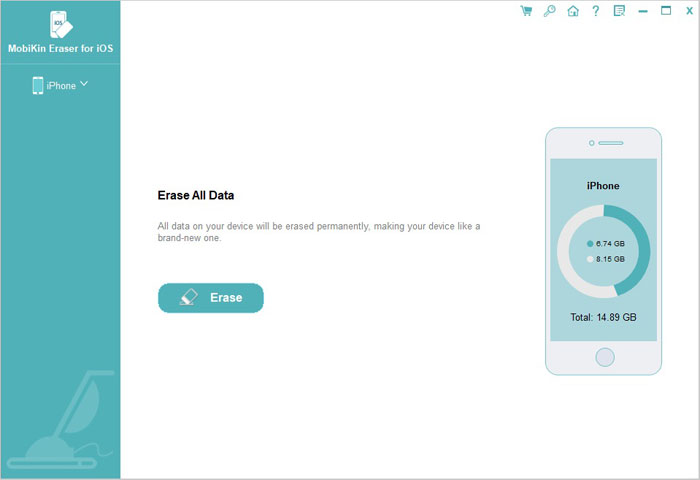 Step 2. Get into the "Select Security Level" window
After the recognition, please tap the "Erase" button on the screen. Now, follow the on-screen prompt to enter the "Select Security Level" interface.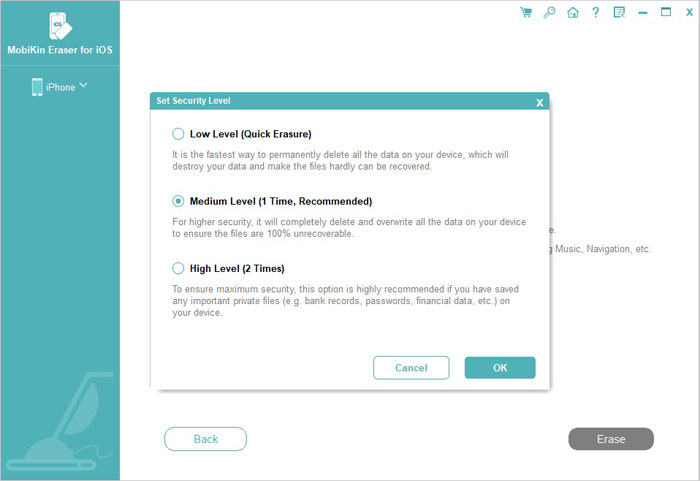 Step 3. Erase iPad to sell
Choose the security level like "Medium Level". Next, you have to enter "Delete" in the input box and click the "Erase" button again to immediately wipe your iPad without an iCloud account. (Apple ID was just disabled?)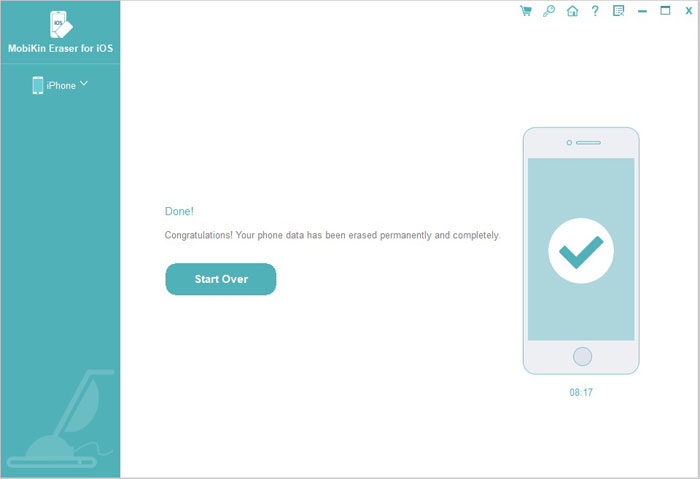 Section 3: How to Delete iPad Before Selling via Settings
iPad lets you reset it to default factory settings. Namely, when you tap the "Erase" button from Settings, your iPadOS pictures, contacts, videos, apps, credit cards, etc., will disappear. Further, your iPad will automatically disable FaceTime, Game Center, iCloud, and other services. Moreover, you cannot delete any items from iCloud after that.
How to clear iPad for sale via Settings?
Navigate to iPad "Settings" > "General" > "Reset"/"Reset iPad".
Hit "Erase All Content and Settings".

Enter your passcode on the next screen if prompted.
Select "Erase" and input your restriction passcode, if any.
Confirm the action by choosing "Erase" again.
Please ensure your iPad is working with a smooth Wi-Fi network. And in some iPadOSes, you have to fill out your Apple ID credentials to go any further for iPad erasure.
Extended Reading:
Section 4: How to Clear iPad for Sale with iCloud
iCloud facilitates you to locate your iPad as long as you enable "Find My iPhone/iPad". So if your device isn't physically accessible, try to erase it with iCloud remotely to secure all your personal data.
How to erase your device before you sell your iPad using iCloud?
Go to the iCloud web on any browser and log in with your Apple ID and password.
Press the "Find My iPhone/iPad" sign and click "All Devices".
Pick the iPad device you want to erase.
Choose "Erase [device]" from the upcoming window.

Hit "Erase" and enter your Apple ID details to trigger the data erasing.
Note: You cannot locate this iPad with the "Find My iPad" feature when the erasure is over. That is, if your Pad is lost, you have to find the device or play a sound on it before deciding to wipe it out remotely.
Section 5: How to Wipe/Clean an iPad with iTunes
With the same Apple ID, all your iDevices can share the same content from iTunes. And if there's something wrong with your iPhone/iPad, you can also use this tool to reset it or downgrade iOS/iPadOS. And you can take advantage of it to restore your iPad for clearance by the same token.
How to delete iPad Pro/Air/mini/4/3/2 before selling with iTunes?
Get the latest version of iTunes from Apple Support.
Install and tool before running it on your computer.
Link your iPad to this computer with a USB cable.
When iTunes can recognize your device, click your iPad icon from the upper left.
Choose "Summary" from the iTunes program and select "Restore iPad".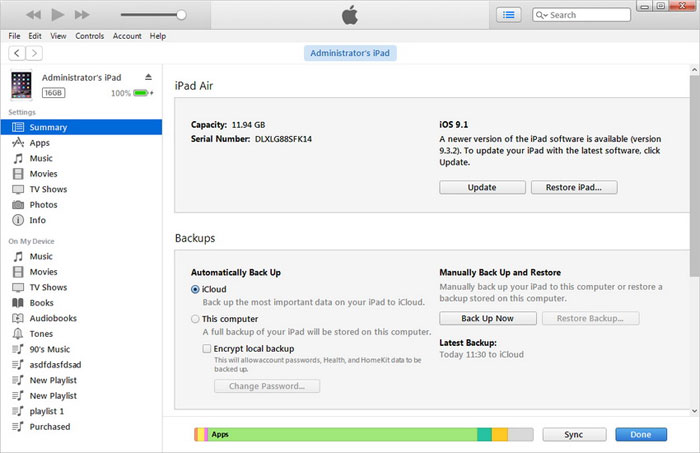 Summing Up
Well, it's time to round off this passage. Today we covered four ways to wipe your iPad for selling. To be specific, if you don't have some sensitive info on your old device, you probably won't disclose any privacy after handling it with any methods above. Otherwise, you'd better consider MobiKin Eraser for iOS because it can ensure the complete deletion and make the data permanently unrecoverable.
Finally, here are additional tips for you: do not sell or give away any electronics without erasing its data first; after the backup and erasure, don't forget to take off your SIM cards, memory cards, screen protectors, and cases.
Related Articles:
[Up to Date] How to Wipe Android Phone Completely before Selling?
9 Recommended iPad Backup Software Help Back Up iPad Breezily
iPad Won't Unlock? 9 Solutions to Fix iPad Slide to Unlock Not Working
How to Restore iPad from iPhone Backup? 3 Worry-free Options Here
3 Easy Methods to Remove MDM from iPad with/without Computer or Password
[Top 4 Ways] How to Transfer Data from One iPad to Another in 2023