Unlock Apple ID without Email or Security Questions: 4 Options for You
Apple is dedicated to keeping your iCloud account secure. It strictly carries out the protocol for its users to ensure their data and info on iOS devices. Generally, Apple would assess the security risk of your account and send you a message if necessary. Next, you're required to unlock the account when it is breached or disabled. And as you know, security questions or Emails are probably needed to verify your identity.
So, you may wonder how to unlock Apple ID without security questions. OK, this article will focus on this topic by offering what you want.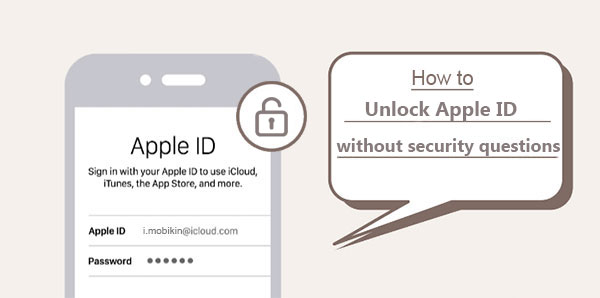 Part 1: Why Am I Locked out of iCloud?
"I forgot my iCloud password and security questions and email". You might be concerned about the Apple ID removal solutions when locked out of iCloud and forgot security questions. But first, let's check out the reasons for this phenomenon:
Several wrong login attempts are done to log in to the Apple ID field. (Can I sign out of iCloud on an iPhone without a password?)
A suspicious or a changed IP address.
A VPN is used to simulate a virtual location.
Multiple incorrect answering is entered to respond to the security questions.
The account was disabled for security reasons.
Your Apple ID might be breached or violated.
See More:
Part 2: Unlock Apple ID without Security Questions Using iOS Unlock
Imagine if you forgot your Email, security questions, and even phone number; how would you unlock your iCloud account easily and securely? Well, iOS Unlock can do you a big favor. This all-in-one program can help you remove almost all kinds of Apple locks in a few minutes without any additional conditions. It works in harmony with a PC/Mac and can connect and perform tasks almost flawlessly.
iOS Unlock is famous for its prominent features:
Unlock Apple ID without security questions or Email.
Remove screen passcode, Touch ID, Face ID, and Screen Time Passcode.
Bypass iCloud activation lock in minutes.
Remove MDM from iPhone/iPad with no data loss.
You'll get all iCloud services and Apple ID features after the unlocking.
Apply to almost all iOS devices, covering iPhone 14 Pro/14 Plus/13/13/13 Pro (Max)/13 mini/12/12 Pro (Max)/12 mini, iPhone 11/11 Pro/11 Pro Max, iPhone X/XR/Xs/Xs Max, iPhone 8/8 Plus, iPhone 7/7 Plus, iPhone 6/6S/6 Plus, iPod touch, iPad, etc.
It won't divulge your privacy.
How can I unlock my Apple ID without security questions using iOS Unlock?
Step 1. Go to the "Screen Unlock" option
Open the iOS Unlock program on your computer when you get it downloaded and installed. Then get into "Screen Unlock" from the modules.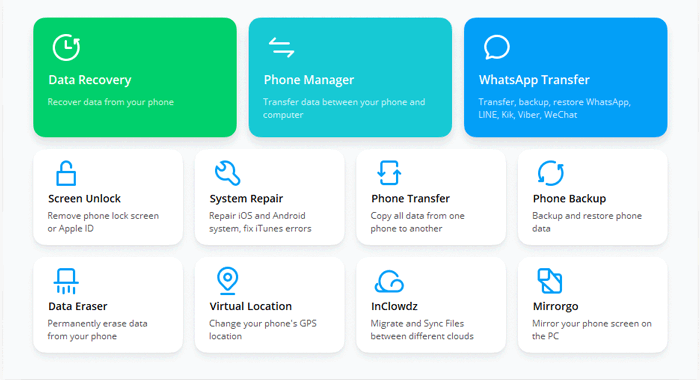 Step 2. Choose "Unlock Apple ID"
Tap "Unlock Apple ID" on the popup interface and connect your iPhone/iPad to the computer through a USB cable.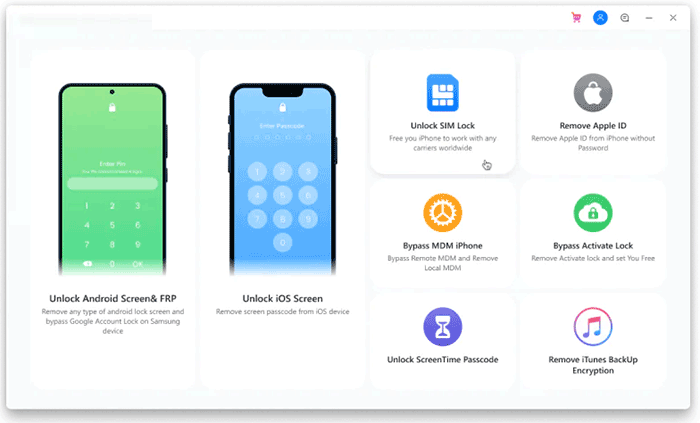 Step 3. Trust your computer
Input the password of the linked device and tap "Trust" on its screen.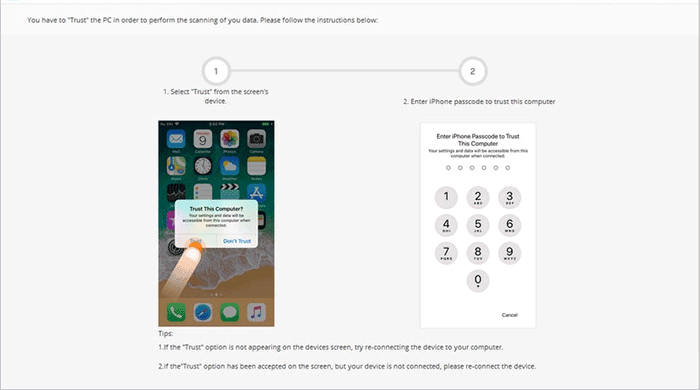 Step 4. Reset all settings on iPhone
Follow the screen prompt to reset all your iPhone settings. Please note that you'll lose your iOS content in doing so. (To secure your iOS content, please ensure you kept a backup of your iPhone on a computer.)
Step 5. Begin to unlock Apple ID without security questions
The iOS Unlock will initiate the task automatically without any restrictions.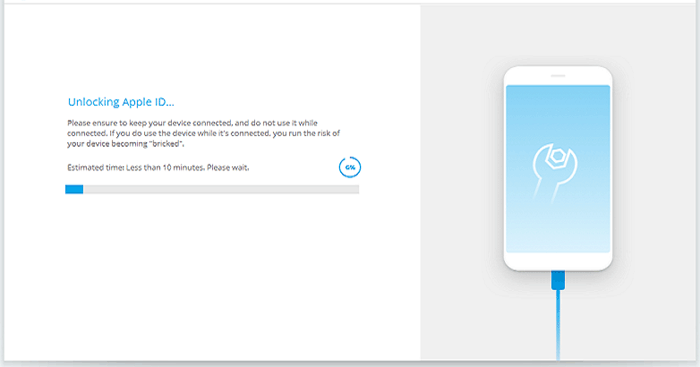 Step 6. Successfully removed iCloud account
When "Apple ID has been completely unlocked" appears, you have bypassed your Apple ID.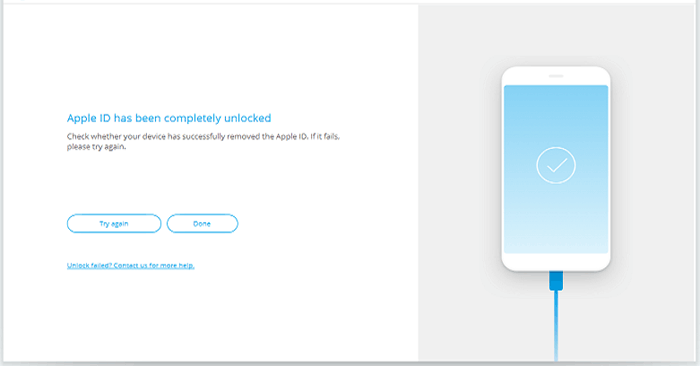 Part 3: Unlock Apple ID without Email or Security Questions via Recovery Key
As a 256-bit key printed in the presence of 24 words, the recovery key lets you remove your iCloud account before resetting a new one. So, if you have a recovery key, follow the directions on how to use it to unlock your Apple ID without Email:
Visit the Apple ID Account webpage and tap "Forget Apple ID or Passcode".
Type in your locked iCloud account.
Reset your password and tap the "Continue" option.

Input your recovery key and pick your trusted iDevice you want to receive a verification code.
Set a new password with the code you just received and hit "Reset Password".
Click to Learn:
Part 4: Unlock iCloud Account without Email or Security Questions via Two-Factor Authentication
By adding a layer of security to your Apple device's online account, Two-Factor Authentication (2FA) can well protect your iCloud account. Those with your Apple ID cannot access your account unless a code from your trusted iDevice or its phone number is offered. Don't know the iCloud password or security questions but enabled Two-Factor Authentication? Just get your Apple ID unlocked with the 2FA:
On your iPhone, go to its Settings app.
Next, proceed to [your name] > "Password & Security" > "Change Password".
Set up the new passcode to unlock your iCloud account.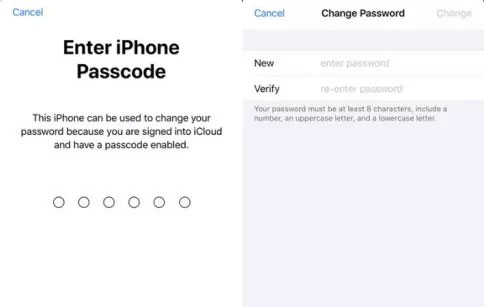 Part 5: Unlock Apple Account without Security Questions by Contacting Apple Support
When you lose access to your security questions and Email but wish to figure out "Apple ID locked forgot security questions", you'll have an almost universal choice - reaching out to the Apple Support team. Well, how to unlock Apple ID when forgot iCloud security questions and passwords by contacting the team?
In a narrow sense, you have to prove your ownership of your Apple account. While contacting it, please submit a request form as required. However, it doesn't guarantee success. Plus, it is a good option to set up a new account. Please note that all purchases associated with your old account will thus be wiped out.
Summary & Tips to Reset Your Security Questions
OK, we just sketched out how to unlock Apple ID without security questions using several options. To be fair, iOS Unlock is the most desirable. In short, it is a feature-rich and powerful utility that does not require you to provide any info to unlock or make any change on iPhone Settings in advance.
Additional Tips: How to Reset Security Questions?
Go the Apple's official website and tap the "iforgot" sign.
Input your iCloud account and hit "Continue".
Follow the prompt to reset security questions before going to the next step.
Enter your Apple ID credential and tap "Continue" again.
Verify your identity according to the directions.
Set up your new security questions and press "Continue" finally.
Related Articles:
Must Change iPhone Passcode: Fix Passcode Requirement with 7 Solutions
4 Ways to Remove Activation Lock without Previous Owner/Password
How Much to Unlock iPhone? All You Want to Know about iPhone Unlock.
How to Tell If iPhone Is Unlocked without SIM Card? 4 Methods in 2023
6 Best Android Lock Screen Removal Software to Unlock Your Phone Easily
[Fixes in 2022] How to Unlock iPhone with Unresponsive Screen?