4 Ways to Remove Activation Lock without Previous Owner/Password
A used phone can be just as useful as a new one. Indeed, an iPhone 13/12/11 with original packaging may not be price-friendly, especially for the working class and students. When trying to use a second-hand iPhone, you may find you're locked out of Activation Lock. Alas! You have to enter the login credentials (Apple ID) associated with this lock to remove it. This might drive you crazy since it is hard to contact the bargainor.
OK, check out how to remove Activation Lock without previous owner in this passage. Here are several promising ways to help you get rid of the lock within minutes.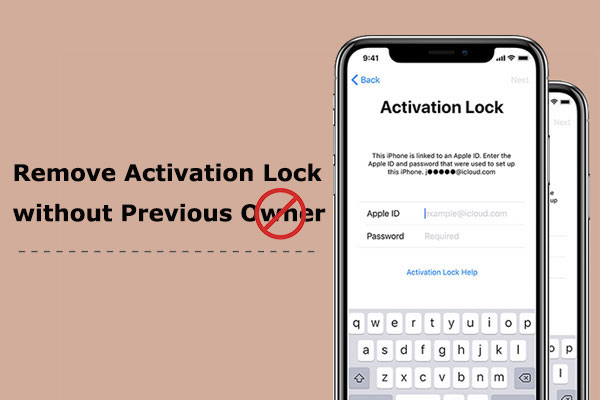 Part 1: Brief Overview of Activation Lock
As a security measure for Apple users introduced on iOS, iCloud/Find My [device] Activation Lock keeps people from activating an iDevice without entering a relevant Apple ID. With this feature enabled, you can:
Reset your iDevice passcode with iCloud.
Locate the exact location of your iPhone/iPad/iPod touch.
Activate the lost mode set on the device.
Have the ability to make your phone play sound.
You are still allowed to turn on "Find My [device]" on your Apple device when it is lost as long as it was covered by AppleCare+ Theft & Loss package.
Well, some Apple users may encounter "iPhone Activation Lock; removing a device from a previous owner's account" when they get a second-hand device. Next, we will tell you how to remove the lock in four quick ways.
You May Want to Know:
Part 2: How to Remove Activation Lock without Previous Owner Using iOS Unlock
If you know nothing about various accounts and other info on your Apple device, iOS Unlock is definitely the best bet for you. This tool can help you bypass almost all kinds of locks related to iDevices. That's why it always stands out among iDevice unlocking programs.
When you run it on a computer, you just need to connect your device to the computer; with a few clicks, you can take full control of your iPhone in minutes.
Note: This software will jailbreak your iOS device after removing Activation Lock without limitations.
Core features of iOS Unlock:
Completely remove Activation Lock without previous owner's account.
Unlock an iPhone/iPad without a password, covering 4-digit passcode, 6-digit passcode, Touch ID, Face ID, and Screen Time passcodes.
Unlock Apple ID/iCloud even if "Find My iPhone" is turned on.
Remove/bypass MDM with zero data loss.
Get on well with overall Apple devices, covering iPhone 13/13 Pro (Max)/13 mini/12/12 Pro (Max)/12 mini, iPhone 11/11 Pro/11 Pro Max, iPhone X/XR/Xs/Xs Max, iPhone 8/8 Plus, iPhone 7/7 Plus, iPhone 6/6S/6 Plus, iPad, iPod touch, etc.
Available on both Windows and Mac computers.
It won't divulge your privacy.
How to remove Find My iPhone Activation Lock without Apple ID/previous owner using iOS Unlock?
Step 1. Open iOS Unlock when you get it installed on your computer. Then go to the "Screen Unlock" tab from the primary screen.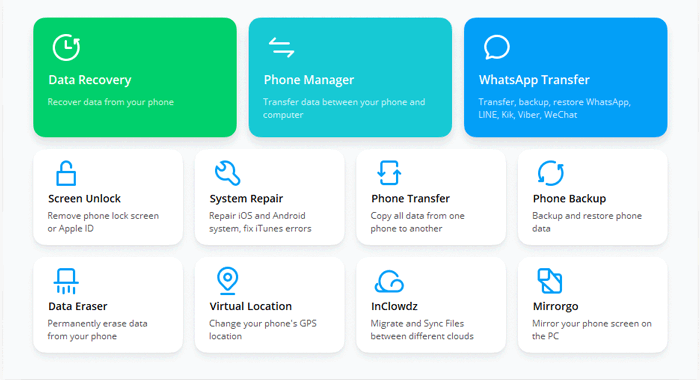 Step 2. Go for "Unlock Apple ID" from the next screen.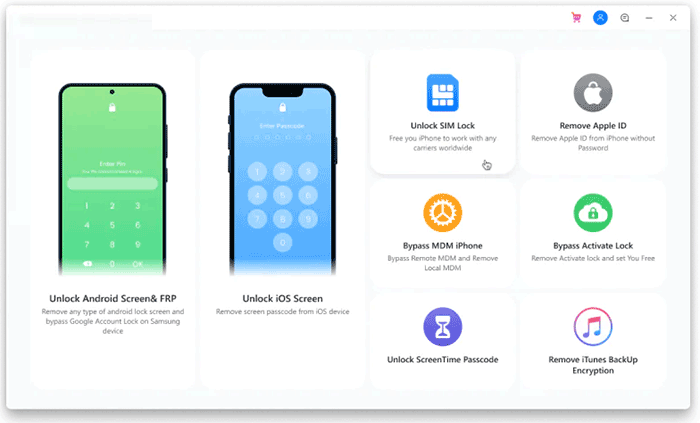 Step 3. Next, please choose "Remove Active Lock".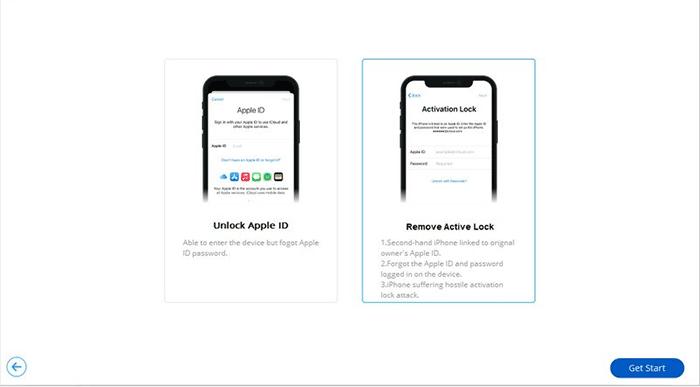 Step 4. Jailbreak your iOS device by following the "JailBreak Guide" on the interface.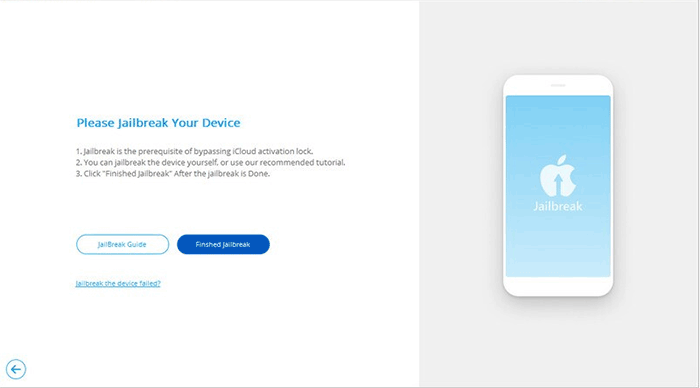 Step 5. Once completed, a message will come out, from which you can check the box to agree with the terms and select "Next" to continue.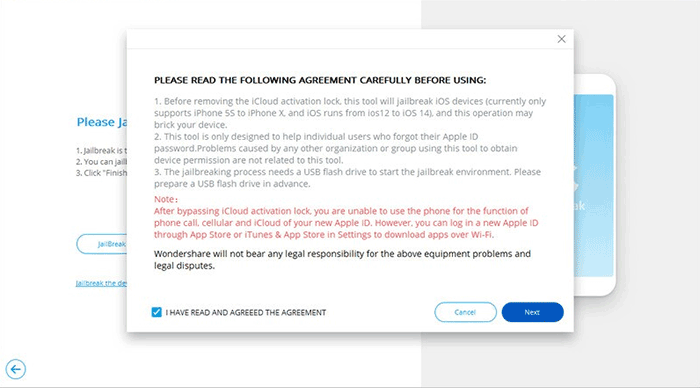 Step 6. Confirm your iDevice information and click "Start Unlock".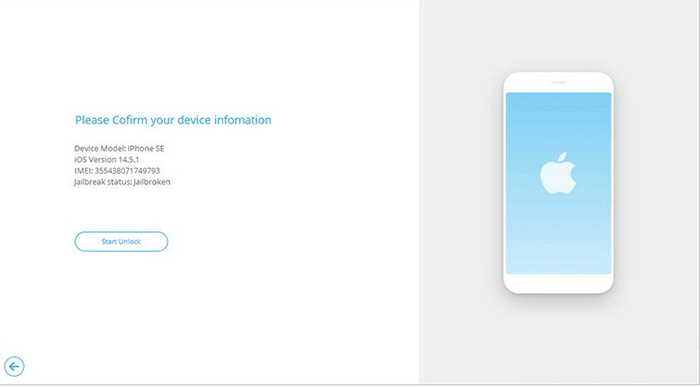 Step 7. The iCloud activation lock removal will start immediately; please wait for the job to accomplish.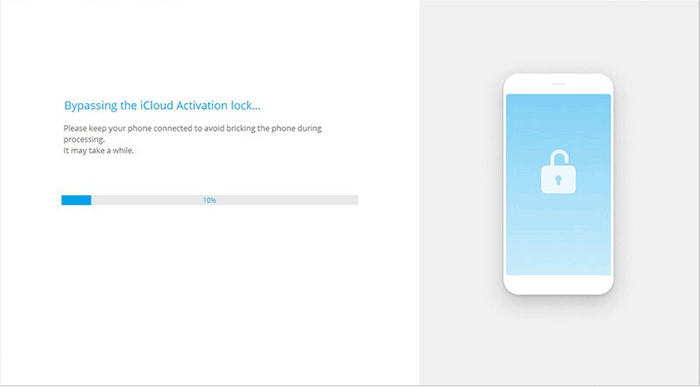 Part 3: Remove Find My iPhone Activation Lock without Previous Owner from iCloud.com
By logging in to iCloud remotely, you can erase your iPhone/iPad and thus remove the activation lock without any trouble. Note that you are required to sign in to your iCloud account before removing the lock.
How to bypass Find My iPhone Activation Lock without the password from the iCloud web?
Go to the iCloud website from a browser on your computer.
Log in to your Apple ID that is used on your locked iPhone or iPad.
After that, click "Find iPhone" on the page.
Tap "All Devices" on the incoming screen and select your iPhone.
Hit "Erase iPhone" > "Remove from Account".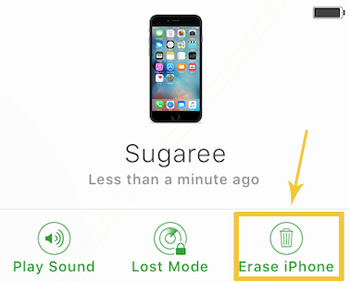 See More:
Part 4: Remove Find My iPad/iPhone Activation Lock without Previous Owner via DNS Bypass
There is a loophole in the Wi-Fi Settings of some iPhones with old iOS versions, offering you the opportunity to remove the Activation Lock using DNS bypass. Yet it may not be easy for non-technical users, and the lock will appear again when you reboot your phone.
How to remove Activation Lock without the previous owner for iPhone XR/Xs/X/11/12/13 via DNS bypass?
On your iDevice, head to the "Choose a WiFi Network" screen.
Hit the "Home" button > choose "Wi-Fi Settings".
Touch the "i" sign next to the Wi-Fi network.
You will see the properties of the Wi-Fi; please choose "Configure DNS".
Set it according to your region to proceed with iCloud DNS bypass:
U.S.: 104.154.51.7
Europe: 104.155.28.90
South America: 35.199.88.219
Australia and Oceania: 35.189.47.23
Asia: 104.155.220.58
Others: 78.100.17.60
Once done, go back to the Wi-Fi screen.
Next, click on "Next" and "Back".
Wait until your iPhone/iPad connects to the DNS bypass server of your region.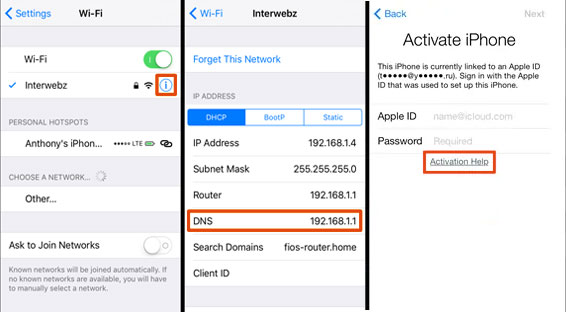 Part 5: How to Remove Activation Lock without Previous Owner via Apple Support
Firstly, you have to prove to Apple that you own the device legally. For this purpose, you may need to provide such files as purchase receipts, the serial number of your phone, and the Apple AppleCare agreement number. After that, Apple should help you remove the activation lock without delay.
Sometimes, Apple Support won't cover iPhones/iPads purchased from the vendor. However, if you offer all information they require, there is a glimmer of hope to unlock your phone as you would expect.
People Often Ask about Activation Lock:
Q1: What is the relationship between Activation Lock and Find My iPhone?
The iCloud Activation Lock can be activated whenever you enable "Find My iPhone/iPad". In this case, you can see the location of your device remotely. And this lock should appear when you set up your phone if no iCloud account is provided to disable it.
Q2: How to get in contact with the previous owner?
There is a message on the phone screen showing that the device is misplaced if it is in lost mode. You can now reach out to the previous owner for help by dialing the number offered on the lock screen. Alternatively, it's also a good idea to find the IMEI number on your iPhone from the SIM tray in the back of it. Subsequently, just call the carrier and explain your situation. The chances are that you'll get the previous owner's phone number.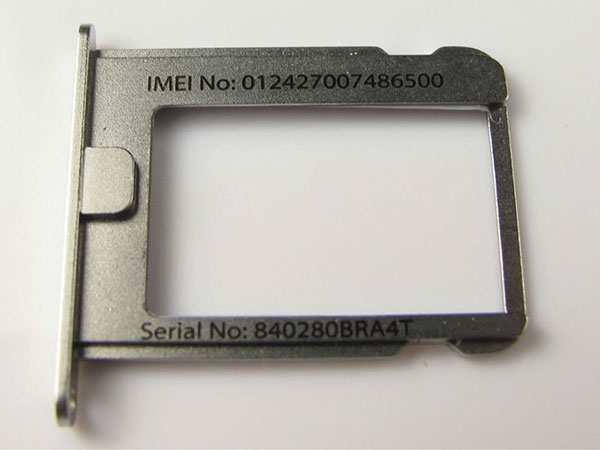 Q3: How to erase the previous owner from Apple ID?
Go to your iPhone's "Settings" > "General" > "Reset" > "Erase All Content and Settings".
Input the iCloud login credentials before tapping "Erase".
Q4: Does disabling "Find My iPhone" mean turning off Activation Lock?
The Activation Lock can be deactivated when you disable "Find My iPhone/iPad" from your iDevice. This is currently the most direct way to invalidate the lock.
Q5: How to keep iPhone from being stuck on the Activation Lock screen
As mentioned earlier, by disabling "Find My iPhone/iPad", you won't get stuck on the annoying Activation Lock screen. And an iCloud account is a must to do this. Here're the steps:
Head over to your iPhone's "Settings" > [your name].
Select your iPhone and input your iCloud account to disable "Find My iPhone".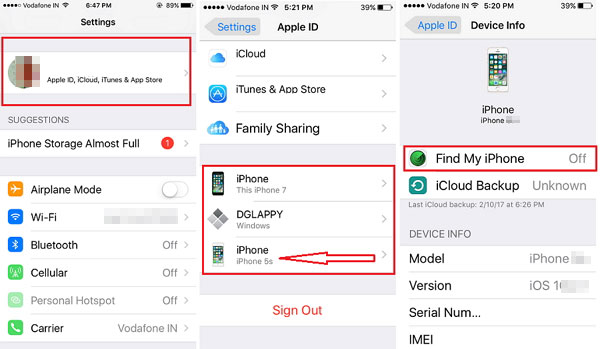 In Conclusion
Recently, "how to remove Activation Lock without previous owner 2021/2022" has still been among the trending topics on Apple Support Communities. Luckily, you got into this page with viable solutions and additional tips. We'll be glad whichever method helps you out. After unlocking the Activation Lock, don't forget to back up your iPhone/iPad regularly in case of need. Lastly, please share this article with those in need if you think it is desirable.
Related Articles:
How to Tell If iPhone Is Unlocked without SIM Card? 4 Methods in 2022
3 Easy Methods to Remove MDM from iPad with/without Computer or Password
Can You Unlock a Stolen iPhone? Yes. But Not Recommended
How to Bypass Remote Management on iPhone/iPad? 4 Ways You'd Better Know.
How to Sign out of iCloud on iPhone/iPad without Password? [2022]