Top 5 Ways to Unlock Samsung Tablet without Losing Data (2023)
Like most mobile devices, a Samsung tablet also has a default screen locking mechanism. With it, you can prevent anyone from spying on the device and protect its data. If one day you can't provide the correct authentication because you forgot the password on Samsung tablet, you may be denied access to your device. At this point, resetting the phone to the factory settings may be workable, but it'll harm the content within.
This article will teach you how to unlock Samsung tablet without losing data. And we'll also show you some other useful info on Samsung tablet lock removal.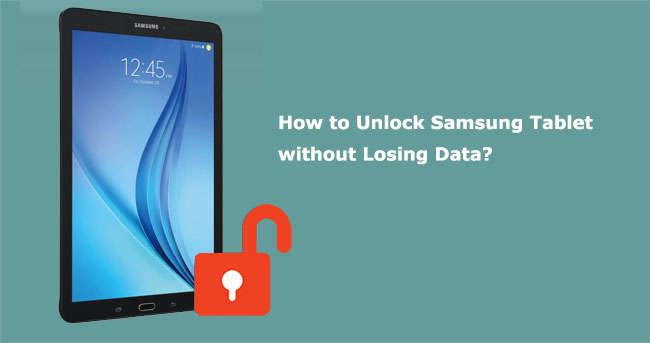 Part 1: Things You'd Better Know Before Unlocking a Samsung Tablet
What to do if I forgot my Samsung tablet password? Before delving into this topic, let's check out some relevant tips you'd better know.
For some Samsung tablets running earlier systems, there might be less risk of losing data caused by lock screen removal. If you use a newer Samsung tablet with the latest Android update, you may have to consider whether data loss will occur during unlocking.
Although you have an authenticated account such as Google or Samsung that has been added to your device before, some of the currently unlocking solutions available are still working at the cost of erasing your device Settings and data.
Therefore, it's better to back up your Samsung device to a computer or cloud storage, such as OneDrive, Google Drive, Dropbox, etc. Next, we shall share some data-friendly unlocking methods with you.
You Might Also Like:
Part 2: How to Unlock Samsung Tablet without Losing Data without Preconditions
A dedicated Android unlocking software will never let you down in any situation. As the top product in the industry, Android Unlock provides the simplest unlock solution for almost all Android tablets and phones. To unlock your phone in minutes, a computer, mobile phone, and USB cable are all you need to prepare. While simplifying the task, it also offers the highest unlocking success rate and protects the content in some Samsung and LG phones.
Core features of Android Unlock:
Quickly unlock Samsung tablet without losing data.
Remove all screen locks for Android, covering pattern, PIN, password, and fingerprints.
Bypass some LG/Samsung devices while keeping their data intact.
Work for various Android devices, covering Samsung Galaxy Tab A/Tab E/Tab S8/Tab S7/Tab S6/Tab S5/Tab S4/Tab S3, T355C/T385C/T860/T290/T295C/SM-T510/T290/T295C, Tab SM-T510/T580/T585C/T560/SM-T380/SM-T350, Samsung Galaxy S/Note, Xiaomi, Motorola, LG, Sony, OPPO, Vivo, Google, etc.
It values your privacy.

How to recover forgotten password on Samsung tablet with Android Unlock?
Step 1. Install the downloaded Android Unlock on your computer before launching it on the computer. Then, select the "Screen Unlock" section.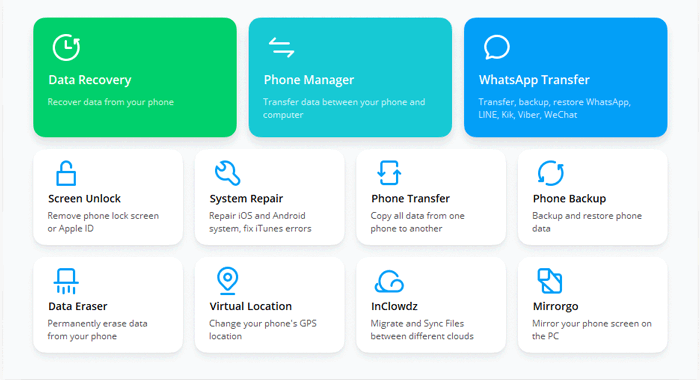 Step 2. Attach your Galaxy Tab to this computer via USB and enable USB debugging on Samsung. This software will identify your tablet. And after that, just choose "Unlock Android Screen".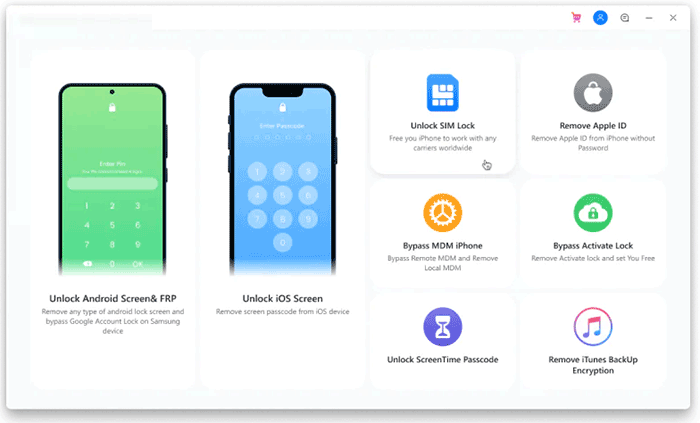 Step 3. Tap "Start" and put the tablet into Download mode. You can achieve this by following the concrete screenshot below.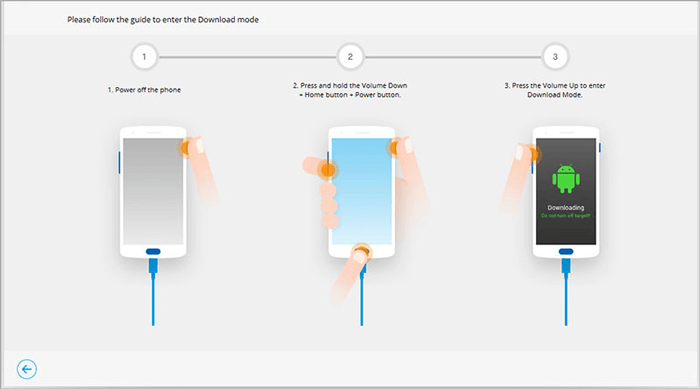 Step 4. Once done, this program will automatically download a recovery package on your tablet. Then, please ensure the gadget is within a smooth Wi-Fi network.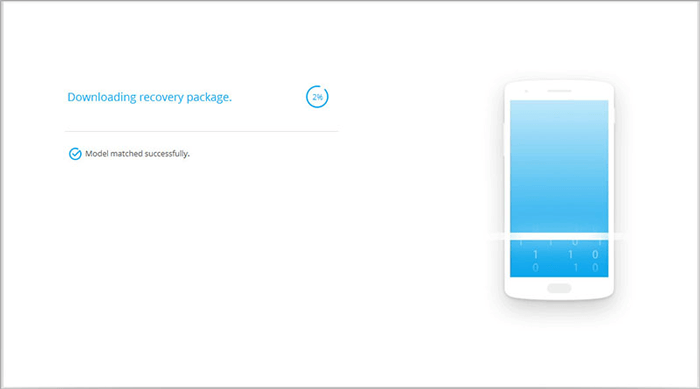 Step 5. The "Remove Password Completed" will soon turn up on the interface. And you can finally access your Samsung Galaxy Tab as expected.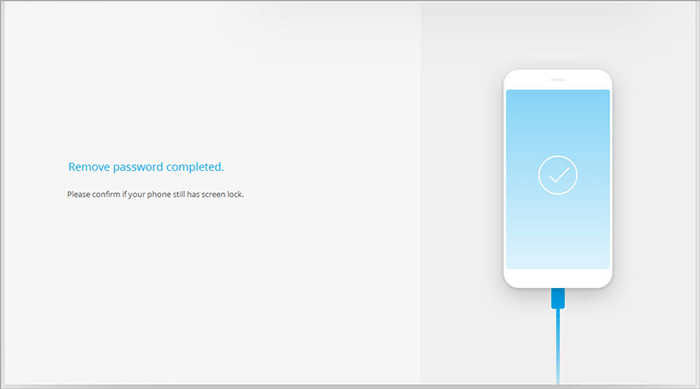 Part 3: How to Reset Samsung Tablet without Losing Data via Find My Mobile
Samsung Find My Mobile will reset the type of lock screen security to swipe after you unlock your tablet with it. Here are some prerequisites for this approach:
You have a Samsung account associated with the locked tablet.
Be sure to power on your Samsung tablet during unlocking.
The "Remote Unlock" option should be enabled on the tablet.
Make sure that your tablet and its GPS are enabled.
How to unlock a Samsung tablet without password via Find My Mobile?
Go to the Find My Mobile website.
Sign in to the Samsung account you used on your locked tablet.
Choose your device from the menu on the left of the page.
To let Find My Mobile locate your device quickly, ensure it is powered on.
Once located, click "Unlock" and confirm the action.

Enter your Samsung account details and tap "Next" to complete.
Know More:
Part 4: How to Unlock Samsung Tablet Forgot PIN without Losing Data via Google Account Only
Samsung tablets or smartphones running Android 4.4 and below have a built-in mechanism for lock screen removal. If you forget the pattern or PIN code, have a stable Wi-Fi connection, and know the Google account linked with your tablet, you can try to unlock it with this avenue.
How to unlock the Samsung tablet forgot PIN/pattern with Google Account only?
Draw incorrect patterns on your tablet several times.
Click the "Forgot pattern/PIN" option when it appears on the tab's screen.
Choose the unlocking methods with Google account credentials and tap "Next".

Input the previously synced Google account details before signing in to it.
Log in to your Gmail account on another device or PC. (Cannot sign in Google account on Android?)
An email will send to you that lets you reset your password for the locked Samsung tablet.
Use the new password to unlock your Samsung tablet with ease.
Part 5: How to Unlock a Samsung Tablet When You Forgot the Password without Losing Data via ADB
It is quite simple to use ADB to unlock a Samsung Tab, but users need to be familiar with Linux commands or have some coding experience. The premise of trying this method is to ensure that the USB debugging is turned on before the device is locked. Here's how to unlock Samsung tablet without a password through ADB:
Link your Samsung tablet to a computer with a USB cable.
Open a "command prompt" in the ADB installation directory on this computer.
Input the command: adb shell rm /data/system/gesture.key and tap "Enter".

Restart your device, and the lock screen is temporarily still disabled.
Set up a new lock for the tablet.
Restart it again, and it should be locked.
Part 6: How to Bypass Passcode on Samsung Tablet without Losing Data in Safe Mode
You can easily unlock your Samsung tablet if it is locked with some third-party app by getting into the safe mode. When you are in this mode, please uninstall the app used to set the lock before rebooting your tablet.
How to reset Samsung tablet Tab A/Tab E/Tab S8/Tab S7/Tab S6 without a password in safe mode?
Tap the "Power" button until the power menu comes out.
Hit the "Power off" sign and press it for a few seconds.
A popup will ask you if you want to reboot in safe mode; please tap "OK".

When your Samsung tablet is in this mode, locate the 3rd-party app that is locking your tab and uninstall it.
Restart the device, and it should be working as usual.
People Also Ask about Samsung Tablet Lock Removal
Q1: How to Factory Reset Samsung Tablet without Password? (Data Loss)
Press and hold your Samsung's "Power button, followed by the "Power off" option.
Hold down the "Power" and "Volume down" keys together until the tablet shows the "Start" menu.
You will be required to enter the Recovery Mode by using the "Power" button.
Use the "Volume" key to go for the "wipe data/factory reset" option; then confirm it with the "Power" button.

Hit "Yes" to initiate the factory reset, and after that, all your tablet data will thus be erased.
Q2: Will Unlocking Samsung Tablet Erase Data on SD Card?
No, a factory reset or Google Find My Device will wipe out your tablet's memory but not the external SD card. (Accidentally deleted files on the card? Learn how to recover files from an SD card) In addition, the content in the account linked to the device may also be wiped out.
Q3: How to Disable PIN Lock on Android Tablet/Phone?
Touch the Apps icon from the Home screen.
Tap "Settings" > "Lock screen and security" > choose the screen lock type.
Select one of the options such as "Swipe", "Pattern", "PIN", "Password", "Fingerprint", and "None", which means "to turn off screen lock".
Follow the on-screen hints to set up your wanted screen lock.
Round Off
This is the end of this post. We just walked you through some great solutions for unlocking Samsung tablets without losing data. And obviously, Android Unlock is the most recommended tool to implement, partly because it lets you easily and quickly remove the lock screen with the least preparation. Lastly, any questions? Please tell us in the comments below.

Related Articles:
Forgot Password on ZTE Phone? 5 Tips to Unlock ZTE Phone Pattern without Losing Data
Top 8 Methods to Unlock Samsung Phone Pattern [Way 1 Is the Best]
All You Want to Know about Intelligent Lock Screen on Samsung [2023]
How to Recover Data from Samsung with A Broken Screen?
Samsung Tablet Recovery - How to Recover Deleted Files from Samsung Tablet?
How to Transfer Photos from Samsung Phone to Tablet? [5 Easy Ways]