How to Root Sony Devices?
Rooting an Android device may take lots of risks, but it also allows users to get access to Android system files, remove various preinstalled bloatware and do many other things that you can't do it on an unrooted device. So even though there are various risks in the coming days, many people still choose to root their Android phone or tablet for getting more rights. However, Android devices can be divided into various brands, and every brand has their own specific models. Thus, it seems to be impossible for you to root any Android device with the same solution due to the different models and Android OS.
So, when you're planning to root your own Android device, you need to figure out what brand is your phone and which kinds of Android OS is running on your device. Then you should to pick out the rooting tool that can compatible with your phone as your personal option. This could be a time-consuming task for some of you, so in this page, we could like to show you several ways to root Sony devices completely. If you're a Sony user and wish to root it, then take a few while to read this article carefully, then pick one of the Sony rooting tool.
If you're using other devices like Samsung, HTC, LG, etc., you can find the solutions as follows:
Rooting Sony Devices with KingoRoot
KingoRoot is one of the leading tool for rooting Android devices on the Internet. It has helped thousands of people to root their Android devices with 1 simple click. And the facts have proved that this program can compatible with almost all popular Android devices on the market, such as Sony, Samsung, HTC, LG, Motorola, and so on. What's more, this program provide users with two different versions: PC version and App version. You can get one of them according to your own needs.
Today, we'll only take the App version as a detailed example, you can follow the below steps to root Sony devices on your devices.
- Go to "Settings" and find "Security" > "Unknown Sources" to allow installations from unknown sources on your Sony devices.
- Download, install and launch KingoRoot on your device.
- Tick "One Click Root" on the main interface and wait for a few minutes for the end of the rooting.
- If you fail to root your Sony, you can try more times by yourself, or turn to PC version for a trial.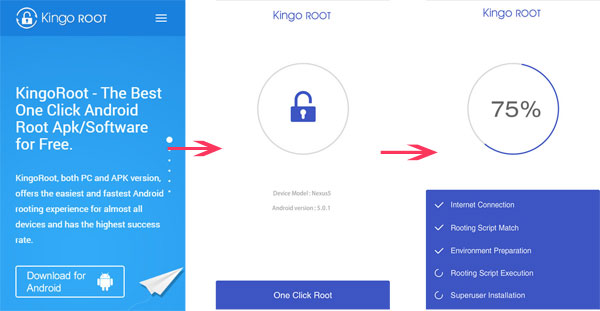 For more info about how to perform KingoRoot PC version, you can click here >>
How to Root Sony with Root Genius?
Root Genius is a free yet easy to use desktop application, which allows users to root or unroot Android devices that are running on the Android operating system from OS 2.2 to 6.0. But it is not compatible with Linux and Mac, and it also not provide users with Apk versions, that means you may need to find another solution like KingoRoot to reach your goal if your computer is running on a Linux or Mac OS.
Now, let's start the Sony rooting process at once.
- Connect your Sony to computer with USB cable, then enable USB debugging on it. (Don't know how to enable USB debugging? Just click the link to learn more.)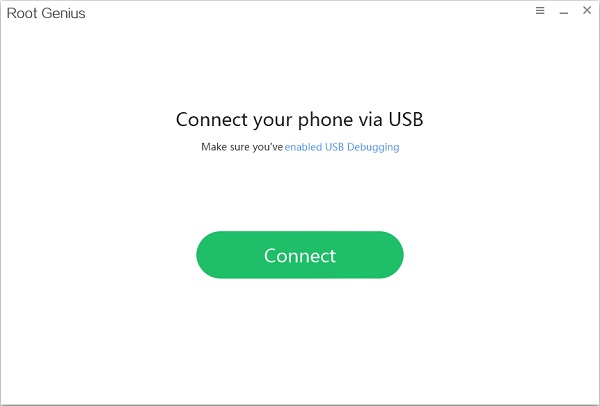 - Download and launch Root Genius on your computer. It will automatically detect your connected device and show you an interface like below: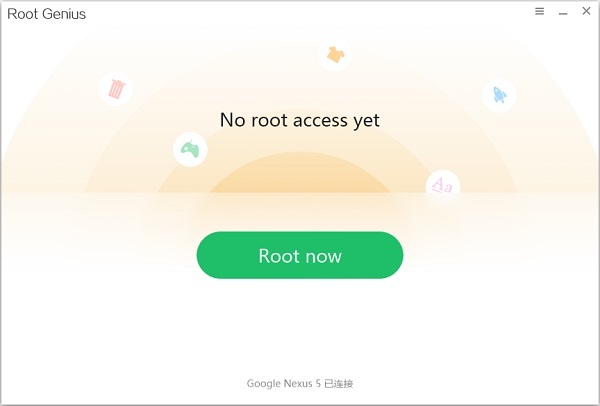 - Click on "Root Now" button to begin the whole process. And you only need to wait for the end of the rooting, and finally, you can get an information like below.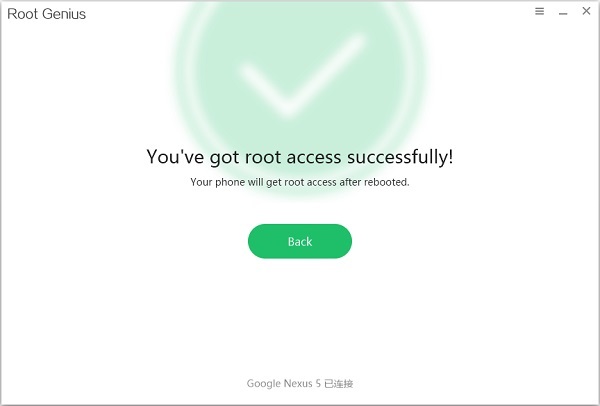 For more info about Root Genius, please go to here >>
More Rooting Tools You May Also Interested in:
How to Use Root Master by Yourself