Complete Guide of KingRoot: How to Use It without Trouble
Android rooting (unlocking) is an interesting process that is carried out primarily to gain access to the very core part of the android system. Gaining access to this essential part provides you with the ability to manipulate your android smartphone or tablet as you so wish.
You can do a lot of things once you have successfully unlocked your device, including blocking intrusive ads, uninstalling the stock android apps (those that came with your gadget), installing advanced custom ROMs, boosting performance and installing unsupported apps among other amazing things.
The android rooting process, if done inappropriately can end up bricking an android smartphone or tablet. This makes it crucial that you always make use of reliable android rooting tools that are guaranteed to work without causing any serious issues. That is why this complete guide of King Root is going to introduce you to an android rooting app with an amazingly high android rooting success rate.
What is KingRoot?
KingRoot (not to be confused with KingoRoot) is a free yet highly powerful tool that can be used to root almost any android smartphone or tablet in a single click. This unlocking tool is available both for PC and android, and is not only quite popular but is also highly trusted.
See Also: Full Guide of KingoRoot
KingRoot is believed to have a success rate of about 98%. This is probably the highest success rate that has been documented on an android rooting tool. According to the official KingRoot website, the amazing program supports over 104,000 devices. This means that the tool can be used to unlock your device even if the other readily available rooting tools that are in the market failed to do so. KingRoot, which has already helped millions of android users to root their devices (over 150 million people) is fast and very easy to use.
Pros
- Available in both English and Chinese languages.
- An amazingly high success rate (98.2%) and supports over 104,000 android devices.
- Two different versions: PC version and Apk version.
- Easy to use, safe and reliable.
- Support Android OS from 2.2 to 6.0.
Cons
- Not provide the unroot function.
- A reliable internet connection may be required to successfully root your device.
- The PC version is only available in the Chinese language.
How to Perform KingRoot to Unlock Your Android Devices?
Step 1. Backup your Android data and visit the KingRoot official site to download the Apk file to your Android device directly. Here, please ensure that you just do it under a reliable yet stable WiFi network. If you received a message of "Google installation blocked message", you can set it as follows: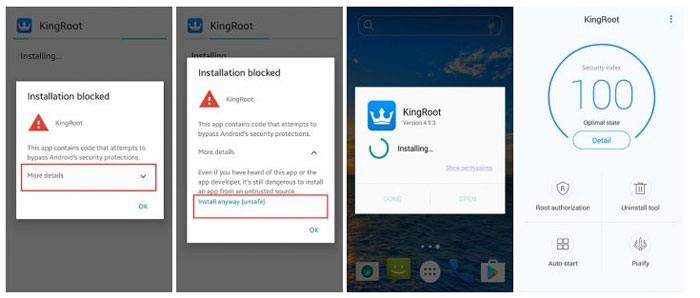 Step 2. Enable the installation from "Unknown Sources" by launching the stock "Settings" > "Security" > "Unknown Sources". After that, you can locate the downloaded "KingRoot" APK file, tap on it and follow any on-screen instructions provided to install the rooting tool.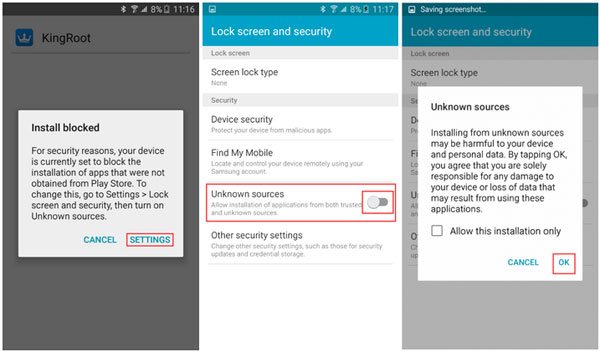 Step 3. Launch the program and when your device is detected, you can click "Get Try It" and "Get Now" button to begin the rooting, then wait for the end of the rooting process.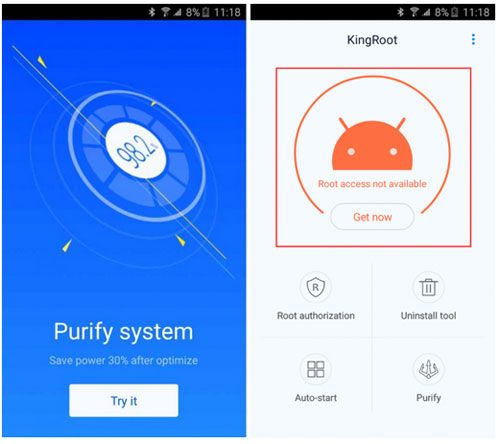 Now, you can check the Android rooting status by yourself!
Related Articles:
Is It Legal to Root Android Devices
How to Root Android Devices Completely
How to Transfer Music from Computer to Android? (6 Best Ways)
6 Tested Ways to Transfer Data from Android to iPhone 11/11 Pro Max/12