The Ultimate Root Genius Guide - Root Android with Root Genius
Android, which currently commands an average market share of over 70%, is a very popular handheld device platform. The leading operating system is undeniably loved by many, mainly due to its increased flexibility. Despite its ever-increasing popularity, all devices that run on the Android operating system usually come with various restrictions that are usually put in place by their manufacturers.
However, Android users can root their devices to gain specific administrator privileges. These newly acquired administrator privileges can then be used to remove the bloatware that came with the devices, install third party apps that was not previously supported, install new custom ROMs and boost device performance among other things. Android rooting is considered to be a slightly risky venture.
See Also: Is It Legal to Root An Android Device?
Rooting an Android device is likely to void its warranty or even brick the smart phone or tablet when it is done improperly. However, this should never be the case as you are about to learn in this comprehensive Root Genius guide.
What is Root Genius?
Root Genius is a free, easy to use program that can be used to root and even unroot almost any Android device. This software is one click in nature meaning that it can be used to root or unroot Android devices in a single click. According to the "Root Genius" official website, this tool has the ability to root over 10,000 Android tablets and smart phones. And it is completely safe to download and use, hence; is unlikely to brick your Android device.
Pros
- Fully compatible with all Android devices that are running the Android 2.2 operating system or higher (up to Android 6.0).
- Can be used to root or unroot over 10,000 Android devices.
- The program is quite small (has a total size of 4.7MB) and works in a single click.
- Completely free to download and never require any special skills for its users.
Cons
- Incompatible with Linux and Mac.
How to Perform Root Genius Step by Step?
This section will focus entirely on showing you how to root your Android tablet or smart phone by using the "Root Genius" program. But before it, let's have some preparations.
1. Kindly note that Android rooting may result in data loss, so, it is necessary to make a reliable backup of any sensitive information that is on your smart phone or tablet before proceeding.
2. What's more, you should also ensure that your Android device's battery level is over 60% before commencing the rooting process.
Below is the detailed tutorial on rooting Android with Root Genius.
Step 1. Enable USB debugging option on your Android device, and disable your antivirus program on your Windows computer.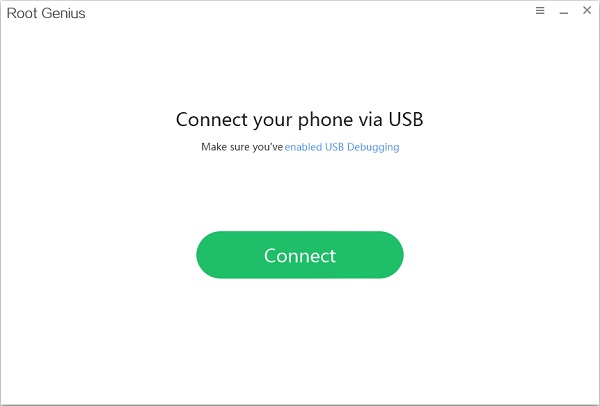 Step 2. Go to Root Genius official site (rootgenius.com) and download this tool on your computer directly. Then connect your Android device to the computer with a USB cable.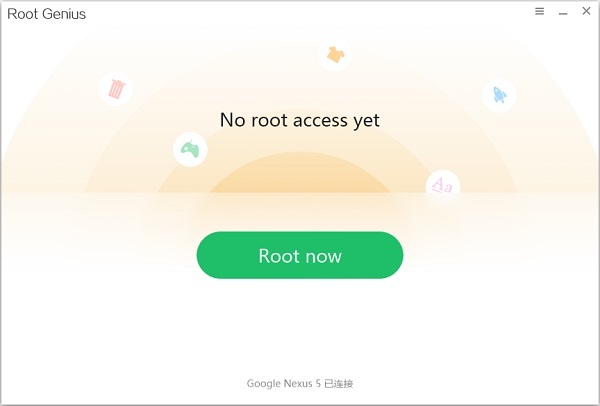 Step 3. Locate the "Root Genius" installation file and launch it. Then when your connected Android is detected, you can click "Root" button to start the rooting process.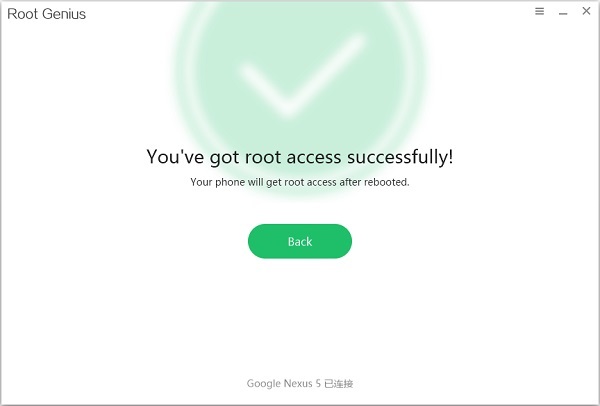 Now, you only need to wait for the end of the rooting, and the Android will reboot automatically once it has been successfully rooted. Or you can use the solution in the page of "how to check whether your Android is rooted or not".
Related Articles:
How to Root Android 7.0 Nougat