What Is the Best MP4 Video Editor? Here Is a List of 8 Video Editing Software
As one of the representative formats of videos, MP4 is loved by video producers for its compact capacity and user-friendly compatibility. Sometimes, users need to convert this format to MOV or want to upscale the video resolution for some reason. At this point, it's necessary to get an MP4 video editor to adjust it in depth.
So, what program can edit MP4 videos? As you know, there are many kinds of video enhancers on the market. And you might don't know which one can make your masterpiece better and which may be counterproductive. To help you through a difficult decision, we shall cover a list of the eight best video editors here. Just keep reading to know more about them.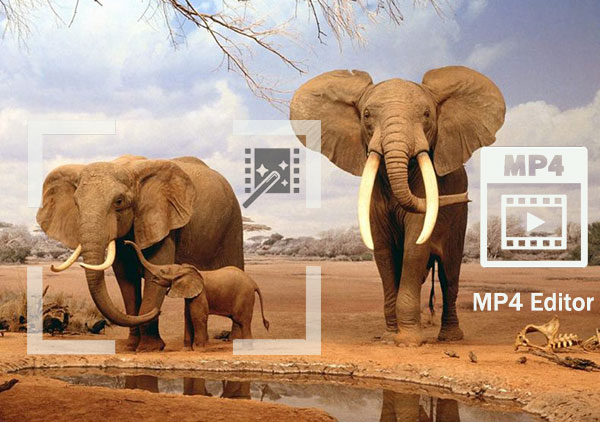 Part 1: Best MP4 Video Editor - Video Enhancer
Video Enhancer is among the most stunning and professional MP4 edit software because it takes almost all the tools you desire and presents them in a convenient, intuitive, and innovative way. It is lightweight and fairly simple to use with a few effortless mouse clicks, thanks to its simple-to-use interface. Overall, it is a Hollywood-grade video editing program. Before we see how to edit an MP4 file with it, let's have a brief introduction of it.
Overview and key features of Video Enhancer:
Best AI video enhancement software.
Enhance video quality and remove video noise.
Rotate video, adjust video effect, create video clips, crop video area, add watermark, and more.
Upscale video resolution and optimize brightness & contrast.
Boast after-effects video stabilization in its new update.
Work on both Windows and Mac computers.
It won't disclose your privacy.
How to edit MP4 video files on Windows and Mac with Video Enhancer?
Step 1. Have Video Enhancer installed after the download. Then open the program and hit the "Add Files" icon from the top menu. Next, add your desired video files to adjust the quality.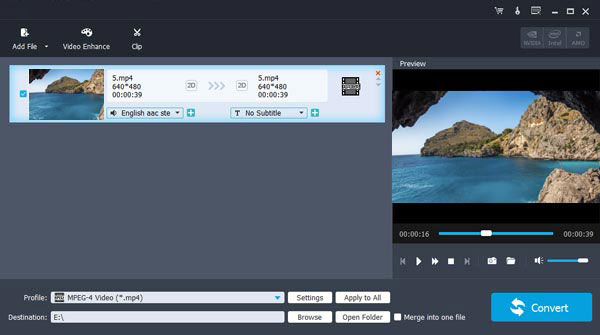 Step 2. This tool offers three options to enhance videos, with which you can increase resolution, optimize brightness and contrast, and eradicate video noise.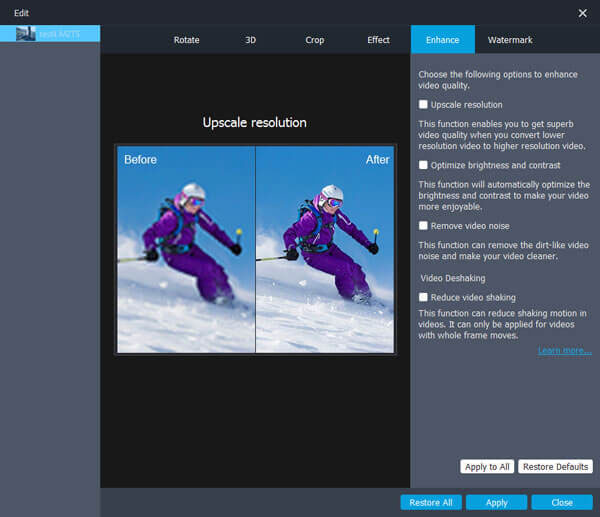 Step 3. Specifically, its lets you rotate the video 90 clockwise and 90 counterclockwise, make video horizontal flip or vertical flip, and even compare the effect before and after rotating or flipping.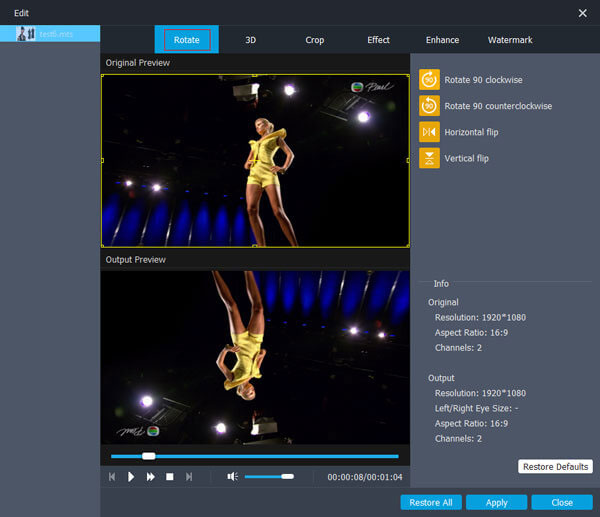 Step 4. Here, you can adjust brightness, contrast, saturation, and hue to manually change the video effect. By the way, it also allows you to adjust the original volume of the video clip now.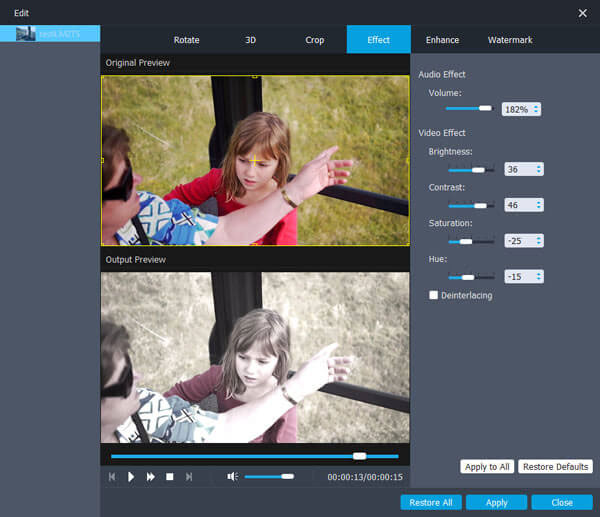 Step 5. If there's a black frame in the video, cut it off by cropping the video area. Next, you can click the "watermark" tab and hit "Enable watermark" before adding texts or pictures. Furthermore, this program also facilitates you to input the text and change its effect by clicking the "T" icon nearby.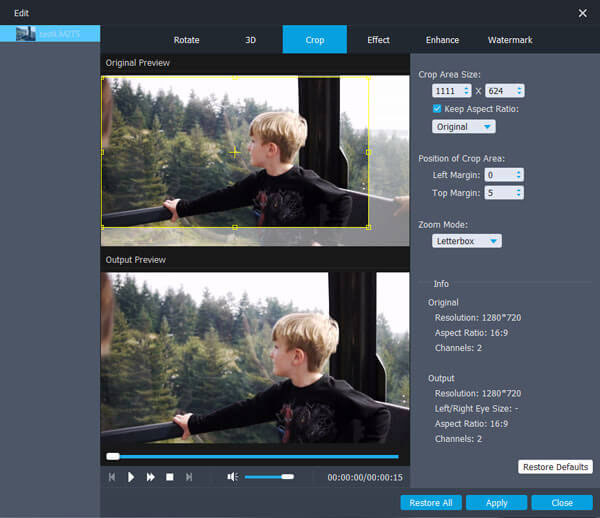 Step 6. Click on the "Clip" button at the top of the program. Then move the following icon to regulate video duration. After that, please hit "OK" to create video clips.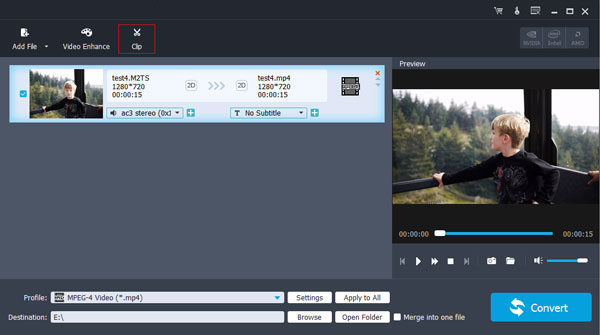 Step 7. Tap on the profile at the bottom of the utility and select the output format for the video. Finally, please hit the "destination" button to find the output destination and hit "Convert" to equip the video with enhanced effects.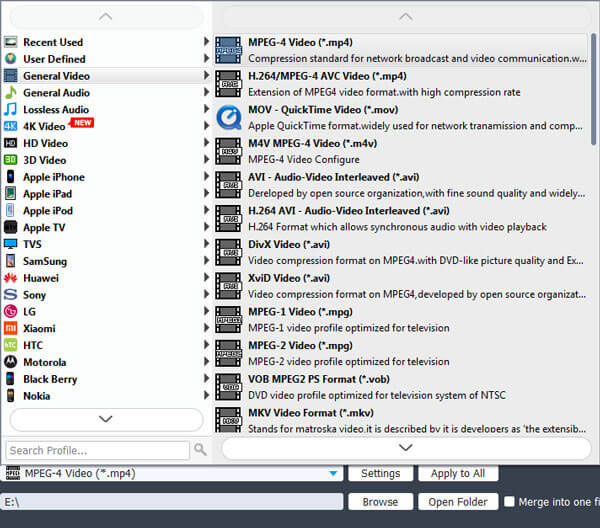 Disadvantages
You Might Need:
Part 2: Other 7 MP4 Editors You'd Better Know
1: Windows Movie Maker
Overview
Windows Movie Maker could be one of the best free MP4 editors from Microsoft. With this program, users can apply transitions and effects, add music or sound, combine videos, move play movies/videos at the speed of their choice, or even post clips to OneDrive, Facebook, Vimeo, YouTube, and more. (What to do if your YouTube video cannot play?) You can edit videos with it by drag & drop. However, it's limited in scope, outdated, and no longer supported.
Advantages
Multiple formats supported (MP4, MOV, AVI, WMV, M4V, etc.)
Come with a drag-and-drop interface.
Different output options.
Disadvantages
No official download link is available.
It cannot work on some old Windows versions.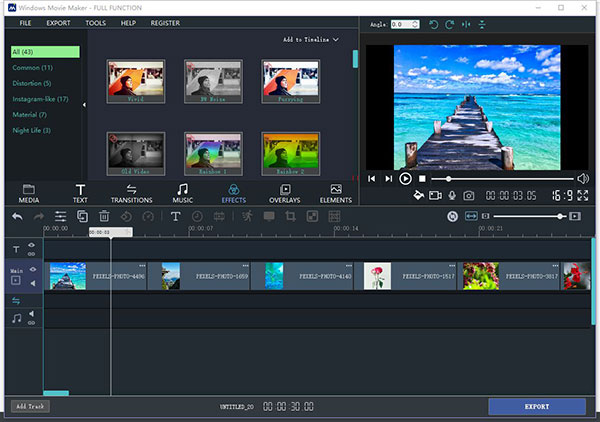 2: iMovie
Overview
It happens that there is a similar case in terms of MP4 editor free for Mac. iMovie comes packed in a macOS and serves as great MP4 video editing software. With this tool, you can enhance your videos quicker than ever before. On top of that, it works cross-platform, allowing you to switch from your Mac to iMovie on an iOS device, trim your videos, and add more complex filters/3D text. After editing, all MP4 files would be fully sustained even after being compressed.
Advantages
Disadvantages
A basic set of features.
No native AVCHD editing.
Less efficient (pre-processing and import trans-coding).

3: Adobe Premiere Pro
Overview
Do you want to build professional-grade projects for MP4 videos? Adobe Premiere Pro, titled "industry standard", lets you enhance videos in a versatile and detailed way. This tool works on multiple projects simultaneously and does well in editing MP4 videos on a PC at any time. Further, it integrates with Adobe apps like After Effects, but you have to subscribe to Creative Cloud for a fee before trying it out.
Advantages
Advanced video/audio editing and color grading.
Video sharing on various social platforms.
Precisely adjust and match the color in any project.
Disadvantages
Pricey.
Require a steep learning curve.
Fairly limited functionality in its free trial.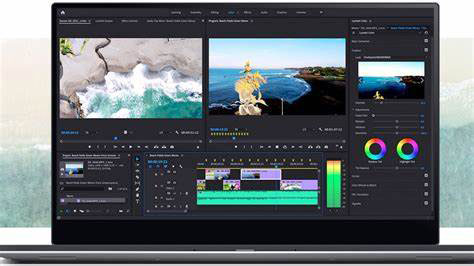 Know More:
4: Avidemux
Overview
Avidemux is an open-source MP4 video editor for Windows, macOS, and Linux. It is bundled with main features, which which you can cut/filter videos, split clips, join videos, and convert video formats. What's more, it is also filled with other functionalities like different filters, decoding options, and frame rate configuration. It supports such video formats as MP4, AVI, MPEG, MKV, ASF, and more.
Advantages
Available in Linux.
Fundamental and advanced video editing features.
Command-line interface.
Disadvantages
Ugly interface.
Might drop frames in some formats.
A bit complicated for beginners.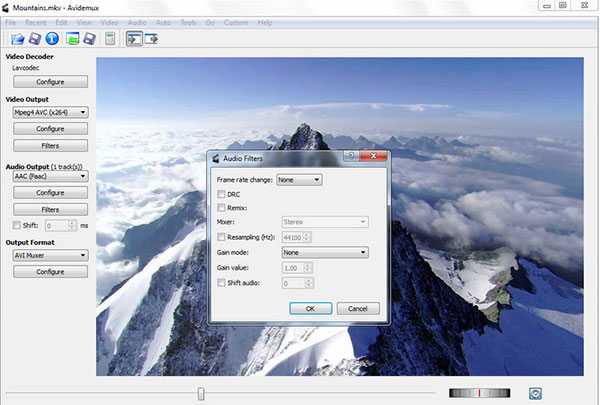 5: OpenShot
Overview
As its name suggests, OpenShot is an open-source MP4 video editing software available for PC, Mac, and Linux. Integrated with the desktop to drag and drop MP4 files onto the interface, it is free and works cross-platform. (How to transfer videos from PC to Android?)
After getting it on a computer, you'll be allowed to scale, trim, resize, snap, rotate, and cut movies or videos freely. At present, it requires Apple owners to use the latest Daily Build, being extremely flexible and customizable.
Advantages
It is open-source with a sleek interface.
Multi-platform is available.
Improvements and updates.
Disadvantages
Might be some issues with its official Mac version.
Some of its functionalities are confusing to use.
The crash happens sometimes.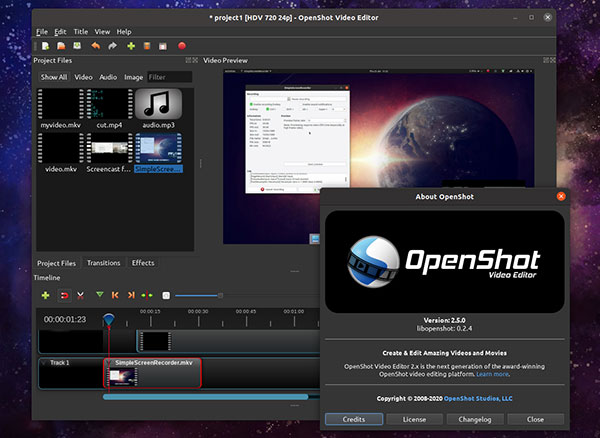 6: Lightworks
Overview
With the free version of Lightworks, you could try to edit and master digital videos in formats like 2K/4K resolutions or PAL/NTSC. Moreover, it's worth taking a moment to cover its advanced features in its paid version. When getting it, you can use it for project sharing, stereoscopic output, and timeline rendering.
Despite not being the best MP4 editor for Windows 10/8/7, it is available to support almost all formats. And its grade sequence uses up to 32bit GPU precision and a histogram tool. Plus, you don't even have to figure out how to edit an MP4 video on a PC with this tool because it is pretty easy to use.
Advantages
Multiple customizable options.
High video quality.
Support GPU-powered video encoding.
Disadvantages
Difficult learning curve.
Limited features in its free trial.
Crash occasionally.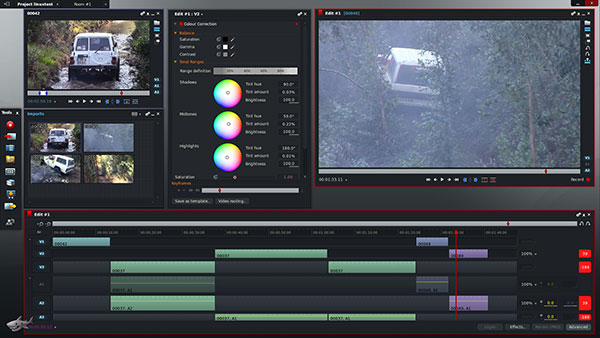 7: DaVinci Resolve
Overview
If you'd like to edit almost all major audio file formats, just consider DaVinci Resolve, a great video editing software free with export. With this software, you can import SRT files, create subtitles, open multiple timelines, draw on top of videos using new annotation tools, cut/combine videos, and add colors, music, or texts to videos. By the way, we put it last mainly because it's a complex program, which may potentially intimidate newcomers.
Advantages
Supports most major video formats.
It has awesome effects.
Dedicated non-linear editing system.
Disadvantages
Not easy to use.
No multi-user collaboration in its free trial.
No stereoscopic 3D tools.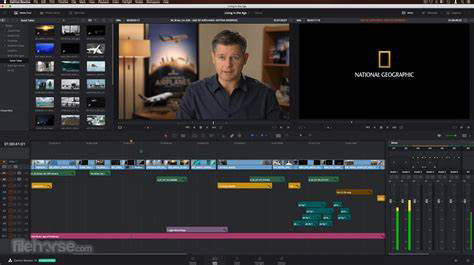 Part 3: MP4 Edit Software FAQs
Q1: How can I add music to MP4 videos?
To start with, drag the audio source to the timeline of PowerDirector. Then adjust the length and position of the audio concerning your video footage. The audio file should play over the footage if the media types overlap.
Q2: Which tool can split MP4 files into parts for free?
Programs like Filmora and Auto Scene Detection allow you to split MP4 into parts for free. Here, let's take the former as an example to show you how to make it deftly:
Install and open Filmora.
Tap "Import with Instant Cutter Tool".
Open the video file you're to split.
Move the play head to the start position of the video part.
Click "Set In" and repeat the task to find the ending point.
Tap "Add Segment" and save it as a new one.
Conclusion - What Is the Best MP4 Video Editor?
That's all about the eight free and paid video editing software in today's post. Well, what is the best MP4 video editor do you think? OK, frankly, Video Enhancer is arguably the first and most desirable AI video enhancement utility on the market. This is a continually evolving professional video editing tool with the most practical functions.
It is undeniable that many imitators of it do pretty well. However, adding some features that are not commonly used won't improve their usability but will only aggravate people's dazzle. So, just get the best MP4 video enhancer and give it a try now.
Related Articles:
How to Transfer MP4 Videos to iPhone/iPad? Here's All You Need to Know
How to Send Large Videos on Android: The Complete Guide
3 Solutions to Make MP3 a Ringtone on iPhone with/without iTunes
Step by Step Guide on How to Import Videos from iPhone to iMovie
How to Edit Samsung Contacts on PC? 2 Methods Most People Don't Know
[2022] Hot Tips to Recover Deleted TikTok Videos on iPhone/Android/Computer