How to Edit Samsung Contacts on PC or Mac with Samsung Contacts Editor
Mobile phones and computers are the two most prominent products during the age of informationization and digitization, without which we almost can't live. Especially with the dramatically fast development of the smart phone, it can be found that people gluing at the screen of their mobiles everywhere. In the market of smart phone, Samsung has occupied a great share in the past few years. And it is always equipped with sophisticated processor and advanced operating system, which makes it possible to install and conduct third-party applications on the phone. Therefore, it possesses rich and open features, in a sense, just like a PC, but much smaller, which enables the users to enjoy it anywhere and anytime. As the phone is becoming smarter and smarter, we can nearly do all that we can do on a PC.
However, it can't totally replace the position of a computer, which has an absolute advantage in many aspects. For example, if you have plenty of contacts information needs to be added on your Samsung phone, including phone number, address and e-mail, it must be a headache and sweaty job with the small keyboard on the phone. However, it will become comparatively easier on the computer's larger screen and external keyboard. Nonetheless, we know that the contacts are stored on the phone's internal memory and SIM card, and it can't be accessed on the computer via a simple USB cable. Then how to edit or manage Samsung contacts on a desktop computer selectively or in a batch?
Actually, you can reach the goal within a few clicks, but the premise is that you should find a reliable tool as your assistant. If you have no idea about it, here we could like to strongly recommend MobiKin Samsung Contacts Editor for your reference (Mac users please click here). It can export contacts list from the phone's internal storage to computer for viewing, editing or sharing as you like. In addition, by running this software, you can also manage text messages and media files like music, photos, videos, etc. on your desktop computer without restrictions. This is a virus-free and standalone software and it will not result in any damage to the data stored on your phone and your computer, and not leak out your personal information. Now, just click the below icon to have a free trial.
Samsung Contacts Editor - 3 Clicks to Edit Samsung Contacts on PC/Mac
First of all, install and launch the Windows or Mac version of the software depending on your computer system. Then connects your Samsung Galaxy S5/4/3/2 or Samsung Galaxy Note 2/3/4 to the computer. In this page, we'll only take the Windows version as an example for saving your time.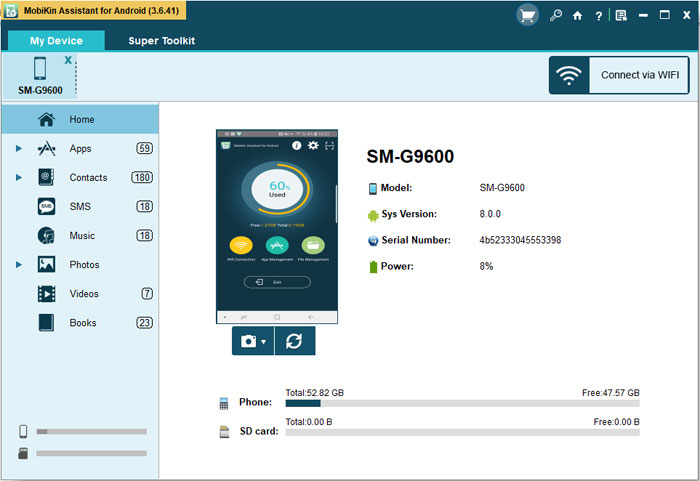 Your device can be detected automatically, and you can see a window showing information about your phone like model, system version, and storage just like above. However, if your phone is failed to be identified, you should enable USB debugging by the following instructions:
1) For Android 2.3 or earlier: Enter "Settings" < Click "Applications" < Click "Development" < Check "USB debugging".
2) For Android 3.0 to 4.1: Enter "Settings" < Click "Developer options" < Check "USB debugging".
3) For Android 4.2 or newer: Enter "Settings" < Click "About Phone" < Tap "Build number" for several times until getting a note "You are under developer mode" < Back to "Settings" < Click "Developer options" < Check "USB debugging".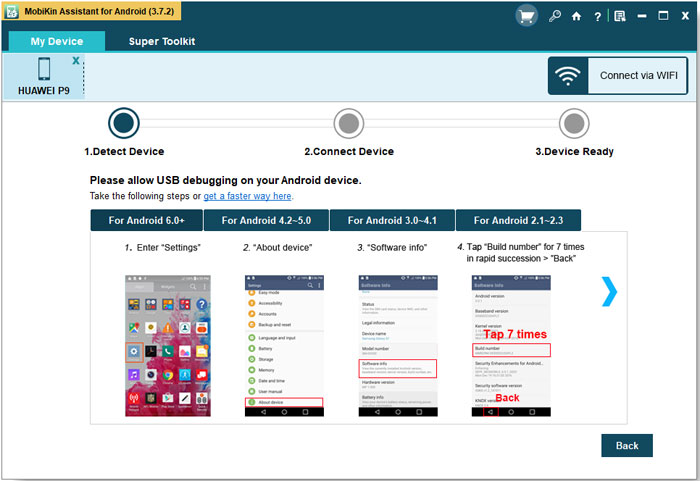 As you can see, files on your Samsung phone are posted on the top menu in several folders: "Apps", "Photo", "Video", "Music", "Contacts" and so on. To edit Samsung contacts on PC, you should enter "Contacts" option on the top menu, then you can see the whole contact list in the right panel. Now, you can edit the contacts info by clicking the buttons of New, Deleted, Del duplicate contacts, Backup Contacts and so on.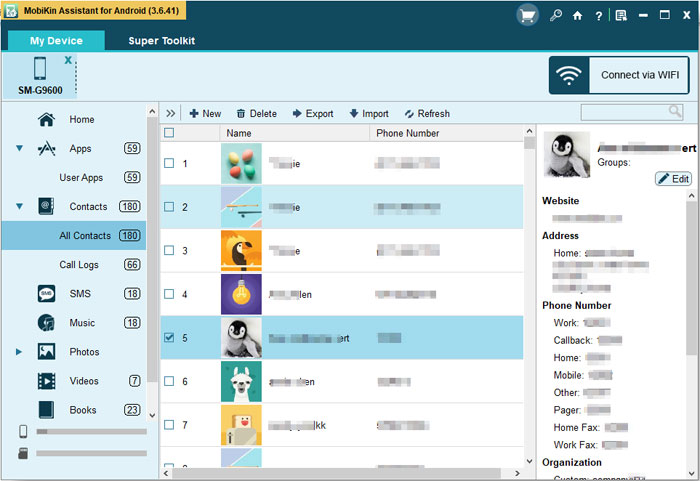 Related Articles:
Samsung Galaxy Desktop Manager Software
How to Transfer or Copy Contacts from HTC to Computer
How to Transfer Contacts from Android to Computer