[2022] Hot Tips to Recover Deleted TikTok Videos on iPhone/Android/Computer
TikTok, a video-sharing social platform, enjoys a huge fan base thanks to its growing popularity. If you are a TikTok devotee, you might take short videos to delight your followers or download your desired clips for some purpose. On the contrary, it's common for videos to get lost, especially if you accidentally delete them to free up storage on your iPhone/Android device. Given that, you may wonder how to recover deleted TikTok videos without effort.
This informative guide will dwell on the possible solutions to get deleted TikTok videos back. Just read on for more details.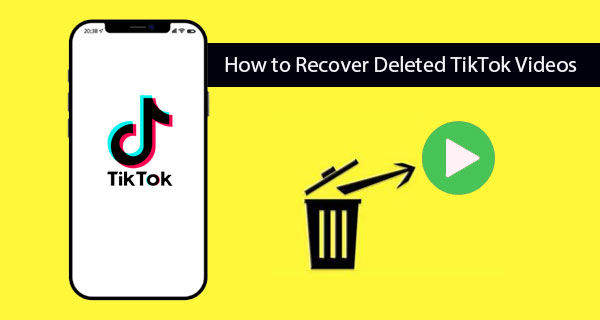 Method 1: How to Find Deleted TikTok's Draft Videos
You have the ability to post recorded TikTok videos or save them as a draft. Then the device's "Gallery" can offer you clues to retrieve the deleted TikTok's draft videos. Here's how to undelete a TikTok draft video:
After tapping the "Drafts" button, go to the phone's "Gallery" > "TikTok folder".
Ensure "Save to album" is enabled.

Check the saved draft video from the album.
Click to Learn:
Method 2: How to Restore Deleted TikToks Liked Videos
Usually, TikTok assigns a dedicated section for the video clips you marked as "like". Thus, provided that you "liked" the videos, just follow the easy steps to get them back.
How to see your deleted linked TikToks?
Open TikTok and head to its profile by clicking the "person" sign at the bottom right of the screen.
Click the "Heart" icon to see all your liked videos on TikTok.
Tap the deleted videos from the screen that appears.

Tap on the three dots at the top right corner of the TikTok profile.
Press "Save Video"; then check your deleted TikTok videos from your phone's Gallery.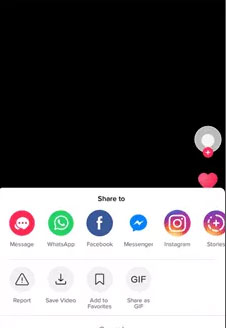 Method 3: How to Get a Deleted TikTok Back from iPhone's Photos App
Videos in TikTok will still be saved on your iPhone after posting them. You can view them in the Photos app. After the deletion, you can try to retrieve them from the Recently Deleted folder, which can also be used to recover deleted photos from an iPhone without any backup. Yet, all the items can only be kept there for 30 days after getting removed.
How to recover deleted videos on TikTok from your iPhone's Photos app?
Start the "Photos" app and go to its "Albums".
Locate and tap the "Recently Deleted" option.
Find the deleted TikTok videos and select them.
Go for the "Recover" option to restore them on your iPhone.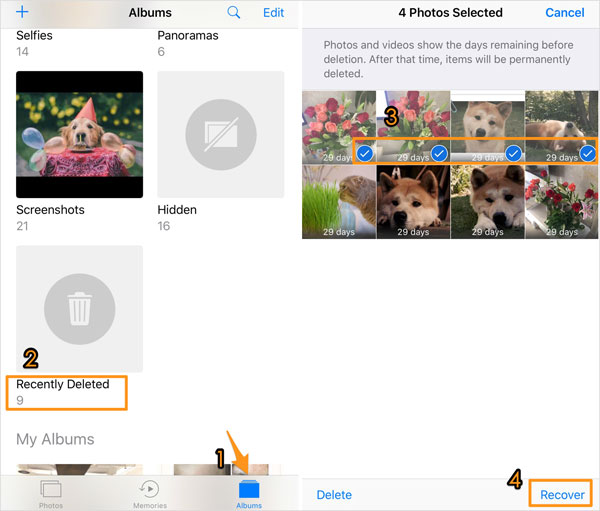 Know More:
Method 4: How to Recover Deleted TikTok Videos on iPhone from iCloud
If you ever enabled the iCloud backup setting, chances are that you can access and download your lost TikTok videos from iCloud.com. Likewise, please note that the backups for recently deleted items will only be kept for 30 days.
How to restore deleted TikToks on iPhone from iCloud?
Visit iCloud.com and log in to your iCloud account.

Go to your iPhone's "Settings" > "Advanced" > "Recover Files".
Select the TikTok videos you want to recover.
Click "Restore" to retrieve deleted TikTok videos.
Method 5: How to Recover Deleted TikTok Videos on Android from Google Photos
With a backup on Google Photos, you can restore lost TikTok videos on Android fleetly. (Google Photos backup not working?) You can check whether the "Back up & sync" was enabled by going to Google Photos, tapping the account profile, and choosing "Photos settings". Confronted with a positive situation, you can try to restore lost TikTok videos from the service. Learn how to find deleted TikToks on Android from Google Photos:
Open Google Photos on your Android phone.
Press "Menu" on the top of the left menu.
Choose the "Trash" icon.
Select which videos you would like to restore.
Hit the "Restore" button.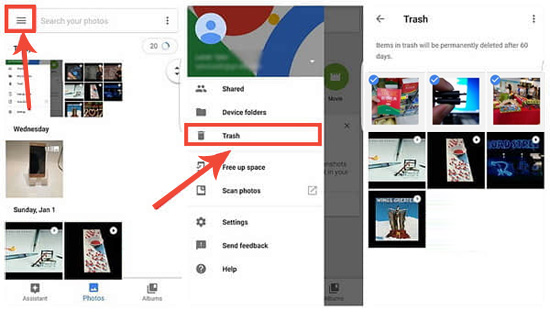 Method 6: How to Recover Deleted TikTok Videos from Computer's Recycle Bin
When you delete videos from a computer as you use TikTok for Windows, they are not removed from the system at once. You can get the deleted items back by checking the recycle bin or trash. (Where's recycle bin on Android?)
How to get a deleted TikTok back from a computer's recycle bin?
For Windows users, please go to Recycle Bin from the desktop or Explorer. Then look for the deleted TikTok videos, right-click them, and choose "Restore" to put them back to their original location.

Mac users can go to the "Trash" folder from Finder or Dock and locate deleted TikTok videos. Next, just go to its context menu and pick the "Put Back" option to retrieve them.
FAQs about TikTok Videos
Q1: Does signing out of TikTok remove drafts?
All the saved data associated with your account, including drafts, will automatically be removed after signing out of TikTok.
Q2: How are videos kept on TikTok?
TikTok videos are linked to your account and protected by it. It will be automatically uploaded to its server after being posted. Concurrently, they will also be saved in local storage and lets you easily check out from the Gallery.
Q3: How to recover deleted TikTok videos by contacting TikTok?
Go to TikTok's "Settings and privacy" > "Report a problem".
Request TikTok by describing what you desire and tapping "Report".
TikTok may send you a link within 24 hours, after which you can regain your deleted videos.
In a Nutshell
Do you know how to get draft or liked videos back on Android/iPhone right now? Can you recover deleted TikToks from your mobile phone or computer flexibly? Things may not be as complicated as you think so long as you prudently follow the clear steps above. Finally, please add a comment below if you have any questions. And we hope to keep the conversation going.
Related Articles:
Top 9 Video Recovery Apps/Software for Android [Free & Paid]
How to Back Up and Restore Android Devices in 6 Ways [Easy & Quick]
Send Long/Large Videos on iPhone: The Definitive Guide (7 Ways Included)
How to Send Large Videos on Android: The Complete Guide
Top Ways to Transfer Video from Mac to iPhone 14/13/12/11/Xs Max/8
6 Workarounds to Recover Deleted Files from iPhone with/without Backup