How to Share YouTube Videos in WhatsApp? [2 Ways]
Help: How can I post a YouTube video on WhatsApp? I found a video really interested and want to share with my friends through WhatsApp, it there any easy way to do that?
Honestly speaking, sharing YouTube videos in WhatsApp is not an easy task cause these two applications are completely irrelevant: YouTube is a video-sharing website where users can view, upload or download wanted videos but WhatsApp is a chatting software where users are able to send/receive text messages, share photos/videos, make video calls and so on. Nonetheless, this does not mean that the goal is impossible to achieve. On the contrary, you have two means available to share the fond videos from YouTube to WhatsApp:
Send the YouTube Videos via Share Feature
In face, YouTube equips a share feature which allows you to share the wanted videos via different applications, such as Gmail, Email, Messages, WhatsApp and so on. So here, you can make use of this feature to send the videos from YouTube to WhatsApp directly. This would be the most obvious and easiest way to share the YouTube videos. You can complete the whole sharing process with several simple clicks:
Step 1. First of all, you need to enter the YouTube service on your mobile phone or computer and find out the video that you want to share with your friends.
Step 2. After opening the video you like, you will see the share icon at the top right corner. Just tap on it and you will get a list of applications in a pop-up window.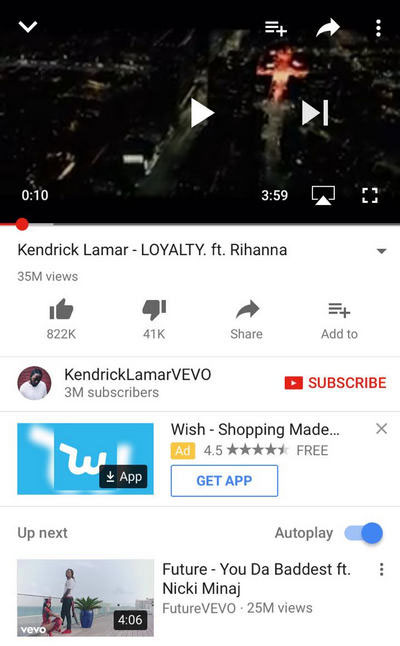 Step 3. Next, you can click on the WhatsApp option from the listed Apps and select a contact or group to send the video.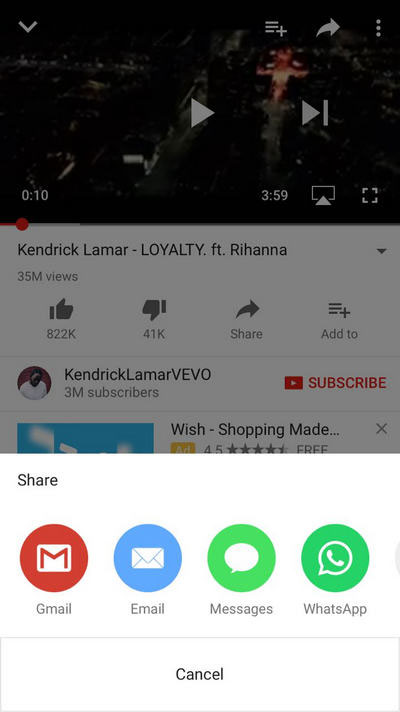 Done! The selected contact or group is able to view the sent YouTube video now.
You can also read:
Proven Ways to Stop YouTube Video from Buffering
YouTube Keeps Freezing and Not Responding, How to Fix It? [Solved]
Share YouTube Videos to WhatsApp Through Mobile Camera Feature
Except for the share feature, you can use another way to share the YouTube videos in WhatsApp as well- record the YouTube video via the mobile camera and then send it from the Gallery. This means sounds complicated but it is easy to operate actually. If you are interested in it, you can follow the detailed steps below to have a try.
Step 1. Open the YouTube video that you wish to share and then use the mobile's video recording capability to capture the YouTube video you want. After that, the recorded video will be saved in your mobile Gallery.
Step 2. Next, you should go to the Gallery on your phone and find out the recorded video. Then you can tap on the share option and click share via WhatsApp on this page.
Step 3. Then you need to choose the contacts who you want to share the video with and begin the sharing process.
That's it! Now your friends are capable of enjoying the YouTube videos as well.
Backup the Shared Video in WhatsApp (Android & iPhone)
If you are really fond of the video and want to save it, you can also select to backup the video from WhatsApp to computer so that you can view it freely. But to complete the transferring process, you need to turn to a professional third-party software which can help you to sync the WhatsApp messages from Android or iPhone to computer easily. For your reference, we would like to introduce two programs.
- For Android phone users, you can choose Android WhatsApp Backup. This is a software designed to backup and restore WhatsApp files on Android phone. It enables you to accomplish the moving process within simple clicks. You can download the free trial of this software to have a try at first.
- For those who are using an iPhone, you can select iPhone WhatsApp Backup as your assistant. It allows you to restore the iPhone files like WhatsApp, contacts, messages, photos, call histories, etc. to computer and save them as a backup. Just download and install it to have a try.
After installing the software, you can click here to get the tutorial about how to backup WhatsApp messages with these two software.
Related Articles:
WhatsApp Transfer: How to Move WhatsApp Media to SD Card?
Full Guide to Fix WhatsApp Issues on Android Phone
How to Print Call Logs from Android Device? 4 Ways You'd Better Know
Android Device Manager - How to Manage Android Devices on PC/Mac
3 Ways to Recover Deleted Contacts from Android (#1 is Awesome)