How to Fake Location on Find My iPhone? 6 Methods Most People Don't Know
Find My iPhone is a great service for protecting your device when misplaced, but sometimes you may want to fake your location for privacy. With simple tools or techniques, you can easily figure out how to fake location on Find My iPhone without being tracked. In this guide, we shall show you how to do it step by step, using different methods and tips to stay undetected. With this knowledge, you will enjoy the benefits of faking your location on Find My iPhone while securing your whereabouts.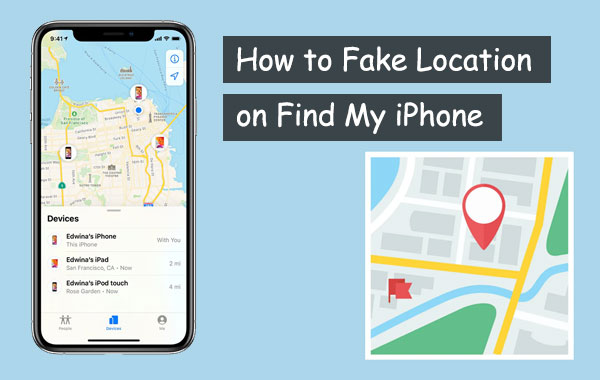 Part 1: What Necessitates Faking Location on Find My iPhone
There could be various reasons why someone might want to fake their location on Find My iPhone/Friends. Here are a few possible causes:
Avoiding parental control: If the child wants to go somewhere without their parent's knowledge or permission, they may choose to fake or turn off Find My iPhone remotely.
Privacy concerns: Faking locations on Find My iPhone can help maintain privacy while still allowing others to see a general idea of where they are.
Security concerns: Doing so will make it harder for the thief to find the previous owner of the phone.
Testing apps: App developers may need to test their location-based apps with different locations to ensure they function correctly.
Gaming: Some games use location-based features, such as Pokemon Go, to access in-game content that might not be available in their area.
You May Also Want to Know:
Part 2: How to Fake Location on Find My iPhone Professionally [No Jailbreak Required]
Would you like to move iDevices with customized routes and play AR games on your phone easily? Try Location Changer. This is a top GPS location spoofer that allows you to discreetly fake location on Find My iPhone and keep a history of your settings without revealing your whereabouts. It's easy to use on iOS devices without jailbreaking them, even for non-technical users. You can use it to change your iPhone location without compromising your privacy.
What makes Location Changer so superb?
Utilize the Multi-stop Mode feature to intelligently fake location on Find My iPhone.
Employ the Joystick Mode to simulate your iPhone's GPS location without being restricted by routes.
Equipped with the Joystick Mode to grant you the freedom to move your GPS location in seconds.
Facilitate the process of ceasing location sharing and engaging in AR video games effortlessly.
Import or export GPX files to establish your desired location.
Vary your iPhone's speed between 1m/s and 50m/s.
Work well with almost all iOS devices, including iPhone 14/14 Plus/14 Pro (Max), iPhone 13/13 Pro (Max)/13 mini/12/12 Pro (Max)/12 mini, iPhone 11/11 Pro/11 Pro Max, iPhone X/XR/Xs/Xs Max, iPhone 8/8 Plus, iPhone 7/7 Plus, iPhone 6/6S/6 Plus, iPod touch, iPad, etc.
It won't divulge your privacy.
How to fake location on Find My iPhone/Friends without jailbreak via Location Changer?
Step 1. Launch the program and plug your iPhone into a computer
After downloading and installing Location Changer, connect your iPhone to your PC/Mac via USB. Then launch the application and click the "Start" button on the window.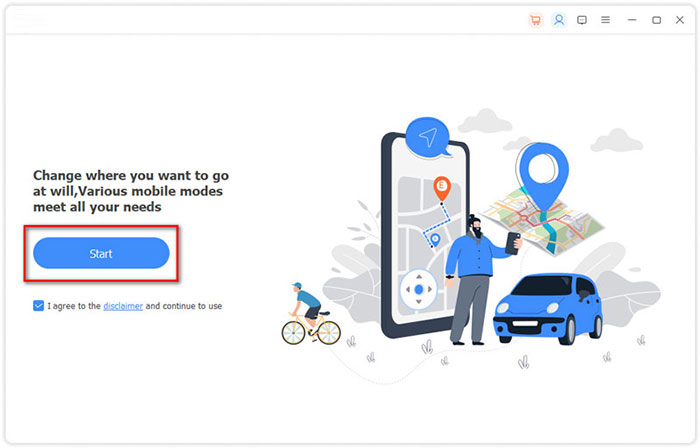 Step 2. Go for "Modify Location"
Navigate to the "Modify Location" module, and you will be presented with a map displaying your current location. You can zoom in, zoom out, or drag the map to view other locations.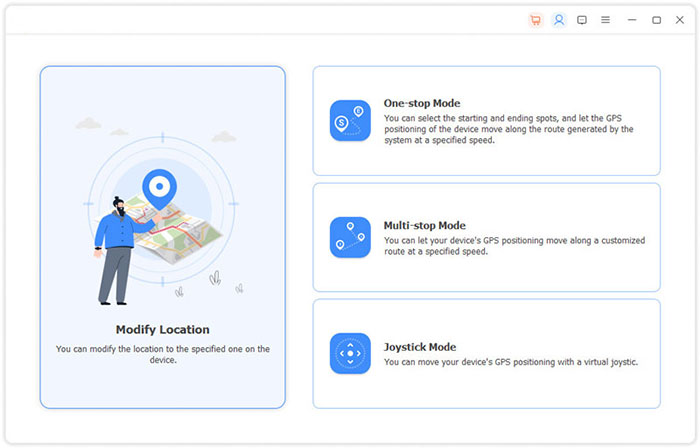 Step 3. Search your wanted location and confirm
In the top left corner of the interface, there is a bar where you can either enter or search for the location you want to modify. After selecting your desired location, click "Confirm Modify" to complete the process.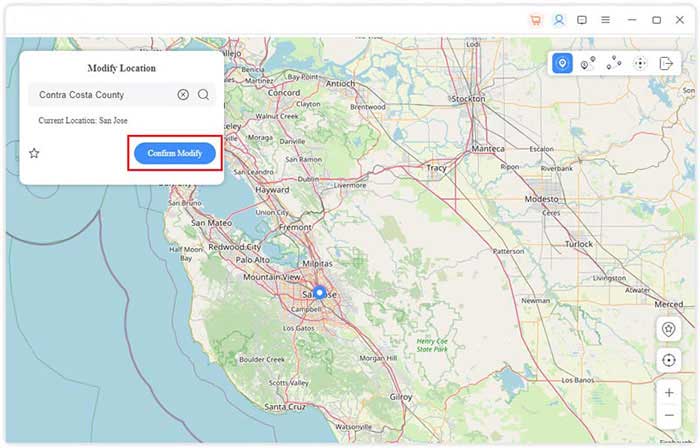 Step 4. Fake location on Find My iPhone
Additionally, you can choose a location by clicking on it directly on the map and tapping "Move to" to fake your iPhone location on Find My iPhone without jailbreaking.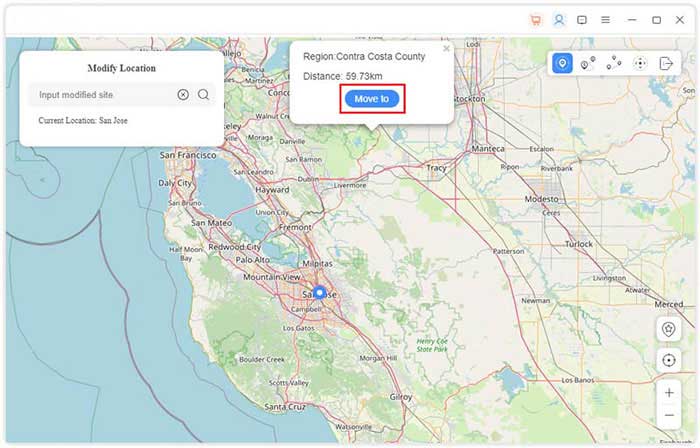 After that, if you wish to manage your iPhone's location history, you can do so by clicking "Manage History".
Part 3: How to Trick Find My iPhone/Friends Using NordVPN
To fake your location on Find My Friends without a computer, you can install NordVPN on your iPhone. This tool is a good choice for those looking for a smart fake GPS program on the Internet without jailbreak. Plus, it also has a mobile app that lets you mock your location with a few clicks. However, VPNs basically come with security risks such as data leaks and malware infections. Next, let's see how to fake your location on Find My iPhone with NordVPN:
Download the NordVPN from the App Store and sign in to gain server access.
Tap the "QUICK CONNECT" button to link to the app you want to modify the location of, which in this case is Find My Friends.

Then, configure the app, and a green header will show the specified location on the map.
Extended Reading:
Part 4: How to Hack Find My iPhone via Double Location
Numerous apps conceal your whereabouts when you're considering pulling a prank on your friends or family. The innovative Double Location technique can do just that, even if you've never visited it before. It enables you to fixate on any location of your choosing. (Why is my location wrong on my iPhone?) Learn how to change location on Find My iPhone with Double Location:
If you download this app on your iPhone, you'll have access to a Google Maps interface that allows you to locate and copy coordinates by clicking on a point.
You can simulate movement between two different locations by specifying the area and choosing your preferred speed and actions upon arrival.
Furthermore, you have the option to lock your GPS position, which enables you to manipulate your location on Find My iPhone/Friends.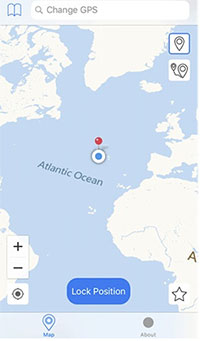 Part 5: How to Fool Find My iPhone/Friends with Burner iPhone
Using a burner iPhone to fake your location on Find My iPhone works. You need another iOS device with Find My iPhone installed. Generally, it is quite simple to fake GPS on Find My iPhone/Friends in this way, but you may miss messages and raise suspicion. So, consider the pros and cons before trying it. See how to fake location on Find My iPhone without computer via a burner iPhone:
Sign out of your Find My Friends account on your primary device.
Log in with the same account on a burner iPhone.
Place the disposable device at the desired location where you want your friends or family members to believe you are located.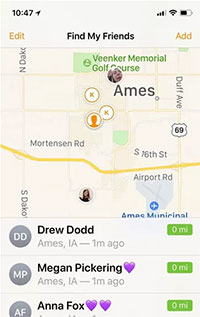 Part 6: How to Spoof Location on Find My iPhone via FMFNotifier (Jailbreak Required)
For older jailbroken iPhones, use FMFNotifier to spoof location on your iPhone or Find My. It has useful features like location notifications and preset options. Easily tap into different locations with the location spoofing feature. It's great for privacy when you want to hide your location by enabling the fake location option. Here's how to fake location on Find My iPhone/Friends:
Launch FMFNotifier and tap the "Location Spoofer" button from the menu.
Choose a label for the fake location and add one to it.

Lock the location and receive a notification when someone requests your location through Find My iPhone.
Finally, confirm the activity to change your location.
Part 7: How to Change Location on Find My iPhone with Xcode
Many apps available on the Apple store that claim to offer location faking are typically ineffective and can be easily detected by Apple. In fact, such apps are not even allowed to be listed on the store. However, as a Mac user, there is an alternative option that may be a bit complicated but can be effective. By using Xcode, you can create a project that allows you to fake the location on the Find My app. The initial setup may take some time, but it is a free solution.
Learn how to trick Find My iPhone with Xcode:
Connect your iPhone to your Mac computer using a Lightning cable.
Open Xcode on your Mac computer after the free download and installation.

Select "Window" from the top menu.
From the drop-down menu, select "Devices and Simulators".

In the Devices window, select your iPhone from the list on the left.
Click the "Add" button (+) at the bottom of the "Location" panel.
In the "Lat/Long" field, enter the coordinates of the location where you want your iPhone to appear.
Click "Done" to save the changes.
Once you have made the changes, your iPhone's location will be updated in Find My iPhone. Note that this method only changes the location that is displayed on Find My iPhone and does not actually move your iPhone to a new location.
FAQs on Faking Location on Find My iPhone/Friends
Q1: How to Disable Share My Location on Find My iPhone
Open the "Settings" app on your iPhone.
Tap on your Apple ID at the top of the screen.
Scroll down and tap on "Find My".
Tap on "Find My iPhone".
Toggle off the "Share My Location" option.
If prompted, enter your Apple ID password to confirm the change.
Q2: Does Find My iPhone Work When the Device Is Offline
Yes! Even if your iPhone is low on battery or offline, you can still receive updates about its location. However, upgrading to iOS 16 and enabling the "Find My Network" feature will make this process much easier, as it will continuously send location data to your iCloud account.
Q3: How to Fake Find My Friends' Location on Android
Download and install the app from Play Store.
Enable developer options by tapping the build number in "Software Info" 6-7 times.
Launch the app and enable mock locations by tapping "ENABLE".
Under Developer options, select "FakeGPS Free" as the mock location app.
Set the route on "Fake GPS Free" and enable location spoofing using the play button.
Your fake location will then appear on the Find My Friends app.
Q4: Why Does Find My Friends Say "No Location Is Found"
The one you're trying to locate has turned off location services or has disabled sharing their location with you.
Your friend's phone is in an area with poor network coverage, and the device is unable to send location data to the Find My Friends app.
The phone battery may have died or is too low for it to send location data.
Find My Friends may not have the necessary permissions to access the location data on the person's phone.
The person's mobile may be experiencing technical issues preventing it from sending location data to the Find My Friends app.
Final Words
As you may know, both "Find My iPhone" and "Find My Friends" have been integrated into the "Find My" app since iOS 13, which provides a unified interface for locating both your devices and friends. In addition, it's important to note that while faking your location on Find My iPhone may have some legitimate reasons, it can also be used for malicious purposes. So, you could pick any of the methods above to fake locations to tell white lies instead of posing a threat to others.
Related Articles:
5 Ways to Back Up iPhone 14/13/12/11/X/8 to Laptop/Desktop
6 Most Effective Tactics to Bypass iPhone Locked to Owner Quickly
All You Want to Know about Find My iPhone Offline Last Known Location [2023]
4 Most Efficient Means to Create a Contact Group on iPhone 14/13/12/11/X/8/7
8 Useful Tips to Turn off Location on Life360 without Anyone Knowing
Is It Possible to Mirror iPhone to PC without Software? [SOLVED]