Best Android Battery Manager Apps to Keep Your Battery Healthy
Just go through your menu once, how many apps your phone holds? When you have that many apps in your storage, your phone's battery life is bound to get shortened. Mobile phones have become indispensable part of life for many. They get hooked on to it for hours without even realizing it. If you tend to spend so much time on your favorite gadget you need to have an android battery manager app that would not only boost your mobile phone's performance, but that would also save the useful battery.
Normally battery saving measures are manual like turning off mobile data, reducing the screen's brightness, or keeping the home screen locked. They usually help you not to run for finding a charging port, every time your battery gets in the red zone. But an Android battery manage app that extends your phone's battery life may help you in dire situations.
Here is a list of the best Android battery manager app that would boost your phone's battery life to an extent, manage your phone's performance and save your phone from dying off in crucial situations.
Can't Miss: Tips on Optimizing Battery Life on Android Devices
Top-notch Battery Manager for Android that You Can't Miss
1. DU Battery Saver and Phone Charger
Being on top charts on Google Play store's must haves, this app is topping my list due to all the right reasons. The first reason is a five-star rating on Google Play store given by users, accompanied by five million downloads. The user interface of this app is very stylish with all features accessible with just one click.
- The best features include one click battery optimization, pre-set battery saver profiles, and a feature to make your own customized profile, is making it stand out. The app gives out a complete detail about how much your phone's battery is being used by apps, separately by each.
- It is noted that battery performance has been improved by 50 percent after downloading this manager. And the best thing about it is that the free version gives you all the necessary widgets for one-tap function.
- In the latest update of this app, another addition of charging screensaver mode has been made. As per the description, this feature has the ability to increase charging speed by 20 percent, but we do not know its reliability in real life.
- One more unique feature that has been noticed in this app is Phone Cooler. It tends to keep the temperature of phone low by optimizing the CPU-intensive apps.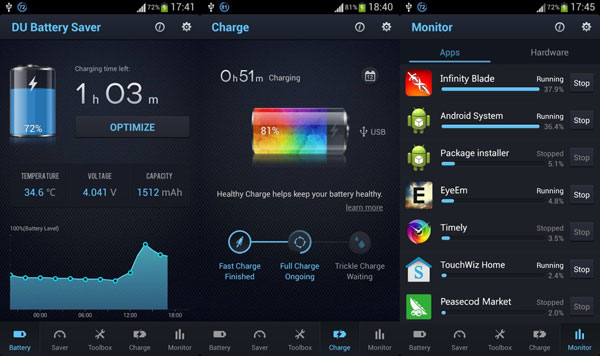 2. GO Battery Saver and Power Widget
As the tagline of this app says "GO Power Master is a professional tool to help you save the power of battery", we agree with it due to its smart battery optimization and regular check on the apps that continuously eat up your phone's power.
- The best feature is the predetermined power saving modes: General, Super and Extreme modes that allow varying degrees of power saving. You can also have a custom mode to suit your needs.
- This app offers one-click optimization of your battery that makes your battery last long in the long run.
- A visual percentage of the remaining battery is given time to time, along with suggestions to close or open those apps that would save battery.
3. Avast Battery Saver
With five million downloads and 4.4-star rating on Google Play, this app is from the top developers of antivirus for PC and mobiles. It has come on the top charts soon after its launch.
- This app lets you know the accurate amount of battery left on your phone. The compact and all in one feature of this app make it easy to use and simple.
- Like its other counterparts, this app does not offer any unique feature but this simplistic nature of the app is gradually making it users' favorite. The latest version is much easier to use and more powerful in battery management.
- The "Stop Apps" feature allows you to stop all those battery consuming apps running in the background and boosts your phone's performance instantly.
- Another salient feature of this app is the pre-configured profiles that make you switch between different modes, according to your environment. The four profiles are Home, Work, Night and Super Saving Emergency Mode, which are again customizable. One can manually switch between these modes or can opt for the automatic switch that hops onto another mode as your toggle from your home Wi-fi to your work Wi-fi.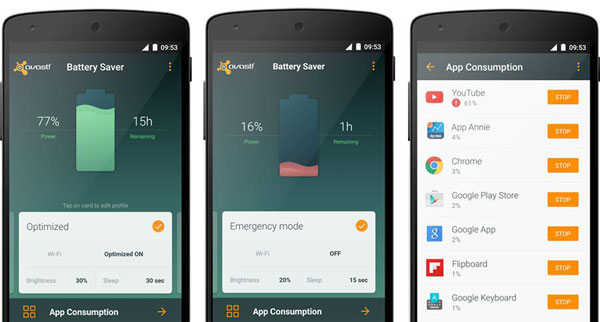 4. Greenify
Greenify is an app that is unlike any other battery manager works in a unique way. It has been featured in many Top App articles, being one of the topmost and best android battery manager.
- The uniqueness of this app comes from the automatic hibernation process that instead of stopping the apps, makes them sleep. This feature practically saves a lot more battery because waking up an app takes less power than restarting the same app.
- This app makes you choose those programs that not necessary for your immediate use such as Calendar or Alarm and hibernates till your next use.
- It offers you the option to skip between two doze modes which are Aggressive Doze (it hibernates the apps within minutes of non-usage of your phone) and Shallow Doze (Hibernates background apps).
Words in the End
If you want to stay away from the hassle of always keeping a charger with you, for the fear of losing battery life, then we highly advise you to install any of these apps. These have proved to be the best Android battery manager apps. They help you to squeeze in a few extra hours in your battery life and also improve the phone's performance by keeping a track of your battery's performance. You can manage the battery usage of your apps and utilize it in the most intelligent manner. So, now you would know how much longer your phone would work when to plug in a charger and keep an eye on the most battery consuming apps. And here you can also get a powerful tool to help you manage all downloaded apps on your Android devices - MobiKin Assistant for Android.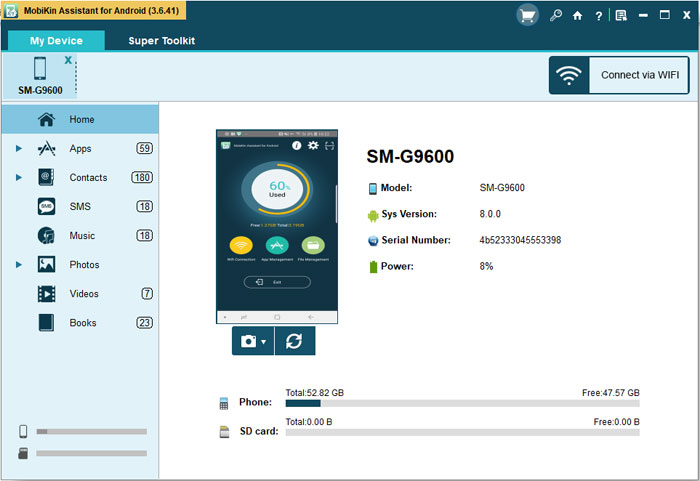 Related Articles:
How to Install Apps on Android Devices
Must-have App Managers for Android
[All Tips] Back Up Android Tablet to PC/Mac/Google Drive/Flash Drive
HTC to LG Transfer: 4 Efficient Ways to Transfer Data from HTC to LG
How to Bypass LG FRP/Google Account with or without Computer [Hot Tips 2023]
Can I Use MobiKin Backup Manager for the Android Crack Version? [Answered]