Can I Use MobiKin Backup Manager for Android Crack Version? [Answered]
Android devices play the role of information recorders and relationship connectors for all adults and some juveniles. Regarding mobile phones, data backup and restoration is an essential topic.
With the development of cutting-edge tech, tools like the official MobiKin Backup Manager for Android can seamlessly back up mobile files to a PC/Mac and easily restore them to any Android phone. Meanwhile, some tech-savvy often contribute cracked or pirated software. So here comes the question - is there a MobiKin Backup Manager for Android crack? Well, we will answer this question and know more about this utility now.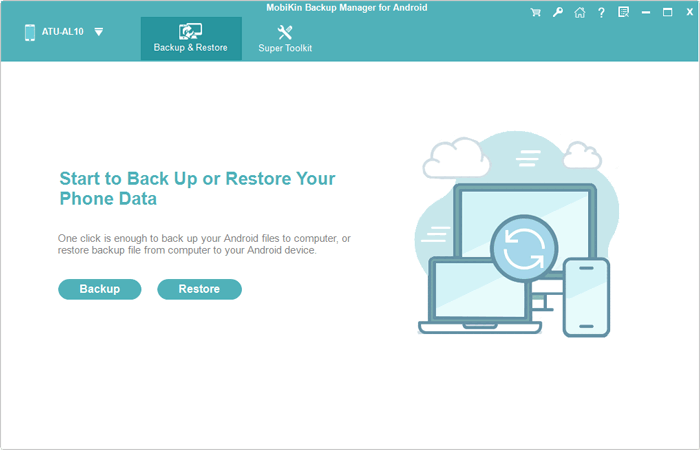 Part 1: Key Features of MobiKin Backup Manager for Android
Designed by a well-known professional technology company, MobiKin Backup Manager for Android is an affordable and practical program to use. Its fabulous backup and restore feature can help you complete data copy quickly and restore content whenever you need to recuperate your losses.
Main features of MobiKin Backup Manager for Android:
One-click to make a security copy of Android phones/tablets. (Can I manage Android data on a computer?)
Selectively restore files from backups to any Android device.
Creative capabilities and data settings for Android items.
A simple and graphical interface.
The supported data types: Contacts, text messages, call logs, photos, music, videos, documents, apps, etc.
Extensive compatibility: It works well with 8000+ Android devices, including Samsung, Xiaomi, Huawei, Google, Motorola, OnePlus, Sony, LG, OPPO, etc.
Secure: It won't divulge your privacy.
You May Also Need:
Part 2: Is There a MobiKin Backup Manager for Android Crack?
At present, the latest version of 1.2.21 of this product is unique, and the latest cracked version you can find will often prove to be misleading. However, its previous version (1.2.2) does appear online in a cracked form as well. After downloading it on a computer, you can back up and restore your Android device at will without technical expertise by entering the given serial number or password.
Part 3: Why You Shouldn't Use MobiKin Backup Manager for Android Crack Version?
Like other cracked programs you may know, this version also has some shortcomings and limitations. Now we will list some of its uncertainties and unknown threats for your reference:
The website you downloaded may have some risks.
Harm your device or even make it unresponsive. (Android touch screen not working?)
After entering the password or free license key, the downloaded file may deliver decompression errors.
You may find the crack version ineffective or even won't work at all.
Illegal to download a pirated version of the software.
Install any virus, spyware, or malware on your computer.
No technical support during use.
Doesn't offer any new software updates.
Click to Know:
Part 4: Why Choose Official MobiKin Backup Manager for Android?
Pirated or cracked software is likely to be useless and may pose a threat to your data security. Whichever way you look at it, this is an uneconomical deal, although it might be completely free. Well, there are many reasons to choose its official version, as mentioned below:
Totally clean and safe.
Almost zero error when backing up or restoring your phone.
One year or lifetime license available.
Single or multiple user licenses.
You can contact MobiKin Support directly during use.
Free technical support service.
90-day money-back guarantee.
Part 5: MobiKin Backup Manager for Android Free Download [50% Off]
Despite being readily accessible on uptodown.com, softpedia.com, or filehorse.com, it's better to get a 100% working and secure program by tapping the download button below. And for more detail, please click MobiKin Backup Manager for Android (Win and Mac) (Renowned as Android Backup & Restore) to gain its free trial officially and then its full version at an attractive discount of up to 50%. What's more, this program is completely ads-free and won't affect your system as well as track your privacy.
Part 6: How to Back Up and Restore Data with MobiKin Backup Manager for Android
After hundreds of thousands of tests by its sincere supporters, MobiKin Backup Manager for Android has become a widely trusted tool for Android users. When starting the program after the download, you are required to own its full version by getting the license code at an affordable price.
Before having your phone connected and performing the backup, this tool will display the Android data types, file numbers, and size of data on its simple interface, and also the remaining space of the computer's disk that is to house the files.
Next, we will expatiate on how to back up and restore Android data via MobiKin Backup Manager for Android as below:
* Back up Android data to computer:
Step 1. Link your phone and start the program
Run the software after you download and install it on a computer. Then connect your Android device to the system with a USB cable.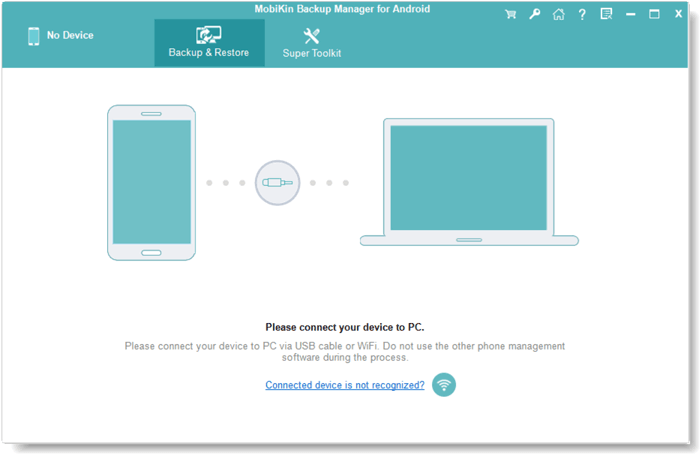 Step 2. Go to the "Backup" option
Enable USB debugging on Android if you haven't done it yet. After that, the tool will recognize your phone soon. Once connected, the program will display its main screen, from which you should click "Backup".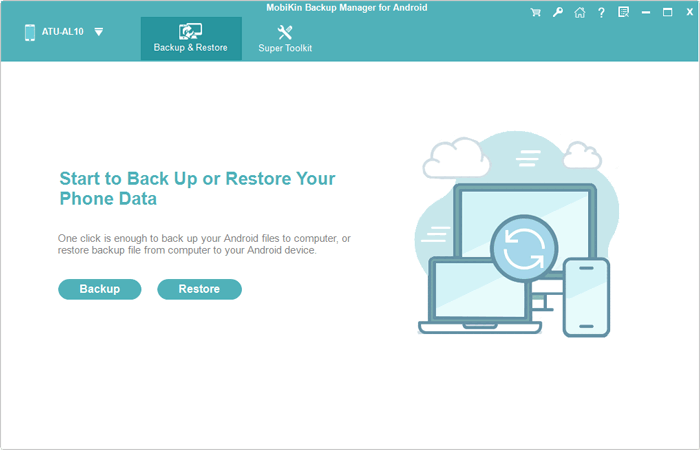 Step 3. Back up Android to a computer
Select the data types you want to back up and specify a location on this computer to store the items. Finally, press "Back Up" to save Android data to this computer.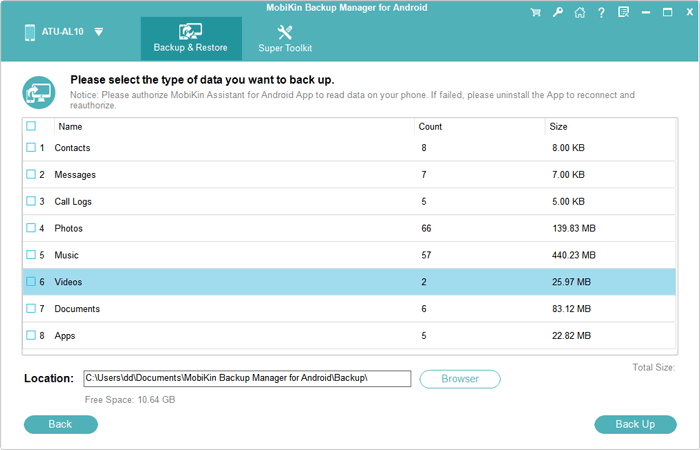 * Restore data to Android from a computer
Step 1. Choose the "Restore" option
Follow the drill above to have any Android phone identified by the product. Then pick "Restore" from its main interface and check the backup files you've created before.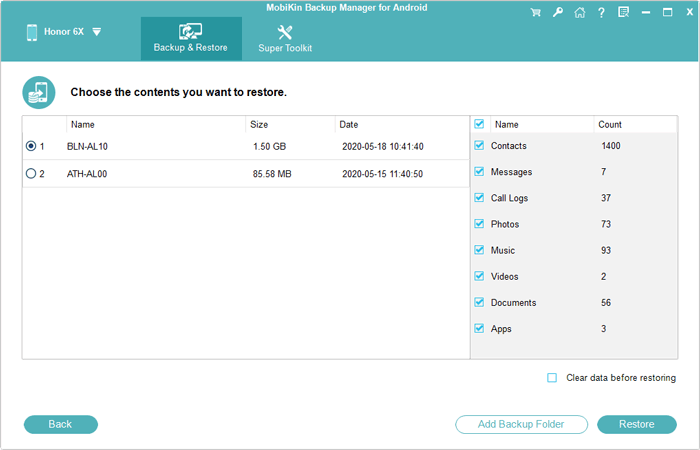 Step 2. Restore data to the connected phone
Select the file type(s) you'd like to get back and tap on "Restore" to regain what you want on the phone from your computer.
Final Thoughts
Are you still on the fence about using the cracked Backup Manager for Android? Upon weighing the pros and cons, isn't it more meaningful to save money from a sandwich and dessert to get its genuine version? Frankly, among the products of the same grade, MobiKin Backup Manager for Android has the most incredible features at an affordable price. Most importantly, it can bring you a backup and restore experience that none of its crack versions reach. So get its trial or full version now.
Related Articles:
How to Recover Data from Android Phone with Broken Screen?
3 Best Ways to Backup and Restore iPhone (#3 Is Excellent)
Detailed Reviews of 10 Best Android Backup Software for PC [Updated]
Control Android from PC with 7 Best Screen Mirroring Apps
Top 5 Powerful Android Data Recovery Apps and Software of 2022
10 Best Android Phone Repair Software and Apps to Fix Android System Issues